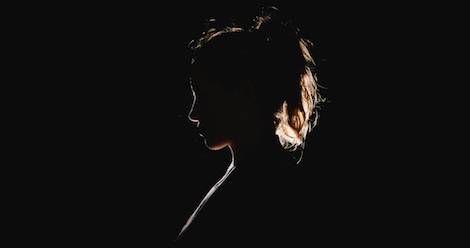 Poetry
Poems For When Life Is Just Hard
"Life" is such a wide umbrella; a word that covers many, many things, and everyone's experience of it is different. So let's narrow it down. Let's look at some poems about life that crack open how life can feel when we're struggling and things are hard…but also ones that put a balm on that wound. There's a lot of shit going on right now. There always is, but it's been particularly sharp and thorny lately, and sometimes we need someone to put that into the words we just don't have in us. Words that make us feel heard and understood, that acknowledge our pain and how heavy life can feel.
And sometimes we also need to get put back together again; to be reminded of the ways we can get through this, how we have overcome, and how, despite it all, life gives us hope. Poems like that serve as a reminder that we are not alone, and there is still beauty to be had—even if it's just in the form of a perfect line of poetry.
Let this collection of poems about life help you feel heard, comforted, and give voice to whatever hurts or heals right now.

The best poems about life
1. Cindy Williams Gutiérrez "The Small Claim of Bones"
Excerpt:
what my body knows

is not a lie it's not
a lie i tell you it is not
it's nothing short of truth
5. Octavio Paz "The Street"
Excerpt:
It's a long and silent street.

I walk in the dark and trip and fall
and get up and step blindly
on the mute stones and dry leaves
and someone behind me is also walking:
if I stop, he stops;
if I run, he runs. I turn around: no one.
6. Warsan Shire "Ugly"
9. W.S. Merwin "Separation"
12. Langston Hughes "Life is Fine"
Excerpt:
I went down to the river,
I set down on the bank.
I tried to think but couldn't,
So I jumped in and sank.
I came up once and hollered!
I came up twice and cried!
If that water hadn't a-been so cold
I might've sunk and died.
16. Tupac Shakur "The Rose That Grew From Concrete"
Excerpt:
Did you hear about the rose that grew
from a crack in the concrete?
Proving nature's law is wrong it
learned to walk with out having feet.
20. Emily Dickinson "I Took My Power in My Hand"
Excerpt:
I took my Power in my Hand—
And went against the World—
'Twas not so much as David—had—
But I—was twice as bold—
22. Elizabeth Barrett Browning "Love"
23. Raymond Carver "Late Fragment"
Excerpt:
And did you get what
you wanted from this life, even so?
I did.
24. Rupi Kaur "Untitled"
25. Hanif Abdurraqib "All Of The Ways I've Kept Myself Alive"
---
Want more poems about life? Check out these short poems, some Instagram poets, and make yourself feel better with a little love.