Poetry
15 Poems That Mention Fathers in Non-Sentimental Non-Tragic Ways
This content contains affiliate links. When you buy through these links, we may earn an affiliate commission.
Occasional poems are meant for specific holidays and occurrences. Father's Day usually brings about poems about fathers. Instead of offering the traditional expected fare, here are some poems that are about dads and fatherhood that kind of fall outside of the norm.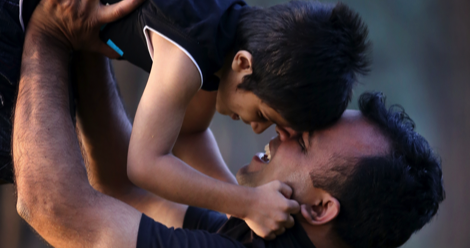 This poem begins "In the dark evening, my father and I / walk down the road to the old house / where my grandmother lived." It's a poem about family and memories.
Inada compares and contrasts himself with his father in a poem about personal history and world history. The speaker says, "he is seated on a yellow spool / of emptied and forgotten telephone cable / and I recline on a green aluminum lounge, / / we are both facing into the August sun."
This poem could seem sad because it begins "I buried my father / in the sky" but it's really about how we carry the people we love in our hearts.
Troupe's poem has a dedication to Quincy T. Trouppe Sr. and is filled with admiration and pride. Here's a particularly powerful verse: "father, regal, as an african, obeah man / sculpted out of wood, from a sacred tree, of no name, no place, origin / thick branches branching down, into cherokee & someplace else lost / way back in Africa"
Full disclosure—this simply is one of my favorite poems and it's about dads and love and it's just so simple but so powerful. Read it and that "blueblack cold" might stick with you, too.
Lee makes this list twice because he writes a lot about family in unsuspecting ways. In this poem, the speaker notices how his father notices his mother: "My father watches, listens for / the music of comb / against hair."
This poem reveals a very unique relationship between a daughter and her dad through a one-sided conversation about childhood toys and Chinese traditions. Here's a snippet: "Dad, I think about all the ape toys / you bought me when I was a child, / because you never wanted me to be alone".
Dads and airports. That's literally what this poem is about. "A man called Dad walks by /then another one does." I'm thinking the deeper meaning is about a universality of dadness.
This is a pretty poem that starts with a card and ends with a moment of breathless wonder. Since I don't want to ruin the end, here's what the card says: "You're my favorite Daddy in the stars."
Within these eight parts lies a full story of a father. There's something about a painting. There might also be something about sickness. The speaker says, "I used to think my dad was dull, / but his shaking hand gave rhythm to my body." Get ready to read this one over and over to discover a new meaning each time.
Metapoetry is poetry about poetry. This poem begins by talking about how to begin a poem. "The poem can start with him walking backwards into a room." Very meta! It's also about dads.
This poem is about a dad and a daughter and the stories we tell some people but not others. The speaker proclaims, "I hope that when Dad first held me, / it was with haddock-scented hands". Find out why from the rest of the poem.
Somehow this poem reminds me of "Those Winter Sundays." Listen: "Dad would come home after too long at work." See how it's got that same feel? It's a quiet poem and very sweet.
Granddads are dads, too! This poem recalls, "In my first memories / / he is present, mostly wordless." It goes on to show ideas about heritage.
This poem is about a whole lot of things: fathers, mothers, families, class, ethnicity. Like the title shows, it's got a really great conversational sense: "i know we exist because of what we make. my dad works at a steel mill." The easy flow makes for easy reading of this prose poem.
Maybe one of these will work for you more than your usual Dad's day cards.