Poetry
20 Marvelous Poems About Beauty in All Its Forms
Who better to praise beauty than poets? A poet harnesses language and their crafty word powers for maximum emotional impact, as you'll see in this list of poems about beauty. The poems you'll read in this collection of 20 short poems about beauty explore all facets of beauty, the appreciation of it, the act of creating it, finding beauty in nature, tracing beauty in love and romance, and acknowledging beautiful bodies in a positive way.
1. "Bad Day at the Beauty Salon" by Maggie Estep
Read the text here.
2. "Beauty" by Elinor Wylie
Excerpt:
Say not of beauty she is good,

Or aught but beautiful,
Or sleek to doves' wings of the wood
Her wild wings of a gull.
3. "Beauty in Nature" by Arti Chopra
Exerpt:
Theres a poem in every flower,

a sonnet in every tree,
a tale in every lifetime
its just for you to see…
4. "Beauty is brief and violent" by Snehal Vadher
Excerpt:
Beauty is brief and violent
like the white thunderbolt
of Nilgiri slow and sudden
braided like her hair
5. "The Beauty of Black" by Margaret Burroughs
Excerpt:
(May 22, 1965)
When we look at ourselves
We see ourselves through eyes
Which have been schooled
To see comely only the opaque,
Comely to us skin that is fair,
Comely to us eyes that are light,
Comely to us hair that is straight,
Comely to us lips that are thin,
6. "The Beauty of a Woman" by Audrey Hepburn
Excerpt:
The beauty of a woman
isn't in the clothes she wears,
The figure that she carries,
or the way she combs her hair.
7. "A Brown Girl's Guide to Beauty" by Aranya Johar
8. "Haiku" by Fukuda Chiyo-Ni
9. "I Died for Beauty—but was scarce" by Emily Dickinson
Excerpt:
I died for beauty, but was scarce
Adjusted in the tomb,
When one who died for truth was lain
In an adjoining room.
10. "My People" by Langston Hughes
Excerpt:
The night is beautiful,
So the faces of my people.
11. "On Beauty" by Khalil Gibran
Excerpt:
And a poet said, Speak to us of Beauty.
And he answered:
Where shall you seek beauty, and how
shall you find her unless she herself be your
way and your guide?
And how shall you speak of her except
she be the weaver of your speech?
12. "Pretty" by Katie Makkai
13. "Rondel of Merciless Beauty" by Geoffrey Chaucer
Excerpt:
Your two great eyes will slay me suddenly;
Their beauty shakes me who was once serene;
Straight through my heart the wound is quick and keen.
14. "She Walks in Beauty" by Lord Byron (George Gordon)
Excerpt:
She walks in beauty, like the night
Of cloudless climes and starry skies;
And all that's best of dark and bright
Meet in her aspect and her eyes;
Thus mellowed to that tender light
Which heaven to gaudy day denies.
15. "Sonnet 54: O, how much more doth beauty beauteous seem" by William Shakespeare
Excerpt:
O, how much more doth beauty beauteous seem
By that sweet ornament which truth doth give!
The rose looks fair, but fairer we it deem
For that sweet odour which doth in it live.
16. "Sonnet: To Tartar, a Terrier Beauty" by Thomas Lovell Beddoes
Excerpt:
Snowdrop of dogs, with ear of brownest dye,
Like the last orphan leaf of naked tree
Which shudders in black autumn; though by thee,
Of hearing careless and untutored eye,
17. "Still will I harvest beauty where it grows" by Edna St. Vincent Millay
Excerpt:
Still will I harvest beauty where it grows:
In coloured fungus and the spotted fog
Surprised on foods forgotten; in ditch and bog
Filmed brilliant with irregular rainbows
Of rust and oil, where half a city throws
Its empty tins; and in some spongy log
18. "A Thing of Beauty (Endymion)" by John Keats
Excerpt:
A thing of beauty is a joy for ever:
Its lovliness increases; it will never
Pass into nothingness; but still will keep
A bower quiet for us, and a sleep
Full of sweet dreams, and health, and quiet breathing.
19. "Untitled: We Are All Born so Beautiful" by Rupi Kaur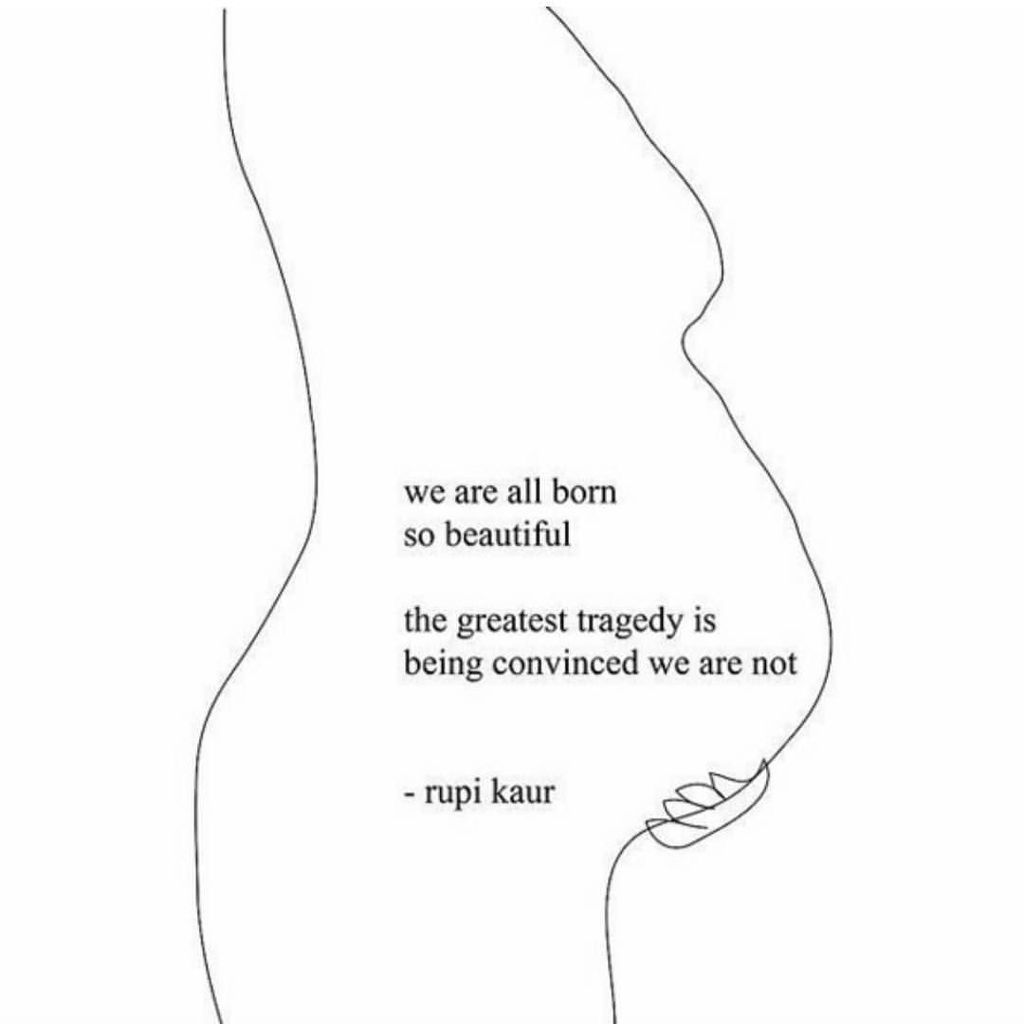 20. "Youth and Beauty" by William Carlos Williams
Excerpt:
I bought a dishmop—
having no daughter—
for they had twisted
fine ribbons of shining copper
---
For more great poetry collections curated by Book Riot, check out: