Lists
Podcasts Hosted by Authors
This content contains affiliate links. When you buy through these links, we may earn an affiliate commission.
I love listening to podcasts and audiobooks while I walk my dogs and commute to work. Once I am all caught up on all the awesome Book Riot podcasts, what is next up to listen to? Sometimes I want to listen to something bookish but not necessarily book reviews or author interviews, or I want to listen to my favorite authors but not necessarily to commit to an entire audiobook. To fill this niche, this is a list of podcasts hosted by authors.
De
ar Sugar Radio, Cheryl Strayed & Steve Almond: This podcast brings back the Dear Sugar advice column published in The Rumpus that featured first Steve Almond and then Cheryl Strayed as the anonymous "Sugar." After Strayed was revealed to be Sugar, her columns were compiled into the hugely popular, beautiful book called Tiny Beautiful Things. In each episode, the "two Sugars" read and discuss one or more letters from listeners seeking their advice and help. The Sugars cover a wide range of issues involving love, family, friendship, sex, hardships, and insecurities with their signature empathetic, no-holds-barred style. Often during the episodes they call others to consult on the problem at hand, and past guests have included literary figures such as Elizabeth Gilbert, George Saunders, Mary Karr, Ann Patchett, Roxane Gay, and more.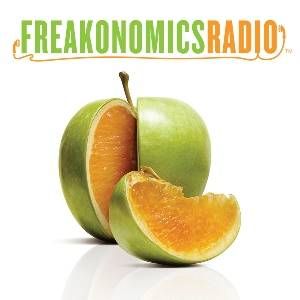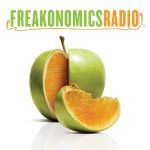 Freakonomics Radio, Stephen Dubner: In 2005, Stephen Dubner and Steve Levitt published Freakonomics, a book that takes an economist's lens to problems of everyday life. The concept took off. The pair followed the first book up with Superfreakonomics and Think Like a Freak, as well as a successful blog and podcast. Dubner hosts the podcast and Levitt is a frequent guest. Each episode focuses on a different topic from "Should Tipping be Banned?" to "Why Marry?" and everything in between. From the serious to the silly, this podcast aims to investigate "the hidden side of everything."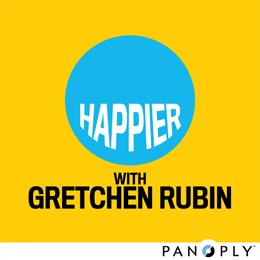 Happier, Gretchen Rubin and Elizabeth Craft: Rubin has written widely about the topic happiness in her books The Happiness Project, Happier at Home, and Better than Before, and her podcast expands upon this work. Each episode, Rubin, along with her sister, TV writer Elizabeth Craft, explore ways to be happier. The podcast is a mix of strategies to improve happiness and personal reflections of the hosts' successes and failures in improving their own happiness. The tips on improving happiness vary from the practical and accessible, such as setting a bedtime or joining a group, to larger in scale, such as learning to embrace failure.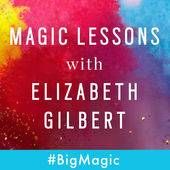 Magic Lessons, Elizabeth Gilbert: The Eat, Pray, Love author has a brand new podcast about creativity that goes with her upcoming book Big Magic: Creative Living Beyond Fear (out September 22, 2015). The episodes alternate between discussions with people facing challenges with their personal creativity and interviews of expert creative guests. For example, the opening episode features a blogger who wants to write a book but is struggling with feelings of guilt and fear. Then, in the second episode, Gilbert interviews Cheryl Strayed about these same creative roadblocks.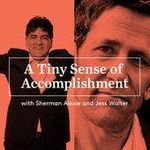 A Tiny Sense of Accomplishment, Jess Walter & Sherman Alexie: Listening to this podcast is like sitting in on an intimate, fascinating conversation between two old friends who happen to also be bestselling authors. Walter and Alexie read work in progress, discuss their writing, interview other writers and artists, and have generally entertaining conversations about whatever is on their minds. The pair are funny, genuine, and refreshingly vulnerable – they discuss their fears as writers and regularly share new and unfinished work.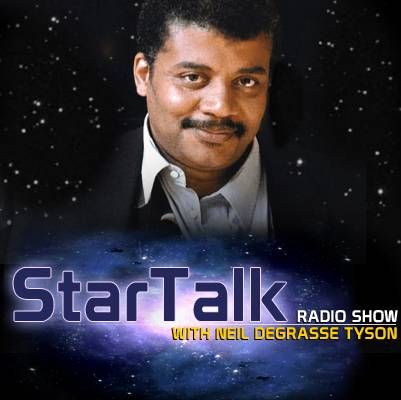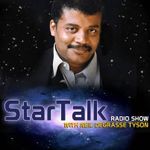 StarTalk Radio, Neil DeGrasse Tyson: This is a podcast about physics, astronomy, the universe, and more with Neil DeGrasse Tyson and celebrity guests. It is both fun and educational, blending pop culture, comedy, and science. The interviews are always entertaining and varied, with guests ranging from Chris Hadfield to Bill Nye to Jimmy Carter.
Happy listening!