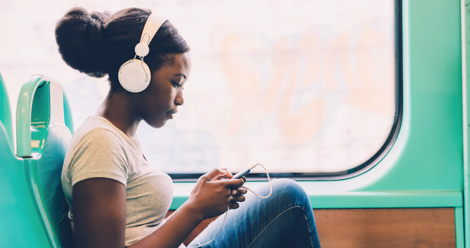 Lists
10 Podcasts to Listen to When You're in a Reading Slump
I've been reading before I go to bed almost every night since my mom stopped reading to me every night before I went to bed. But like most readers, I occasionally succumb to a reading slump. My goodreads TBR is full of ideas. My bookshelf is full of books I've bought but haven't read yet. But nothing sounds good. Every book I open seems impossible to get into. This always passes eventually but creates a major crimp in my bedtime routine. The solution? Sleeping pills! Just kidding (kind of). My solution is listening to a podcast instead. Hence this list of 10 podcasts to listen to when you're in a reading slump…besides the Book Riot podcasts, which are so awesome you've probably already listened to them all, right?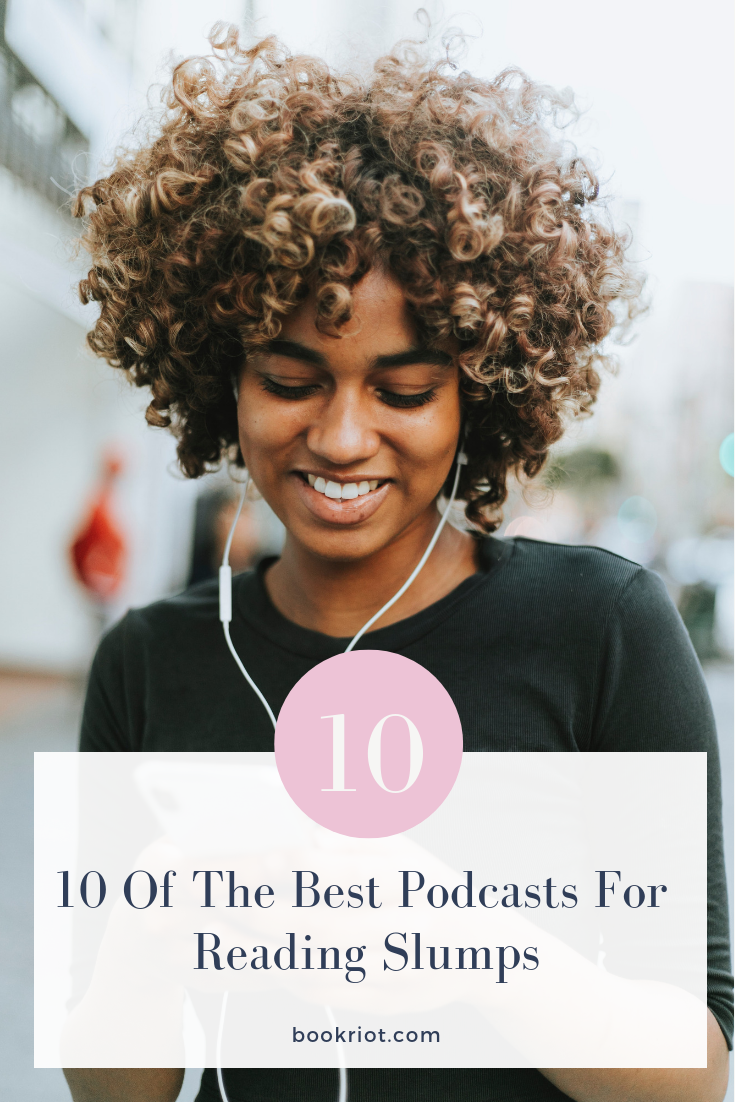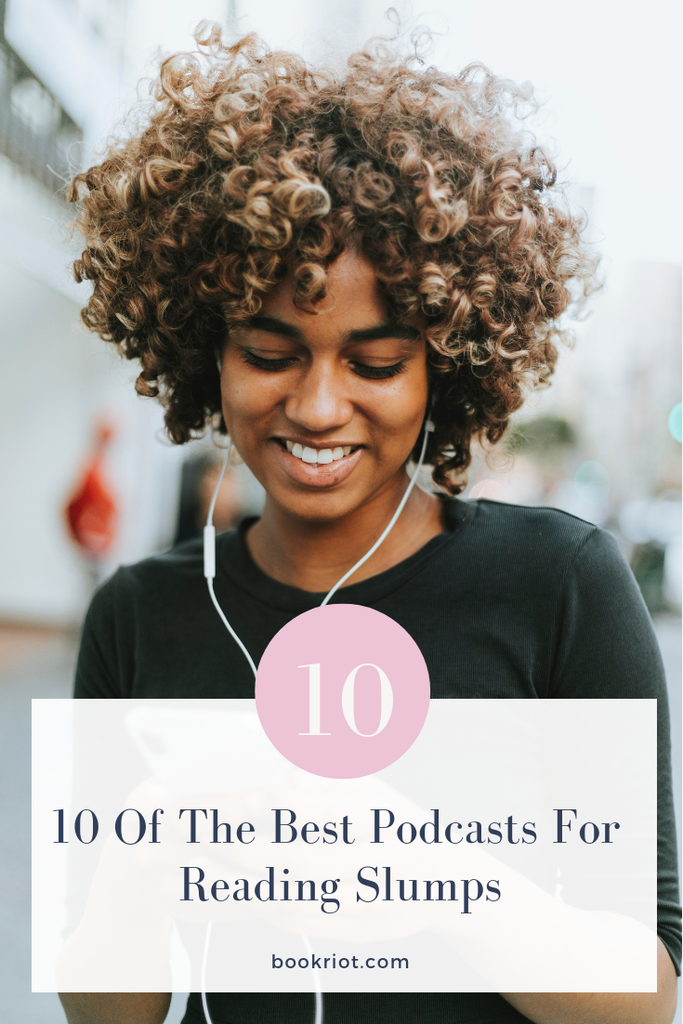 88 Cups of Tea
Yin Chang, the host of 88 Cups of Tea, talks about this show being aimed at writers and storytellers. But I think it's perfect for all book lovers. Whether you're a writer or not, I dare you not to get swept up in Yin's energetic and informal interviews. The show has a definite YA focus, but expanded to include conversations with creators of all kinds: from illustrators to agents to television writers and more.
Listen to this when: you want to get re-excited about books. Yin's enthusiasm is infectious enough to break through even the toughest slump.
Episodes to start with: Tamora Pierce: Believing in Your Craft, Roshani Chokshi: Writing What You Want to See in the World, or R.J. Palacio: On Choosing Kindness
A Very Fatal Murder
In this show, The Onion blends comedy, satire, and true crime to create an over-the-top fictionalized investigation into the simultaneous gunshot-stabbing-strangling-drowning of a young girl. The plot? Onion Public Radio reporter David Pascall travels to Nebraska to find answers about the murder of 17-year-old Hayley Price. Exaggeration is the name of this podcast (even the title is overstated). And the result is a story both humorous and critical of society's current obsession with individual cases of extreme violence and the small town, Middle America psyche.
Listen to this when: You either are still obsessed with true crime or you're getting tired of its dominance and are looking for a laugh.
Episode to start with: Episode 1, of course.
Burnt Toast
Food52 puts on this culinary podcast where host Michael Harlan Turkel dives in food history and occasionally interviews chefs, historians, and critics. Each twenty-something minute episode picks a topic, often a highly unique and specific topic, to delve into. The focus can be anything from cultural customs to recipes ideas to hilariously famous food fails. Usually a little bizarre. Always interesting.
Listen to this when: You're a foodie who'd rather learn about culinary history than make a midnight snack.
Episodes to start with: Why Is There No Pie Emoji, The Worst Food in White House History, or How to Throw a Ripe Tomato
Fictional
You might know Jason Weiser from his other podcast Myths & Legends that retells mythic stories from around the world with a contemporary voice. His newer podcast follows the same format but instead adapts works of fiction in the public domain. Over several episodes, he brings humor and occasionally a socially critical lens to stories from Shakespeare to Philip K. Dick and Dante's Inferno to Frankenstein.
Listen to it when: You want to dive into a well-known classic without the effort of actually reading a well-known classic. Those books are dense!
Episodes to start with: Macbeth: Toil & Trouble (Part 1) or Kate Chopin: Promises
Hardcore History
This in-depth historical podcast is unlike any other podcast I've experienced. The episodes are 4–6 hours long and each examine a historical event (often with a military theme) in excruciating detail. I won't say I've never been bored while listening to this podcast—it can be great to fall asleep to. But if you get hooked on a topic, as often happens, you will appreciate the host's attention to detail and commitment to laying out the minutiae of the events Carlin covers on the show.
Listen to it when: You prefer nonfiction to novels or there is a topic among these episodes you really want to learn a lot about.
Episodes to start with: Blueprint for Armageddon or King of Kings
The Hilarious World of Depression
Depression and comedy might seem like they are topics that don't fit with each other. But this podcast brings them together by interviewing comedians about their mental health. Sometimes funny, sometimes deeply emotional, the podcast always aims to provide more insight and feelings of togetherness.
Listen to it when: Your anxious thoughts are keeping you from falling asleep and you want to feel less alone.
Episodes to start with: Linda Holmes Leaves Law to Concentrate on Watching TV and It Works Out Great or John Green Falls Victim to Some Bad Fiction While Writing His New Book
The Horror of Dolores Roach
This scripted podcast describes itself as "A macabre urban legend of love, betrayal, weed, gentrification, cannibalism, and survival of the fittest." If that doesn't get you interested, I don't think anything else will. More specifically, it's about a woman trying to survive after returning to her NYC neighborhood after sixteen years in prison.
Listen to it when: You aren't easily frightened and you want to delve into serious political issues, like the prison system, racial inequity, and gentrification.
Episode to start with: You will definitely want to start with episode one for this podcast.
The Radio Adventures of Eleanor Amplified
This fictional podcast features Eleanor, a tween radio reporter who's always on the lookout for the truth. Not only does every episode feature a mystery, there's also a recurring theme of the importance of ethical journalism. Recorded with wacky sound effects in the style of an old-timey radio serial, this character and her zany plot lines, covering everything from malicious unicorns to time travel to crazy cat videos, will appeal to the whole family.
Listen to it when: You were a Nancy Drew fan or want a way to bypass reading out loud to your kids.
Episode to start with: Episode One! Or the road trip edition which will play all the episodes continuously.
Tales
Every other week, Vanessa Richardson tells an ancient fairytale the way it was originally told—complete with dark themes, adult content, and unabridged language. Ranging from a five-episode deep dive into Beauty and the Beast to the sinister origins of the Fountain of Youth, these legends don't promise a happy ending. But I can promise you that none of them are ever boring. Cross my heart and hope to die eating a poison apple!
Listen to it when: You are a lover of fairytales whose skeptical of the Disney versions.
Episodes to start with: The Nightingale, The Snow Queen, or Birth of a Beast
Why Won't You Date Me?
Comedian Nicole Byer writes and stars in the show Loosely Exactly Nicole, hosts the Netflix baking show Nailed It, and does some of the most hilarious stand up I've ever seen. She's also beautiful and smart and seems to be down for pretty much anything in the bedroom…or the hot tub…or the restaurant bathroom. So why is she single? Nicole interviews friends, past hookups, other comedians, and dating experts looking for the answer. And this journey is pee in your pants on the subway funny. (Not that I ever did that…okay, maybe just a little.)
Listen to it when: You're beyond frustrated that almost *every* book has a romance plot line.
Episodes to start with: There is a strong case for starting with episode number one and watching the whole journey unfold, but if you just want to try it out I recommend listening to Episode 11 Featuring the Man Who's Floor I Peed On w/ EJ Wolborsky or Episode 60 Role-Playing w/ Rachel Bloom