Audiobooks
10 Intersections Between Podcasts, Audiobooks, and Storytelling at Large
This content contains affiliate links. When you buy through these links, we may earn an affiliate commission.
Half of Americans have listened to an audiobook, and the same percentage have listened to a podcast according to a 2019 survey conducted by Edison Research and Triton Digital. This was the first year that the audience for both podcasts and audiobooks reached 50% listenership. According to the Audio Publishers Association's press release on the research, there is a clear crossover audience between the two: 55% of audiobook listeners had also listened to a podcast in the month surveyed.
This makes sense, as both podcasts and audiobooks are auditory ways of consuming information and stories. But beyond the numbers, I wanted to know: how else do the two industries intersect, feeding one into the other? In what ways do they amplify each other rather than simply competing for listeners? I've rounded up ten ways in which podcasts, audiobooks, and oral storytelling at large are interconnected, particularly now that more and more print books have an accompanying audio version published simultaneously. (Which is why, when available, I am linking directly to the audiobook version of any titles mentioned.)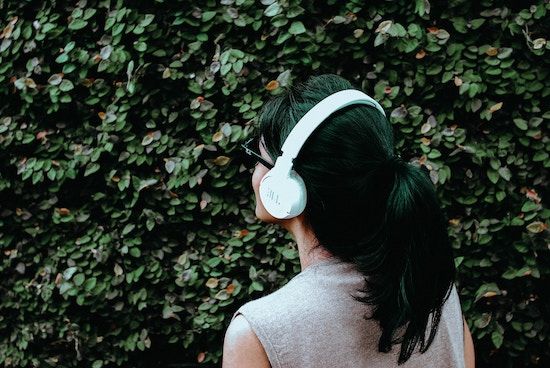 1) Podcasts Promoting Authors and Books
I once heard a book publicist say that no one sells more books than Terry Gross, host of NPR's Fresh Air. While yes, this program is a radio show, it is also recorded and distributed across podcast platforms. As a growing area of media, podcasts serve as an important way to spread the word about a book its author—the story about the story, if you will. Interviews spots and mentions can be an important part of a book's comprehensive promotional plan. Take author Roxane Gay, for example—she's been interviewed about her life and work on podcasts such as Sooo Many White Guys, Bitch Sesh, Filthy Public Bathroom, Queery with Cameron Esposito, and Design Matters, which I got to see taped live at On Air Fest (here's a recap of her interview!).
2) Podcasts About Books
While some podcasts promote books to a general audience, there are also entire podcasts dedicated to discussing and recommending books. Book Riot is home to 11 such bookish podcasts. Some dive into specific genres—For Real for nonfiction, Read or Dead for mysteries and thrillers, and the self-explanatory When in Romance, Hey YA, SFF Yeah! and Kidlit These Days—whereas others discuss book news and culture or offer custom recommendations to listeners. Ours are certainly not the only ones, though—here are 11 more book podcasts.
3) Book Club Podcasts
There's also a delightful sub-genre of bookish podcasts that feature the hosts reading and discussing books together, often inviting listeners to read along with them. One of my favorites is Harry Potter and the Sacred Text, in which two Harvard Divinity School grads guide listeners chapter by chapter through the Harry Potter series, treating it as a religious text. In the Banging Book Club podcast (now concluded), three YouTubers read and discussed books about sex and gender. There's also By the Book, in which the hosts read self-help books and try out the lifestyles they prescribe to find out what works.
4) Authors Starting Podcasts
Writers are storytellers, so it comes as no surprise that countless authors are starting their own podcasts. In 2018, U.S. Poet Laureate Tracy K. Smith started her daily poetry podcast The Slowdown. Other poets are also working in the podcast space—Tommy Pico (author of IRL, Nature Poem, and Junk) co-hosts the roundtable podcast Food 4 Thot with several of his writing friends, and Franny Choi (Soft Science) and Danez Smith (Don't Call Us Dead) co-host the VS. poetry podcast. In April, writer Roxane Gay launched "the black feminist podcast of your dreams" called Hear to Slay for subscribers on Luminary. My personal favorite is YA novelist John Green's The Anthropocene Reviewed, in which he "reviews facets of the human centered-planet on a five-star scale" in mini essays that braid together research and memoir. My roommate is a big fan of Writing Excuses, a 15-minute discussion of various writing topics hosted by sci-fi/fantasy authors Dan Wells, Brandon Sanderson, and Mary Robinette Kowal, with occasional guests.
5) Podcasts That Are Kinda Like Audiobooks
Some podcasts are testing the boundaries between audiobook and radio drama. A prime example of this is S-Town, a 7 "chapter" true crime podcast from the creators of This American Life and Serial that won a 2017 Peabody Award. As stated on the award's website, S-Town "breaks new ground for the medium by creating the first true audio novel, a nonfiction biography constructed in the style and form of a 7-chapter novel." Fiction podcasts are also working in the space of the audio-original novel. Think of it this way: Charles Dickens first published his books in serial print form; creators of serial fiction podcasts like Tanis, Wolf 359, and The Walk are doing something similar.
6) Books Based on Podcasts…that Become Audiobooks
Sometimes, a popular podcast becomes the basis for a book. The McElroy brother's Dungeons & Dragons role-playing podcast was adapted to a graphic novel, The Adventure Zone: Here There Be Gerblins. Though this was not adapted to an audiobook (given the reliance on illustrations), many other podcasts-turned-books are, such as Welcome to Nightvale and Alice Isn't Dead. A nonfiction example is YouTuber Gaby Dunn's Bad with Money*, which now exists as a podcast, book, and audiobook. Even when the book comes full circle back to the audio format, it still usually offers listeners a new experience. While Mike Rowe's forthcoming book The Way I Heard It* started as a collection of podcast transcripts, he says on his website that it evolved to include elements of memoir and unrecorded stories told in the style of his podcast. The hosts of My Favorite Murder do something similar in their book Stay Sexy and Don't Get Murdered, building on elements of memoir and self-help.
(*Disclaimer: I work for the audio publisher of these two titles, but opinions are mine.)
7) Podcasts Based on a Book
Starting a podcast inspired by a book offers authors a new medium to continue exploring the same ideas. It also serves as a way to expand their brand and continue promoting the book. Gretchen Rubins, author of The Happiness Project, now co-hosts a podcast with Elizabeth Craft called Happier. The 2005 book Freakonomics also inspired a weekly podcast of the same name, which is now approaching its 400th episode. After publishing Doing It—a teen guide to sex and relationships—author and YouTuber Hannah Witton launched a podcast of the same name, in which she continues the conversation started on her channel and in her book.
8) Audiobooks with Podcast Elements
Some authors are starting to use podcast transcripts as a narrative form. An example of this is the YA thriller Sadie by Courtney Summers. Half of the story is told in the style of a true crime podcast about the unsolved murder of a dead girl and her missing older sister, and the other half is narrated in the first person by the missing girl herself. In the audiobook version, the podcast elements were recorded to sound as real as possible, using a full cast of narrators and sound effects to set the scenes.
9) Podcasters Getting Book Deals
Editors and literary agents have long been scouting out potential book projects from interesting people with something to say and a platform to promote it—and podcasters are no exception. The resulting book is not always directly tied to the podcast, however. Vanessa Zoltan, co-founder and co-host of Harry Potter and the Sacred Text, recently shared news of landing a book deal to write about Jane Eyre as a sacred text. This was the topic of Zoltan's thesis at Harvard Divinity School, and also the inspiration for her Harry Potter podcast. Podcast hosts are natural storytellers, so it makes sense that they would have unique ideas worth exploring in written form (and I, for one, can't wait for the audio adaptation of this text!).
Did I get a book deal at Penguin writing about treating Jane Eyre as sacred? @penguinpress @TarcherPerigee pic.twitter.com/BILeV6bU5z

— Vanessa Zoltan (@vanessamzoltan) May 2, 2019
10) Oral History Projects
Not everyone gets to publish a book and have their story produced by a professional audio publisher. But everyone has a story to tell, and that is what oral historians aim to preserve. Earlier this year, I attended the audio culture festival On Air Fest, which highlighted two oral history podcasts working to share those stories with a broader audience: Our Streets, Our Stories (produced by the Brooklyn Public Library) and Flatbush + Main (produced by the Brooklyn Historical Society). Whether streamed to 10 listeners or 10,000, these podcasts amplify the stories—and the voices—that often go overlooked by traditional media.
Even oral histories can come full circle though, as is the case with the book Listening Is an Act of Love, a compilation of oral histories compiled by the StoryCorps organization—and available as audiobook.
---
Be sure to check out some of our other articles on podcasts and audiobooks: