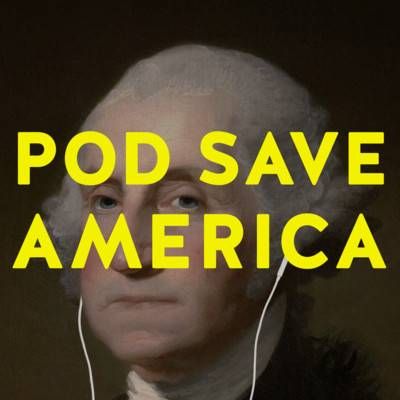 This content contains affiliate links. When you buy through these links, we may earn an affiliate commission.
For millions of Americans, Trump's election day victory felt like a gut punch. Many of us assumed we'd elect a president who believed in climate change, social justice, and integrity. Millennial women in particular have seen their post-election stress levels skyrocket, and many say it has impacted their friendships, romantic relationships, and work environment. But out of the yawning chasm of despair created by Trump's election, an unlikely hero has emerged.
Crooked Media was founded by former Obama White House staffers Jon Favreau, Jon Lovett, and Tommy Vietor. Their goal was to create politically progressive podcasts that inform, entertain, and inspire activism. Hundreds of thousands of listeners download their Pod Save America podcast each week. Their blend of humor, outrage, and enthusiasm- as well as their expert ability to break down complicated policy issues- all contribute to the show's success. In addition to Pod Save America, Crooked Media produces Pod Save the World (which delves into foreign policy), Pod Save the People (which focuses on social justice), Lovett or Leave It (a political/comedy roundup of the week's news), and With Friends Like These (in-depth interviews that focus on how, as individuals, we can begin to bridge the issues that divide us).
With their continuous calls to activism, the guys at Crooked Media have encouraged their listeners to engage with the process in unprecedented ways. The following list continues the themes of engagement, social justice, and how small-scale activism can effect big change.
Al Franken, Giant of the Senate by Al Franken
Franken was recently interviewed on Pod Save America to the conspicuous delight of the hosts. The Senator's memoir begins with his time at Saturday Night Live (succinctly split into Not the Drug Part and the subsequent Drug Part) and concludes at present day. He recalls his initial Senate campaign, which resulted in the closest outcome in history and an 8-month recount. His blend of humor and intelligence combined with his trademark blunt delivery make for an entertaining read.
Who Thought This Was a Good Idea?: And Other Questions You Should Have Answers to When You Work in the White House by Alyssa Mastromonaco
Mastromonaco worked with Obama for almost a decade, beginning with his Senate campaign and eventually rising to Deputy Chief of Staff for Operations at the White House. During her tenure with Obama, she often worked closely with fellow White House staffers Favreau, Lovett, and Vietor (all of whom she mentions in the book), and she is a frequent guest of the pod. This funny and inspiring memoir also contains excellent advice for young professional women. It's one of those books you'll want to talk about nonstop with your friends while you're reading it.
The New Jim Crow: Mass Incarceration in the Age of Colorblindness by Michelle Alexander
The New Jim Crow has become something of a modern day classic among activists as well as with people who want to better understand the impact of mass incarceration. Alexander explains how, by targeting black men through the War on Drugs, the U.S. criminal justice system has essentially created a new caste system as effective at denying basic civil and human rights as the previous Jim Crow laws. This book was recommended on Pod Save the People.
Evicted: Poverty and Profit in the American City by Matthew Desmond
While eviction isn't often publicized as an urgent societal concern, it's a very real burden for millions of Americans. An estimated 2.7 million Americans faced eviction in 2015 alone. This book explores the stories of eight families as they struggle to keep roofs over their heads. Desmond expertly reveals the profoundly damaging and long-term implications of being evicted. This book is narrative nonfiction at its finest- capturing the devastating cycle of poverty and eviction. It has drawn praise from authors such as Roxane Gay, Ann Patchett, and Jesmyn Ward- and for good reason.
Dreamland: The True Tale of America's Opiate Epidemic by Sam Quinones
Drug overdoses are now the leading cause of death of Americans under 50. Overdoses contributed to 59,000 deaths in 2016– a 19% increase from the year before. So it's no surprise that millions of Americans are trying to understand how we got here and what we can do to move forward. Quinones' book intertwines two narratives: the big pharma epidemic of the 1990s, during which doctors over-prescribed painkillers like OxyContin; and the influx of black tar heroin into the country around the same time, a cheaper drug that offers similar effects. Quinones introduces us pharmaceutical executives, entrepreneurial drug dealers, narcotics investigators, and addicts in an unforgettable account of the epidemic facing America today.
Nobody: Casualties of America's War on the Vulnerable, from Ferguson to Flint and Beyond by Marc Lamont Hill
Hill's powerful examination of race and class in America addresses the people he posits are considered "Nobody" within American society: People of color who are often treated by society as exploitable and disposable and who are intentionally denied access to fundamental rights and freedom. Hill recounts the tragic events leading up to the deaths of Michael Brown, Freddie Gray, Sandra Bland, and many other black and brown people who have died unnecessarily. He considers the policies, political corruption, and misjudgment that led to the water crisis in Flint, Michigan.
Born a Crime: Stories from a South African Childhood by Trevor Noah
I don't think I've laughed so much at a book that also made me sob. Noah's hilarious memoir of growing up in South Africa is also a poignant tribute to his mother. Noah was featured as a guest on Pod Save America and also interviewed the PSA guys on The Daily Show. Pro Tip: With Noah's excellent narration and ability to perform myriad accents and dialect, this memoir is an exceptional audiobook.