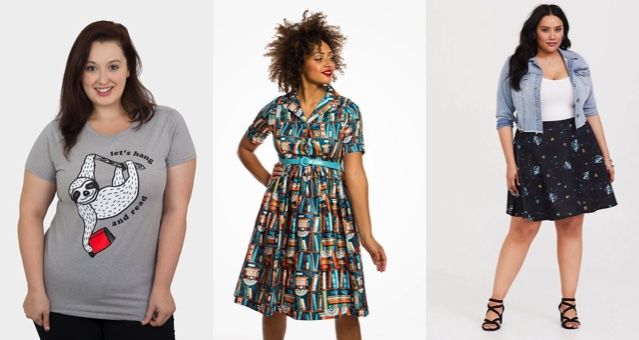 I'm fat and I'm bookish. Sometimes, this sucks. Sure, there are super-cute bookish pins, and scarves, and socks, but…I want more. I want to wear adorable T-shirts with reading puns and leggings that look like library cards—unfortunately, like most things, they don't usually come in my size. I'm luckier than many in that most plus size stores have things I can wear, and there's even a little corner in my Target that sells clothes up through 4X. Plenty of people struggle to find basics even online, and if you're looking for something really targeted (a certain fandom, or a Matilda sweatshirt), you're often completely out of luck. Don't try to complain about it. At best, you'll be ignored. At worst, berated. Like I said, being fat and bookish can sometimes suck.
There are some strides being made, and whether they represent inching or leaping forward is really relative. Below, I've rounded up several pieces from both small shops and large retailers. I hope you can find your way to some clothing that feels good and represents your interests. I hope you get the book pun shirt of your dreams!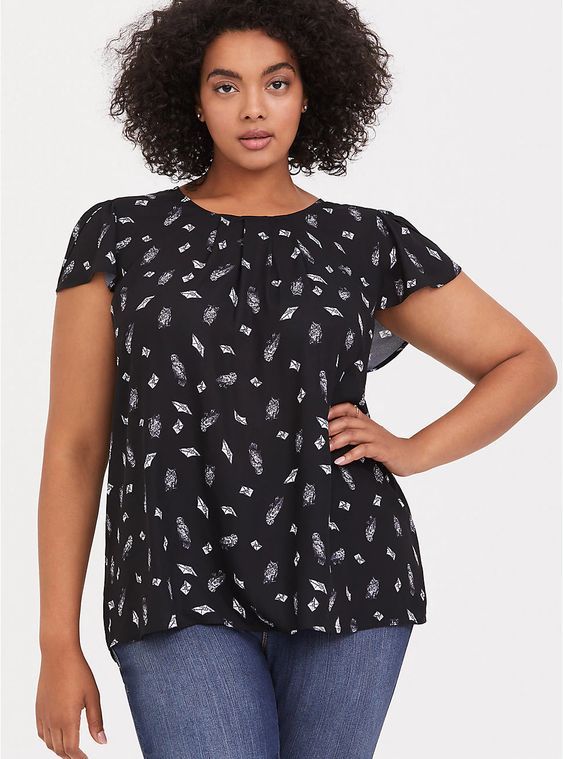 Torrid is a great place to start if you're looking for plus size clothes. Available online and in tons of brick and mortar stores across the country, these pieces typically go up to a size 6X. Their basic leggings are one of my favorite affordable wardrobe staples, but their Fangirl line has stuff representing fandoms from Disney to Outlander. This owl-and-letter Harry Potter print shirt is understated enough for a business casual environment while still nodding heavily to the magical series.
Another winner from Torrid, this skirt celebrating Marvel's Endgame logo is available in sizes through 6X, again with a print that's pretty subtle but definitely specific enough to start some great conversations. I'm also dying over all the reviews including the words we long to hear: it has pockets! Make sure to comb through the entire Fangirl section, as there are many more book, comic, and movie/TV fandoms represented in inclusive fits and sizes.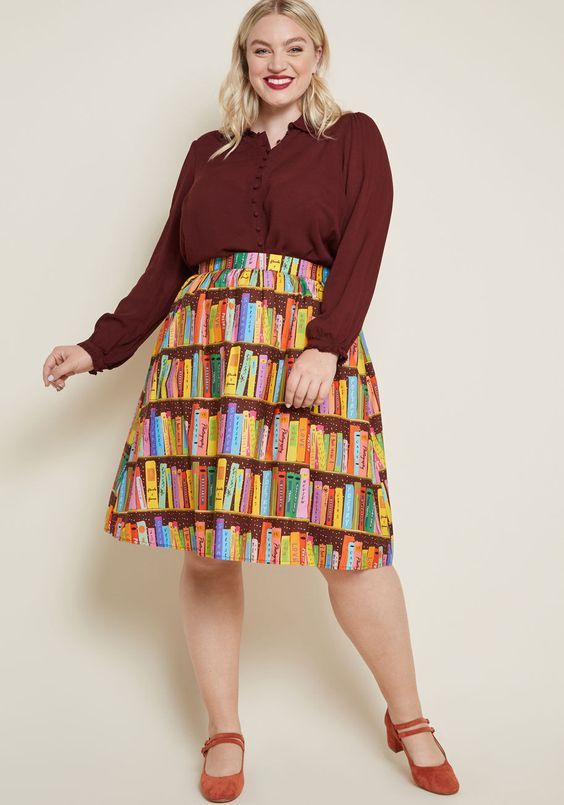 Modcloth is really pricey and really fat-friendly. While a large majority of their gorgeous dresses, skirts, blouses, and swimsuits come in sizes up to 4X, it's the comments section that really makes Modcloth worth the money. Many plus-sized customers take the time to review and post pictures, so while you can see the outfit you're buying on a model, you can also see it styled on people of all sizes in their homes, with the added win of detail-oriented reviews. This adorable, slightly retro skirt is printed with brightly colored book spines, sure to advertise your bookish nature to any onlooker.
Buying anything other than a shirt from Etsy can be a tricky venture, but this seller creates each piece to order with a specific waist size, and isn't that the dream? A custom piece, just for you? The vintage book covers that make up the fabric are quite unique, and you can choose the theme (classics, horror, or children's literature) that fits you best.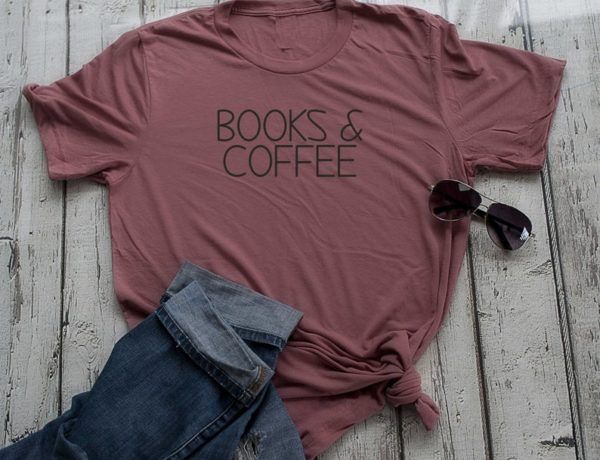 These breezy book pun T-shirts are the market I feel most excluded from, and I will admit that I've yet to find the perfect answer to this problem. However, with some digging, it's usually possible to find shirts that at the VERY least fit, even if the actual stye leaves something to be desired. This shop sells shirts through a men's 4X, and the color palette extends beyond the typical heather gray. If books and coffee is an entire lifestyle for you, this shirt will let you share that with the world.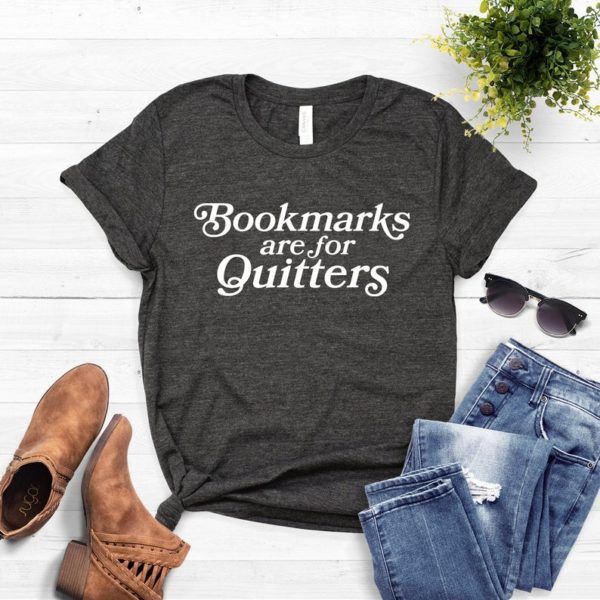 Another snappy saying on another unisex shirt—it's the fat and bookish bane, but some sellers are better than others! This shop gains distinction for a pretty color palette, and a size chart that compares their 3X shirt to a woman's size 26/28—these are the kinds of references that make shopping easier for all people, but fat people especially. Extra points for offering all colors in all sizes. Scroll through to get a peek at a few more bookish sayings!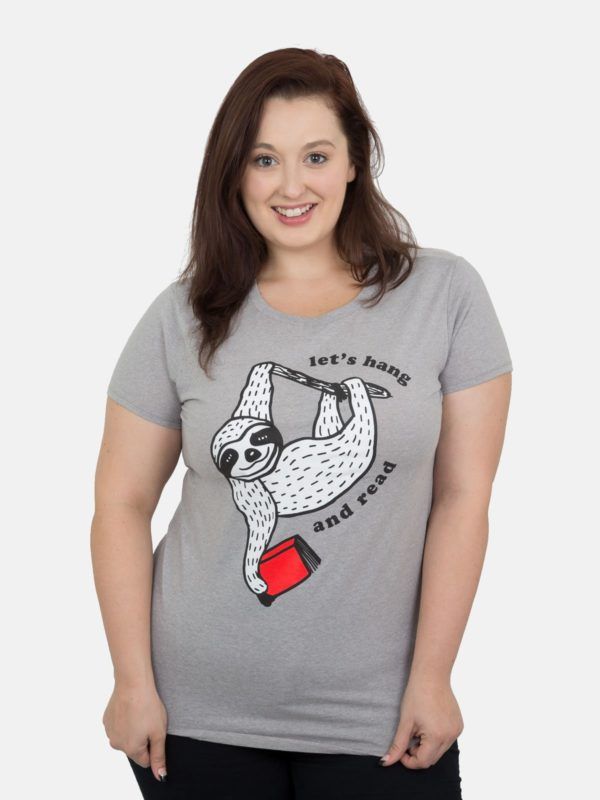 Speaking of the bookish shirt game, no shop compares to Out of Print. However, I have struggled for years to get a good grasp on their sizing. For a long time I would buy the largest size offered and then be limited to styling in certain ways (tucked into a skirt is my go-to for shirts that are too small). I was very pumped when they began offering a limited selection of their women's shirts in plus sizes (1X–4X), but I recommend these with a word of caution—they are very slim fit, and to get a comfortable shirt, I would size at least two sizes up. This ends up being slightly restrictive (a decent 2X is as large as you can really expect) but it's still a step in the right direction. I dream of the day when I can funnel large amounts of my paycheck into getting the adorable designs offered (straight-sized collab with Rifle Paper Co.!? I swoon), so let's keep asking!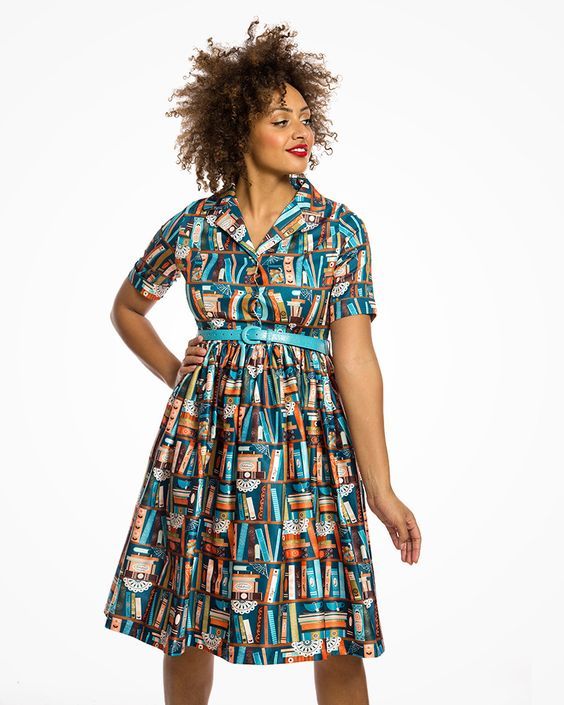 This dress really is the full package—available up through size 6X, 50+ reviews explaining the fit and fabric, and IT HAS POCKETS! Even though I firmly reject the idea that fat people need to wear "flattering" clothes, retro fits are often appealing because the full skirts and nipped waists really do present a lovely picture. The bright, book-spangled print has been described by reviewers as looking even better in real life. This is going on my wish list.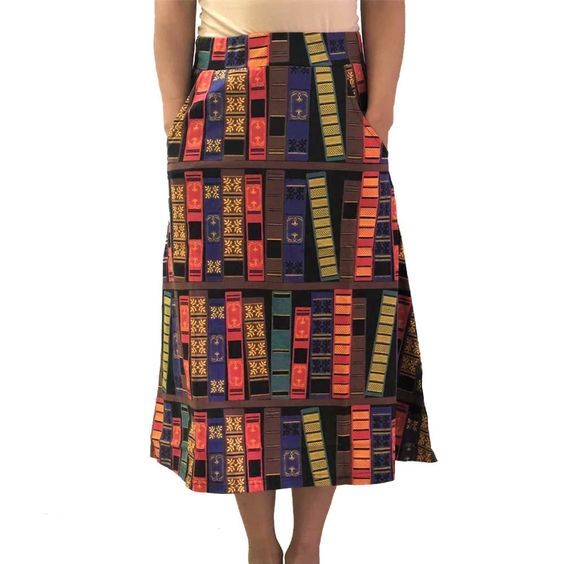 Svaha is a company founded by a mother who was fed up with gendered clothing and a lack of STEM-themed clothing in general. The website is full of delightfully nerdy prints on everything from lunch boxes to dresses, and the magic continues with size inclusion through 5X! This particular skirt (which is also available in a dress format) features a pattern of book spines in rich jewel tones, and yeah, it has pockets, too. You're welcome!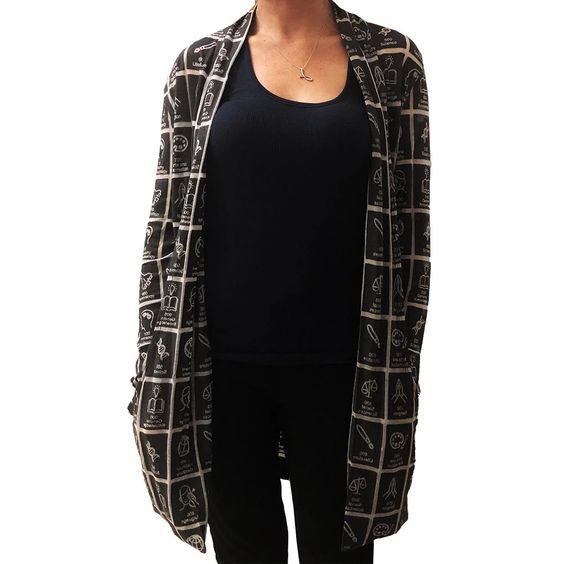 Another from Svaha, this cardigan is perfect for the library enthusiast in your life. A slightly translucent design features icons and labels for the different sections of the Dewey Decimal Classification system. Dewey isn't my favorite guy, but as long as libraries are using this system to organize their books, this cardigan is a perfect bookish staple whether you'd find yourself in the 400s learning a new language or in the 800s with classic literature.
---
I want to end by reminding you that you, wonderful person who doesn't wear straight sizes, DESERVE clothes that fit. The thrill of "I LOVE THIS," followed by the sinking feeling of "they don't have my size" does not have to be our destiny. ASK. Every time I see an online advertisement for something I would buy if it only came in my size, I comment immediately. With larger companies, I'm less polite, but even independent artists get a minimum of "I really wanted to give you my money! Why do your shirts stop at XL?" You are worthy as you are, you are allowed to voice what you want, and eventually, we will get our bookish shirts in every size under the sun.
Looking for more great plus size bookish clothing? Check out this round up.