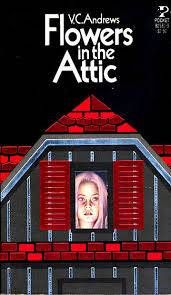 When Book Riot contributors took up the call to watch the Lifetime premiere of the new Flowers in the Attic made-for-TV movie, I was simply excited to go back to a YA root book. It was, I imagined, just like re-reading Little Women, or, perhaps more appropriately, due to what I remembered of the sexytimes content, Judy Blume's Forever…. I sat down to re-read, tingling in anticipation.
Well. As soon as young Cathy Dollanganger and her siblings set foot in that titular attic, the whole crazy plot came flooding back and I began to be very, very uneasy. This is not the book I remembered. Or is it?
After much soul-searching, I wrote the following to my fellow Rioters: I simply cannot do this Flowers in the Attic re-read. I dug in, I tried, and I keep coming back to just plain old disgust with Ms. Andrews, with Cathy and her creepy creepy family, and all of the bs that is being put out there in the name of Young Adult/Gothic Fiction/Whatever. I totally surprised myself. This was one of my favorites, back in the day.
But what the hell made this one of my favorite books? I'm fairly certain I was allowed to read it, so although the content was taboo, the "I'm not supposed to be doing this!" thrill was not it. (For comparison, I did get that thrill with The Blue Lagoon, another incest-between-young-adults bit of cinematographic classic.) I must have been as enchanted by Cathy as her many, many child-molesting suitors, including depending-on-how-you-read-it rapist brother Chris, foster father Dr. Paul, Julian the ballet egomaniac, and sort-of-stepfather Bart Winslow. (Whoops, sorry, book two spoiler alert.)
I loved Forever… because I love Judy Blume, because it's a good story – a first love story! – featuring interesting people and relatable situations, even if the whole sex thing went over my head a bit the first few times I read it. When Forever's Kath loses her virginity it's a scene that is instructional as much as graphic: she experiences discomfort, pleasure, and confusion, 'rubbers' are involved, Michael's penis has a name (Ralph), and Kath even has had a frank talk about the consequences of having sex, with her grandmother of all people. But with Flowers' Cathy it's a whole different ballgame.
Flowers' Cathy is the kind of heroine that, at this point in my life, frankly makes me sick. Yes, she's the product of inbreeding herself and inherited a horrible relationship with her own mother, and grandmother. She has some issues. But let's be real: you can label this Gothic Horror, or Family Saga, or whatever genre you like, but this is a book about lusty incest, evil parental figures, and teaching girls to be sexy and use their femininity to cross any boundaries necessary to get what you want. And it's marketed towards impressionable young adults. As Riot co-writer Cassandra Neace pointed out in response to my confessional outburst: "By the end, I was thoroughly confused about my reaction as a young reader and convinced that I had found the source of so many people's relationship issues." That about sums things up.
I'm not saying that young adult fiction should be bereft of sex, or that sexual awakening is a topic too taboo for this target age group. And I'm not joining the cacophony of protesters who would have the book banned. This is simply the lament of a girl who used to love a book, and now hates it. Some flowers should just stay in the attic.