This content contains affiliate links. When you buy through these links, we may earn an affiliate commission.
Nothing is certain except death and taxes–and your favorite TV show getting canceled. While discussing with fellow Rioters my excitement over Mark Consuelos being cast as Hiram Lodge on Riverdale it was speculated that this might mean bad news for Pitch and it's renewal. While my love for Pitch wanted to believe that Consuelos would be able to easily act on both shows I knew it was only a matter of time before Fox announced it was canceling Pitch–may whoever made that decision never walk without stepping barefoot on a Lego. And then my other favorite show No Tomorrow got canceled by the CW because networks clearly hate unique, wonderful, and amazing shows. While sometimes a canceled show gets a movie made for the fans (Veronica Mars), or saved by Netflix (Arrested Development), or a novelization (Clarissa Explains it All in Things I Can't Explain) some TV shows would also work wonderfully as comics (Firefly –> Serenity) allowing the story to continue and the characters to live on. So we plead to you TV and comic creators please come together and bring back these canceled TV shows as comics. We thank you in advance!
I'll go first!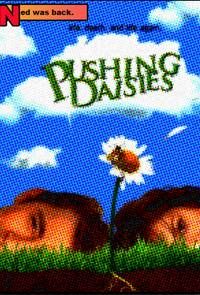 Pushing Daisies: This show was magic. MAGIC. Ned has the ability to bring dead things back to life—with contingencies like after a minute something else near will have to die and once brought back if he touches it again it'll die forever. The show was perfectly quirky (he uses his gift on dead fruit to make pies!), funny, interesting (they solve murder cases by Ned bringing back the deceased to life for under 1 minute to tell them what happened), unique, visually beautiful, and most importantly had fantastic characters. When I die I will haunt whoever decided to cancel this television show—and if they're already dead I'll just bug the daylights out of them in the afterlife. So many things about what made this show magical on TV would translate perfectly to a comic and even allow the creators to probably expand more in things that maybe the TV budget didn't allow them to create. I'd also like to point out that a yearly Lil' Gum Shoe issue written by detective Emerson Cod would be a fantastic bonus to this comic series that needs to exist!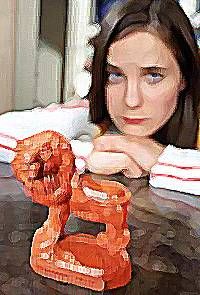 Wonderfalls: A talking wax lion, brass monkey, stuffed fish, mounted fish, stuffed bears… this show is clearly ripe for the comic treatment. The visuals this one-season Fox comedy inspire could make for some truly hilarious and interesting graphics. Jaye Tyler is a recent Brown graduate who ends up working a mind-numbing job at a gift shop in Niagara Falls. The gift shop items begin to speak to her, instructing her on how to help the people around her as Tyler tries to find her own way in the world. I can absolutely see each episode of this short-lived show in full, vivid color between the pages of a trade. —Elizabeth Allen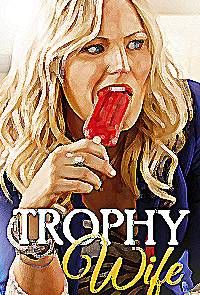 Trophy Wife: It's been three years, and I'm still bitter about the cancellation of this show, and not even just because it starred Bradley Whitford, married to a woman my age. No! That's only about 95 percent of the reason I loved it. The kid actors were great, the ex-wives were funny, and the writing was smart — there were, in particular, a lot of great puns. —Claire Handscombe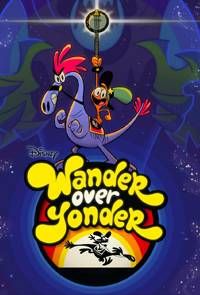 Wander Over Yonder: This show was unfairly cancelled last year, despite having a growing fanbase, adorable and sympathetic characters, a compelling story and hope in the face of the world ending. Wander is a banjo-toting peace-loving alien that sojourns from planet to planet to spread kindness and help others. Sylvia is Wander's best friend and minder, to keep him safe as he engages in pacifist derring do. Lord Hater seeks to conquer the galaxy despite Wander distracting him, and his heart breaking. Commander Peepers hopes to keep Lord Hater focused, on spreading evil and becoming "The greatest in the galaxy!" While the campaign to save the show is still ongoing, a comic spinoff would be awesome to resolve the threads left hanging, as well as the character development. —Priya Sridhar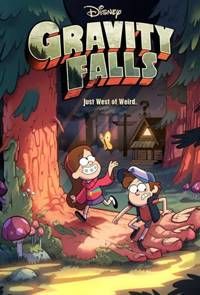 Gravity Falls: Shockingly intelligent and absolutely hilarious, this was a show which could be enjoyed on a myriad levels; enough gags to keep the kids giggling while also keeping the hubs and I endlessly entertained. Magical, whimsical, and weird, Gravity Falls gave us a non-traditional, found family whose members, despite being snarky, rude, and offbeat. were always there for one another when need arose and who never doubted one another, no matter how strange things got. An animated series to begin with, the transition to another visual medium would be a relatively simple thing (as evidenced by a really well done "choose your own adventure" style Gravity Falls novel we accidentally stumbled upon a few months ago) and would allow fans to delve more deeply into some of the more complex, bizarre tales, and relationships, first glimpsed in the series. —S.W. Sondheimer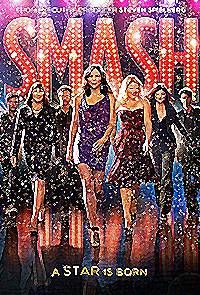 Smash: Smash's TV life was woefully short-lived, considering the ridiculous talent of most of its cast. The show – which only aired for two seasons, and each only half the average length of a normal season – followed two aspiring Broadway actresses as they tried to score the role of a lifetime. While the show ended with almost everything wrapped up in a nice, neat bow, I'd love to see a limited comic run taking place in the Smash universe. Broadway, being naturally dramatic and flashy without taking away an emotional heart, lends itself well to comics. Though, really, I just need more Ivy Lynn in my life. —Nicole Brinkley
Dead Like Me: There are a lot of great canceled shows out there, but I feel like Dead Like Me would make an amazing comic–maybe a better comic than it was a show. If you didn't see it, it's about a group of people who have died and find out upon death that they have been tapped to be the new Grim Reapers. It's funny (the main character is killed by a toilet seat from space, and death runs a little more like a corporation) but also plays on your feels (I mean, these people are coping with their own deaths) and is also kind of scary at times; it's supernatural and thus perfect for illustration; the main characters have great personalities; it's got a creative mythology all its own; and it is largely unexplored, since it only ran for two seasons. I'd love to see it with a more diverse group of characters, since it's over ⅚ white people for the main cast–but please keep Mason, he and his outfits are my fave. —Susie Rodarme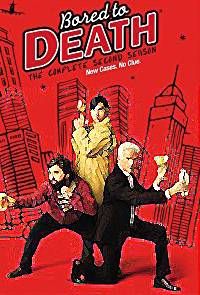 Bored to Death: I'm not a regular comics reader. I've wanted to be, but never have been. Still, I've read enough comics to know that some of the best ones out there are superhero comics. Right? Well, Bored to Death combines the superhero genre (Jonathan Ames as an unlicensed private detective is his own kind of screwed up superhero, plus let's not forget Super-Ray whose penis fuels his powers) with the lovely and ridiculous personal drama that can oftentimes be found in more serious graphic novels. I would love to see the antics that Jonathan Ames, Super Ray, and George get up to on the page. —Ilana Masad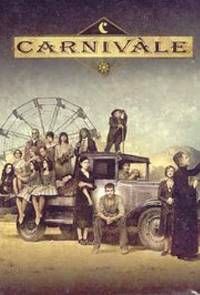 Carnivàle: Since my Penny Dreadful dreams already (thankfully!) came true, my very close runner-up is HBO's under-appreciated Carnivàle. The show was plotted for six seasons of ambitious good-versus-evil storytelling, but was cancelled after just two. The artistry of this wide-ranging, Southern gothic epic lends itself to the comic book format in terms of both art and story, with a big cast of fascinating characters living and working together in a Dust Bowl era traveling carnival. Daniel Knauf, the show's creator, said upon cancellation that he was hoping to continue the stories he had plotted in another medium, but HBO still owns the rights to the show and characters. Maybe the time is right for a hashtag campaign? #FreeCarnivale2017! —Katie McGuire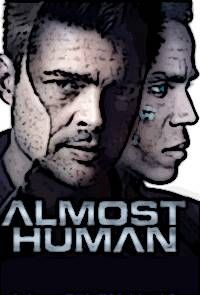 Almost Human: The year is 2048, and each police officer is partnered with an android. The technology is awesome, and the friendship and chemistry of the two leads–one a cop with a synthetic limb and another an android with an almost human heart–are beautiful. It's really a shame that Fox decided to axe Almost Human after only one season. It would be nice if it could follow the footsteps of the cult favorite Firefly, which was resurrected as a comic book after also being cancelled by Fox (boo!). —Dana Rosette Pangan
Tell us what show you'd love to see resurrected in comic book form!
Save
Save
Save
Save
Save
Save
Save