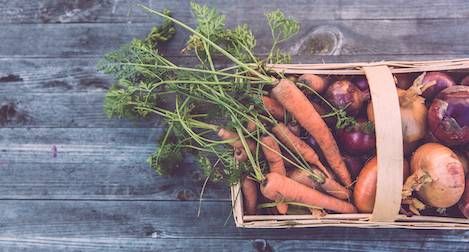 Nonfiction
Plant Some Sh*T: Books on Growing Your Own Food in an Age of Anxiety
This content contains affiliate links. When you buy through these links, we may earn an affiliate commission.
The summer I was pregnant with son 1.o, I tagged along with my husband to his various photoshoots around the city. One unseasonably warm day we were driving through the dangerous part of town, where gang violence was, at that time, rampant. I don't remember the photo assignment or where we were going, but I remember passing, right by the highway, a tiny ramshackle house with a postage stamp sized front yard—and it was filled with corn as high as an elephant's eye. The whole of the front was a cornfield, from the chain-link fence at the sidewalk right up to the house, with a path cutting through at dead center. We were driving slowly, (probably because we were taking a "shortcut" and were lost), so I had a good look. A beautiful man, approximately eight hundred years old, sat on the porch holding a hose aimed at his crop. When he saw me he raised his free arm in greeting, and his face simultaneously lit up and collapsed in wrinkles.
Shoot. I didn't even know we could grow corn up here. And in the front yard. Is that even allowed?!
There are moments in our lives, just the quickest brief moments, that niggle in our memory, shape us, alter our perception of the world. That dear gentleman and his corn kingdom set my little wheels in motion. Five years later, pregnant with son 2.o, and wondering how I'd be able to afford eventually feeding two teenaged boys, I planted apple trees in the front yard. Then came the cherries and blueberries and raspberries. And then grapes. Twenty-five years later, my little urban plot is filled with food. And no one went hungry, but dang, those fellas ate a lot.
With shifts in immigration policies, general uncertainty about the economy and healthcare, and increasing climate instability, the possibility of hunger on a wider scale seems more plausible, more threatening. Food deserts have been a challenge for many years now, but in our current political climate, many of us are especially concerned. And some of us are doing something about it.
Ron Finley, L.A.'s gangsta gardener, is an advocate of sustainable and accessible food systems, and he's a damned inspiration. Thinking about the epidemic health issues in food desert communities, he realized:
"Food is the problem. Food is the solution."
And in his TED talk he reminds us that "growing your own food is like printing your own money."
And he makes growing your own food all sound so sexy.
The internets and libraries are filled with gardening resources and inspiration. But if you've never grown anything and you're worried about feeding yourself, how do you begin?
Walk around your neighborhood, get a feel for what's what. In the mile between my house and my work, in the last few years I've seen food gardens popping up in parking strips in nearly every city block. (And at least as many little libraries, too. It's like they go together.) Taking advantage of unused space sometimes requires a little thinking, but there's no need to reinvent the wheel, so look at where and how and what is growing in your area.
If you can't find any gardens, find some gardeners. Go to your local farmers market and chat up the farmers. Our market often has a table for the Master Gardeners, who are happy to answer questions. And there are oodles of Facebook pages devoted to supporting gardening projects where I've "met" several helpful and kind local peeps.
I've found talking to people before you look at books to be helpful—because intimidating. But you might prefer to look at some books first. Here are a few to consider:
Will Allen's The Good Food Revolution is more inspiration than a how-to. But food is as much about stories as it is about technique.
Back in the early days, I found the simple illustrations in the Moosewood Restaurant Kitchen Garden book inspiring. There are clever designs here for integrating herbs and vegetables into an ordinary urban or suburban plot. Also check out this more recent gem: The Edible Front Yard: The Mow-Less, Grow-More Plan for a Beautiful, Bountiful Garden.
I've since moved on to an urban permaculture model, which you can read about in Gaia's Garden. And my friend Roni, a farmer, has taken her gardening to the next level with hegelkultur, which is a fancy word for piles-o-stuff: Sepp-Holzer's Permaculture.
Plants aren't the only thing you can raise in a small yard. Books about raising backyard chickens are all the rage now, and there are lots of 'em, but I was especially taken with Free-Range Chicken Gardens: How to Create a Beautiful, Chicken-Friendly Yard. The Backyard Homesteader is another great resource.
Of course, not everyone has a farm, or even a corn kingdom postage stamp size yard. No land? Not a problem. Try containers. My apartment dwelling friends all swear by the oldie-but-goodie, McGee & Stuckey's Bountiful Container.
Finally. Decide what will work for you. Put down the books and go outside. Or, as Ron Finley says:
"Plant some shit."
What are your favorite books on growing your own food for home scale food production?