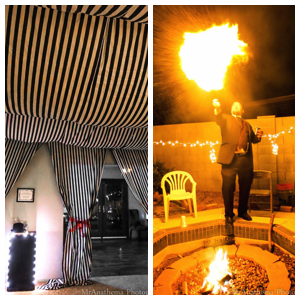 How To
Planning A Bookish Party (Or How To Create A NIGHT CIRCUS Party)
I am in the (very) lucky position of being known as a "bookish person" among friends. This means that people tag me in Facebook posts when they need book recommendations, invite me out to bookstore dates, and don't bat an eye when I say I'm hosting a party based on a book.
For the second year in a row, my husband (also bookish) and I have been hosting a book party based on Erin Morgenstern's The Night Circus. We love the heck out of the book's characters and plot, but what we really adore is the amazingly lush world that Morgenstern created in her novel.
We wanted to create a Night Circus for our own friends that captured some of the magic of that book. And so we did.
Each year we plan on making it bigger and better, but these are a few of the tips I've learned along the way for planning a bookish party.
1. Get your bookish friends involved beforehand
We could not pull off our party every year if friends weren't involved. Many of them read the book when I told them about the party and got as excited as we were (or more excited, in the case of a friend who has now listened to the audiobook three times).
Now, a few friends are in charge of different areas in the party, like this garden recreation of Widget's tent or our cloud room, wishing tree, or hall of mirrors.
2. Splurge on that one stand-out element
We knew that everybody who read The Night Circus (or even looked at its cover) would expect bold black and white stripes. We decided to go for it by buying *ahem* lots and lots of black and white striped fabric and recreating a tent set-up in our main entry.
Every book has that one thing people expect–whether its Platform 9 3/4 for a Harry Potter party or Jazz-Age music and cocktails for a Great Gatsby party.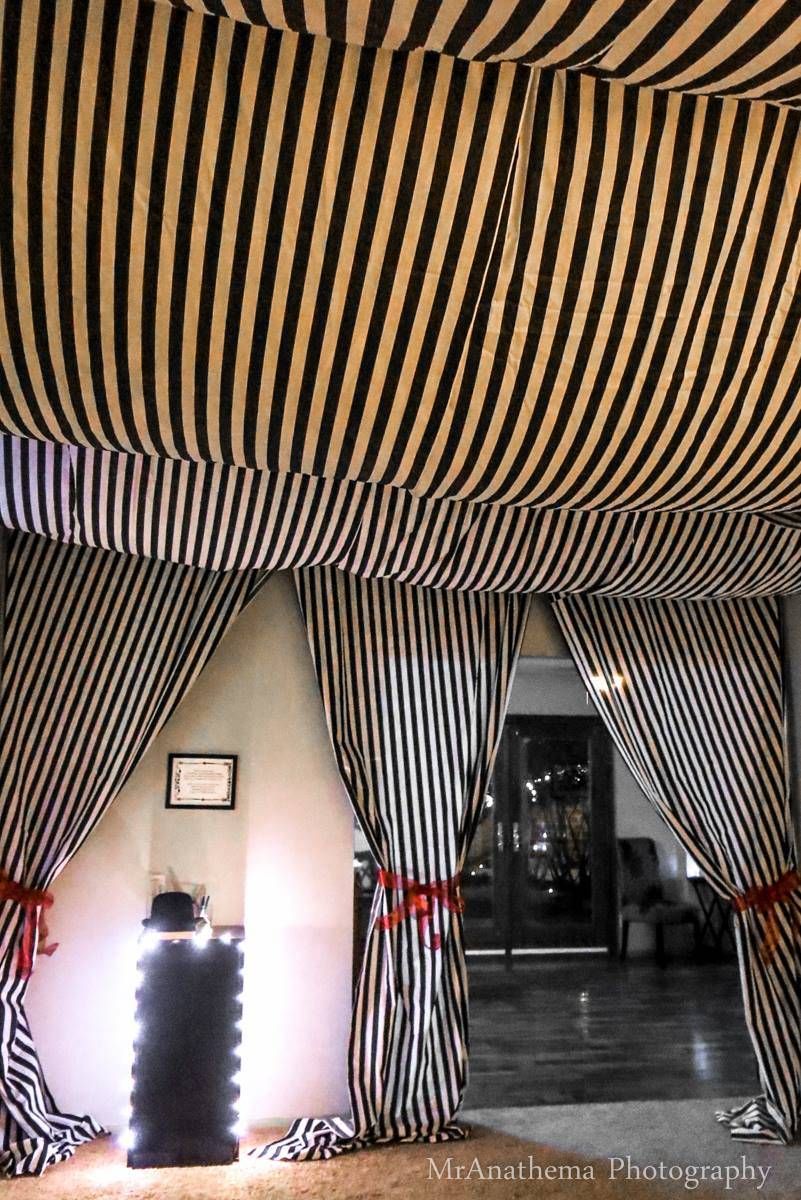 3. Find easy ways to create the right atmosphere
While planning our Night Circus party, I was dedicated to making it feel as authentic as I could. We couldn't obviously do everything we wanted, but we could pull in bits of the story only the most dedicated readers would recognize (like our hall of mirrors or a colored bonfire).
We also served Night Circus appropriate drinks like fizzy sangria, spiced cider, and pumpkin porter. A black and white candy bar was pushed over-the-top by fantastic chocolate and raspberry cupcakes (with striped tents even!) one guest brought. Music tended towards blues, jazz, and bluegrass. Oh, and we raided everyone's garages, and hung lights like absolutely everywhere. We were able to do most of it fairly cheaply by crowdsourcing items, checking thrift stores for stuff, and buying in bulk.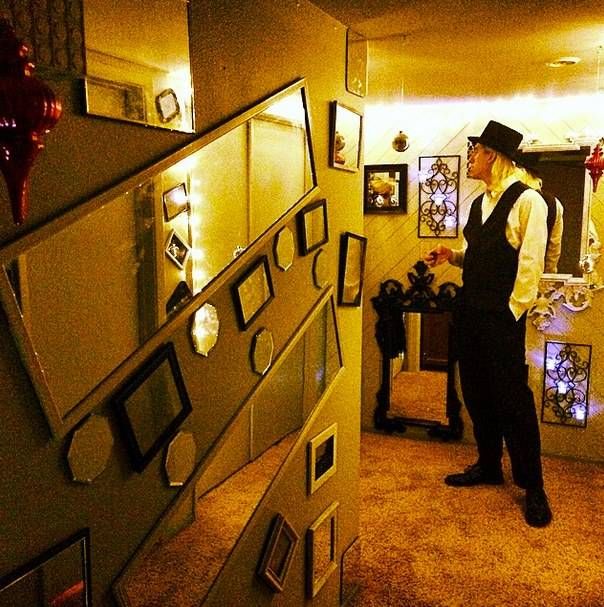 4. Did I mention having great friends?
It's great to have a planning crew to help with the party before, but a circus doesn't really come alive until the performers arrive. We asked everybody to dress fancier to help with that atmosphere mentioned earlier, but also contacted a few people separately to see how they could help out. Turns out we had a cupcake artist, contortionist, a few jugglers, a Tarot card reader, some photographers, and a fire breather in our midst.
I imagine you'll be surprised at the talents of your friends and family when creating a party. Maybe one friend knows proper tea arrangements for a Jane Austen party. Another might have a great Mad Hatter costume and performance for a Alice in Wonderland party. Perhaps you have friends who can play music or recite poetry or make Butterbeer.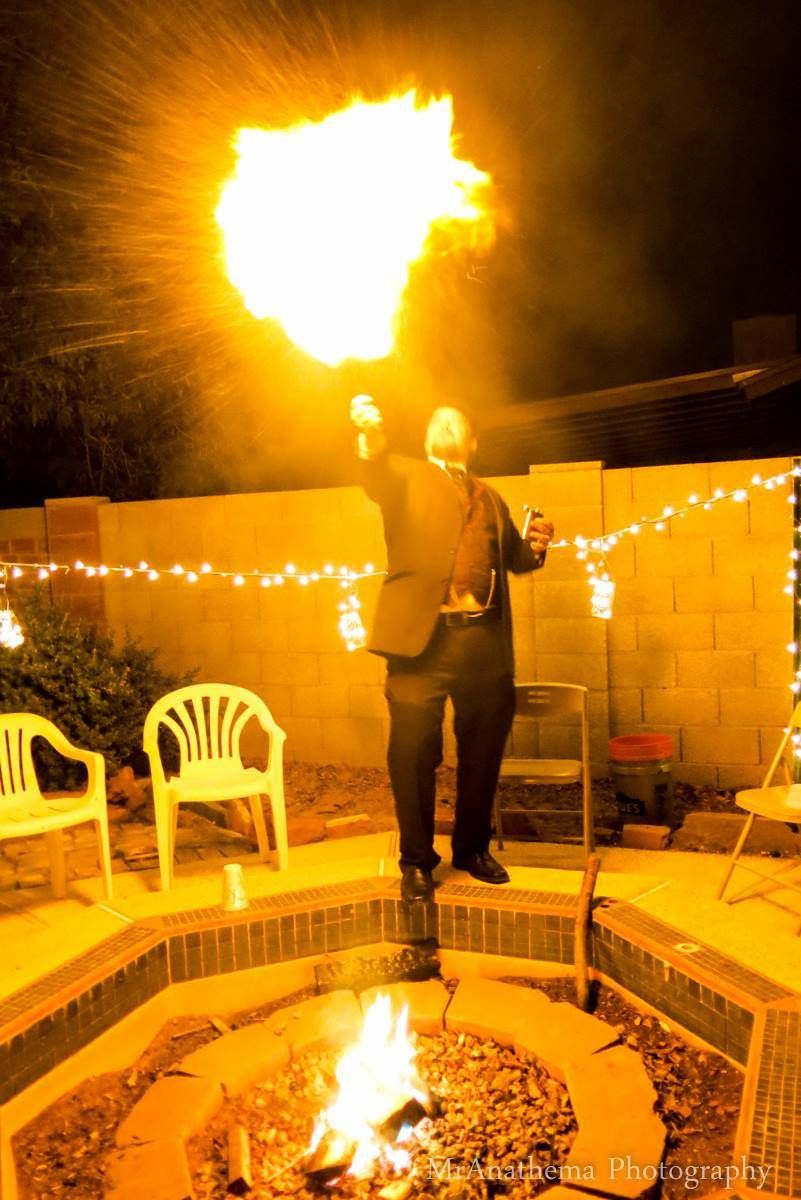 5. Find your book and start planning
Whatever book you love, there's a way to create a party around it. Fantasy novels like Harry Potter or Game of Thrones already have a world for you to set your party into. Others like The Secret History or One Thousand and One Nights already have a specific scenario you could set yours up around (a bacchanal and story-telling night obviously). Novels set in a distinct time period–like The Great Gatsby or Gone With the Wind or A Moveable Feast–are all easily translated to a party.
Once you have your book, head on over to Pinterest and start planning. I guarantee your party won't look as stunning as some of the stuff over there, but it's a good place to get ideas. You can find my ideas for our party here or here.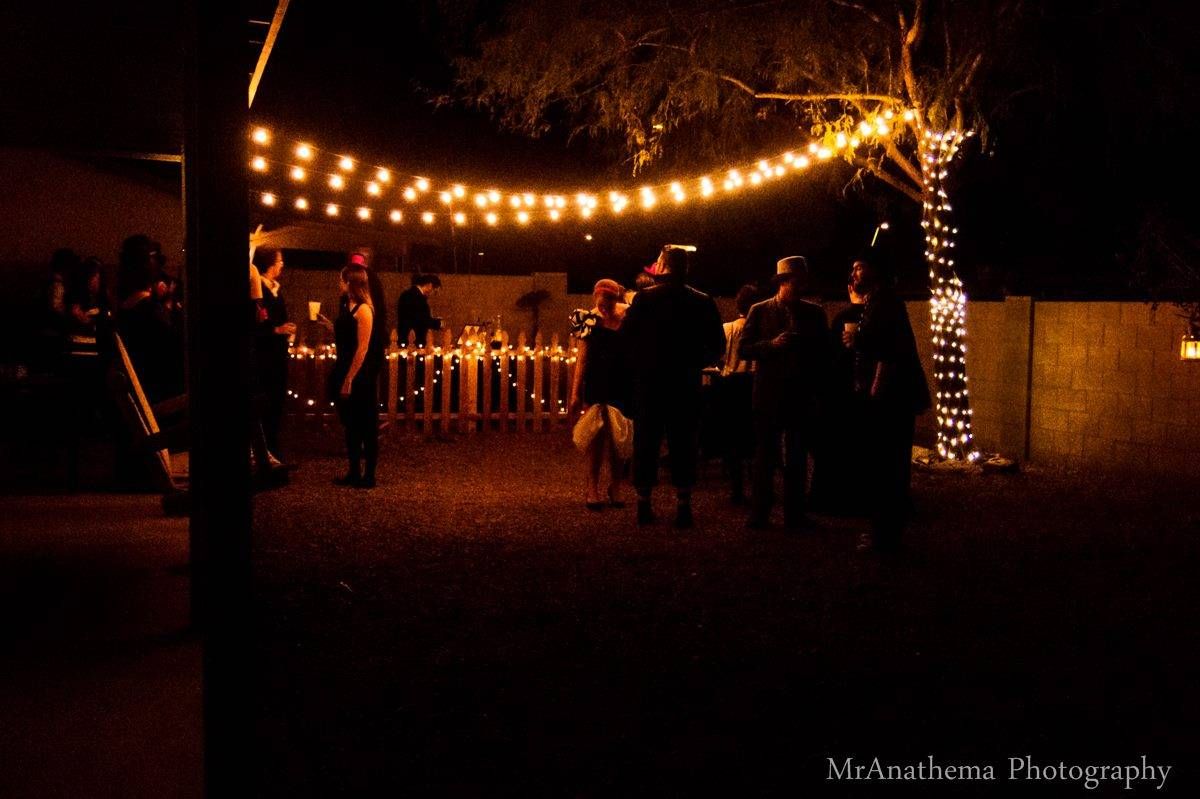 If you've hosted or are planning to host a bookish party, tell me about it in the comments. Let me know if you have any questions too and I'll try to help!
(The majority of photos in this post are courtesy of my very kind and talented friend Joe over at MrAnathema Photography in Phoenix. Thanks Joe!)