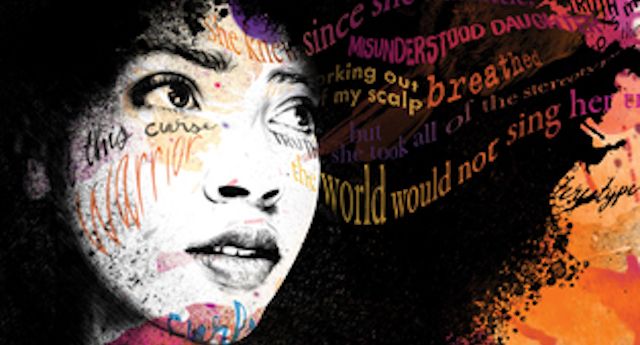 This content contains affiliate links. When you buy through these links, we may earn an affiliate commission.
If you keep up with bookish news (or any news) at all, you probably have seen the gorgeous cover of Elizabeth Acevedo's The Poet X. It was everywhere, from bookstore shelves to social media to tote bags, especially as the book won award after award. The National Book Award, the Printz Award, the Pura Belpré Award, and more. And it truly is beautiful, featuring bits of words and poetry overlayed over a stunning face.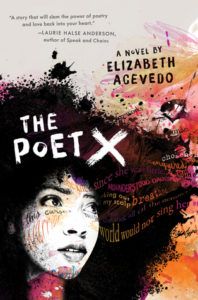 But it turns out the face (and the photo from which it came) belongs to a talented photographer named Amanda. It does not in fact belong to the artist who designed it at HarperCollins, Gabriel Moreno. In a disturbing turn of events, we learned that a book about the importance of Afro-Latinx voices had a cover which stole the voice of a real life Afro-Latinx artist.
A friend alerted Amanda to the startling resemblance between her and the book cover, which led the artist to tweet at Epic Reads, HarperCollins's young adult fiction blog site, on June 30th.
While the connection is obvious in the above image, the plagiarism got completely indefensible once another user tweeted a gif of Amanda's image fading into the book cover. Once you watch this, there's no way the artist did not blatantly steal Amanda's image.
Epic Reads responded to Amanda in earnest, giving me hope that the situation will be resolved soon. (They are calling her Opal because that was her Twitter name at the time. However, now her Twitter name is Amanda not Opal, so I'm referring to her as that.)
Author Elizabeth Acevedo, who is not to blame as she most likely had no knowledge of this plagiarism whatsoever, also reached out to Amanda, expressing sincere remorse. Kudos to Acevedo for immediately trying to help out.
The blame certainly does rest with artist Gabriel Moreno, who—as far as I know—has not addressed these allegations. He certainly told many people it was his own work, most notably in an article from EpicReads (that has since been deleted).
On July 2, Amanda tweeted that "seeing my face on tote bags, on fan art, on peoples book reviews. Is so bittersweet. I always imagined my work being everywhere, but not like this. Not without anyone knowing it's me, not without being credited. I worked hard to get my camera gear, my following, it makes me sick." I can't even imagine how she feels.
Wondering if there's anything you can do? Follow Amanda on Twitter, especially on her photography account, and remember to support up and coming artists whenever you can. I'm sure this isn't the first time a big name tried to steal a lesser known artist's work.
I can only hope that Amanda gets some significant compensation for her work. This book's cover has been everywhere due to the acclaim awarded to the book itself. And we say don't judge a book by its cover, but a lot of us do it anyway. I know I'm guilty here. How many of The Poet X's buyers might not have thought to try out this amazing, groundbreaking novel if it had a different, less eye-catching cover? We may never know. What I do know is that Amanda deserves recognition, compensation, and a huge goddamn apology.