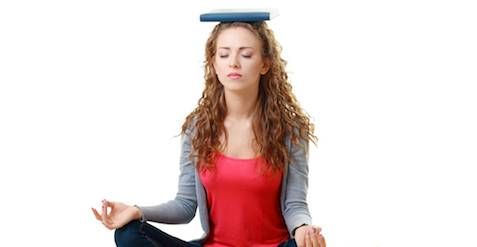 Children's
Picture Books as Meditation: A Reading List
This content contains affiliate links. When you buy through these links, we may earn an affiliate commission.
One of the best parts about my job as a children's librarian is my regular exposure to beautiful picture books. When I first started working in the field, I didn't have kids yet, and I was only mildly interested in kid's books. Sure, I had fond memories of wiling away many a childhood hour with Anne of Green Gables or Ramona Quimby, but I could barely remember any picture books I had loved. I thought of picture books as cute or funny, and occasionally pretty to look at. But I never expected them to have any relevance to my life as a 30 year old adult. Boy, was I wrong.
The more time I spent working with picture books, the more I realized that picture books contain multitudes. Paging through the physically pleasing, mostly large format books, I laughed, I cried, I sighed in wonder. More specifically, I found that reading picture books had a kind of meditative quality for me. The rhythm of the prose and the general sense of wonderment at the world presented in these books made me slow down and ponder in ways I probably wouldn't have otherwise. Seven years and two kids later, my love of picture books has continued to grow and expand. I have loved sharing my favorites with my kids and my patrons, and I am regularly wowed by the depth and beauty portrayed in the pages. Here are seven of my favorite meditative picture books: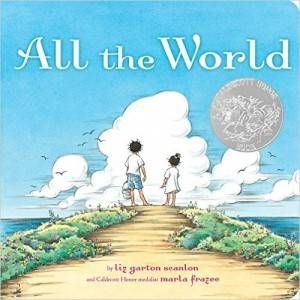 All the World Written by Liz Garton Scanlon. Illustrated by Marla Frazee.
This large format picture book depicts a day in the life of several diverse families in a coastal town. Two young children look for sea shell; couples and families frequent a farmer's market and lounge around a park. Suddenly, clouds sweep in and a surprise storm brings a sudden disturbance to everyone's afternoon. One family spies a warmly glowing restaurant: "Table/, bowl, cup, spoon / hungry tummy, supper's soon/ butter, flour, big black pot / All the world is cold and hot." I dare you to read this book and not be calmed.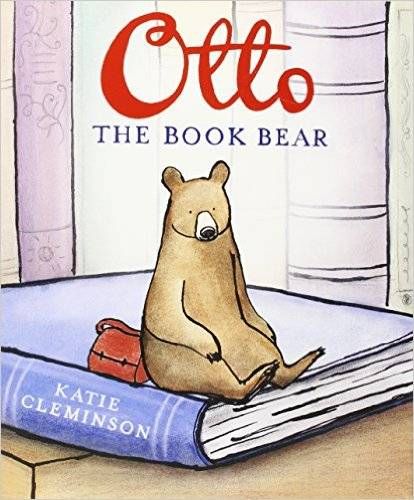 Otto the Book Bear. Written and Illustrated by Kate Cleminson
Otto is a book bear that likes to have adventures outside of his book. One day, he is accidentally separated from his story when the owner of the book moves away while Otto is out exploring. Alone, scared, Otto finds himself at a crossroads. Where should he go? What should he do? He feels lost without his story. Are you getting the metaphor here? We all feel separated from our stories sometimes, no? Combined with Cleminson's gracefully muted color palette, Otto the Book Bear inspires important questions and models a positive solution.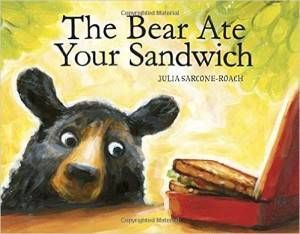 The Bear ate your Sandwich. Written and Illustrated by Julia Sarcone-Roach
I could and probably should compose an opera about my love for this book. All of my children's friends have received this book as a birthday gift from us. I think of it as a perfect piece of art. For me, the power of this particular story lies in Sarcone-Roach's acrylic paint and pencil-created art. Yes, it is about a missing sandwich and the possibility that the culprit was a bear. But I am deeply moved by the sense of wonder that the bear experiences after leaving the country and finding himself in the middle of the city. It's easy to take the beauty of the world for granted. And too often, we forget to stop and take it all in. Your eyes will drift slowly over the pages of this book, drinking in all the details, and it will be time well spent.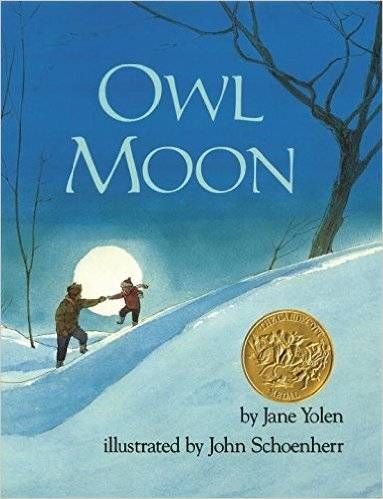 Owl Moon. Written by Jane Yolen. Illustrated by John Schoenherr.
A young girl and her father walk through a snowy winter landscape at night in search of owls. The lush silence of the winter night comes across so well in these pages. Yolen, author of dozens of picture books, creates a delicious sense of anticipation as the girl and her father tramp through the snow, making owl calls and waiting, calling and waiting…
Snow Rabbit, Spring Rabbit: A Book of Changing Seasons. Written and Illustrated by Il Sung Na
Na's gorgeous illustrations of animals and forest habitats are stylistic and distinct. You can spot a Na illustration right away. Swirls and patterns reveal themselves in animals and tree trunks, clouds and flowers. In this story, the prose is simple and straightforward, walking the reader through the changing landscape of the seasons and how various animals adapt. The artwork and the prose work together to create a hushed, sacred atmosphere. Be still and you might just sense leaves tumbling from trees and snow falling; streams gurgling and flowers opening.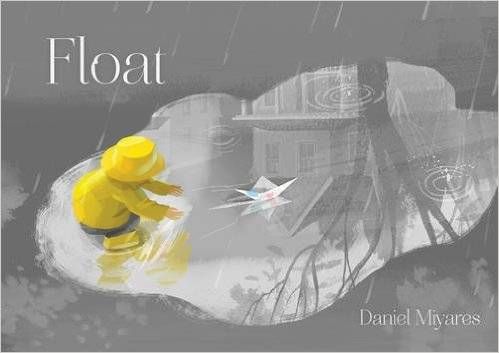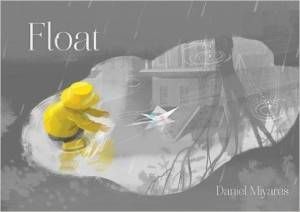 Float. Written and illustrated by Daniel Miyares
A young boy dressed in a bright yellow slicker brings his brand new, homemade newspaper sailboat outside into a gray day. He sails in it puddles and down the gutter until suddenly, it's moving faster than he can catch ! Will he rescue it ? Miyares' beautiful, wordless book immediately engages readers who will closely follow the progress of the boy and his boat. Let the outside world slip away for a few minutes, as you lose yourself in his experience.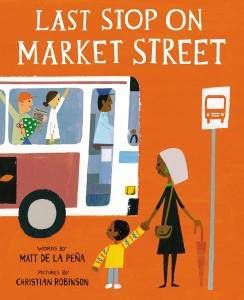 Last Stop on Market Street. Written by Matt De La Pena. Illustrated by Christian Robinson.
Awarded the Newbury Medal by the American Library Association, Last Stop on Market Street has been written about extensively. Matt De La Pena describes a boy's bus ride through the city with his Nana. Bright, engaging illustrations by Christian Robinson draw us in as CJ peppers his warm, patient Nana with questions. My favorite part of this book is when a fellow passenger on the bus plays his guitar, and everyone quiets down to listen for a few moments transforming an ordinary bus ride into transcendent one. Another wonderful moment happens at the end when CJ and his Nana get off at the last stop and encounter a dirty, run down street. CJ expresses his dismay and his Nana says: "Sometimes when you're surrounded by dirt, CJ, you're a better witness for what's beautiful." Swoon.
By the way if you haven't read De La Pena's acceptance speech for the Newbery Award, please do so as fast as you can. You won't regret it!
What about you? Are there any picture books that have a meditative effect on you?