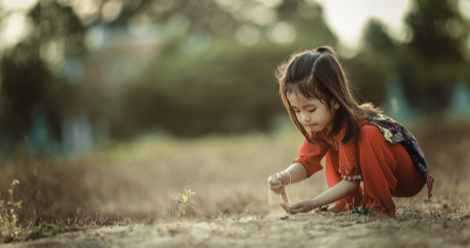 Children's
22 Picture Books for Creating Citizens of the World
This content contains affiliate links. When you buy through these links, we may earn an affiliate commission.
I've at last reached the stage of life where the people around me are starting to have children: friends, relatives, acquaintances. Many of my friends are thinking ahead about helping their children be aware of the world around them, and a few expectant moms mentioned seeking out books that can help them teach their children to become citizens of the world.
With that in mind, I got in touch with a friend who works at Quail Ridge Books in Raleigh, North Carolina, who fields questions almost exactly like that all the time—especially in the wake of difficult events.
We came up with 22 picture books, suitable for kids across age levels, to help educate kids about topics like empathy, respecting differences, and navigating difficult or sad life events. From learning about the lives of children living around the world to finding and becoming the good parts of a community, these are great additions for your own home library or to give as a gift to the child in your life.
If you're looking for even more picture books for the children in your life, check out these other lists on Book Riot featuring nonfiction picture books, picture books featuring children of color, and 100 Must-Read Picture Books from the Last 5 Years.
Come with Me by Holly McGhee, illustrated by Pascal Lemaître
The news is filled with scary things, but when a girl asks how she can make the world a better place, her parents tell her, "Come with me."
Described as a "user's guide to life on Earth," Here We Are is a guide to the Earth itself—its shape, its place in the universe—as well as a guide to the people who live here.
Be Kind by Pat Zietlow Miller, illustrated by Jen Hill
A girl spills juice on her dress—how embarrassing!—and almost everyone laughs, except one classmate who reflects on what it means to be kind and considers how being kind can be hard to remember, test patience, or even scary.
Each Kindness by Jacqueline Woodson, illustrated by E.B. Lewis
Chloe and her friends refuse to play with the new girl, Maya, no matter how many times Maya tries to join them—and when Maya stops coming to school, Chloe is forced to reflect on how showing Maya more kindness might have changed everything.
In this warm-hearted story, Kate Jane Neal addresses how words and the way we use them hold great power to hurt others, to destroy, but also to create, to heal, and to love.
When the teacher asks the class to explain what makes their family special, one girl worries her family is just too different to explain, but as she listens to her classmates describe their own families, she learns there's only one important thing that makes all of them special: the way they care for one another.
This learn-to-count book centers the importance of community and offers a great alternative for parents looking to teach their children about eco-friendly activities and activism.
Positive and hopeful messages are presented in a colorful book for very early readers in Todd Parr's bright and timeless picture book about the importance of acceptance and friendship.
Her Right Foot by Dave Eggers, illustrated by Shawn Harris
Introduce children to one of America's most recognizable national monuments and the message of acceptance she symbolizes in Dave Eggers's nonfiction picture book about the Statue of Liberty and her right foot.
We're Different, We're the Same by Bobbi Kates, illustrated by Joe Mathieu
Beloved Sesame Street characters emphasize that exterior differences belie the similarities we all have on the inside in a book well-suited for teaching toddlers about accepting others' differences.
The author of acclaimed middle grade novel Wonder introduces younger readers to Wonder protagonist Auggie in a picture book perfect for helping families talk about how to show kindness and empathy.
All the World by Liz Garton Scanlon, illustrated by Marla Frazee
Over the course of a single day, a group of family and friends examines the importance of all things in our world, from the biggest to the smallest.
It Takes a Village by Hillary Rodham Clinton, illustrated by Martha Frazee
What can communities achieve when they work together? It Takes a Village shows children how they can be citizens of their own "village" to make a difference in their communities—and what can happen when many communities come together to make an impact on the world.
I Have the Right to Be a Child by Alain Serres, illustrated by Aurélia Fronty, translated by Helen Mixter
Introduce children to the more complex topic of the rights of children with Alain Serres's picture book that explains the Convention on the Rights of the Child, a United Nations human rights treaty adopted in 1989; the United States is one of three nations that has not ratified the treaty.
In a fable based on Leo Tolstoy's short story of the same name, a boy tries to be the best person he can be while wrestling with three questions: What is the best time to do things? Who is the most important one? What is the right thing to do?
The Sandwich Swap by Queen Rania of Jordan al Abdullah and Kelly DiPucchio, illustrated by Tricia Tusa
Two friends discover the cultural differences between them, and while exploring these differences, they become better friends and more understanding individuals.
I'm Like You, You're Like Me by Cindy Gainer, illustrated by Miki Sakamoto
This picture book uses detailed art and bright, fun colors to discuss visual differences as fun and interesting rather than scary or divisive. The book also includes tips for adults to help reinforce the lessons from the book, which may be helpful for those who aren't sure how to do so.
Protagonist Carmelita knows how to "say hello" to everyone in her neighborhood—in the many languages that fill America's neighborhoods in cities across the country.
Lamothe shows a day in the life of seven different children from around the world, showing young readers how people from other places are different than they are—but also highlighting their common experiences.
Through an engaging rhyming poetry style, Hamanaka describes diversity as a form of natural beauty accompanied by equally beautiful illustrations in one of the most recommended diverse poetry picture books of 2017.
Let's Talk about Race by Julius Lester, illustrated by Karen Barbour
Julius Lester describes his own experiences with race while teaching readers that race is only one chapter in a person's story.
With brilliantly colored art, Only One You celebrates the uniqueness of each child and inspires children and parents to share their experiences over the years.