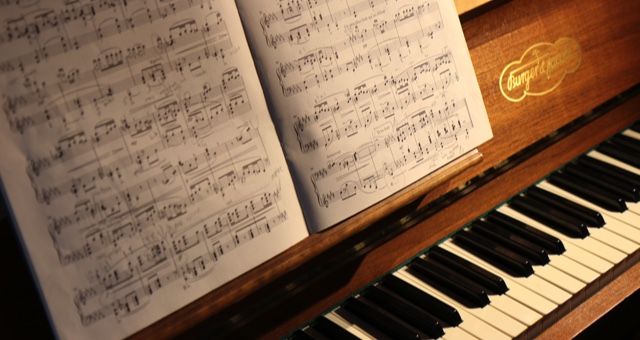 Lists
10 Great Piano Books for Beginners
This content contains affiliate links. When you buy through these links, we may earn an affiliate commission.
'Get back to playing the piano' is one of my regular New Year's resolutions, and probably the one that I most regret letting slide each time February rolls around and I still haven't sat down at my long-neglected, dust-gathering keyboard. I started playing piano when I was about 5 years old, and stuck with my weekly lessons and daily practice until I was 15 and schoolwork and exams started hitting hard, at which point I just…stopped. In the years since, I've made a few token efforts to try to get back into the piano player mindset. I dug through my old piano books for beginners, trying to find things I actually wanted to play, and drove my brother nuts by practicing a very simplified version of 'Prince Ali' over and over again on Saturday mornings. I even took a few lessons. But I just couldn't get back that dedication I'd had as a kid.
It's taken me a while to realise that when you've been away from an instrument as long as I have, you need to at least start out as if from scratch – but that doesn't have to be a bad thing. Going back to the beginning is sometimes the best way to find a new path forward, and, to paraphrase the song, it's also a very good place to start. Whether you're a kid or an adult, a total beginner or someone dusting off their old piano to try and make another go of it, these piano books for beginners will help you set the foundations of your practice.
Written by two experienced music teachers, one with experience working in multi-sensory teaching, this book is excellent for kids no matter what their learning styles. The book is fun and colourful, and introduces music theory without making it dry or overwhelming.
This book is fantastic for adult beginners (or people as rusty as I am). Taking a chord-based approach, it gives you enough of a challenge to keep you occupied, without getting too difficult too quickly.
A great choice for teen or tween beginners who want to learn to play but sniff at the idea of endless rounds of 'Twinkle Twinkle Little Star'. Playing recognisable pop songs is a great way to learn, and a rewarding approach for new players.
Who doesn't love a Disney song? Okay, maybe I'm a bit biased (see again, 'endless repetitions of Prince Ali'), but, like pop songs, playing something that everyone knows and can sing along to is a really encouraging thing to achieve when you're just starting out at piano.
I've got a real soft spot for this book, because this little frog and…does he have a pet cat? As a cat owner, that seems unwise…taught me how to play piano the first time around. I loved working through this book as a kid, and I can definitely recommend it to any parents with young children who are keen to learn to play.
With an emphasis on keyboards – useful for those of us who can't fit a piano in our homes – this book breaks down how to tackle playing, with diagrams for anyone who prefers a more visual learning style. It's also spiral-bound, and as someone who's had several perfect-bound books spring out of the holders and fall on her mid-tune, I cannot emphasise how useful that is.
This book offers an excellent and comprehensive side of musical history, alongside the practical and theoretical aspects of playing various forms of African American music. The book starts out looking at melody, accompaniment and rhythm, but also has a section on creating original compositions which more experienced players will love.
If reading sheet music isn't for you (and it doesn't have to be – Elvis Presley, Jimi Hendrix, and all four Beatles managed just fine without it) this book and video course will be the perfect path into piano. Ferrante gives step-by-step instructions, backed up with videos that you can stream, that will help you learn everything from Greensleeves to The Entertainer).
Fans of Taylor Swift, One Direction and Katy Perry will love this book, which provides simple versions of their favourites' best-known songs. Don't be put off by the 'for kids' part of the title – this is a great resource for all ages.
With popular tunes both traditional and modern, Simple Songs is an essential part of any beginner's repertoire. The songs are easy to follow, and you'll soon be able to play your favourite pieces.
---
Piano books for beginners are often put together by anonymous teams, and there is little diversity in those written by individuals. However, books aren't the only way to get a great introduction to the piano. There are several great YouTube channels that take you through the basics of learning this amazing instrument. Piano Lesson with Warren will take you from the absolute beginning (learning the keys themselves) to professional-level issues such as dealing with performance anxiety. Jatin Swaroop has created many piano lesson videos, as well as breakdowns of popular and classical songs, while Brandon Hawksley charted his own first year of learning the piano – great motivation for anyone who needs a reminder of why they started.
If you want to add some music to your everyday reading, find some recommendations at 50 Must-Read Books About Music. Are you ready to combine the two? Try Novels With Original Music Accompaniments.