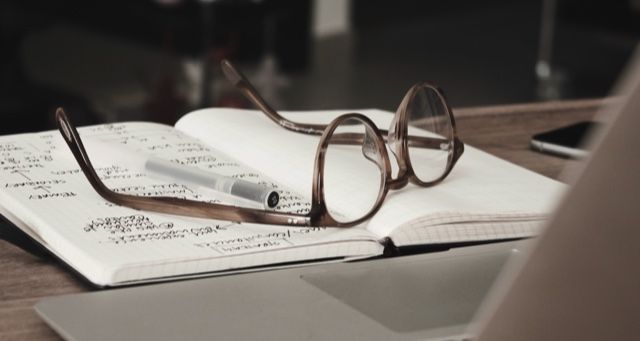 Book Fetish
16 Personalized Notebooks Perfect for Gifting Season
Are you starting to build out your lists for the upcoming holidays surrounding the winter solstice? If you're also looking for presents for the various Scorpios, Sagittarians, and Capricorns in your life, this could also be the post for you. When you're in the market for themed gifts or book fetish items, personalized notebooks nearly always come up. Daily writing practice is certainly helped along by an appealing object in which to write. There are also smaller notebooks that can serve as themed journals for travel, poetry, or any particular topic you want to confine to one longhand journal.
There are many themes to follow, but all of these notebooks have a personalization process. You can stamp any name you please on these!
Personalized Notebooks For Animal Lovers
Cat Notebook from OliviaMorganLtd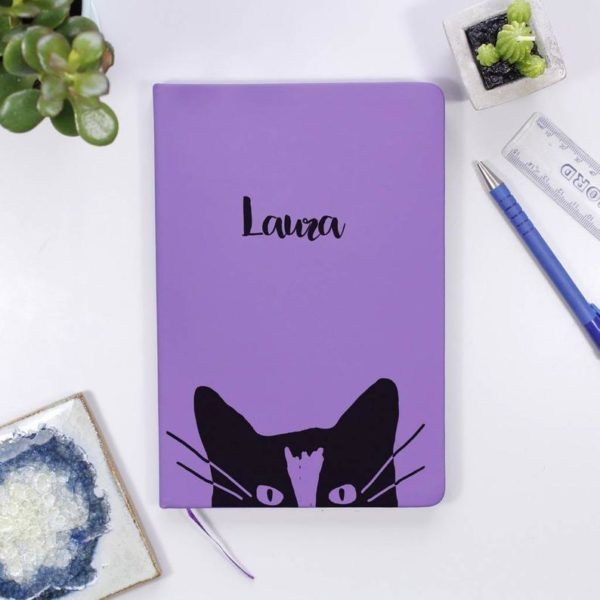 This notebook for people who enjoy cat lovers offers a variety of colors and fonts, and of course you can add any name you like to front cover.
Puppy Personalized Notebook from JulsSweetDesigns
The adorable pup on this notebook would be a great companion for a kid who likes to write down their observations of their favorite furry friends. It's a great personalized notebook gift for any kid.
Personalized Otter Notebook from PlanMyEveryday
The peacefulness of these flowing otters would make anyone feel meditative enough to write. This is a particularly cute personalized notebook.
Sloth Personalized Notebook from Cultural Bindings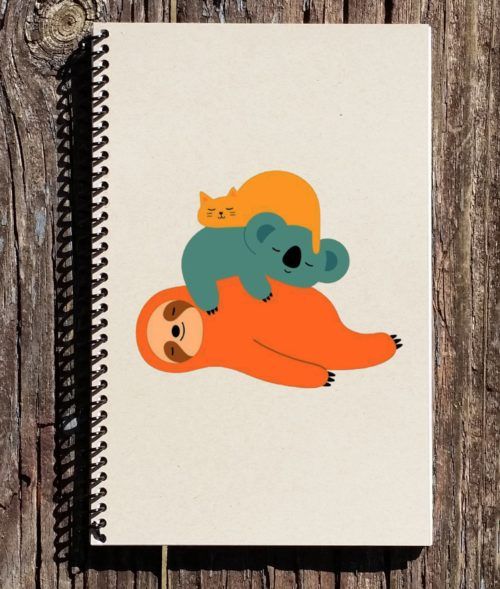 Could this notebook serve as a matching set for three friends? In my case, I would be the sloth. You can still personalize with your name on the cover, and the front is just adorable.
Koala Journal from MisterScribbles
Another adorable animal friend! This personalized notebook also has more customizable options for how many pages you want, or if it should be lined or unlined. A great gift for any sketch artist!
Personalized Leather Journals
Personalized Leather Journal Notebook from SchaferArtStudio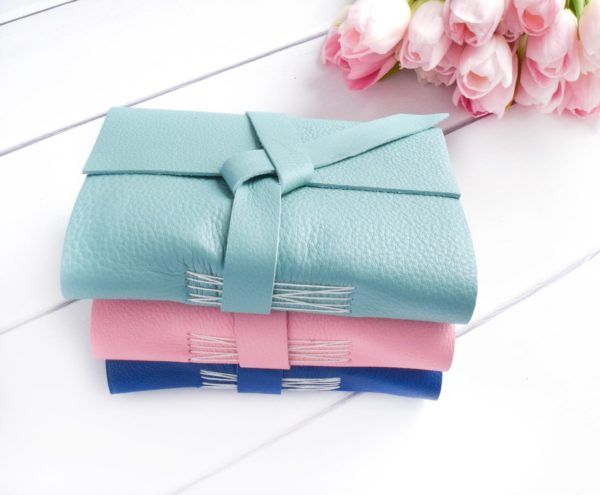 With a variety of size and page number options, this engravable journal is a beautiful gift for any birthday or holiday. The lovely pastel covers are also a great touch.
Personalized Leather Journal Refillable from SoGoodSoWood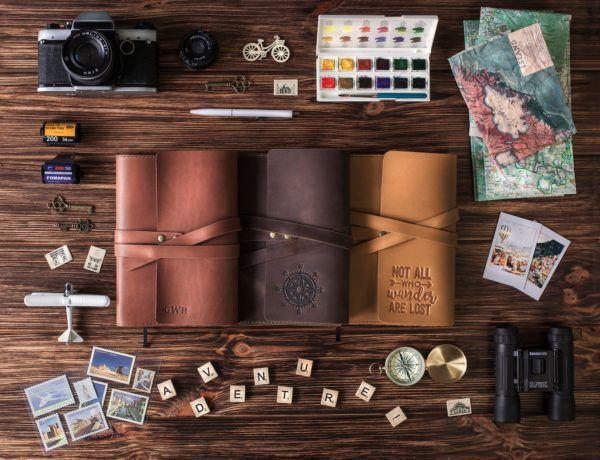 The makers of this journal offer as many colors of the rainbow as possible, with your choice of blank or lined paper. They also do designs for personalization. The personalized notebook itself is also refillable, so it can follow you on all your journeys around the world.
Personalized Journal Leather Cover A5 from ThisIsLeather
This is a cover that turns any journal into a personalized notebook. The leather worker offers various engraving styles to make your gift specific to the receiver. This cover can stay with you throughout so many filled journals.
Leather Journal from BPLaserEngraving
Sometimes simplicity is the best design! This leather journal allows you to customize the engraving wherever you want, with a centered name or a three letter initial in the bottom corner. The maker also does designs, so there are many options for this basic journal.
Custom Refillable Leather Travel Journal and Notebook from TheDaydreamBrand
This leather personalized notebook encourages creativity from the start. If you have any artwork that meets the size requirements, you can have it engraved on the front of this beautiful leather journal. It would be great for writing or drawing, or any kind of travelogue.
Personalized Journals With Fun Designs
Australia Travel Journal from fodesign
If you are planning a trip to Australia specifically, you should definitely have this notebook and keep your itinerary notes and travel musings. You can choose the fill color for the continent as well.
Spiral Notebook from WhiteLilyGallery
Customizable in both color and name, this easy floral notebook is the perfect matching gift for a group.
Personalized Journal from LunaBlueGifts
The fantastical, steampunk design of this journal makes it the perfect gift for any sci-fi or fantasy fiction lover. The keychain and bookmark make it a lovely set.
Personalized notebook for a Math Nerd from GreenChairPress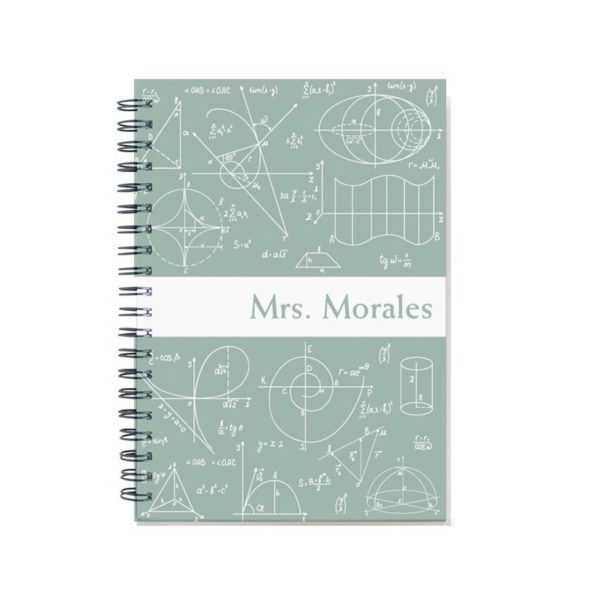 Not only for a math nerd, but perfect for your favorite math teacher! The simple spiral design of this notebook makes it perfect for taking to school or for just working out little math problems in your spare time.
Midnight Star & Rainbow Notebook from PlutoKaleidoscope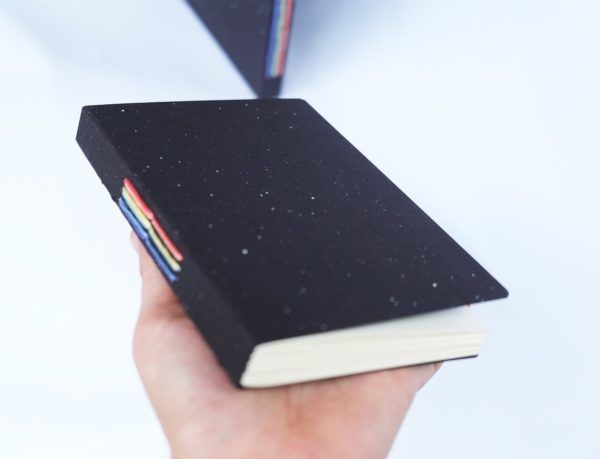 In addition to adding your name to the front of this notebook, you can choose to turn it into a monthly or a weekly planner. The multi-function nature of this notebook would allow it to be the perfect gift for many different friends and family.
Starry Lined Notebook from TheInspiredStories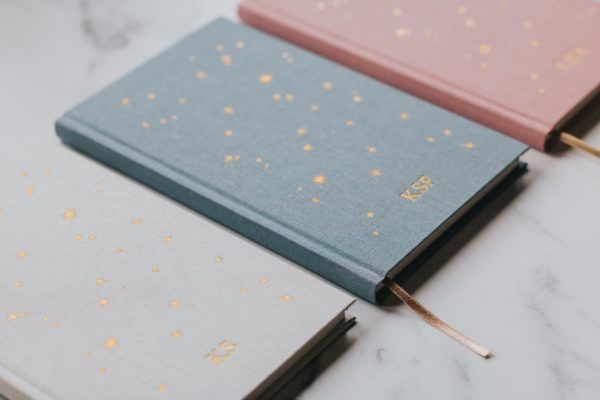 Cloth-covered notebooks are also great, both in look and feel. The simple soft pastels of this design is perfect for any writer or avid journaler.
Falling into Gifting Season
With autumn in full swing, we're all starting to think more intentionally about the gifts we give people. The blank canvas of personalized notebooks that urge your receiver to write down their brilliant thoughts is a great move. As I say to my every-growing, teetering pile of notebooks, you can never have too many notebooks.
You can also start brainstorming gifts for book lovers, fun literary decor, and even gifts for nature lovers.