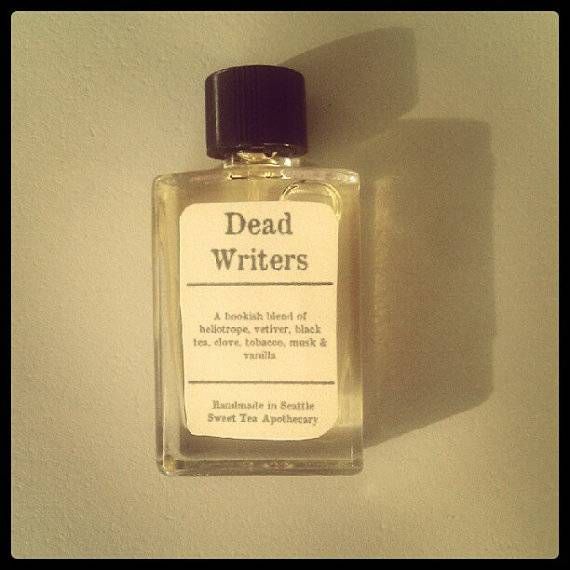 Perfumes Inspired by Dead Writers (The Best of Book Riot)
Much of the good ship Book Riot is off at Book Expo America this week, so we're running some of our best stuff from the first half of 2013. We'll be back with reports from BEA next week and our usual array of new book-nerdery.
____________________________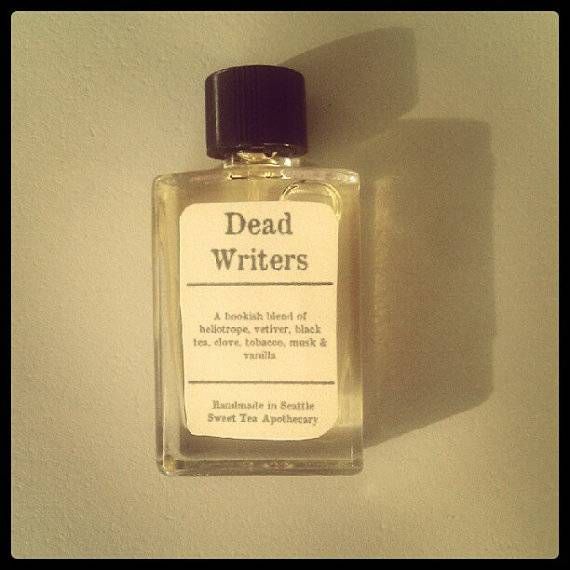 Falling down the Etsy rabbit hole is one of my internet-ish weaknesses, and upon one of these bottomless falls I came across this Dead Writers Perfume, which is made with "black tea, vetiver, clove, musk, vanilla, heliotrope, and tobacco." The combination reminds me of an old, worn book and maybe a dude with a dusty velvet jacket using a feather pen to write an opus, and I got to wondering what perfumes based on individual dead writers might look like. A few ideas:
Ernest Hemingway: Salt water, rum, coconut and lime, cigar smoke, Spanish wine
F. Scott Fitzgerald: Gin, citrus, oak (prep school, amirite), in a champagne-flute shaped bottle with gold flecks in it
Jane Austen: Darjeeling tea, snowdrops and pansies (flowers from her garden), meadow grass
Dorothy Parker: Whiskey sour, vanilla, mandarin, white musk
Edgar Allan Poe: Poppies, absinthe, sandalwood, and mold
Flannery O'Connor: Church incense, soap, vanilla, ginger
Jack Kerouac: Cigarettes, cheap beer, unwashed youth, patchouli, car leather
the Bronte Sisters: Heather, sea air, vetiver, primrose, black tea
Louisa May Alcott: Fir tree, red currant, blood orange, coffee beans
Tolstoy: Vodka, musk, black tea, black peppercorn, cedar
Sylvia Plath: Freshly washed linen, vanilla, daffodils, lavender
Margaret Mitchell: Musk, magnolia, tea, sugar, gardenia blossoms
Dickens: Cloves, tobacco, patchouli, brandy water, river water
Anne Sexton: Vodka martini, tobacco, lemon verbena, peppermint
____________________________
Sign up for our newsletter to have the best of Book Riot delivered straight to your inbox every two weeks. No spam. We promise.
To keep up with Book Riot on a daily basis, follow us on Twitter, like us on Facebook, , and subscribe to the Book Riot podcast in iTunes or via RSS. So much bookish goodness–all day, every day.