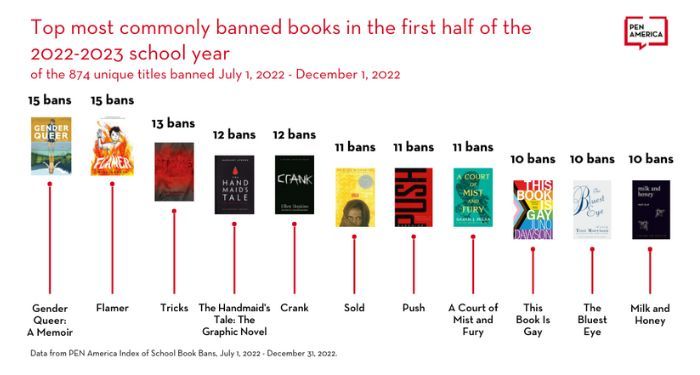 Censorship
37 States & Millions of Students Impacted by 2022-2023 School Year Book Bans So Far: PEN America's Latest Report
In a story that repeats itself again and again, book bans are at an all time high. PEN America's latest report, Banned In The USA: State Laws Supercharge Book Suppression in Schools, released today, April 20, 2023, underscores the calls advocates and activists have been shouting over and over. There are more books being banned and more books being banned in bulk than ever before.
Since the start of the 2022-2023 school year — July 1 through December 30, 2023 — PEN America recorded 1,477 separate instances of book bans across the country. This includes 874 unique titles in 182 school districts and 37 states.
Florida and Texas remain at the top of the list of states banning the most books, followed closely by South Carolina, Missouri, and Utah. These states earn their titles thanks to legislation and broad, "wholesale" bans of entire swaths of books. While individuals and coordinated group efforts on the ground lead to book bans, the report showcases how state-level legislation has amplified and encouraged even grander overreach of the government into school libraries. These laws not only impact those states, though. They become templates for other censor-friendly states; as EveryLibrary reports, 113 book ban bills have been introduced in 2023 alone.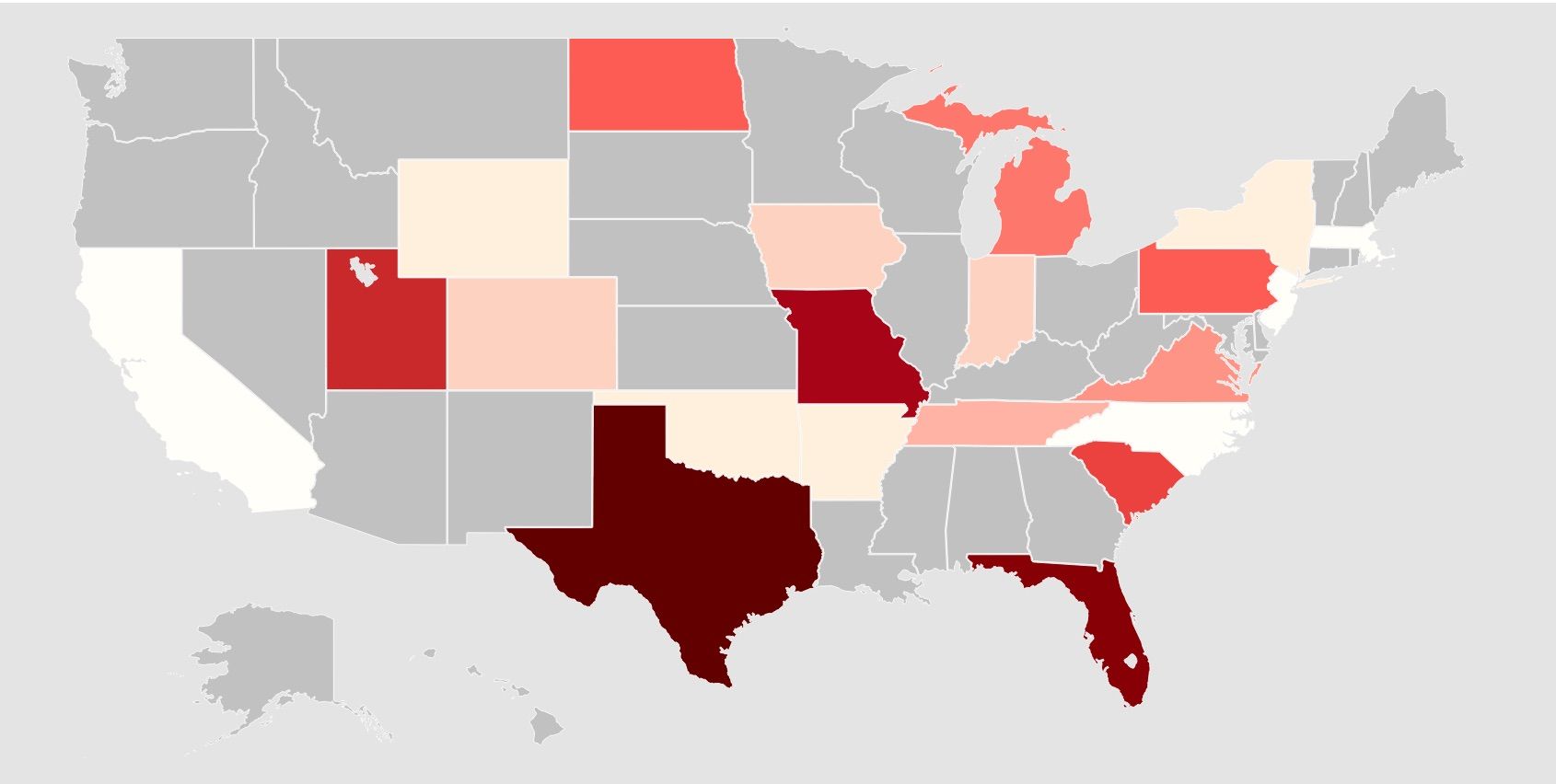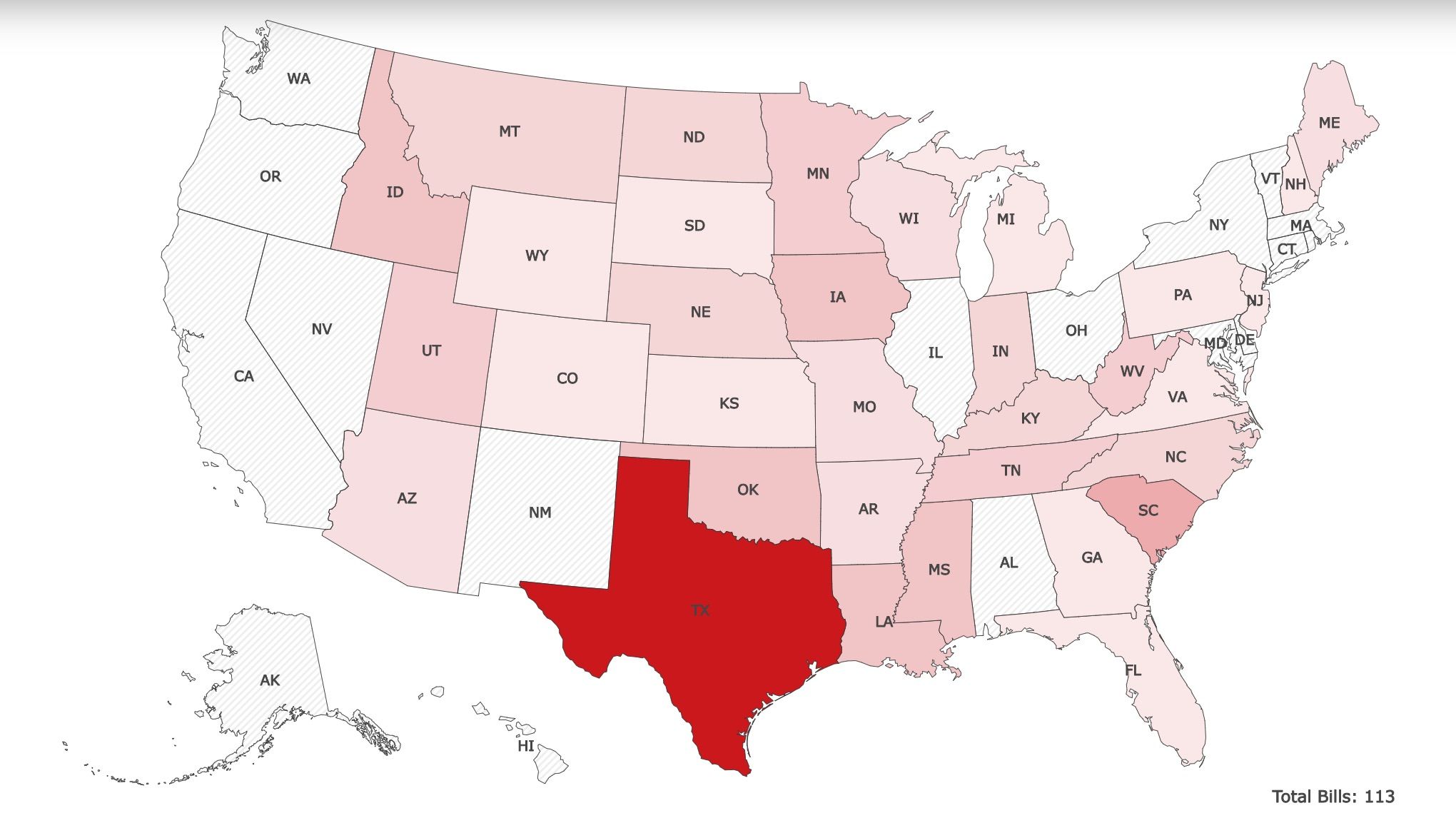 The books being banned across the U.S. remain primarily those by and about people of color and/or queer people. PEN reports that the most frequently banned title across the country is Gender Queer by Maia Kobabe, tied with Mike Curato's Flamer. Both are comics centering queerness; Kobabe's is a memoir about eir understanding of eir gender identity, while Curato's novel is a fictional title of coming-of-age inspired by his own experiences in figuring out his sexuality.
Additional titles among the top 10 most banned include those by Ellen Hopkins, Toni Morrison, and titles such as Sapphire's Push, Sarah J. Maas's A Court of Mist and Fury, and Rupi Kaur's poetry collection Milk and Honey. These books are not only being banned, but they're being banned faster and faster.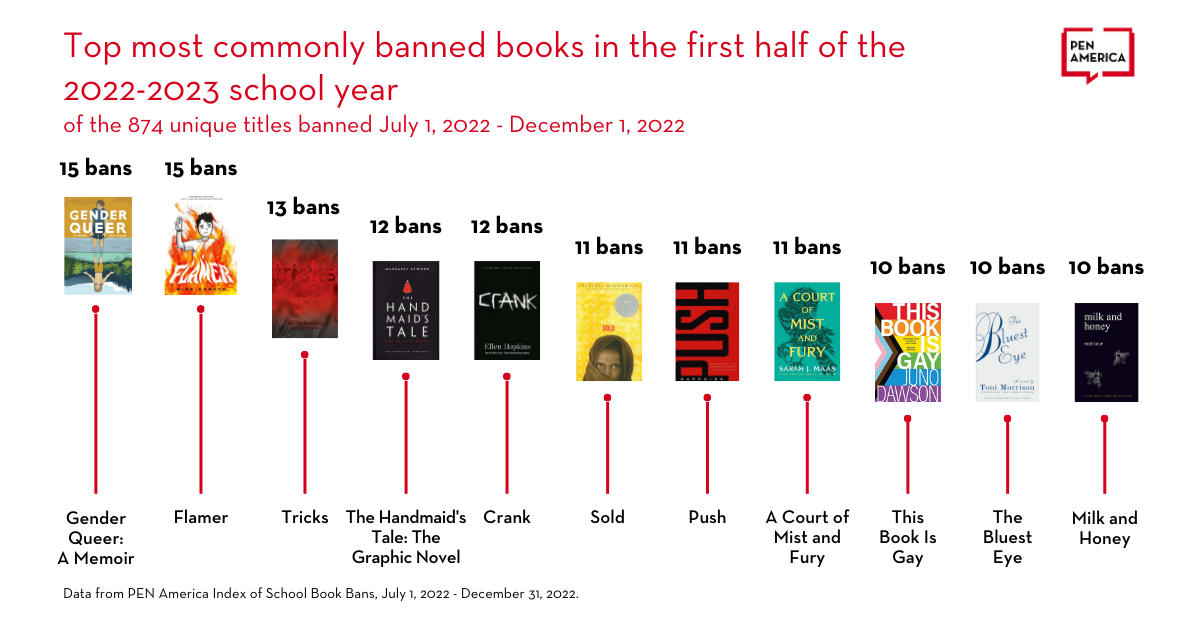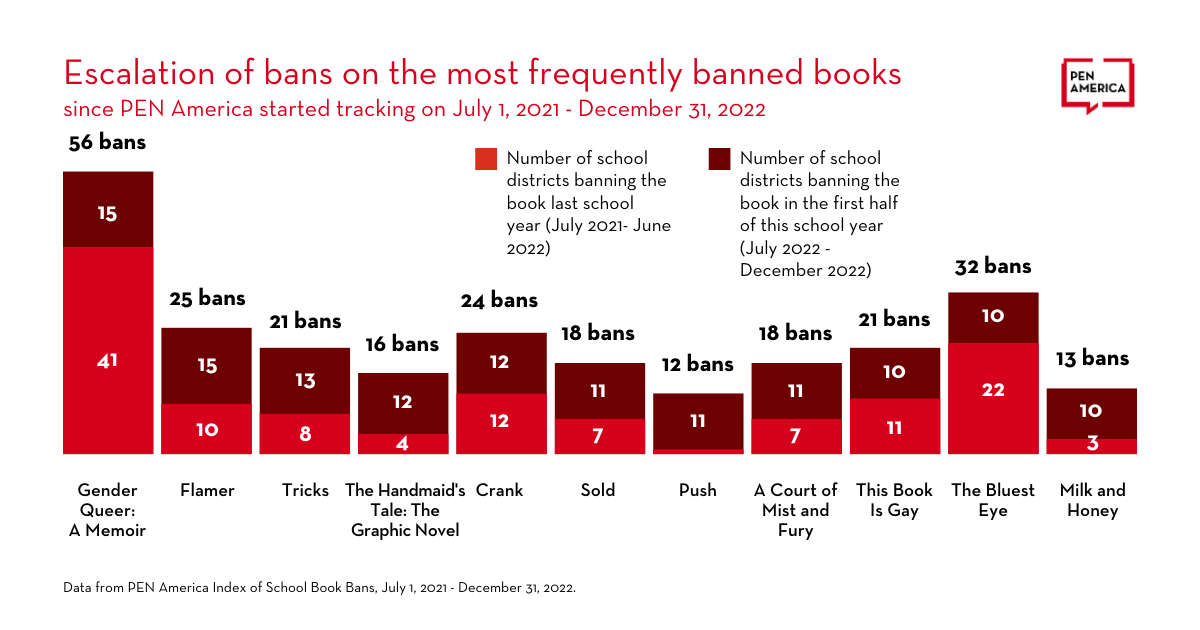 PEN's new report notes, though, thanks to the increasing numbers of book bans happening as a result of wide-reaching legislation more "wholesale" bans mean the true magnitude of book bans is underestimated. "Wholesale" bans and vague legislation highlight, too, the shifting types of books being banned. In addition to what have been the usual suspects in terms of theme and authorship, several new categories of books are being banned.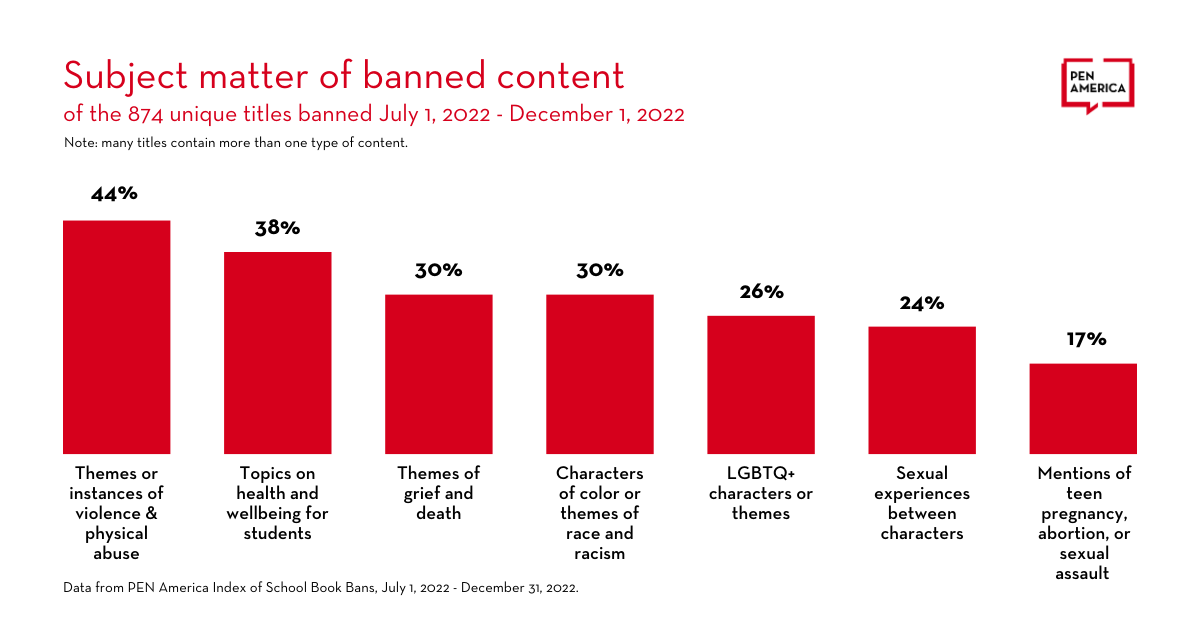 Violence, topics about health and well being, and even teen pregnancy have become hot topics for censors. These certainly overlap with queer stories and stories of people of color.
Book banners working across the country have targeted three broad categories in public education, which have invariably impacted state legislation: Critical Race Theory, Comprehensive Sexuality Education [sic], and Social Emotional Learning. These themes have infiltrated groups like Moms for Liberty, No Left Turn in Education, and state and local level right-wing groups. Censorship advocates claim that these are hallmarks of "marxist education" and align with what they believe to be the dangerous ideas behind the Centers for Disease Control's "Whole School, Whole Community, Whole Child" framework.
The manufactured rage from political forces such as Christopher Rufo — responsible for the panic around "Critical Race Theory" — has translated into books that highlight mental health, physical health, biology, and more being deemed inappropriate.
It is likely thanks to the manufactured outrage and work at both the local and national levels which are increasing the use of labels such as "pornographic" and indecent" being leveled as reasons for banning books. PEN's report notes that "porn in schools" has become a rallying cry for book banners. Such labels make their way into the legislation, and proposals for new laws make the landscape of titles eligible for banning greater.
In other words, lawmakers intentionally remove themselves from defining "pornography" or "obscenity," skirting around the legal precedent of the three-prong Miller Test. Moreover — and equally detrimental — is such legislation creates a chilling effect for those in schools and libraries. How are these words interpreted? For those on the ground, it is better to be safe and remove any potential book than it is to keep the books on shelves and demand better answers.
Queer books are being labeled pornographic and obscene. Kobabe, Curato, and the hundreds of other queer authors and stories being targeted by banners are earning the label, showcasing how banners purposefully sexualize queer stories. We have seen this happening at the state level, wherein states have legislated whether or not queer books belong in school or public libraries, at the same time we have seen ever-increasing numbers of anti-trans bills pass.
And yet, it's not the young readers who are being titillated by these books; it's grown adults sexualizing them. See the slew of legislation naming body parts and sexual acts in conjunction with queer books. These come from the same grown adults who believe passing laws that would permit genital inspection of minors will help eliminate trans and nonbinary people all together.
Thanks to wholesale banning, pursued in compliance with vague, anti-queer book ban laws, also explains why a small number of districts are responsible for a large percentage of book bans nationwide.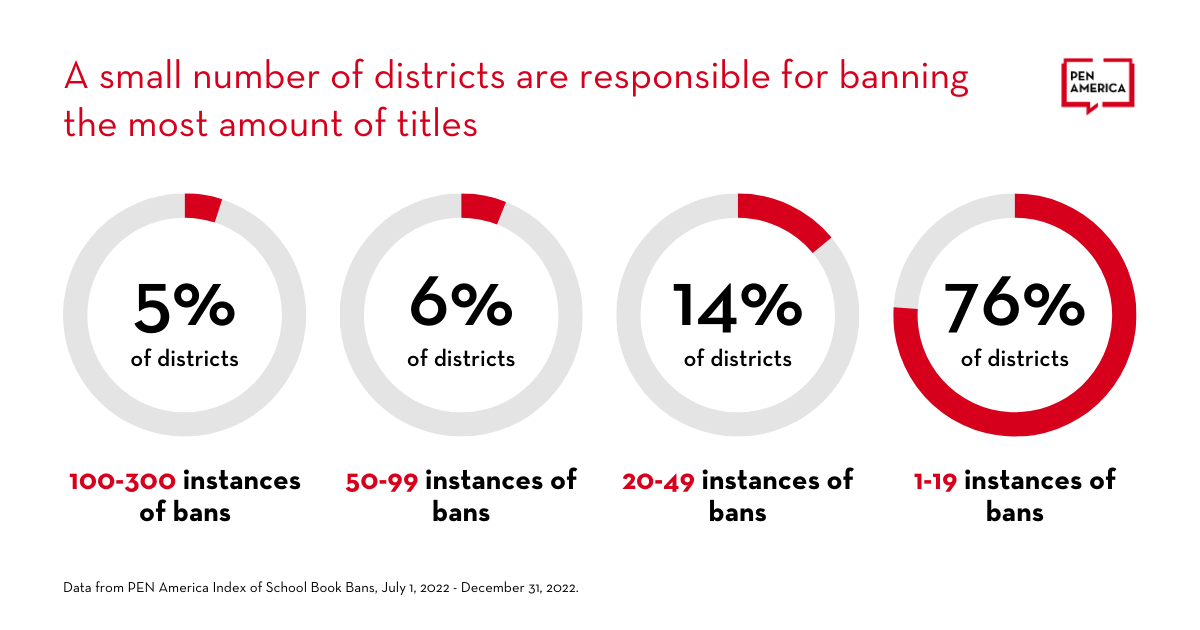 There is little surprise to see that young adult titles are those most targeted by book bans. YA books compose 56% of books being banned across America, followed by adult books (24%), middle grade (15%), picture books (4%), and chapter books (1%). Of course, this impacts readers of these books specifically. Book bans are driving kids away from reading.
It is a vicious cycle of educators and librarians being put in the middle of demands from right-wing politicians, vague policies, and school boards packed with book banners — "parental rights activists" — and making decisions that either put their jobs on the line or contribute further to the decline in reading by young people. In either case, book banners continue to write a compelling narrative about how and where public goods like schools and libraries are "failing" and thus why their tax money should be funneled away from those institutions and back into their own pockets.
We are going to continue to see these tactics evolve, and we're going to continue seeing millions of kids have books made unavailable to them….and millions of kids deciding to give up on reading all together.
This is not the time for a hashtag campaign. It's not the time for sitting back and saying it's a problem in red states, in other states, not in your backyard. It's the time to act. It's the time to show up to your school boards and library boards and speak. It's time to write and show up to your state legislator offices, demanding action against book bans. Demanding the upholding of First Amendment Rights for every individual and not just those who fit the rich, white, cishet, right-wing, Christian nationalist identity.
Those of us who've been doing the work have given you every tool, template, and language to use. Your only excuse at this point is not finding it important enough.
At what point will you care?
At what point do you show today's youth that their lives, voices, stories, and rights are just as important as yours?
That you give a shit?
PEN's new report is available online and should be read in full by every literary advocate, activist, and champion.