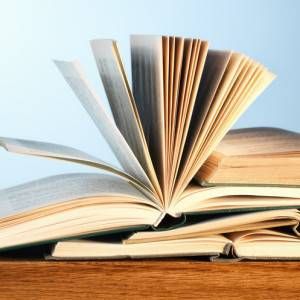 Lists
Peek Over Our Shoulders: What Rioters Are Reading On October 8, 2015
This content contains affiliate links. When you buy through these links, we may earn an affiliate commission.
In this feature at Book Riot, we give you a glimpse of what we are reading this very moment.
Here is what the Rioters are reading today (as in literally today). This is what's on their bedside table (or the floor, work bag, desk, whatevskis). See a Rioter who is reading your favorite book? I've included the link that will take you to their author archives (meaning, that magical place that organizes what they've written for the site). Gird your loins – this list combined with all of those archived posts will make your TBR list EXPLODE.
We've shown you ours, now show us yours; let us know what you're reading (right this very moment) in the comment section below!
Big Magic by Elizabeth Gilbert: I completely disagree with her entire mystical premise about how creativity operates, but I love the way it takes pressure off artists. And I love how much Gilbert believes it. (Audio)
The Devil in Silver by Victor LaValle: It's October. Time to read some horror. (Ebook)
The Bloody Chamber and Other Stories by Angela Carter: See above reason. (Paperback)
The Wound by Laurent Mauvignier, transl. by David Ball and Nicole Ball: for Best Translated Book Award consideration. (Paperback)
Lafayette in the Somewhat United States by Sarah Vowell: requested it from the publisher because ALL SARAH VOWELL ALL THE TIME (Hardcover)
A Bollywood Affair by Sonali Dev: After reading The Bollywood Bride I had to read Dev's first book and so far all the hype is completely warranted. I'm in love. (ebook)
Zombies vs Unicorns by Holly Black (editor) and Justine Larbalestier (editor): It's October so I'm trying to read horror and there's a book called ZOMBIES VS UNICORNS! I don't even care if it ends up being terrible (can't imagine it will with those authors) because either way I get to say I read a book called Zombies Vs. Unicorns. That's a win-win, people. (ebook)
Unpaid Debts by Antonio Jiménez Barca: Crime fiction thriller set in Spain = all the gimme hands. (egalley)
Two Years, Eight Months and Twenty-Eight Nights by Salman Rushdie: So far, this is a wonderful book. I read a couple of chapters out loud to myself and that made the story come alive in an unexpected way. (Hardcover)
Part of Our Lives: A People's History of the American Public Library by Wayne A. Wiegand (Oxford University Press, Oct 12) – Two words: Wheel. House. Since recently signing up to be a volunteer at our local library (OMG THEY LET ME TOUCH THE BOOKS) I have been experiencing a library renaissance, and I love it.
The Traitor Baru Cormorant by Seth Dickinson: Science Fiction. Epic Geopolitical Fantasy. Rave Reviews. How can I not? I'm so excited to read it, I can hardly sit still.
The Wrath & The Dawn by Renée Ahdieh: Everyone is losing their mind over this book, about a murderous boy-king and the girl determined to destroy him. Yes, please.
Harrison Squared by Daryl Gregory: I loved his novel, We Are All Completely Fine, so I read Afterparty, which I loved EVEN MORE. So I am now going through the rest of his books because WOW.
Disgruntled by Asali Solomon: This book caught my eye on my library's digital downloads site, and so far, it's pretty great. The main character is Kenya, a girl of color living in West Philadelphia (born and raised), who is grappling with the fact that she's different from other girls and often becomes the receiving end of their torment–a story that's heartbreakingly familiar to me. (ebook)
Dreamstrider by Lindsay Smith: I'm straight up ashamed that it's taken me this long to get to Smith's latest, especially since her debut, Sekret, was one of my favorite YA releases of last year. It's a really interesting mix of fantasy, science fiction, and espionage, and if you've read Smith's duology, you know that spy stories are what she totally excels at. It's a really imaginative story through the realm of dreams and nightmares, focusing on a character who can 'dreamstride', jumping through the world of dreams as a spy for the government. (ARC)
Joy: Poet, Seeker, and the Woman Who Captivated C.S. Lewis by Abigail Santamaria: I love reading about the Inklings and especially C.S. Lewis, but I've never seen a really comprehensive biography of his wife, Joy Davidman. She was odd and kind of fascinating, so I'm really enjoying this one. (Hardcover, library)
Slaughterhouse 90210 by Maris Kreizman: I like Maris Kreizman's tumblr but, so far, I think the book is even better. (Hardcover)
Yes, My Accent is Real by Kunal Nayyar: Because Raj is my favorite character in The Big Bang Theory. (Hardcover)
Darkfever by Karen Marie Moning: A reread for me because Dublin. (ebook)
The Thing from the Lake by Eleanor Marie Ingram: Sounded like it could be a nice spooky classic for October. (audiobook)
Jackaby by William Ritter: It's a supernatural Sherlock Holmes-style book with an interesting woman at its center. Of course I'm reading it. (ebook)
Arcadia by Iain Pears: I'm a sucker for genre mashups, and this one is one of the strangest I've ever seen. (egalley)
Lovecraft Country by Matt Ruff: I adored The Mirage so much that I literally gasped when I saw that Ruff has a new book coming out next February. I couldn't wait. (egalley)
Take The Fall by Emily Hainsworth: I've been waiting so patiently for Hainsworth's second novel and I'm so thrilled this one has been compared to Twin Peaks. I'm here for thrillers with potentially dangerous romance afoot. (egalley, Feb 2016)
The Winter People by Jennifer McMahan: Horror time! I've had this one on my shelf since it came out in paperback earlier this year.
Annihiliation by Jeff Vandermeer: Yes, yes, yes. I am here for the mystery and the abandoned Area X and the all-lady survey team, but really I am most excited because this is the first novel I've ever experienced as a novel. I'm about to start taking a lot of walks. (audiobook)
Ancillary Justice by Ann Lecke: I am 30 pages and already loving the way Lecke handles gender. (Paperback)
Three Moments of an Explosion by China Miéville: Short stories don't get enough love in genre. I think the last horror/paranormal/weird short stories I read were by Lovecraft or Poe. Picked this up at the library this week. (hardcover)
The Checklist Manifesto by Atul Gawande: Efficiency, checklists, task management? YAS. It's so good so far. (Audio)
Big Magic by Elizabeth Gilbert: I adore Gilbert ya'll and she is totally rocking this straightforward, no-nonsense manifesto on living a creative life. (Hardcover)
Animal Kingdom: Color Me, Draw Me by Millie Marotta: I totally don't know if it's appropriate to list a coloring book here, but it's my first fancy adult one and I am loving it. (Paperback)
The Sound of Gravel by Ruth Wariner: Not quite a losing-my-religion memoir, not quite a cult memoir, a fascinating blend of both? YES. (ARC, Jan. 2016)
As for Me…
Dumplin' by Julie Murphy: Because I've heard it's totally rad and a great book about a young woman who gains some serious confidence by being herself… who wouldn't want to read that?
Save