Lists
Peek Over Our Shoulders: What Rioters Are Reading on May 26, 2016
This content contains affiliate links. When you buy through these links, we may earn an affiliate commission.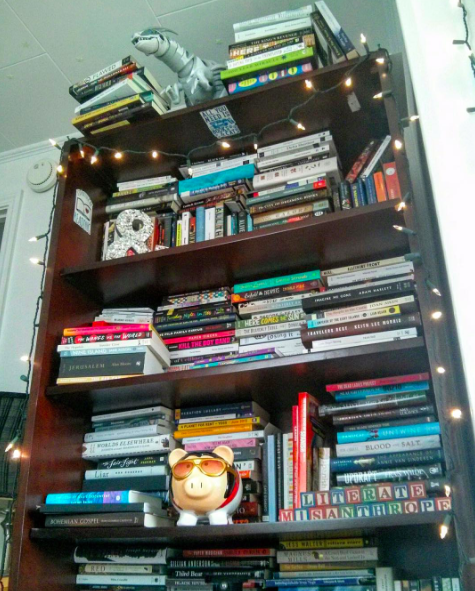 In this feature at Book Riot, we give you a glimpse of what we are reading this very moment.
Here is what the Rioters are reading today (as in literally today). This is what's on their bedside table (or the floor, work bag, desk, whatevskis). See a Rioter who is reading your favorite book? I've included the link that will take you to their author archives (meaning, that magical place that organizes what they've written for the site). Gird your loins – this list combined with all of those archived posts will make your TBR list EXPLODE.
We've shown you ours, now show us yours; let us know what you're reading (right this very moment) in the comment section below!
Three Dark Crowns by Kendare Blake: three queens are born but only one will rule, and she'll have to kill the other two to get there. IN SO HARD. (E-galley)
Career of Evil by Robert Galbraith: really enjoying Overdrive to listen to audiobooks from the library, and took the opportunity to catch up with Cormoran Strike. (Audiobook)
Chasing Ghosts: A Memoir of a Father, Gone to War by Louise DeSalvo: reading in preparation for a review. (Paperback)
Laura by Vera Caspary: reading for my mystery book group. It's a classic mystery from the 1940s. (Paperback)
Running the Rift by Naomi Benaron: I'm in the mood for all things running, and since I'm working on whittling down the shelves of books in my house, it seemed like the perfect time for this novel.
Unashamed by Lecrae Moore: Of the many good books I found at Book Expo America, this is the first one I picked up and started reading. Super good so far! (Hardcover)
Heroines of Mercy Street: The Real Nurses of the Civil War by Pamela D. Toler: Companion book to the PBS series Mercy Street, covers Civil War nurses from the controversial Dorothea Dix to Anne Reading, the English nurse who worked with Florence Nightingale.
Over the Top and Back. The Autobiography by Tom Jones: I am reading this book for several reasons. First of all, Tom Jones is an amazing singer with so many classic songs to his name. Second, Jones' life and career coincide with some of the most important events in music history. Third, I am putting together a BR post on musicians' autobiographies. (Hardcover)
The Second Mango by Shira Glassman: After putting together a list of SFF with queer women of colour characters, I realized that Glassman's books took up a big portion of the list and it was high time I pick one up. And how could I resist a book about a queen searching the kingdom (on a dragon) looking for a girl to date? (ebook)
The Star of Kazan by Eva Ibbotson: We have a lot of Ibbotson's books at the used bookstore I work at, so I wanted to read one to better know how to recommend them. What I got was an engrossing story about a foundling, inherited costume jewelry, found family, and a crumbling aristocratic family with a secret. This story goes hard for a children's book, too. I'm loving it, but I'm not still not sure how to recommend it to a kid! (audiobook)
China Rich Girlfriend by Kevin Kwan: After binge-listening to Crazy Rich Asians last week (an excellent audiobook, btw–Lynn Chen is an amazing reader), I had to start the sequel, China Rich Girlfriend, immediately. It's so good. (library ebook)
Hyperbole and a Half: Unfortunate Situations, Flawed Coping Mechanisms, Mayhem, and Other Things That Happened by Allie Brosh: It's Mental Health Awareness Month and I don't think anybody nails the emotional roller coaster of depression better than Allie Brosh. (paperback)
Hour of the Bees by Lindsay Eager: One of the big buzzy middle grade books of 2016, so I had to check it out.
Human Body Theater by Maris Wicks: Heard about this book on The Yarn Podcast.
One Half from the East by Nadia Hashimi (September 2016, HarperCollins): A story set in modern-day Afghanistan about a pre-teen girl who dresses as a boy to bring luck to the family. So excited about this one. (e-galley)
The Girls by Emma Cline: Snagged this up at BEA, finished it in a weekend. Hella clean prose; bullseye diction. Addictive and awesome. (ARC)
Stories of Your Life and Others by Ted Chiang: Picked this up on impulse because of the strong blurb game and am loving it. (ARC)
Steph Auteri
Scarlett Epstein Hates It Here by Anna Breslaw: I don't read a lot of YA, but the book description started "Cross Veronica Mars with MTV's Daria.." and I was in. (Ebook)
If I Was Your Girl by Meredith Russo: Wallace mentioned it in a recent video, and I was intrigued. (Ebook)
Sleeping Giants by Sylvain Neuvel: It's been on my wish list for awhile now and finally pubbed just recently! (Ebook)
The Night Circus by Erin Morgenstern: HBO India did a Harry Potter movie marathon all of last week, and it made the Harry-Potter-shaped hole in my heart ache. I went to Cassandra's post of remedies and got me some therapy reading! (paperback)
Farthing by Jo Walton: It's a country manor murder mystery set in an alternate version of 1949 where Britain made peace with Hitler—just the sort of engrossing strangeness I love. (ebook)
Einstein by Anne Simon and Corrine Maier: Nobrow sent me a copy of a fun, pretty book, so of course I'm reading it. (ARC)
The Ghost Brideby Yangsze Choo: Recommended by many other writers and reading buddies moved this one to the top of my list (ebook)
Homegoing by Yaa Gyasi: Everyone at Book Riot is raving about this one, and I managed to snag a copy at Book Expo America last week. (Hardcover)
The Nightingale by Kristin Hannah: This has lots of good buzz, but the library hold list was so long I didn't think I'd be getting to it until late this summer. Yay, local librarians who love me. (Library Hardcover)
The Expatriates by Janice Y.K Lee: I loved Lee's previous novel, The Piano Teacher, so I was really looking forward to reading this. I'm enjoying the multiple narrators, as well as the setting, the Hong Kong expat community. (Hardcover)
The Rose and the Dagger by Renee Ahdieh: I don't think Ahdien's Wrath and the Dawn novels are perfect, but they're so compelling and intriguing that I don't care. I absolutely blew through the first novel in this series, and I'm so excited to finally be reading the second. (Ebook)
Bite Me: How Lyme Disease Stole My Childhood, Made Me Crazy, and Almost Killed Me by Ally Hilfiger: Review book from Center Street. I'm reading this for Lyme Disease Awareness Month. (Hardcover)
Palace of Illusions: A Novel by Chitra Banerjee Divakaruni: I discovered this title when I was doing research for a Book Riot article. (Audiobook)
I Am China: A Novel by Xiaolu Guo: The publisher sent me an unsolicited review copy ages ago and I'm just now getting around to reading it. (Paperback)
Heartless by Marissa Meyer: Not a huge fan of Alice in Wonderland–save for the 2009 Syfy miniseries–but I'll read anything Marissa writes. (e-galley)
Summer Days and Summer Nights: Twelve Love Stories edited by Stephanie Perkins: It's been a while since I've read some short stories, so it's perfect timing for this collection. (ARC)
Akata Witch by Nnedi Okorafor: SO EXCITED ABOUT STARTING THIS. I've never read an Okorafor book before, and I've heard such great things. (Hardcover)
The Queen of the Night by Alexander Chee: Still listening to this one and enjoying it immensely–I expect I'll need the rest of the month to finish it. (Audiobook)
Being Jazz: My Life as a (Transgender) Teen by Jazz Jennings: Lately I can't get enough non-celebrity memoirs and Jazz is fantastic! (audiobook)
When Watched: Stories by Leopoldine Core: My goal to read more short story collections is going really well and I'm loving these which are filling my Modern Lovers by Emma Straub void. (ARC)
Three Dark Crowns by Kendare Blake: Separated triplets must fight to the death for one to become Queen! I am so here for this. (egalley)
I Almost Forgot About You by Terry McMillan: As a fan of Waiting to Exhale and How Stella Got Her Groove Back how could I not read this?! (egalley)
I Live Inside: Memoirs of a Babe in Toyland by Michelle Leon: I love rock 'n' roll memoirs, and Leon's rollicking journey from Jewish suburban teen to bassist in punk/alternative band Babes in Toyland is loads of fun—made even better by quick, stylishly written prose. (Hardcover)
Umami by Laia Jefresa (author), Sophie Hughes (translator) (Oneworld Publications, Sept. 13): I picked this up at BEA because it had this blurb on the cover: "Ms. Jufresa: Where the f*#! did you learn to tell a story so well?" — Álvaro Enrigue, award-winning author of Sudden Death. (galley)
The Mothers by Brit Bennett (Riverhead, Oct. 11): This was THE book to get at BEA, and for good reason – it's amazing so far. You'll be hearing a lot more about it in the months to come. (galley)
Thrill Me: Essays on Fiction by Benjamin Percy (Graywolf Press, Oct. 18) I love Graywolf Press and I love Benjamin Percy, and these two things are two great tastes that taste great together. (galley)
Intimations: Stories by Alexandra Kleeman (Harper, Sept. 13) I could not be more excited if I swallowed a cat and broke out in kittens!!! If you follow the new release newsletter or the All the Books! podcast, you know that her last book, You Too Can Have a Body Like Mine, was a 2015 favorite. (galley)