Lists
Peek Over Our Shoulders: What Rioters Are Reading on March 4, 2016
This content contains affiliate links. When you buy through these links, we may earn an affiliate commission.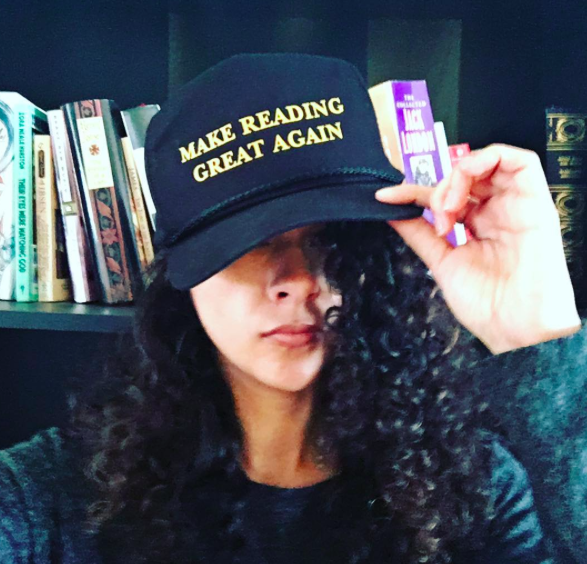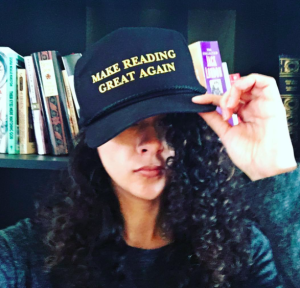 In this feature at Book Riot, we give you a glimpse of what we are reading this very moment.
Here is what the Rioters are reading today (as in literally today). This is what's on their bedside table (or the floor, work bag, desk, whatevskis). See a Rioter who is reading your favorite book? I've included the link that will take you to their author archives (meaning, that magical place that organizes what they've written for the site). Gird your loins – this list combined with all of those archived posts will make your TBR list EXPLODE.
We've shown you ours, now show us yours; let us know what you're reading (right this very moment) in the comment section below!
Perfect Days by Raphael Montes: Once again, I'm reading this book because a fellow Book Rioter recommended it, and so far it's every bit as odd and gruesome and haunting as promised – AKA perfect for me! (ebook)
The Brothers Vonnegut: Science and Fiction in the House of Magic by Ginger Strand: I loved Strand's book about serial killers and U.S. highways, and I love Kurt Vonnegut, so I had to have this book! It is about Kurt's older brother Bernard, a scientist, and how he influenced Kurt's writing. (hardcover)
We Love You, Charlie Freeman by Kaitlyn Greenidge (Algonquin, March 8): I have heard nothing but raves about this novel, about a family that agrees to be test subjects, which somehow involves teaching sign language to a monkey named Charlie. (e-galley)
Piece of Mind by Michelle Adelman: I missed this when it came out a few weeks ago, but I'm glad I didn't miss it entirely, because this story of a young woman navigating life with a traumatic brain injury is sweet, funny, and sad. I've cried a few times, but laughed even more. (e-galley)
Supernova by C. A. Higgins (Del Rey, July 26): Sequel to Lightless – ALL THE YESSSSSSSSSSS! Go read Lightless while you wait. IT'S SO GOOD. (e-galley)
The Road to Little Dribbling by Bill Bryson: I've been wanting to read Bill Bryson for years, but never got around to it until now. I'm completely loving it so far. (Audiobook)
We Should All Be Feminists by Chimamanda Ngozi Adichie: I have somehow managed to not watch her TEDx talk in the nearly three years that it has been on YouTube, so I finally checked out the book version from the library. (Library Paperback)
Guapa by Saleem Haddad: Honestly, I chose this one for the title and so far I am not disappointed as it's set against political turmoil in the middle east as the main character worries about his current love affair being discovered. (egalley)
Not a Self-Help Book: The Misadventures of Marty Wu by Yi Shun Lai: An entertaining diary format like Bridget Jones if Jones had focused more on her relationship with her mom than romantic relationships and runaway to another country after disastrous event. (ARC)
The Long Fall by Walter Mosley: Oh, just a mystery that's been on my TBR list for-EV-er that I'm really excited to finally read. (paperback)
The Paybacks Volume 1: Payback's A Bitch by Donny Cates, Eliot Rahal, Neil Gaiman: Funny concept of "repo" former superheroes looking for payment from bankrupt superheroes who've fallen behind on their loan payments. Guess being a hero is expensive!
The Good Gut: Taking Control of Your Weight, Your Mood, and Your Long-term Health by Justin Sonnenburg and Erica Sonnenburg: This book is (incorrectly) marketed like a self-helpy diet book, but it's actually chock full of that delicious body science that I crave. Currently relevant to my interests. (ebook)
The Merlin Conspiracy by Diana Wynne Jones: I've been slowly but surely working through all the books I can find by Jones, because everything I've read of hers is nothing short of delightful. (hardback)
Gulp by Mary Roach: My second Roach! I read somewhere that loving science is more than loving the cool stuff and the advances – it's also loving all the little, tedious things and hard work that led to the cool stuff. (hardback)
Confess by Colleen Hoover: Won the 2015 Goodreads Choice Award for best romance. (ebook)
The Other Side of Midnight by Simone St. James: A 1920s spiritualist who tries to solve a murder with a handsome Scotland Yard detective? Yes please. (audiobook)
Chase Me by Laura Florand: Received a copy for review consideration from the author. (eARC)
The Lights of Pointe-Noire by Alain Mabanckou: because I'm on a memoir kick. (egalley)
Jane: A Murder by Maggie Nelson: Maggie Nelson is the best! This is a reread for me, and I'm anticipating the re-issue of her book The Red Parts. (paperback)
Here Comes the Sun by Nicole Dennis-Benn: A family of Jamaican women, the secrets that they keep, and the ways they betray one another. Amazing so far. (e-galley)
The Fire Next Time by James Baldwin: On my phone thanks to an Audible Daily Deal, a good match with the book it inspired, Between the World and Me. (audiobook)
Boy, Snow, Bird by Helen Oyeyemi: It's all fairy tales all the time for me, and this month is Snow White themed with Oyeyemi and… (audiobook)
Six-Gun Snow White by Catherynne M. Valente: I've seen this book around and add it to my TBR for retellings. (audiobook)
Relish: My Life in the Kitchen by Lucy Knisely: This one's for the Read Harder Challenge. I'm currently ticking off the Food Memoir task. (paperback)
Rise of the Rocket Girls: The Women Who Propelled Us, from Missiles to the Moon to Mars by Nathalia Holt: Non-fiction tends to be a good reading slump buster for me, and this one seems perfect. (e-galley)
This is the Story of a Happy Marriage by Ann Patchett: A friend picked this one up recently, and since I've been on fire for writing, I decided to buddy read with her. I also tend to favor Patchett's non-fiction over her fiction. (paperback)
Guapa by Saleem Haddad: I stumbled across this wonderful novel about a gay man's daily life amid personal and political upheaval in an unnamed Arab country. And I'm so glad I did. (egalley)
The Gene: An Intimate History by Siddhartha Mukherjee: I find myself working with geneticists with some regularity at work, so this title jumped out at me. (egalley)
A Tale for the Time Being by Ruth Ozeki: I loved Ozeki's All Over Creation but somehow hadn't read this one yet. Fixing that now. (ebook)
Loving Day by Mat Johnson: Part of my ongoing project to read some of the amazing books that came out over the past couple of years that somehow passed me by. (ebook)
Sex Object: A Memoir by Jessica Valenti: I love her columns for the Guardian and I'm expecting the same kickass flavour from this autobiographical arrival. (egalley)
Infinite Jest: A Novel (20th Anniversary Edition) by David Foster Wallace: If ever there was a time to give this is a shot it's on its 20th birthday. I have no idea how I'm going to cope but I've stocked up on highlighters and post-its just in case. (paperback)
Before We Visit the Goddess by Chitra Banerjee Divakaruni: I am here for anything about the relationship between mothers and daughters and the author's reputation just sealed the deal. (egalley)
The Shepherd's Life by James Rebanks: Yes, an audiobook about sheep. Sometimes a girl just misses the English countryside. (audio)
The Shadow of the Wind by Carlos Ruiz Zafon: I've been recommended this book so many times and since it's a book about books, I think I will love it. So far, I'm enjoying it but I do have to block out the casual sexism directed towards Clara.Why can't books be good and simultaneously non-sexist?
Miss Fortune by Lauren Weedman: I got a copy of this book a few weeks ago and can't wait to read it! I bet it'll be a hilarious read.
The Age of Wire and String by Ben Marcus: My buddy and I have been discussing sudden/flash/micro fiction lately, and he sent me this book in the mail. It's remarkable in its experimental, fuck-with-form quality, though probably a nightmare for readers expecting a traditional narrative. (paperback)
The Ballad of Black Tom by Victor LaValle: Lovecraft? 1920's Harlem? Yes, please. (ebook)
Ascension by Jacqueline Koyanagi: I bought this for the awesome cover, but I'm sticking with it because black women in space will forever be a book description that I enjoy. (ebook)
Wishful Drinking by Carrie Fisher: If you only know Carrie Fisher from Star Wars, you are really missing out. She is a brilliant, hilarious, razor-sharp writer and I adore all of her stuff. This one's a memoir of her turbulent childhood and adulthood in Hollywood, and is so funny you'll want to read it out loud. (paperback)
Wicked by Gregory Maguire: "the life and times of the wicked witch of the west" is both the tag line, and a pretty good summary. I'm back and forth on whether I'm enjoying the book or not. It's early days, though. (ebook, Kindle app)
Xander and the Lost Island of Monsters by Margaret Dilloway (Disney-Hyperion, April 5): Received a review copy! It's so good! (Galley)
Everything I Never Told You by Celeste Ng: I read this last year but I'm re-reading it for book club. Just as good as the first time around. (Paperback)
Summerlost by Ally Condie (Dutton Books for Young Readers, March 29): Already love this book and I'm only fifty pages in. (Galley)
Another Brooklyn by Jacqueline Woodson (HarperCollins, August 9th): I'll read everything she writes. (eGalley)
The Girl in the Red Coat by Kate Hamer (Melville House, Hardback). Unlike many "Girl" books currently dominating mystery shelves, this one is actually about a young girl. It alternates between her and her mother's POV for years after her abduction from a market in England. It's riveting. Worth the hype.
Brand Thinking and Other Noble Pursuits by Debbie Millman (Allworth Press, Paperback). I'm obsessed with what makes us buy one product over another and this book investigates the brand loyalty of our caveman, tribal brain and the aesthetic choices used to guide us to certain purchases. It is a collection of conversations Millman has with top tech designers, retail chain CEOs, marketing professionals, and sociologists and cultural critics (think Malcolm Gladwell and Dan Pink) who all bring a myriad of research and experience to the idea of what makes a "brand" great.
Dreamland City by Larina Lavergne: When I was sent this book for review, I was expecting a cute YA/NA lesbian romance. Then I decided it was a NA queer romance with some grit. Now I have no idea what genre to put it in, but "cute" is definitely not the right adjective. Whatever genre it is, this story has me completely hooked. (ebook)
13 Ways of Looking at a Fat Girl by Mona Awad: I just started this one over the weekend and it's already an intense little book. I've heard lots of great things about it though, and I'm looking forward to seeing how Awad deconstructs these societal expectations that all girls have to deal with. (paperback)
Tell the Wind and Fire by Sarah Rees Brennan: To be honest, I'm not quite sure what to do with this story. The "Light" and "Dark" divisions in this alternate history novel aren't very clear or new to the genre, but I find I can't stop reading it anyway. (e-ARC)
If I Was Your Girl by Meredith Russo: I've never read a book with a trans heroine before, and I'm disappointed in myself for not having done so. I've heard so much praise for this book however, and I'm really excited to read it and learn. (e-ARC)
We Love You, Charlie Freeman by Kaitlyn Greenidge. Just finished. An absolutely exquisite examination of race, exploitation, language, and the meaning of family. Charlie Freeman is a chimp; the Freemans are the family charged by a dishonorable institute with wringing language out of him; happy endings are appropriately elusive. Greenidge's prose is gorgeous and the subjects she tackles are timely and important. (Algonquin Books, ARC; release date March 16th.)
Tell My Horse: Voodoo and Life in Haiti and Jamaica by Zora Neale Hurston. I bought just about all of ZNH's books in college, but when I realized they're not all exact replicas of Their Eyes Were Watching God I was bitterly disappointed. But having grown up a bit, I'm now reading, and really enjoying them. Tell My Horse follows ZNH through Haiti and Jamaica, and features her no-holds-barred take on relations between and amongst the races, thoughts on voodoo after experiencing rituals and ceremonies firsthand, and calls out sexisim and all sorts of injustices along the way. (Paperback)
Terra Incognita by Sara Wheeler. For an upcoming list of international women writers to read, I'm devouring this book of Wheeler's in a sort of companion/total opposite to Hurston's own travelogue: this one is about Antarctica, and traveling, writing, living there, and how the landscape and place overtake people and leaves each visitor with their own unique impressions of this cold, cold place. It's riveting writing, stopping just short of making me want to visit. (Paperback)