Lists
Peek Over Our Shoulders: What Rioters Are Reading On March 12, 2015
This content contains affiliate links. When you buy through these links, we may earn an affiliate commission.
In this feature at Book Riot, we give you a glimpse of what we are reading this very moment.
Here is what the Rioters are reading today (as in literally today). This is what's on their bedside table (or the floor, work bag, desk, whatevskis). See a Rioter who is reading your favorite book? I've included the link that will take you to their author archives (meaning, that magical place that organizes what they've written for the site). Gird your loins – this list combined with all of those archived posts will make your TBR list EXPLODE.
We've shown you ours, now show us yours; let us know what you're reading (right this very moment) in the comment section below!
The Boy Who Lost Fairyland by Catherynne M. Valente: I'm a HUGE fan of this series. The original trilogy was about a human girl who traveled to Fairyland. This time, a troll boy leaves Fairyland and is trapped in our world. (Hardcover)
Viper Wine by Hermione Eyre: I've heard nothing but raves about this book, which is about an addictive potion called "viper wine" that restores women's youthful looks. Also, I think the author wins Most Literary Name ever. (e-galley)
The Green Road by Anne Enright: Her new novel about the matriarch of a family and her adult children. Loved The Gathering so hard. Crazy-excited about this. (e-galley)
The Ghost Network by Catie Disabato: The book sounds incredibly interesting, about half-completed train lines and a missing pop star. Bonus: It's published by Melville House, one of my favorite indie presses. (galley)
Red Queen by Victoria Aveyard: 100% bought this one for the cover, which is so sexy. The YA fantasy kick continues… (hardcover)
The Interestings by Meg Wolitzer: I missed this one at the height of its hype, kind of on purpose, but I'm finally ready to tackle it. (library ebook)
2 A.M. at the Cat's Pajamas by Marie-Helene Bertino: Because everyone raved about how charming this book is last year, and they're right. (Audiobook)
The Anchoress by Robin Cadwallader (May 12th, FSG): A novel by a medievalist about a 13th century girl who decides she doesn't want to get married and instead wants to be a holy woman who spends her life in a 9×7 cell? Too fascinating to pass up. (ARC)
American Born Chinese by Gene Luen Yang: Catching up on a contemporary classic of comics. (paperback)
A God in Ruins by Kate Atkinson: Because Life After Life grew on me like a fungus and I wanted more; this follow-up (out in May) delivers more of Ursula's beloved brother Teddy. (e-galley)
An American Tragedy by Theodore Dreiser: Checking off another overlooked classic on my Five-Year Reading Plan of The Essentials. (hardcover)
The Collected Poems of Stephen Crane: Because this volume in Library of America's "American Poets Project" series is lovely, and because The Red Badge of Courage is the next book in my Five-Year Reading Plan (see above). (hardcover)
Nine Rules to Break When Romancing a Rake by Sarah MacLean: Because, ahem, MacLean? (And this is the last one of hers I have yet to read.) (audiobook)
The Signature of All Things by Elizabeth Gilbert: Another one I have been putting off and HOLY MOLY, what a mistake. I'm loving it so hard. (hardcover)
Attachments by Rainbow Rowell: My last unread Rowell, after this I get a bingo. (audiobook)
The Folded Clock by Heidi Julavits: I am taking my time with this one. I like to read it in bed and it's kind of like having a really interesting conversation with a girlfriend to wrap up the day. (e-galley)
Satin Island by Tom McCarthy: Because Tom McCarthy. So far it is appropriately weird and I'm excited to see where it goes. (e-galley)
Mosquitoland by David Arnold: Okay, okay, I know I'm not supposed to judge a book by its cover but THIS BOOK IS BEAUTIFUL. When it arrived in the mail I may have hugged it. I'm not even sorry. So far this book is fantastic, a beautiful roadtrip novel packed with heart. (Hardcover)
Written in the Stars by Aisha Saeed: I pre-ordered this book ages ago, and someone over at Penguin was kind enough to surprise me with a hardcover advance. Penned by one of the fantastic gals at We Need Diverse Books, I've been eagerly awaiting this title… and now it's mine all mine. Arranged marriages! Forbidden love! Ah! There's already so much to love here. (Advance Hardcover)
The Sculptor by Scott McCloud: After reading McCloud's non-fiction book, Understanding Comics, I was very curious to see what he would do with his first graphic novel. (Hardcover)
Green: The History of a Color by Michel Pastoureau: Was sent this for a review ages ago and rediscovered it after cleaning my bookshelves. Yay organization! (Hardcover)
Cruel Beauty by Rosamund Hodge: I do love me a good Beauty and the Beast adaption, and several bloggers recommended this. (ebook)
Everything I Never Told You by Celeste Ng: because I finally rose to the top of a very long library holds list. I've been excited for this one! (Hardcover)
Rat Queens, Vol. 1 by Kurtis J. Wiebe & Roc Upchurch: because the subtitle is "Sass and Sorcery," and that's the only reason I need. (Paperback)
Stories I Only Tell My Friends by Rob Lowe: because it's Rob Lowe. This book sells itself. And I'm listening to the audio, so it's basically like walking to and from work with Sam Seaborne. (Audiobook)
The Song of Roland by Michel Rabagliati: because never was there a more perfect comic artist to emerge out of French Canada. Also I'm teaching it next week because I'm insanely lucky. (Paperback)
Oh! You Pretty Things by Shanna Mahin: Because it seemed like a fun read, which I need right about now.. (e-galley)
Ms. Marvel, Vol. 1 by G. Willow Wilson, Adrian Alphona & Jacob Wyatt: The torrent of Rioters singing its praises finally won me over–and thank goodness it did! (Paperback)
Quarantine: Stories by Rahul Mehta: Fellow Rioter Swapna recommended it when I asked for short story collections by diverse authors. Wonderful so far! (ebook)
Selfish, Shallow, and Self-Absorbed edited by Meghan Daum: A collection of 16 writers exploring the decision not to have children is a thing I find irresistible. These pieces are thoughtful, moving, provocative, and fun. (print galley)
Dreamland by Sarah Dessen: I'm trying to catch up on all of the backlist Dessen titles I haven't read before. This one is heartbreaking and engaging and I am so glad I picked it up. Dessen NEVER disappoints. (Paperback)
Invincible by Amy Reed: Amy Reed is one of my favorite undersung gritty YA writers. Her characters are flawed and tough, and this one is no different. (print galley)
On Immunity by Eula Biss: Everyone's raved about this essay collection and I'm intrigued. I read Biss's Notes From No Man's Land and loved it, so I'm eager for this one. (print from library)
Half of a Yellow Sun by Chimamanda Ngozi Adichie: Stopped in at RoscoeBooks to check it out and left with a paperback of this novel.
The King in Yellow by Robert W. Chambers: I've been meaning to watch True Detective to see what all the hype is about, but wanted to read this book first as I've heard it is a recurring motif throughout the first season. (used paperback)
A Little Something Different: Fourteen Viewpoints, One Love Story by Sandy Hall: I don't read a ton of YA/New Adult, but my sister sold me on this one – a love story between two people who can't seem to figure out they belong together, told through snippets from the people around them (their creative writing instructor, the baristas at Starbucks, her roommate, his brother, and a campus squirrel). It's charming so far. (Paperback)
The Life-Changing Magic of Tidying Up: The Japanese Art of Decluttering and Organizing by Marie Kondo: I'm getting ready for a big spring clearout and wanted a little inspiration. (Hardcover)
As for Me…
Hausfrau by Jill Alexander Essbaum: After hearing Rebecca talk about this I was dying to read it. So happy I received an early copy from the publisher, I've been reading it every chance I get for the past two days. I'm LOVING it! (Early Copy – Hardcover)
____________________
Expand your literary horizons with New Books!, a weekly newsletter spotlighting 3-5 exciting new releases, hand-picked by our very own Liberty Hardy. Sign up now!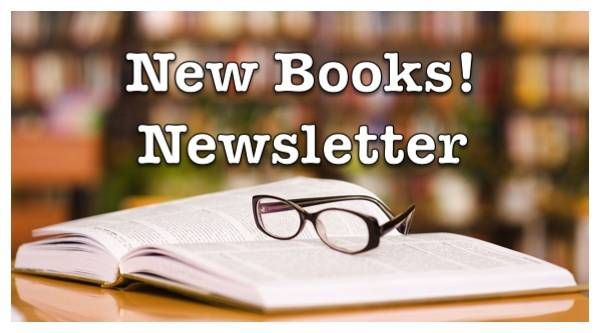 Save