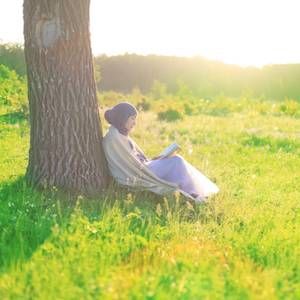 Lists
Peek Over Our Shoulders: What Rioters Are Reading On June 4, 2015
This content contains affiliate links. When you buy through these links, we may earn an affiliate commission.
In this feature at Book Riot, we give you a glimpse of what we are reading this very moment.
Here is what the Rioters are reading today (as in literally today). This is what's on their bedside table (or the floor, work bag, desk, whatevskis). See a Rioter who is reading your favorite book? I've included the link that will take you to their author archives (meaning, that magical place that organizes what they've written for the site). Gird your loins – this list combined with all of those archived posts will make your TBR list EXPLODE.
We've shown you ours, now show us yours; let us know what you're reading (right this very moment) in the comment section below!
Matrimony by Joshua Henkin: Going wayyyyy backlist for this one. It's a scandal how long this has been on my TBR. So far, I love it! (Paperback)
Ms. Marvel Volume 2: Generation Why by G. Willow Wilson, Adrian Alphona, and Jacob Wyatt: since I loved the first one, I'm surprised it took me so long to get the second. (Paperback)
Leila Roy
Because You'll Never Meet Me by Leah Thomas: for my column at Kirkus. (ARC)
Out by Natsuo Kirino: because I'm currently on a quest for books about mariticide (Paperback)
Sunny Side Up by Jennifer L. Holm & Matthew Holm: in an effort to keep my young library patrons happy, I read any and all comics that look like possible Raina Telgemeier readalikes. (ARC)
Seveneves by Neal Stephenson: Being a fan of Neal Stephenson, I've really been looking forward to this new novel of his. Seveneves is over 800 pages long. I'm only about 130 pages in, and so far it's a good read. Apparently Stephenson started working on Seveneves in 2006. This means that he worked on this gigantic project at the same time as he wrote Anathem and REAMDE, both of them based on close research and approximately one thousand pages long. I stand in awe. (Hardcover)
The Duchess War by Courtney Milan: I picked this up because I need to check romance novel off my Read Harder list and I've been wanting to get back into romance reading after a lapse of a couple of years. I had seen Milan talked about by the fine folks with excellent taste on this site, so I thought this book would be just the ticket. Not quite halfway through and I know I'll be reading the entire Brothers Sinister series because this book is a delight so far! Well-written, incredibly thoughtful, and yes, pretty swoon-worthy. (Paperback)
Blackout by Connie Willis: To treat my post-Crooked Heart book hangover (the Blitz!), on the recommendation of righteous Twitterers @outseide and @sehovde. (ebook)
The Witches: Salem, 1692 by Stacy Schiff: New investigation into the Salem Witch Trials by the author of the amazing Cleopatra biography. Could I be any more excited? Spoiler: No, I could not. My grandmother, seven greats back, was one of the witches, so I always read everything about the trials that I can. (Galley)
Beastly Bones by William Ritter: Jackaby sequel!!!! This is the first book I went in search of when I got to BEA, because I loved Jackaby so much. Dr. Who + Sherlock Holmes = what's not to love??? (Galley)
Fortune Smiles: Stories by Adam Johnson: It has been four years since Johnson's last book, The Orphan Master's Son, which is one of the best books I've ever read. Excuse me while I drool all over his new collection. (Galley)
The Blind Owl by Sadegh Hedayat: I took this out from the library simply because someone on Twitter mentioned they were reading it, and a bunch of other people responded, "Oooooo, good one." (Paperback)
Modern Romance by Aziz Ansari: The only way I could be more excited about this sociological investigation of modern dating from one of the best young actors and comedians around is if Ansari showed up in costume as Tom Haverford and took me out on an apps and 'zerts date before he read it to me himself. (galley)
Three Weeks with Lady X by Eloisa James: I got hooked on James's Regency romance reimaginings of fairy tales, and now I'm totally digging this clever story about a smart, independent woman who falls for a roguish duke-to-be against both of their better judgments. (ebook)
S. Zainab Williams
Magonia by Maria Dahvana Headley: I honestly picked this one up simply because the cover was striking. I'm also trying to read more current YA fantasy and thought it would be fun to dive in with a new-to-me author. So far, the story, which transports internet fact hunter and chronically ill Aza to a world where she gets a new life and her health, is the illustration of modern fantasy I was seeking. (hardcover)
Understanding Aleister Crowley's Thoth Tarot by Lon Milo DuQuette: I'm really interested in tarot. A good friend gave me a pack of Thoth tarot cards this past winter and I'm trying to better understand them. DuQuette makes the topic really accessible. It's a slow read for me, but I've loved it so far. (Paperback)
Mudbound by Hillary Jordan: JUST started this, so I can't give too much feedback, but so far I'm hooked. This was a recommendation from a bookseller who noticed my obvious indecisiveness while browsing. Amen. (Paperback)
Jamie Canaves
The Neverending Story by Michael Ende: I've been reading the books my favorite '80s movies were adapted from… 70 pages in and I've already squealed (Atreyu!) and got a little verklempt (in the same movie scene that always made me cry as a kid). Currently I just want to hug this book! (Paperback)
iZombie Vol. 2 uVampire by Chris Roberson, Michael Allred: I'm loving the show (think Veronica Mars' zombie cousin) so I had to checkout the comic. Aside from the personality of the main character it seems different from the show—win! I can enjoy both without either spoiling the other's plot. (Paperback)
The Cook, the Crook, and the Real Estate Tycoon by Liu Zhenyun: I started reading thinking it was a mystery—it's not, but it's a bit comically dark with interesting characters which I like. (egalley)
This Is Where it Ends by Marieke Nijkamp: I've been waiting to get my hands on this YA debut for a while. The story of a school shooting, told from four different altering perspectives, with a cover that is absolutely devastating once you realize what the book is about. This one isn't out until January, and I'm excited to get an early look. (ARC)
The Heir by Kiera Cass: When it comes to The Selection series, I just can't help myself. These books are way too much fun. The fourth book in the series launches the story in a new direction, with the characters from the first three books as adults, and showing you what happens to their children, who are now the main characters. (Hardcover)
Charmed by Michelle Krys: The second book in Krys' Witch Hunter series came out at the end of last month, accompanied by a free short story, Blackwood. If you're eagerly waiting for books like Truthwitch by Susan Dennard or the soon-to-be-released The Witch Hunter by Virginia Boecker, this delightful series will definitely hold you over. Excited to see where Krys takes her characters in book two.
Pretty Baby by Mary Kubica. I loved, LOVED Kubica's first book The Good Girl and I've been eagerly anticipating her new one, about a woman who takes in a teenager with a baby and starts to discover the girl's backstory, which is darker than she anticipated. Kubica is so good at pacing and creating suspense, that you almost don't realize there's a twist coming until you get to it. (Galley)
The Walls Around Us by Nova Ren Suma. This has been getting so much great buzz around the Riot crew that it was an easy choice for my next audiobook. All I really know about it is that it's about ballet. The beginning is kind of confusing and I have no idea what's going on, but I'm still totally into it. (Audiobook)
See You In Paradise by J. Robert Lennon. Weird little dark stories that have been the perfect size to read on the plane. (Paperback)
Born With Teeth by Kate Mulgrew. Pure movie-star escapism! Loving Mulgrew's tales of being young, beautiful, and famous in New York. (Audio)
Everything I Never Told You by Celeste Ng. I've heard GREAT things about this one and it's on Scribd, soooo I got on that. (Audio)
Topaz by Beverly Jenkins. Romance! Western! Beautiful cover! (eBook on Scribd)
Vengeance Road by Erin Bowman. Western! YA! Crossdressing! (Okay, I'll stop with the exclamations, but it's seriously a great reading week over here.) (Galley)
Tales From The Back Row by Amy Odell. Despite spending 70% of life in my pyjamas, I relish tales of the fashion world. This collection of essays from a Cosmo editor is just delicious. (Galley)
The Best Horror Of The Year Volume Seven edited by Ellen Datlow. Datlow is the high priestess of horror short stories so I devour this collection every year. It's already brilliant because it starts with a new story from the excellent Nathan Ballingrud. (Galley)
African And Elephant Adventures by Willard Price. On a nostalgia kick and revisiting a childhood obsession. (eBook)
A Rogue by Any Other Name: The First Rule of Scoundrels by Sarah MacLean. I'm a romance newbie so trying this after other Book Rioters have raved. (Scribd)
Hearts of Fire by LH Cosway: Cosway is on my autobuy list; plus I'm a doing a readalong of this particular book with two friends and fellow bloggers. (ebook)
The Mystery Writers of America Cookbook ed. by Kate White: SO MANY people love this book, and now I see why. It's fantastic. (hardcover)
The Queen of the Night, by Alexander Chee: I've been eagerly awaiting Chee's new book, and it's worth the wait: an epic historical novel focusing on the life–and secrets–of a legendary opera singer, it's juicy, gorgeous, intricately plotted, smart, and a lot of fun to read. (galley)
The Saint by Tiffany Reisz: I've had a run of super-sweet romance novels lately- it was time for something with a little more…bite…and this book in a series about an erotica author having a BDSM affair with her priest is certainly that. (paperback)
Bright Lines by Tanwi Nandini Islam: Family secrets + Brooklyn + Bangladesh? Yes, please. (ARC, August 11, Penguin)
H Is for Hawk by Helen MacDonald: I find books about women doing bad-ass shit involving nature to be irresistible. (ebook)
Counternarratives by John Keene: Eyed the cover in a store, thought it looked good. Saw it was from New Directions and knew it must be interesting. Turned it over and read the bookseller blurb on the back, then went straight to the counter and took out my wallet. (hardcover)
Stranger Than Fiction: When Our Minds Betray Us by Marc D. Feldman and Jacqueline M. Feldman : A really easy to read, enjoyable exploration of some of my favorite corners of psychology, like hallucinations, mass hysteria, dissociative disorders and so forth. Personal case histories are mixed in with actual medical information. Really a lot of fun. (Hardcover)
The Fair Fight by Anna Freeman: I can't think of a better way to kick off summer reading than with a book about Victorian lady boxers. It's awesome. (Hardcover)
As for Me…
Conversion by Katherine Howe. I picked this up at BEA last year and spotted it on my shelf two days ago. I've been reading it every free second I get (which hasn't been many in the last couple of days). If I had one full afternoon with this I'd devour it! Don't ask me why it's taken a year to pick it up — it's a strange affliction I have… must let book age before I pick it up. Who knows where that comes from? (Technically an ARC, but out in hardcover now and paperback June 16th!)
____________________
Book Riot Live is coming! Join us for a two-day event full of books, authors, and an all around good time. It's the convention for book lovers that we've always wanted to attend. So we are doing it ourselves.
Save