Lists
Peek Over Our Shoulders: What Rioters Are Reading On June 18, 2015
This content contains affiliate links. When you buy through these links, we may earn an affiliate commission.
In this feature at Book Riot, we give you a glimpse of what we are reading this very moment.
Here is what the Rioters are reading today (as in literally today). This is what's on their bedside table (or the floor, work bag, desk, whatevskis). See a Rioter who is reading your favorite book? I've included the link that will take you to their author archives (meaning, that magical place that organizes what they've written for the site). Gird your loins – this list combined with all of those archived posts will make your TBR list EXPLODE.
We've shown you ours, now show us yours; let us know what you're reading (right this very moment) in the comment section below!
The Last Love Song: A Biography of Joan Didion by Tracy Daugherty (August 25th, St. Martin's). A biography of Joan Didion. I don't need more reason. (ARC that Liberty so graciously lent me)
A Bollywood Affair by Sonali Dev: so many Rioters are already raving about Dev's follow-up, A Bollywood Bride, which comes out in September that I thought I better check out the first. (ebook)
Me, My Hair, and I, edited by Elizabeth Benedict (Sept. 29th, Algonquin): A collection of essays about race, religion, and culture as it relates to women's hair. I've only in the last few years accepted my giant, curly hair (and thrown away my flat iron), so this was of special interest. (ARC)
An Ember in the Ashes by Sabaa Tahir: Have heard great things about this YA debut inspired by ancient Rome, and it's making for such an engrossing audiobook. The kind that makes you miss your exit. (audio)
The Story of a New Name by Elena Ferrante: Because I am now obsessed with this series and must read them all. (Audiobook)
The Investigation by J. M. Lee (August 4, W. W. Norton): I love international crime novels and this one is by a Korean author and set in a Japanese prison during WWII and I'm so in. (ARC)
The Hired Girl by Laura Amy Schlitz (September, Candlewick): Historical comedy in diary format about a girl who wants out of farm life and dreams of becoming a domestic worker. EVERYTHING ABOUT THIS PREMISE IS MADE OF SQUEE. (ARC)
Blind Goddess by Anne Holt: After reading and absolutely adoring 1222, obviously I had to go back to start at the beginning of the series! (Paperback)
Murder is Bad Manners: A Wells & Wong Mystery, by Robin Stevens: Middle grade boarding school students start a detective agency. That's all I needed to know before I grabbed it off the shelf. (Hardcover)
A Bollywood Affair by Sonali Dev: See Amanda's entry above. (ebook)
The Truth and Other Lies by Sascha Arango: Because "dark, witty, and suspenseful" has my thriller-loving heart unable to wait I bumped it up on my TBR list. (egalley)
Sofrito by Phillippe Diederich: Sofrito is one of my favorite smells EVER so the title had me. Add a NY chef who travels to Cuba hoping to save his restaurant by getting his hands on a top-secret recipe and I couldn't grab this book fast enough. (egalley)
My Sweet Audrina by V.C. Andrews: I'm rereading the queen of Gothic fiction many, many years later with a fellow Rioter (her first time reading) for an upcoming chat. (Paperback)
A Little Life by Hanya Yanagihara: as good as everyone's been saying. I'm halfway through and this could very well end up my favorite book of all time. (hardcover)
Stoner by John Williams: for discussion over cheap beers with my book-loving buddies. (paperback, library)
Modern Romance by Aziz Ansari: because I can get down with serious statistical research about love and dating mixed with Flo Rida analogies. (audio)
Sailor Moon Volume 8 by Naoko Takeuchi: Always loved the anime, but I am finally getting around to (binge-reading) the manga. (paperback)
Aristotle and Dante Discover the Secrets of the Universe by Benjamin Alire Sáenz: I know, I know: what took me so long? (audiobook)
Virtual Equality: The Mainstreaming of Gay and Lesbian Liberation by Urvashi Vaid: I've been craving some nonfiction. This is a little outdated, but it'll be interesting to see what's changed and what's stayed the same since the 90s. (paperback)
The Shore by Sarah Taylor: All the buzz on this one completely sucked me in. I'm an easy sell when it comes to connected short stories, and I hear that's exactly how this one goes down, even though the blurb doesn't own up to it. (ebook)
Jonathan Strange and Mr. Norrell by Susanna Clarke: Sometimes it takes a really long time for me to get around to reading a book. Now that I'm finally reading Jonathan Strange and Mr. Norell, I can't believe I waited this long. This book. is. so. good. (Paperback)
Don't Suck, Don't Die: Giving Up Vic Chesnut by Kristin Hersh: Hersh, musician and founder of Throwing Muses, is also the author of Rat Girl, one of the best memoirs I've read. Excited for her new book about her friendship with the legendary Chestnut. (e-galley)
A Planet for Rent by Yoss: Cuban science fiction in translation! What's not to love? (galley)
In Another Country: Stories by David Constantine: Constantine's first North American publication, but apparently he's already a legend across the pond. (galley)
My Grandfather Would Have Shot Me: A Black Woman Discovers Her Family's Nazi Past by Jennifer Teege: Heard nothing but amazing things about this book – excited to finally have it in my hot little hands! (hardcover)
Last Year's Mistake by Gina Ciocca (June 9th, Simon Pulse): A swoon-filled love story with a narrative that jumps back forth, revealing the before and after of a teen love story. A little bit The Night We Said Yes, which I dig. (Hardcover)
The Heir by Kiera Cass (May 5th, Harper Teen): The fourth book in Cass's ongoing Selection series. I can't get enough of this drama. (Hardcover)
An Infinite Numbers of Parallel Universes by Randy Ribay (October 16th, Merit Press): A diverse YA debut from a geeky author, about a group of friends that play Dungeons & Dragons? Sold. (ARC)
Stormbringer by Alis Franklin (July 21, Hydra): The sequel to my favorite book of 2014, Liesmith. Great worldbuilding into a mythology about which I knew very little (Norse) and a hell of a ride across multiple worlds. (egalley)
Uprooted by Naomi Novik: Fairy tales and dragons at the hand of the author of the Temeraire books? Yes, please. (ebook)
The Fire Next Time by James Baldwin: Two essays, one short and one long, touch upon several concepts of the black experience that are far too timely to have been written fifty years ago. Experiencing it i very small pieces for ultimate digestion. (paperback)
In the Unlikely Event by Judy Blume: When a storyteller as prolific as Blume says this is the story she was meant to tell and all of her previous work was leading up to this one (final?) book…well, you read it. (Hardcover)
Bloodchild and Other Stories by Octavia Butler: I've read all of one short story by this Sci-Fi paragon and I intend to change that with this collection. (Hardcover)
Taipei by Tao Lin: This has been in my TBR pile for two Christmases, and I'm finally getting to it. Taipei is one of those of-the-moment works about my generation that I almost fear reading. (paperback)
The Royal We by Heather Cocks and Jessica Morgan: I'm going to London in the fall, so I'm obsessed with London-related books. (Hardcover/Library)
This Is the Story of a Happy Marriage by Ann Patchett: I've been meaning to read it forever and thought it'd be good beach-side reading. (Ancient ARC)
H is for Hawk by Helen MacDonald: I have been waiting for this book through my library holds for months. MacDonald's writing is captivating, and her exploration of grief and renewal both challenges and inspires me. (Library Hardcover)
Kristy's Great Idea: The Baby-Sitters Club Graphix #1 by Ann M. Martin and Raina Telgemeier: I feel my childhood swoop in over me as I read this graphic novel and remember my favorite characters: bold Kristy, quiet Mary Anne, artistic Claudia, and New York City chic Stacy. I still love this series, even as I've long outgrown it. (Library Paperback)
The Stranger by Albert Camus: This is a reread in preparation for reading The Meursault Investigation, a retelling from the perspective of the Arab victims, by Kamel Daoud.
The Luckiest Lady in London by Sherry Thomas: It's summer and I'm trying to catch up with some of my favorite romance authors. (e-book)
Fangirl by Rainbow Rowell: Finally getting on the Rowell love train. I'm so into this one I keep making excuses to run errands and take walks. (audio)
Angel Cruz
Lair of Dreams by Libba Bray: So very excited for this one, though I find myself paging through The Diviners now and again to remind myself of what happened. (e-galley)
Daughter of Deep Silence by Carrie Ryan: I wanted to get to this book last month, but wasn't really feeling darker stories. I have loved Ryan's other books however, so I'm confident I'll enjoy this one too. (ARC)
Not Otherwise Specified by Hannah Moskowitz: I've been looking forward to this book since Hannah first started talking about it, and she's one of my favourite people to follow on Twitter. (library book)
Anya's Ghost by Vera Brosgol: My graphic novel pick for the month has come highly recommended from many friends, so I fully expect to love it. (paperback)
Kristel Autencio
Children of the Alley by Naguib Mahfouz (the Peter Theroux translation): I read and loved Mahfouz's The Harafish a long time ago but this title just got buried under my hoarding tendencies. It's dense but a little bit awe-inspiring. (trade paperback)
Fer-de-Lance by Rex Stout: Getting into Golden Age mysteries has been my ongoing thing for years, and this is my very first foray into the Nero Wolfe world. (audiobook via Scribd)
The Tokyo Zodiac Murders by Soji Shimada: Japanese mysteries is another branch of the genre that interests me, so I couldn't pass up the opportunity to read read this reprint of a 1981 classic. (e-galley)
Mastering the Art of French Eating by Ann Mah: I can't resist a foodie book set in France. CANNOT. (paperback)
The Epic Adventures of Lydia Bennet by Kate Rorick and Rachel Kiley: I'm a big fan of Lizzie Bennet Diaries and really loved the first book, so I've been looking forward to this one, from Lydia's perspective. (e-galley)
Cheap Chic by Emily Chalmers: I just moved, so I'm in major designing/unpacking/decorating mode. Reading this one for a little inspiration. (paperback, library)
As for Me…
Sula by Toni Morrison: Because I've never read a Toni Morrison book before (gasp!) and this one looked the most interesting to me. (Hardcover from library)
____________________
Expand your literary horizons with New Books!, a weekly newsletter spotlighting 3-5 exciting new releases, hand-picked by our very own Liberty Hardy. Sign up now!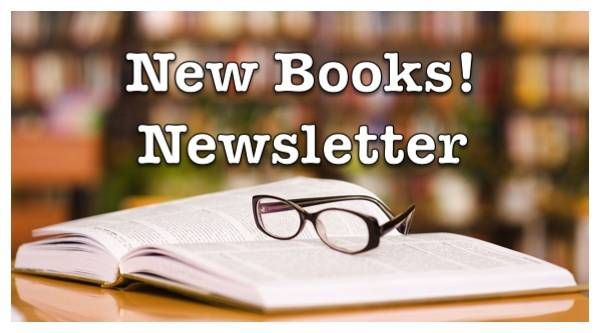 Save