Lists
Peek Over Our Shoulders: What Rioters Are Reading February 1, 2018
This content contains affiliate links. When you buy through these links, we may earn an affiliate commission.
In this regular feature, we give you a glimpse of what we are reading this very moment.
Here is what the Rioters are reading today (as in literally today). This is what's on their bedside table (or the floor, work bag, desk, whatevskis). Your TBR list is about to get some new additions.
We've shown you ours, now show us yours; let us know what you're reading (right this very moment) in the comment section below!
Jamie Canaves
Trouble Never Sleeps by Stephanie Tromly (Kathy Dawson Books, April 14th): This delightfully awesome mystery series satisfies my craving for the annoyingly charming Logan Echolls. It's funny, with great banter, and one of those series that is equally great in print AND in audio so I spend most of the time wanting to ping-pong between the two. I took a peek at just the 1st page and before I knew it I'd inhaled the first 100 pages—now if you'll excuse me I've got to get back to this wonderful read. (ARC)
Claire Handscombe
I Am Thunder by Muhammad Khan: This book about a teen who wants to be a writer but whose parents don't approve was always going to resonate with me, but it's also an important new voice in UKYA, which desperately needs better representation of BAME (Black, Asian and Minority Ethnic) characters. I'm really enjoying spending time with Muzna and I hope things work out for her, even though the class hottie is clearly going to be trouble. (paperback)
Elizabeth Allen
The Female Persuasion by Meg Wolitzer (Riverhead Books, April 3rd): I've been looking forward to another brightly-colored book by the author of The Interestings for some time now. And while I'm not quite enjoying The Female Persuasion as much as I loved her 2013 bildungsroman about a woman and her camp friends, the topic is so relevant as to have me turning pages at a significant rate. In her latest, Wolitzer addresses those crucial rites of passage—when one discovers a cause they feel passionately about, when one discovers a role model that leads them in that passion, and when one is inevitably disappointed by that role model. Her ability to write nuanced female relationships shines in this book, as we watch Greer Kadetsky navigate the minefield of caring so deeply about something and someone.
Susie Dumond
Pachinko by Min Jin Lee: FINALLY got this one off the holds list at the library and I'm loving it so far! It got a lot of buzz last year, and I am highly susceptible to buzz. It follows four generations of a Korean family through the turmoil of Japanese colonization and is full of fascinating history and gripping characters. (ebook)
Anthony Karcz
Conspiracy of Ravens by Lila Bowen: Because what this blah January needs to bring it back to life is a weird western tale told by a skin-shifting, blood-soaked heroine (and when the first book ends on a literal cliffhanger, you have to binge-read the second).
Kate Scott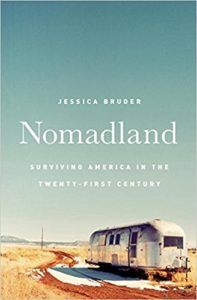 Nomadland by Jessica Bruder: The post-recession economic plight of America's senior citizens is a problem too often ignored. In this brilliant piece of journalism, Jessica Bruder hits the road with the 50-, 60-, and 70-somethings who survive by living in camper trailers and migrating around the country in pursuit of seasonal jobs. Their struggles highlight our country's problem with ageism and the ever-increasing likelihood of downward social mobility. (audiobook)
Steph Auteri
Starting with Goodbye by Lisa Romeo: I admired this essayist's work from afar for years before coming to know her personally, so I thought it was about damn time that someone published a book-length work from her. Happy to start digging into this memoir of a daughter who comes to build a whole new relationship with her father after his death. (egalley)
Elisa Shoenberger
The Flintstones Vol 1 by Mark Russell and art by Steve Pugh: I know, I know…I remember watching the Hanna-Barbera cartoon as a kid. It was not a cartoon of much substance.When a friend suggested this to me as one of his best reads of 2017, I was naturally super skeptical. So I tried the first issue and it hooked me. Now I'm in the middle of the first trade. It's not the Flintstones of our childhood. It's a critique about the cost of capitalism on members of society. It's surprising to say the least but very pithy and enjoyable. (paperback)
Sarah Nicolas
Windwitch by Susan Dennard: I read Truthwitch a while back, and with the prequel Sightwitch coming out, I thought it was a good time to read the 2nd book in this series. It's been a while since I read the first book, so I'm struggling to remember exactly what happened previously, but I'm excited to see where the story leads and to read more about my OTL Iseult.
E.H. Kern
Kafka. The Early Years by Reiner Stach: Finally! The third volume about the life and work of Franz Kafka is here! As beautifully written, and as filled with insight as the previous two volumes that dealt with Kafka's definitive years as a writer and his final years among us here on earth, this third volume was well worth the wait. Reiner Stach is an amazing biographer and Shelley Frisch a highly skilled and intuitive translator. (paperback)
Aimee Miles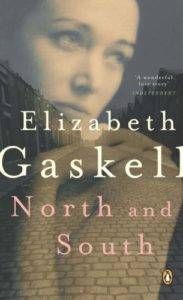 North and South by Elizabeth Gaskell: Gaskell has been on my radar for a while. I remember being completely caught up in the characters of the adaptation of Wives and Daughters when I was in high school and I adore the 2004 BBC miniseries adaptation of North and South. Gaskell maintains a beautiful balance of perspectives that have much in common with modern feminism while fitting perfectly into their time period. Gaskell encompasses that when Henry Lennox proposes to Margaret, showing the universality of women's experiences across centuries. Like that feeling you get when your friend hits on you and you just are not interested. Sigh. Juliet Stevenson is as excellent a narrator as ever, doing appropriate (to my ear) measures of Northern accents for each of the Northern characters. I am utterly enthralled. (audiobook)
Liberty Hardy
Speak No Evil by Uzodinma Iweala (Harper, March 6) A new novel from the author of Beasts of No Nation, about a young Nigerian American who is crushing high school, as far as athletics, school work, and an acceptance to Harvard, but is feeling emotionally tormented from trying to hide the fact that he is gay from his conservative parents. (galley)
Jaime Herndon
Star Wars Trilogy by George Lucas, Donald F Glut, & James Kahn: I'm a huge SW fan, but have never read the original books. I'm diving in and love how it expands upon what I'm used to seeing on screen. I've only read a couple of the other SW books (offshoots of the main saga), so it will be interesting to see how this plays out. (paperback)
Melissa Baron
Deathless by Catherynne M. Valente: I've been wanting to read more Valente ever since falling in love with Silently and Very Fast. Deathless is a delightful and dark Russian folklore tale that reads like a cross between a Grimm fairy tale and Pan's Labyrinth, with the Russian Revolution as the backdrop instead of the Spanish Civil War. And the protag is older and embroiled in a complicated romantic relationship with the Tsar of Life. Valente's writing makes this a lush, descriptive read, if a little hard to follow at times. (paperback)
Danika Ellis
Jaya and Rasa by Sonia Patel: This is a YA love story between an Indian trans boy and a mixed race teen girl who has been coerced into sex work, set in Hawaii. I feel a little bit in over my head, but I'm enjoying letting it wash over me. I'm only a few chapters in, but it's already engrossing. (hardcover)
S.W. Sondheimer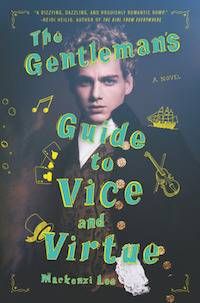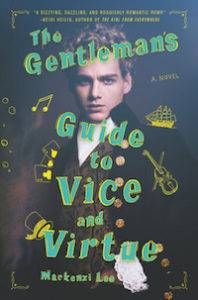 The Gentleman's Guide to Vice and Virtue by Mackenzi Lee: a historical, YA, romance with a male, bisexual lead, this novel probably wouldn't ever have been on my radar (it's the YA romance; bisexual and historical are two of my jams) had my fellow Rioters not opened my eyes to my snobbery. And I'm so glad they did—The Gentleman's Guide is absolutely delightful. It is also a fascinating alternative survey of history and a moving, complex love story.
Sam Burt
The Moonstone by Wilkie Collins. I revisited this classic in search of something more soothing than Midnight's Children. It's done the trick so far: loving the tangential, conversational style of the narrator, although I suspect I'm continually missing vital clues as to the whereabouts of that missing diamond… (paperback)
Erin McCoy
The Driftwood Promise by Maren Ferguson: This small-town romance is set in the picturesque oceanside town of Sea Glass Cove. Ferguson (the pseudonym for author Suzie O'Connell) specializes in books featuring close-knit communities with heroes/heroines who are fighting off past demons. I love that Ferguson's characters are always flawed and totally realistic. In The Driftwood Promise we get a bit of closure from book one of the series, The Abalone Shell, but we also, more importantly, get to see Erin McKinney fall in love. This one is an emotional rollercoaster that's proving worth the undertaking. (ebook)
Rebecca Hussey
My Favorite Thing Is Monsters by Emil Ferris: I remember hearing about this book on one of the Book Riot podcasts, which is what got me interested, and when I realized it would count for two of the comics tasks on the Read Harder Challenge (tasks #4 and #18), I knew I'd be reading it. (library paperback)
Katie McLain
Horrorstor by Grady Hendrix. Horror novel set in an Ikea-type furniture store, and designed to LOOK like an Ikea-type catalog. I've had this book on my radar ever since it came out, and why I've waited this long to read it is a mystery to me. (paperback)
Tiffani Willis
Binti: The Night Masquerade by Nnedi Okorafor: The epic conclusion to Nnedi Okorafor's trilogy about a woman who travels far from home and back again, learning more about herself, her people along the way. In the first volume Binti was on her way to a university on another planet when her ship was attacked. In the second she traveled into the desert to learn more about her past. In this volume, Binti returns home to find a war brewing, a war that only Binti, a master harmonizer, seems able to stop.
Ashley Holstrom
Ask Me About My Uterus: A Quest to Make Doctors Believe in Women's Pain by Abby Norman: Have you seen the cover of this book? It's a uterus made of flowers, with a butterfly on an ovary. It's perfect. Abby Norman writes powerfully about her experience living with endometriosis and presents research on the disease and the history of women who were brushed off by medical professionals. You know, like how hysteria is anything that ails a woman, but the same symptoms do not equate hysteria in a man. It's hitting all my feminist and history and medicine buttons. (galley)
Ilana Masad
How Fiction Works by James Wood: I've never read what is now considered a classic in books about writing (though it's only from 2008, so like…how? But okay). James Wood has always been one of my favorite book critics (he writes for The New Yorker) because of the care he takes in how he reads, the close attention he pays, and his own beautiful writing style. But there's also a clear bias to his tastes, and he shows that in this book—almost all his examples are from dead white dude writers, and the couple women he cites are similarly white. His reading tastes and writing criteria are rather narrow, which is unfortunate. Nevertheless, it's an incredibly illuminating and smart book, but one that there's endless possibility to argue with.
Brandi Bailey
Who Fears Death by Nnedi Okorafor: I've become obsessed with Okorafor's writing over the past year and I have been waiting nearly six months (six!!!) for this epic fantasy novel to become available at my library. While denser than any of her other works, Who Fears Death is proving to be a super engrossing, completely immersive read. I love how complex Onyesonwu is and how well Okorafor brings her emotional turmoil to the page. (library hardcover)
Patricia Thang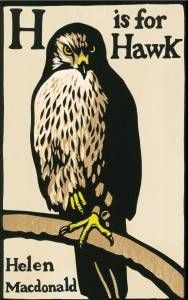 H Is for Hawk by Helen Macdonald: I'm not sure how to explain why I picked this book up except to say that I'm a huge sucker for memoirs featuring animals and/or nature. I'm sure many readers can relate to the fact that more often than not, dog memoirs are what we most easily encounter regularly. And while I love love love a good dog memoir, it's so dang exciting when I find a memoir featuring an animal that's not a dog. Factor in my obsession with birds of prey, and I think it's clear that H Is for Hawk was basically made for me. (ebook)
Jesse Doogan
The Crescent Stone by Matt Mikalatos: This book is really personal for me, since it's one that I helped to acquire. I am delighted with how it's turning out: it's a young adult fantasy that aims to help white kids learn to examine their privilege, while also being a really fun portal fantasy with Orcs and elves and dangerous plant people. It's about a girl, Maddie, who has a terminal lung disease. An elf-like creature appears to her and offers to cure her in exchange for one year of service in his magical land. She and her buddy Jason Wu are swept up into adventure. (Jason has a bargain, too: it involves pudding cups and a unicorn.) Jason is one of my favorite characters I've read in a while. Super excited for this one! (galleys)
Derek Attig
Blackfish City by Sam J. Miller: I only just started this book, but already I'm hooked. It's giving me a little bit of Annalee Newitz's Autonomous, a little bit of China Mieville's The Scar, and a whole lot of its own particular magic. (egalley)
Tiffany Hall
Strange the Dreamer by Laini Taylor: I've long heard of Taylor's poetic and dreamy prose, and yearned to read it myself. So, after months of reading books just to fill my quota on Goodreads, I decided to take my time with this one and really dive in head first. Thus far, Strange the Dreamer has not disappointed me, and I hope as I continue to flip the pages that it will stay that way. (hardcover)
Cecilia Lyra
Little Fires Everywhere by Celeste Ng: It would be disingenuous to say that I chose this book. It chose me. It was recommended by every single person/entity on the planet (friends from my book club, family members, iBooks, Goodreads—even a former professor!) and it kept showing up on Facebook feed. Fine, I thought. I'll give the book a chance. The result? I started it two days ago and am almost done. It's unputdownable! I highly recommend it!
Karina Glaser
Roll of Thunder, Hear My Cry by Mildred D. Taylor: I reread this book for a Book Riot piece I wrote for the 2018 Read Harder challenge, and it was amazing how a book written over forty years ago and set during the height of the Great Depression could still feel so fresh and relevant. I encourage everyone to read (or reread) it!
Gretchen Lida
A House of My Own: Stories of My Life by Sandra Cisneros: A friend, who I admire for her grace and clarity, texted me along with a link saying that she had bought the audio of this book for me, "I thought of you so much as I read this book…How you must just want to burst to tell a story." This is Cisneros memoir, and as I listened I knew I had to lock the door and write harder.
Margaret Kingsbury
The Sky is Yours by Chandler Klang Smith: I requested this book on Netgalley after reading its quirky premise: a dystopian future plagued by dragons. I love dragons! And I've never heard of a premise quite like this, except for the movie Reign of Fire. Okay, so this book's not like that movie, nor did I expect it to be (I should totally re-watch that movie, though)! The book is living up to the quirk factor so far (flying cars, possibility of human/machine cyborgs, and just super weird characters), and I'm only a couple chapters into it. (egalley)
Tasha Brandstatter
Death Below Stairs by Jennifer Ashley: I had some issues getting into this book before, but decided to give it another try in audiobook format. (audiobook)
Teresa Preston
The Fortunes by Peter Ho Davies. My book club is reading this collection of four novellas/short stories about Chinese Americans at different periods in American history. So far, I've read about an immigrant who got involved in the building of the railroad in California and Anna May Wong, the first Chinese-American movie star. (library hardcover)
Simone Jung
Girls Burn Brighter by Shobha Rao (flatiron books, March 6) I knew this was going to be a book I would love to read and I was totally right. I was already hooked from the first part of the story where our two main characters (Poornima and Shivati) meet. The friendship they were able to build within the short period of time seems to be one of the ones that will last a lifetime. While both of their lives are filled with turmoil and conflict, these two women are able to think of each other and the time they spent together. This book will make you think about your own female friendships and while we all live busy lives and have things to attend to, we always keep in mind the friendships we create and how they shape us in the end. (egalley)
Laura Sackton
Salad Anniversary by Machi Tawara: I'm trying to read one book of poetry each month this year, and my current pick is this slim volume of haiku and tanka poetry from Japan. It was published to wild success in 1987. The poems are short meditations on ordinary life and love. So far, I'm enjoying them immensely.
Trisha Brown
The Life-Changing Magic of Tidying Up by Marie Kondo: Maybe this is sort of because it's a new year and I want to get my life together. But it's really because I need someone to tell me what to do with the tube of wood glue I used one time four years ago and the little baggie of single earrings I've been keeping in case I feel "crafty" for the first time in three decades. So in other words, it probably is largely because it's a new year and I want to get my life together. (hardcover)
Priya Sridhar
Published: The Proven Path From Blank Page to Published Author by Chandler Bolt: This book at aimed at writers who want to find their purpose, and boldly venture into the self-publishing world. I admire the perspective, and Chandler's confidence for describing what a good book needs. (PDF)
Jessica Pryde
The Gods of Tango by Carolina de Robertis: I've been meaning to read this forever, because the premise is so fascinating, and now I have to because I'm facilitating an LGBTQ+ book club for my library and it's our first pick, so yay! (paperback)
Rincey Abraham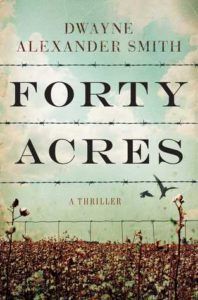 Forty Acres by Dwayne Alexander Smith: I heard about this one years ago and have had it on my list of books to check out for a long time, especially since it can be difficult to discover thrillers written by non-white authors. (library hardcover)
Adiba Jaigirdar
Dread Nation by Justina Ireland: This book has been pretty hyped up, and rightly so! I'm only one third of the way in and I'm already totally engrossed and finding it hard to put it down. Justina Ireland's writing is fantastic. As is her alt history world filled with zombies. But what steals the show is her main character, Jane McKeene, who I'm totally in love with. (egalley)
Dana Lee
White Tears by Hari Kunzru: I'm all about books with music as a major part of the plot lately. So right now I'm reading White Tears, recommended by my fellow Rioters. It's still pretty early in the book, but the setup is really interesting: two friends just out of college share a passion for music and the recording process. They accidentally record a singer in a park and send it out claiming it's a long lost blues record. The prose is simple, yet lyrical and I'm excited to see how the repercussions of their actions "spiral down into the heart of the nation's darkness" as the book jacket promises.
Rachel Wagner
Stamped from the Beginning: The Definitive History of Racist Ideas in America by Ibram X Kendi: I saw this online somewhere and had to get it. I'm only a few pages in so far, but the prose and the argument are both clear and concise. Kendi contextualizes the fact that racist policies precede racism. (library book)
Dana Staves
How to Write an Autobiographical Novel: Essays by Alexander Chee: I've been meaning to read Alexander Chee's novel, The Queen of the Night, for awhile, but haven't gotten to it. (Yet!) But his new book of essays sounded like a great place to start with him. I'm a sucker for writers talking about writing, and while I'm only in the first essay, I think I'm going to really enjoy this. (eGalley)