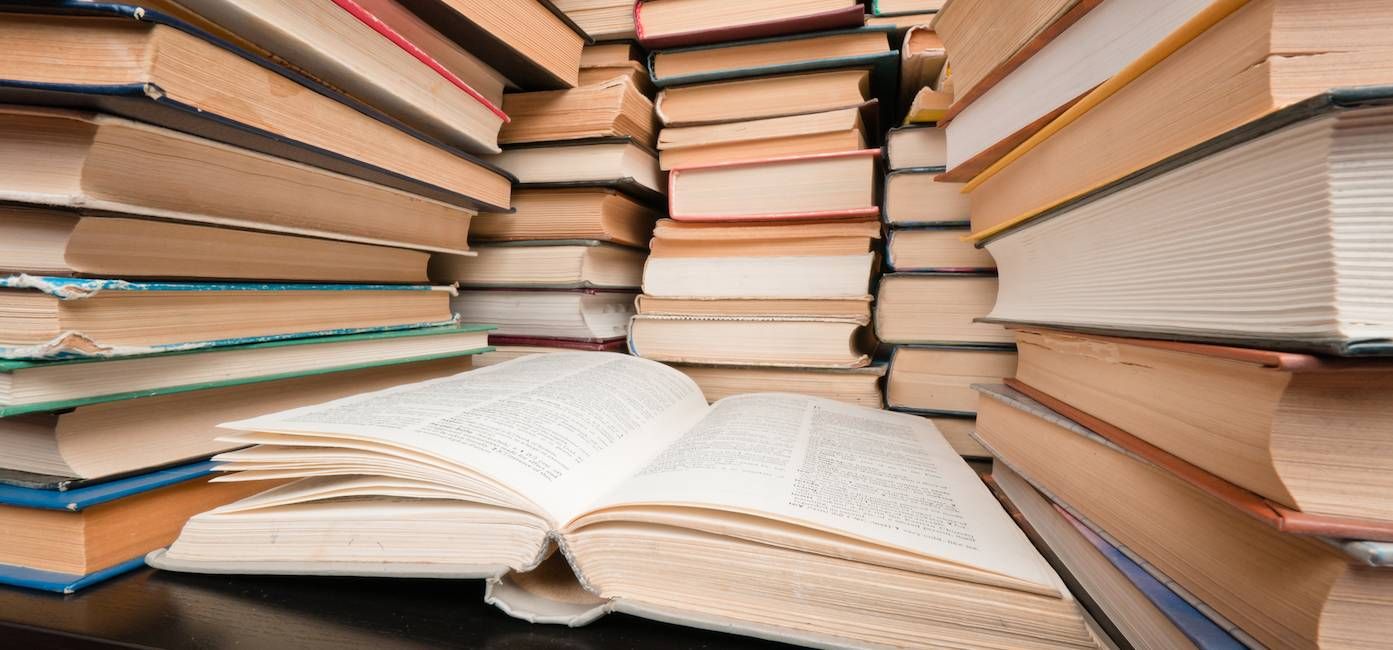 Lists
Peek Over Our Shoulders: What Rioters Are Reading On February 19, 2016
This content contains affiliate links. When you buy through these links, we may earn an affiliate commission.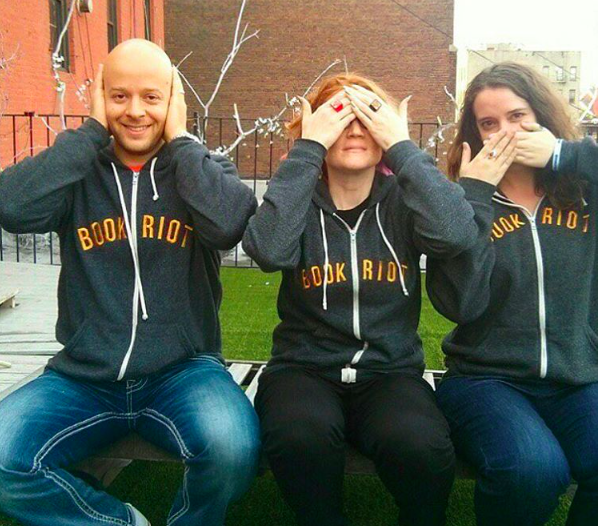 In this feature at Book Riot, we give you a glimpse of what we are reading this very moment.
Here is what the Rioters are reading today (as in literally today). This is what's on their bedside table (or the floor, work bag, desk, whatevskis). See a Rioter who is reading your favorite book? I've included the link that will take you to their author archives (meaning, that magical place that organizes what they've written for the site). Gird your loins – this list combined with all of those archived posts will make your TBR list EXPLODE.
We've shown you ours, now show us yours; let us know what you're reading (right this very moment) in the comment section below!
Endless Love by Scott Spencer: I was so disappointed in the last book I read (which I won't name because I don't want to be mean, but will reveal if messaged privately…) that I took to the internet for recommendations for something new. Endless Love came with an enthusiastic thumbs up from a fellow editor with taste similar to mine, plus her description included the word "obsession." (Ebook)
If I Was Your Girl by Meredith Russo: I got the ARC in the mail on Christmas Eve and have been eying it longingly in my TBR pile until now, when I finally got to pick it up. The story of a trans girl navigating high school, it's as wonderful as everyone's been saying. (ARC)
'Til the Well Runs Dry by Lauren Francis-Sharma: a finalist for the 2016 Audie Award for Literary Fiction! So far I'm loving the Trinidadian-inflected narration by Bahni Turpin and Ron Butler. (Audio)
The Lathe of Heaven by Ursula K Le Guin: I haven't read Le Guin in a while and needed it in my life. Found a great, shorter audiobook on Scribd! (Audio)
Fingersmith by Sarah Waters: Many people have recommended this book to me and OMG, I now understand why. (Paperback)
The Queen of the Night by Alexander Chee: Had to get this immediately after hearing Liberty and Rebecca rave about it on their All the Books podcast. (Hardcover)
Pax by Sara Pennypacker, illustrated by Jon Klassen: Saw this book publicized everywhere! I love both the author and illustrator, so I had to check it out right away. (Library Hardcover)
Mystery Man by Colin Bateman: Because it's set in No Alibis, a RL mystery bookstore I visited in Belfast. (ebook)
National Geographic Traveler: Japan by Nicholas Bornoff and Perrin Lindelauf: The Japan trip travel planning continues. (paperback)
Liquid Intelligence by Dave Arnold: I love books that combine science with cocktails, and this one is a James Beard Award-winner. (hardcover)
Grunt: The Curious Science of Humans at War by Mary Roach (June 7): I am reading this because OMG MARY ROACH. Her books are all fabulous, and full of fun facts. (e-galley)
Some Possible Solutions: Stories by Helen Phillips (May 31) One of my favorite books of 2016 was her weird, wonderful novel The Beautiful Bureaucrat, so I'm excited to see what she does with a shorter form. (galley)
Barkskins by Annie Proulx (June 14) Her first novel in 14 years! And it's a 736-page family saga! This calls for a parade, and maybe a National Annie Proulx Day. (e-galley)
Green Island by Shawna Yang Ryan (Feb. 23) Reading this novel of war and love in Taiwan and America for next week's podcast. I am a sucker for books with an unnamed narrator. (e-galley)
Central Park by Guillaume Musso. I'm reading this one with a friend who is learning French. Musso is a prolific and successful author of romantic thrillers, and I kind of love that this one is set in New York – it reminds me of going round the city with a French-speaking, super-close friend of mine. (paperback)
In Other Words by Jhumpa Lahiri. I've been beside myself with excitement about this one for months. I love languages – teaching them, learning them, speaking them, and I'm endlessly fascinated by bilingualism. (hardback)
Native Speaker by Chang-Rae Lee. This month's book club pick. Enjoying it so far. (audio/ebook)
Crush: Writers Reflect on Love, Longing and the Lasting Power of Their First Celebrity Crush – ed. Cathy Alter and David Singleton. Probaby the 2016 book I am most excited about. (egalley)
The Girl on the Train by Paula Hawkins: After a year's worth of hearing people talk about it, and a week of having the hardest time finding a book I could get into, I finally gave in and gave this one a try. Worked. (ebook)
Real Artists Have Day Jobs by Sara Benincasa: Have you read DC Trip? If you have, you know exactly why I picked this one up. If you haven't, what on earth is wrong with you? (egalley)
Sorcerer to the Crown by Zen Cho: Another rave-reviews title, another happy choice. (ebook)
Patterns of Paper Monsters by Emma Rathbbone (ebook) — I bought this book when it came out in 2010 (and maybe it was the first or second ebook I ever bought!) and I don't know why I waited to read it. It's a story about a sharp, snarky teen boy in a juvenile detention facility. There have been laugh-out-loud moments in this one, including when Jacob talks about the ritual of how he and fellow inmates get cookies. This one has a pitch of One Flew Over The Cuckoo's Nest meets Napoleon Dynamite and that might be one of the closest "meets" I've read.
The Way I Used to Be by Amber Smith: Comparisons have been drawn between this debut novel and Speak by Laurie Halse Anderson, though I'm too early in the book to really be able to judge. (ARC)
The Heir and the Spare by Emily Albright: I've been craving a light, contemporary romance for a little while now. This is also where I admit to having a weakness for stories about royalty, so hopefully, Albright's novel will be satisfying on both counts. (hardcover)
In Other Words by Jhumpa Lahiri: I love learning new languages, so Lahiri's memoir on learning Italian is right in my wheelhouse. (hardcover)
Loving Day by Mat Johnson: This has been on my TBR list pretty much since it came out and I've finally got around to it. This book navigates the intricacies and difficulties of being biracial with ease from page 1. (audiobook)
What Belongs to You by Garth Greenwell: A debut that I was desperate to read but had to hit pause on while stuck in a 3-month-long reading slump that has finally lifted. I'm so happy to be back to this book, and seeing why there's so much well-deserved buzz. (galley)
Loitering: New & Collected Essays by Charles D'Ambrosio: I've been saving this one for a while, like that fine bottle of single malt whisky that you deliberately keep out of reach for fear of just drinking it as carelessly as a blend. Several of my journalistic heroes have frothed at the mouth with giddiness talking about D'Ambrosio's work. I'm wearing a bib in anticipation. (Paperback)
North American Monsters by Nathan Ballingrud: Rioter Johann recommended it and it fits my desire to read more horror and read more short stories. Win-win. (ebook)
Shelter by Jung Yun: That cover! Plus family drama calls to me. (egalley)
Wages of Sin by Yolonda Tonette Sanders: Detective- check. Serial killer- check. (Paperback)
Another Brooklyn by Jacqueline Woodson: Jacqueline. Woodson. Seriously. I love, LOVE, Brown Girl Dreaming. I am so excited for this novel. (egalley)
Lab Girl by Hope Jahren: The minute I heard about this one—a science memoir-slash-treatise on plant life—I was all over it; it's totally living up to my expectations. (ARC)
Roses and Rot by Kat Howard: Cannot WAIT for the debut novel from one of my favorite spec-fic writers. (ARC)
The Signature of All Things by Elizabeth Gilbert – I'm trying to read more of the books on my shelves, and this story about a lady botanist in the early 1800s grabbed my attention. (Paperback)
Kissing Ted Callahan (and Other Guys) by Amy Spalding: Reading because I follow Spalding on Twitter and find her absolutely delightful. Also, books set in high schools are my catnip. (ebook)
First Grave on the Right by Darynda Jones: A good friend read the book I recommended to her and then did me the huge honor of the loving it. One of my book rules is that I am obligated to return this favor (reading, not loving), so here we are! (paperback)
Things No One Tells Fat Girls by Jes Baker: Another author that I followed on social media before I owned her books. Baker is the queen of body acceptance. This book is giving me all the heart-eyed emojis. All of them. (paperback)
Sudden Fiction Latino edited by Robert Shapard, James Thomas and Ray Gonzalez: I'm taking a class in sudden fiction right now and have been engrossed with short shorts lately. They're a lot of fun to read and my prof was kind enough to recommend this book, among others, outside of the required reading. (paperback)
The River Swimmer by Jim Harrison: For a Michigan boy like me, Jim Harrison stories are comfort food. The prose is always great, the culinary writing sublime, and the descriptions of the Midwest always make me feel at home in his writing. (hardcover)
God in Pink by Hasan Namir: I really cannot pass up a novel that is about a queer Muslim man in Iraq. (egalley)
Fledgling by Octavia Butler: I . . . . to my great shame, I haven't read anything by Butler yet. I realized I needed to rectify that immediately. (ebook)
I Know Why The Caged Bird Sings by Maya Angelou: Black History Month should be year-round, but my specific recent meditation on Black history and on #BlackLivesMatter made me want to revisit Maya . . . which is always a good idea, frankly. (ebook)
Queen of the Night by Alexander Chee: Buzz, buzz, buzz. Here at Book Riot (mainly Liberty and Rebecca), and on social media, followed by an appearance by the author himself on Late Night with Seth Meyers. I went to the bookstore Friday and saw the book on the shelf so I grabbed it. (Hardcover)
All the Birds in the Sky by Charlie Jane Anders: I picked up Anders' novel on recommendation from All the Books! So far, it's everything I'd hoped for–magic, witchery, and talking birds. (Hardcover)
Fellside by M.R. Carey: I loved The Girl With All the Gifts and jumped on this one when I saw the galley available. Thanks to my bad memory I've forgotten the synopsis, but I'm enjoying going into Carey's new book unprepped. (egalley)
Jonathan Strange and Mr Norrell by Susanna Clarke: I've been keen to read this since watching and loving the TV adaptation, and am now slowly loving my way through it.
Sounds Like London: 100 Years of Black Music in the Capital by Lloyd Bradley: Found in my local library meeting my interests in London, history, music, and culture.
As for Me…
Modern Lovers by Emma Straub: I loved The Vacationers, and was sent a copy of Straub's upcoming book (out this summer). Am really drawn to this story about a few families living in Brooklyn and their friendships and relationships.