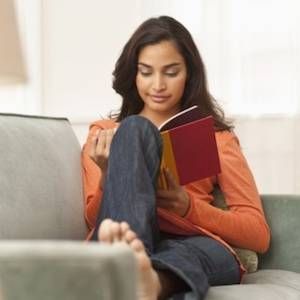 Lists
Peek Over Our Shoulders: What Rioters Are Reading On December 17, 2015
This content contains affiliate links. When you buy through these links, we may earn an affiliate commission.
In this feature at Book Riot, we give you a glimpse of what we are reading this very moment.
Here is what the Rioters are reading today (as in literally today). This is what's on their bedside table (or the floor, work bag, desk, whatevskis). See a Rioter who is reading your favorite book? I've included the link that will take you to their author archives (meaning, that magical place that organizes what they've written for the site). Gird your loins – this list combined with all of those archived posts will make your TBR list EXPLODE.
We've shown you ours, now show us yours; let us know what you're reading (right this very moment) in the comment section below!
Marrow Island by Alexis M. Smith (June 7, 2016, HMH): Smith's novel Glaciers is one of my favorite books, and I could not be more excited for this if I swallowed a cat and broke out in kittens. (e-galley)
The Girl Who Slept with God by Val Brelinski: I'm trying to catch up on a few 2015 releases I think I should read before the year is over. Rebecca loved this one, so I'm in. (hardcover)
Spectacle: The Astonishing Life of Ota Benga by Pamela Newkirk: The true story of a man who was kidnapped and forced to be a human zoo exhibit. It's horrifying, but I can't look away. (hardcover)
The Nest by Cynthia D'Aprix Sweeney (March 22, 2016, Ecco): I can't pass up a funny dysfunctional family novel, and this one is getting great reviews. (galley)
About a Girl by Sarah McCarry. I have been hearing so much of this from Book Riot folks that I saw it pop up on the new books at the library and immediately put it on hold. (library hardcover)
Starstruck by LA Witt. I am hopping all around the Bluewater Bay as books show themselves to me. So what if it's out of order? (ebook)
Shadowshaper by Daniel José Older. I have had this book for months. MONTHS. It was time. And it's awesome. (hardcover)
These Vicious Masks by Tarun Shanker and Kelly Zekas. I also hopped into this one because of chatter amongst rioters. It is living up to it! (egalley)
The Queen of the Night by Alexander Chee: I do not like much historical fiction, but this book is like The Count of Monte Cristo with circuses, opera, mutes, intrigue, affairs, brothels, and so much more and I cannot stop. (e-galley, February from HMH)
NW by Zadie Smith: I managed to miss this one when it came out, and it's a great choice for audio, full of different accents, plus Smith's writing which moves from lyrical to street in moments. (Audiobook, Scribd)
The Wilds by Julia Elliot: I am smitten with Julia Elliot. I've been looking for a book of short stories I would love as much as Lorrie Moore's Birds of America and I'm so glad I found a collection in the speculative fiction genre.
Fates and Furies by Lauren Groff: This is where I begin my deep dive into Book Riot's Best of 2015 list. I've heard so much about Fates and Furies, it seems shameful to finish 2015 without reading it.
Shopaholic to the Rescue by Sophie Kinsella: Because ever since I lightened up enough to enjoy the Shopaholic books, I'll read pretty much anything Sophie Kinsella writes. (Galley)
Modern Romance by Aziz Ansari: Because Aziz Ansari makes me laugh and also makes me think. (Audiobook)
Smaller and Smaller Circles by F.H. Batacan: Immediately grabbed me from the beginning as two Jesuit priests, a forensic anthropologist and a psychologist, are trying to stop a serial killer. (egalley)
In Cuba I Was a German Shepherd by Ana Menéndez: Fantastic collection which explores the immigrant experience in Miami, mostly Cuban-Americans, through linked short stories. (Paperback)
The V-Word: True Stories About First-Time Sex by Amber J. Keyser (anthology): I've always been obsessed with human behavior so naturally I didn't think twice about wanting to read an anthology about virginity–well, losing it. So far every essay/story I've read has been excellent and there are so many different voices/experiences. (egalley)
The Blue Line by Ingrid Betancourt: Historical fiction and magical realism written by a fascinating woman. (egalley)
My True Love Gave to Me: Twelve Holiday Stories edited by Stephanie Perkins: One a night because obviously. (hardcover)
Scarlet by Marissa Meyer: Getting a jump on my 2016 reading goal, which is to wade through the piles (and piles) of books and ebooks on my shelves/ereader. (ebook)
Lost Stars by Claudia Gray: It's almost time for Star Warsssss! (hardcover)
The Turner House by Angela Flournoy: Met the author at Book Riot Live and finally got the book off the library hold list. (Library Hardcover)
Number the Stars by Lois Lowry: Been on my TBR for years, and now I finally have it and I can't put it down. (Library Paperback)
Why Not Me? by Mindy Kaling: Because Mindy Kaling is amazing! (Library Hardcover)
Lavinia by Ursula le Guin: Ursula le Guin's novel from the point of view of Lavinia, the woman around whom the conflict of Vergil's poem The Aeneid revolves. In the poem, Lavinia is only mentioned a few times and she never speaks. Here, le Guin has given her a voice. This is a beautifully written novel. So beautiful that I want to absorb it through osmosis rather than merely read it.
Master Flea by ETA Hoffmann: A Christmas-y classic I'd never heard of before, by the man who brought the world The Nutcracker. (audiobook)
The Viscount Who Lived Down the Lane by Elizabeth Boyle: One of my friends loved it, it was on sale, and it doesn't have the word duke in the title. (ebook)
Smoke by Dan Vyleta: The book is structured by such a strikingly weird conceit that I couldn't resist. And I'm not disappointed at all. (egalley)
The Girl Who Fell by Shannon M. Parker: I'm halfway through this book, and let me tell you, it is fantastic. What starts off as a seemingly cute contemporary love story takes a dark turn into obsession, as one teen's innocent swooning and whirlwind romance transforms into stalking. It's a slow burn that keeps building and building, and becomes quite impossible to put down. I tore through the first half in a single day. (ARC)
The Love That Split The World by Emily Henry: Time travel! Romance! Football? I've been warned by bookish Twitter that this was a novel that might break my heart, and I'm afraid it's going to be one of those. I'm halfway through this sci-fi contemporary romance mashup and it is just delightful. One to watch in 2016, you guys. (ARC)
Second Class Citizen by Buchi Emecheta: Just started this book and I am slowly getting into it. My edition has a foreword written by Emecheta and she says she wrote this book because reviewers were disputing her Nigerian immigrant story – curious to see how she responded in the form of a book.
Chaos Walking Trilogy by Patrick Ness: I finally read the first book of this series the other day and loved it. Can't wait to read the next book.
Tenth of December by George Saunders: I've been hearing rave reviews of this collection for the past two years, so when I found it on sale at Unabridged Books for $5 I had to pull the trigger (it's been well worth it). (paperback)
In Short: A Collection of Brief Creative Nonfiction, edited by Judith Kitchen and Mary Paumier Jones: A few pieces from this collection are assigned to complement the "very short fiction" class I am taking next quarter. (used paperback)
Quiet: The Power of Introverts in a World That Can't Stop Talking by Susan Cain: My first audiobook in a looong time, and it's so good. (Audiobook)
If I Was Your Girl, by Meredith Russo: this one is lighting up the Book Riot back channel, and for good reason. A YA romance with a transgender woman as a main protagonist, this is not about her transition, but follows her as she makes her way towards adulthood in a small Tennessee town as she falls in love for the first time. Bonus: the author and cover model are both trans women. (ARC)
The King's Man, by Elizabeth Kingston: Nicholas Boulton is so fantastic that I think I could actually re-read my teenage diaries if he narrated them. But what makes The King's Man so enjoyable is the story. Set in thirteenth century Wales (nary a Scot in sight!) among the intrigues of a bid for independence from England, Ranulf, the eponymous and tortured king's man, gets caught up with Gwenllian and her men. Yep, she's a warrior queen. Very emotionally intense and dark, with a slow burn romance reminiscent of Laura Kinsale, I am loving every second of this one. (Audiobook)
Winter by Marisa Meyer: With all good television on hiatus, I've been flying through the entire Lunar Chronicles quartet on audiobook. So fun. (Audiobook)
Me, My Hair, and I edited by Elizabeth Benedict: I'm on board for a collection of essays by women about the complex relationship we can have with our hair. (Paperback)
Radiance by Catherynne Valente: I needed a fantastical, atmospheric novel for the end of the year. Valente always delivers. (Audiobook)
Troublemaker by Leah Remini: I asked my fellow Rioters if they would just tell me the highlights so I could skip Remini's new Scientology tell-all, but they all loved it so much that I had to listen to it myself. (Audio)
The Unbeatable Squirrel Girl, Vol. 1 by Ryan North and Erica Henderson: funniest, pluckiest, most bestest superhero of all time! (Trade paper, library)
The Story of a New Name by Elena Ferrante: I finished the first book this summer, and now I'm ready to find out what happens to Lila and Lenù in the second installment. (Paperback, library)
Come to the Edge by Christina Haag: It's been a long time since I've read this favourite of mine that I keep recommending, and when I was browsing through my Audible books on a recent long flight I decided to give it a go in that format. Happy to say that it's every bit as good as I remembered, and the audio is fantastic – it's read by the author herself, and she does a wonderful job. This time round, too, I can picture many of the locations she describes, so it's nice to close my eyes and conjure them in my memory while she reads to me about them.
The Marriage Plot by Jeffrey Eugenides: I started this forever ago, then I moved to the US for my MFA and suddenly had other books I had to read, and this one fell by the wayside for a long time. But I was suddenly inspired to pick it back up, and am really enjoying it – and appreciating far more post MFA than I would have before. Slightly freaky is the previously-unknown-to-me fact that its (fictional) protagonists were in the same class at Brown as the (real) Christina Haag, whose book I had just been listening to – the section about Brown, in fact – when I picked up The Marriage Plot to start it again.
As for Me…
The Upward Spiral by Alex Korb, PhD: This is a book about neuroscience and how it relates to depression. Someone close to me suffers from depression and recommended this book to me to help understand what they are going through, and to be able to help support them. It's fascinating. It's a book that anyone with a brain can relate to – you don't have to suffer from depression to get something useful from this book. It is an overview of how the brain works (written in a very readable way), and also offers very useful suggestions about how to have a healthy brain and mental state.
Save