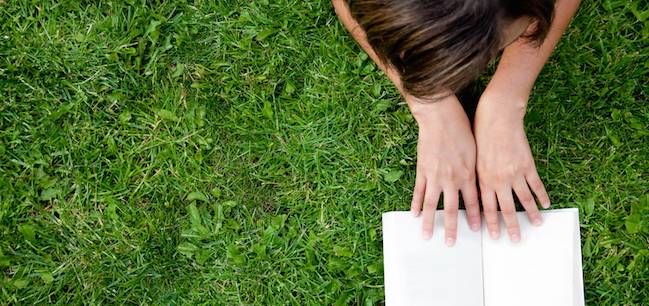 Featured
Peek Over Our Shoulders: What Rioters Are Reading On April 9, 2015
This content contains affiliate links. When you buy through these links, we may earn an affiliate commission.
In this feature at Book Riot, we give you a glimpse of what we are reading this very moment.
Here is what the Rioters are reading today (as in literally today). This is what's on their bedside table (or the floor, work bag, desk, whatevskis). See a Rioter who is reading your favorite book? I've included the link that will take you to their author archives (meaning, that magical place that organizes what they've written for the site). Gird your loins – this list combined with all of those archived posts will make your TBR list EXPLODE.
We've shown you ours, now show us yours; let us know what you're reading (right this very moment) in the comment section below!
Lord of Scoundrels by Loretta Chase: So many friends and Book Riot readers have recommended this hilarious romance, and I'm enjoying it to bits. (ebook)
The Fishermen by Chigozie Obioma: Another highly recommended pick from fellow Rioters. I'm so close to finishing but don't want it to be over. (egalley)
The Sparrow by Mary Doria Russell: I haven't read it yet, been on my list for ages, finally getting to it. (audiobook)
Satin Island by Tom McCarthy: Been plowing through this one for weeks. Trying soooooo hard to finish. (egalley)
Hausfrau by Jill Alexander Essbaum: because I like my protagonists a little dark and disturbed. (Hardcover, library)
The Misadventures of Awkward Black Girl by Issa Rae: I can't resist a book that has me giggling from page one. (Hardcover, library)
How to Read Literature Like a Professor by Thomas C. Foster: A refresher course on basic literary analysis. (Paperback)
The Invasion of the Tearling by Erika Johansen: I loved the first one despite some of its problems, so I'm excited to see what happens next. Queen Kelsea seems to have even fewer fucks to give this time around. (egalley)
The Word Exchange by Alena Graedon: I DNF'd this one last year, but recently bought the (sexy) paperback on a whim, so we'll see how it goes. (paperback)
Loving Day by Mat Johnson: I am ashamed to admit I have never read him before, despite owning Pym, and being a big fan of his Twitter feed. (e-galley)
The Meursault Investigation by Kamel Daoud: I have heard raves about this novel, a reimagining of The Stranger, of which I'm a huge fan. And it's being released by Other Press, a kick-ass indie press. (e-galley)
The Loudness by Nick Courage: SO excited for Nick and his debut novel. I love it when awesome things happen to awesome people. (hardcover)
Need by Joelle Charbonneau: I loved the Testing trilogy, so I'm extra-thrilled to dive into her new one, about teenagers who will stop at nothing to get what they…wait for it…need. (galley)
Unabrow: Misadventures of a Late Bloomer by Una LaMarche: On the recommendation of one Rebecca Schinsky, I'm cackling and scaring the cats. (ebook)
Lies We Tell Ourselves by Robin Talley: Because I'm impressed with Talley's intelligent, funny Twitter feed and intrigued by the premise. (ebook)
A Rogue by Any Other Name by Sarah MacLean: I'm starting to explore feminist romance, and MacLean comes highly recommended by other Rioters. (ebook)
None of the Above by I.W. Gregorio: A popular teen girl discovers she's intersex, and her world comes crumbling down around her. I've been excited to read this book since I first heard of it, and now, at last, I've got a copy. (Advance Hardcover)
The House of the Scorpion by Nancy Farmer: How did I get this far in life without reading this multiple award winning YA novel? A drug lord is basically living forever off the parts of his clones. And the novel focuses on one of these clones, and the world around him. (Paperback)
The Ladies' Paradise by Emile Zola: For a readalong with Evangeline Holland from Edwardian Promenade. (audiobook)
The Magpie Lord by KJ Charles: Doing some research into m/m romances and a blogging buddy insisted I'd love this. (ebook)
168 Hours: You Have More Time Than You Think by Laura Vanderkam: My obsession with time management books continues. (hardcover, library)
House of Leaves by Mark Danielewski: This has been on my TBR for a long time and I'm finally digging into this dense, creepy read. (hardcover)
Big Hard Sex Criminals Vol. 1 by Matt Fraction and Chip Zdarsky: Now I can catch up on Sex Criminals. (hardcover)
Love by Toni Morrison: Because I read my first Morrison earlier this year and now I just want to read them all. (hardcover)
The War That Saved My Life by Kimberly Brubaker Bradley: The cover was so beautiful I had to pick this up. So far, the book does not disappoint! (Hardcover)
Seabiscuit by Laura Hillenbrand: I read Unbroken last year and loved it, so I wanted to see what magic Hillenbrand could do with a story about racehorse. (Paperback)
NW by Zadie Smith: Fellow Rioters were raving about Zadie Smith, so I thought I'd check out what all the buzz was about. (Hardcover)
A Game of Thrones by George R.R. Martin: It's been on my shelves for FOURTEEN YEARS. (ebook)
The Vacationers by Emma Straub: One of our fearless leaders, Rebecca, recommended it to me on Twitter when I asked for books that could give me a good time spring feeling. (ebook)
This is How You Lose Her by Junot Diaz: My first Junot! Saw it at a bookstore by chance and it just called my name. Currently moving and traveling, so short stories are perfect. (paperback)
Peter Pan in Scarlet by Geraldine McCaughrean: I like fairy tales, retellings, continuations, and spin-offs, so yeah. Also, I'll listen to pretty much anything Tim Curry narrates. (audiobook)
The Duchess War by Courtney Milan: So many commenters on our romance posts rave about Courtney Milan, so I figured I better give her a read! Loving this one so far- a bespectacled heroine with a secret past! A hero who isn't a jerk with a heart of gold, but just a normal nice person (who is also a duke)! (Ebook)
Dept. of Speculation by Jenny Offill: I'm attending this year's PEN/Faulkner award dinner, so I'm checking out the nominees that I hadn't already read. (Library)
Men We Reaped by Jesmyn Ward: Every time someone I know talks about this book, they use the word "important." That's good enough for me. (Audio)
Creation: How Science Is Reinventing Life Itself by Adam Rutherford: Continuing on a nonfiction, sciencey kick! (audiobook)
The Woman Who Thought She Was A Planet And Other Stories by Vandana Singh: Singh's speculative short stories are terrifying and beautiful–the sort of stories that force you to take breaks after reading each one. (paperback)
Fever Pitch by Heidi Cullinan: The Romance Writers of America recently announced its slate of RITA award nominees, and there were three GLBTQ books on it, a first. Cullinan's novel about the romantic tribulations of two college students who happen to be great musicians is the first ever RITA m/m nominee. But don't read it for that: I'm finding it to be a funny, heartbreaking, and very sweet romance with a cast of well-drawn secondary characters and a fun Pitch Perfect vibe. (digital)
Life from Scratch: A Memoir of Food, Family, and Forgiveness by Sasha Martin (ARC): I love cooking and I'm always trying to expand my knowledge of culinary culture. Martin's memoir is the perfect read for such endeavors.
The Killing Moon by N.K. Jemisin: I received this one through the Book Riot Quarterly box and I'm finally getting around to it now as part of a project to make sure I've read at least one book by all of the authors appearing at Book Riot Live! (How many Book Riot plugs can I get into a single post? :D) (paperback)
Scary Close by Donald Miller: I'm always interested in what Donald Miller is thinking and talking about, ever since reading Blue Like Jazz and Searching For God Knows What in the early 2000s.
The Last Flight of Poxl West by Daniel Torday: for book club. I'm listening to the audio for this one. I generally try to read-read book club books so that I can have the same experience as everyone else, but time is short and oh well.
The Tank Man's Son by Mark Bouman: this one's coming in July from the publisher I work for (Tyndale House) and it is such an interesting memoir about a kid growing up in rural Michigan with a (crazy) father who collects heavy artillery.
As for Me…
Lumberjanes Vol. 1 by Noelle Stevenson and Grace Ellis: I finally signed up or the free month trial of Scribd using the Book Riot offer because I have been dying to get into this comic series that Amanda and Rebecca keep talking about. LOVING reading this on my phone – so, so easy and fun! (digital)
____________________
Book Riot Live is coming! Join us for a two-day event full of books, authors, and an all around good time.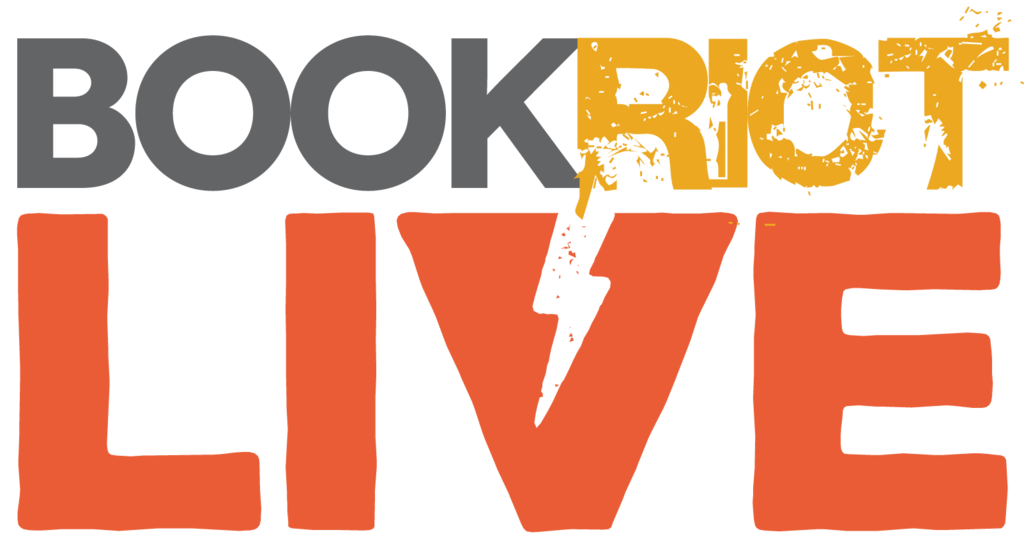 Save