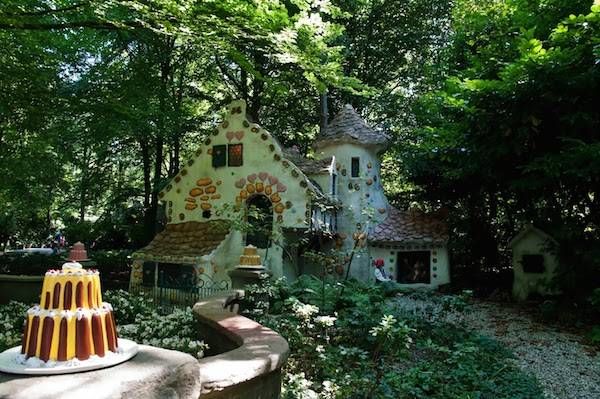 In this feature at Panels, we take a look at what the Panelteers are reading this month.
These are the comics that occupy our pull lists, that fill our Comixology account, and line our graphic novel bookshelves. Included are handy links to buy some of the books in question or at least get more information. Be warned: your pull list is in peril of expanding.
Peter Damien
Fun Home by Alison Bechdel: I really adore Alison Bechdel, one of my favorite writers and artists, and I haven't read Fun Home prior to now, so I'm excited. Just a little into it, but it's a wonderful, thoughtful, and gorgeous memoir so far. (paperback)
Providence #1 by Alan Moore, Jacen Burrows: This is the first issue of Alan Moore's new series and whoo boy, this is a gonna be a major one. It just radiates a feel of being on the ground floor of something important about to happen (which is funny, because it's a low-key, literary issue). Very excited to see where we go from here. (print)
Capture Creatures #4 by Frank Gibson and Becky Dreistadt: I love this series more with every issue. The creatures are cute, the artwork is stellar, and the adventure and mystery continue to mount! (digital)
The Underwater Welder by Jeff Lemire: I fall for anything Lemire writes, and this one is no exception. (digital)
Nightwing #14 by Chuck Dixon, Scott McDaniel, Karl Story, Roberta Tewes, and John Costanza: My first big foray into a DC cape character, and so far I'm enjoying it, but am also having a hard time with the angst:action ratio. There is so. much. angst. (digital)
Fantastic Four by Stan Lee and Jack Kirby (and eventually a whole bunch of other folks): I've always been curious about Marvel's first family, and Marvel Unlimited has given me the chance to follow their adventures from the beginning. It's easy to see how this title launched the so-called Marvel Age of Comics – it's gorgeous and bizarre, and the FF's affectionate squabbling is just as endearing as I've always been told. (digital)
Daredevil by Mark Waid, Chris Samnee, Javier Rodriguez, and Joe Caramagna: The Netflix show got me hooked, so after telling myself for weeks to wait and read it on Marvel Unlimited, I caved and picked up the first two trades of the current series at Special Edition: NYC. I'm a longtime Waid fan and Samnee's pencils and layouts are just stunning. No regrets whatsoever! (trade)
Superior Foes of Spider-Man by Nick Spencer and Steve Lieber: Look at me! Reading a comic I bought three months ago! Take that TBR pile! I needed something to read on a longer train ride but was already running late getting out of the house. So I looked at the closest pile of comics (there are many in my apartment) and grabbed what was on top. Spencer and Lieber's tale of the five villains in the new Sinister Six kept me chuckling during my commute. (trade)
4 Stories About Girls & Magic and Queens of the Steepes by Molly Ostertag: These were part of my haul from Special Edition: New York City. While Ostertag's Strong Female Protagonist is still sitting in one of my many piles of comics to be read (see above) I picked up these two comics from her booth at the show this weekend. The first is an anthology about girls and magic so OBVIOUSLY it's gonna be great. And the second is an awesome and adorable porno comic about women in Mongolia. Aces! (comics)
The All New Atom by Gail Simone, Robert K. Washington III, Trevor Scott, Jose Ladronn, Ariel Olivetti, Eddy Barrows: I bought the first arc or so of this comic in single issues via Comixology when the site had its Convergence sales. I've just gotten past the part where Ryan Choi gets swallowed by a giant naked woman who happens to be his colleague/date. There's also malevolent stray dogs and a cancer god. It's … a weird book. But it's Gail Simone weird and I'm used to her tweets by now, so the bizarre nature of Ryan's adventures in this series isn't that surprising.
Hilary Lawlor
Wild's End #1 by Dan Abnett and I.N.J. Culbard: I'm not huge into anthropomorphic animal comics (basically, give me We3 or give me death), but the art style on the cover of this issue caught my eye, so I grabbed it, and I'm glad I did. It's clever, funny, and somehow, the children's-story-esque art style makes the slightly violent plot even creepier. (Print)
Jim Henson's The Storyteller Witches by multiple writers and artists, Ed. By Rebecca Taylor: Some geniuses at BOOM! and Archaia teamed up to turn four of the scripts from Jim Henson's 1980s show The Storyteller into a beautiful graphic novel, and how could anyone resist that? Each story was adapted by a different writer and illustrated by a different artist, so the collection is varied and awesome. The stories all involve witches and the art is knock-your-socks-off beautiful. (Print)
Lucky Luke: The Beautiful Province by Achdé and Laurent Gerra: I'm not the biggest Lucky Luke fan, but I do enjoy comic book representations of Quebec so I picked this up at the weekend. I'm looking forward to curling up on the sofa later this week and seeing how these familiar characters approach a trip to Quebec.
The Tale of Woodsman Pete by Lilli Carré: I am loving having a Scribd subscription at the moment and this is one of the books I have lined up ready to read this week. The beautiful cover drew me in straight away and I can't wait to get started with this story about an engaging Woodsman with a flair for storytelling.
The Unwritten Volume One by Mike Carey and Peter Gross: I have the entire run sat on my desk at the moment and I am already hooked after just a few issues. I can see me devouring this series very soon indeed. My only upset is that fact that it has taken me until now to pick it up!
B.P.R.D. Plague of Frogs Volume 4 by John Arcudi, Guy Davis, Dave Stewart, and Mike Mignola: Since I started reading it eight months ago, Mike Mignola's Hellboy universe has risen to become one of my favorite creations in comics. It's a vast, dense mythology communicated through powerful storytelling, memorable characters, and some of the best art out there. The B.P.R.D. series, the first dozen volumes of which are collected in the very affordable Plague of Frogs paperback omnibuses, are probably the highlight so far. There are few stories I've ever enjoyed more than these.
I'm putting the digital to one side long enough for some print treats.
The League of Regrettable Superheroes by Jon Morris is a coffee table collection of obscurities who never were, and likely never will be, ready for prime time. Meet Kangaroo Man, Nightmare & Sleepy, Professor Supermind, and many, many more – or less.
The Unpublished Comic Book Scripts of Paul Kupperberg is a treat for old DC fans, giving us a look at what might have been. It features scripts for Supergirl and Superboy that were scuppered by Crisis on Infinite Earths inconveniently deleting them from continuity, and introduces us to the Galaxians, a super-team Superboy almost formed…
Superman: The Golden Age Sundays 1943-1946 rounds up the full-colour, full-page adventures of the Last Son of Krypton published at the height of the Big One. He's heavily into keeping up servicemen's morale in some delightful tales, with the volume marred only by occasional instances of the racist attitudes of the time. Yes, we were at war, but seeing Superman use his long-lost power to 'distort my facial characteristics' to impersonate 'a Jap' makes for a horribly uncomfortable image.
Classics on Infinite Earths sees Julian Darius round up and dissect the team-ups of the Justice League and Justice Society of America, and the company-wide crossovers they led to, as a way of understanding the DC universe. The volume manages to be impressively academic and deeply trivial at the same time – it's absolutely fascinating.
As For Me:
The Sculptor by Scott McCloud: Finally borrowing this book from a friend to give it a read. (hardcover)
Secret Wars by Jonathan Hickman, Esad Ribic, and Ive Svorcina: Two issues in and I already like it better than Convergence. (print)
Locke & Key Master Edition, Volume 1 by Joe Hill and Gabriel Rodriguez: Locke & Key is one of my all-time favorite comics, so of course I snatched up the first Master Edition. Perfect excuse for a reread. (hardcover)
What's on your reading list this month?