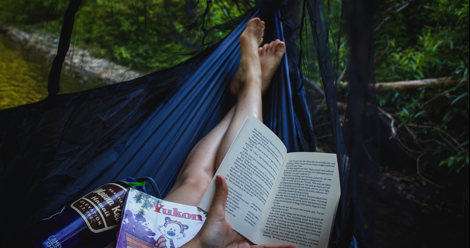 Lists
Peek Over Our Shoulders: What Rioters are Reading on August 17, 2017
This content contains affiliate links. When you buy through these links, we may earn an affiliate commission.
In this feature at Book Riot, we give you a glimpse of what we are reading this very moment.
Here is what the Rioters are reading today (as in literally today). This is what's on their bedside table (or the floor, work bag, desk, whatevskis). See a Rioter who is reading your favorite book? I've included the link that will take you to their author archives (meaning, that magical place that organizes what they've written for the site). Gird your loins – this list combined with all of those archived posts will make your TBR list EXPLODE.
We've shown you ours, now show us yours; let us know what you're reading (right this very moment) in the comment section below!
Casey Stepaniuk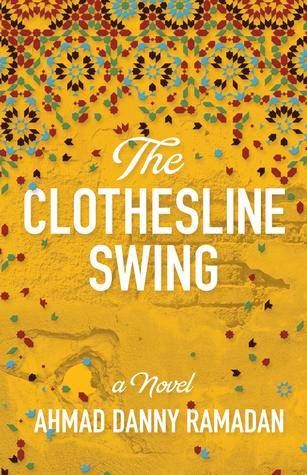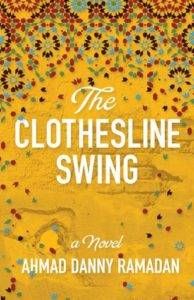 The Clothesline Swing by Ahmad Danny Ramadan
The author sent me this book to review for my queer Canadian book blog and I am just starting it! It's set in Syria, the author's home country (he now lives in the same Canadian city as me!). (Paperback)
Emma Allmann
Akata Witch by Nnedi Okorafor
I visited a friend in Chicago and we stumbled upon the cutest bookstore cafe where a salesperson chatted with us about this book. He got me so excited about it, I bought it and put it at the top of my TBR pile. (Paperback)
Alison Doherty
Eliza and Her Monsters by Francesca Zappia
I'm losing sleep trying to finish this book. Reading it feels like a mix between having a crush and the night before a new Harry Potter book comes out. Books like this are what make me love reading. (Hardcover)
Tiffani Willis
The Sense of an Ending by Julian Barnes
I went to the library last week to pick up a different book for for book club and as is my usual practice, roamed the shelves to see what else looked interesting. The Sense of an Ending is one of those books that seems to continually come up in conversation, in book reviews, or on podcasts. I had never read it so I added it to my pile. Now although I am a librarian, I actually preferring buying books to borrowing them, in part so I can write in them. I underline passages and note the page number on the title page so I can refer back. I rarely reread whole books anymore but I do reread favorite pages. I'm halfway through The Sense of an Ending and am regretting borrowing it. I have a page of quotes and another 80 pages don't go. Don't worry I'm writing down the quotes in my book journal, not marking up the the library book. (Paperback from the library)
Claire Handscombe
Miss You by Kate Eberlen
This is the book I *should* have read on the beach. Instead I made myself plough through one I wasn't loving and wondered why I was so grumpy on holiday. On my last day I switched to this one and instantly felt better. It's about a guy and a girl whose lives briefly intersect, but they never quite meet—though I'm about half way through, and I assume they do soon! (eBook)
Johann Thorsson
Peak: Secrets from the New Science of Expertise by Anders Ericsson
Peak is a book about how anyone can become better at anything with a specific type of practice, dubbed "deliberate practice" by the author. The takeaway is that there is really no such thing as talent when it comes to musical ability or chess, or any other skill; all it is is the amount and type of practice a person performs. It's a fascinating book for anyone who wants to become better at, well, anything. (eBook)
Eric Smith
They Both Die at the End by Adam Silvera
I love everything that Silvera writes, and just adore how he blends a twist of genre into his heartbreaking YA contemporary reads. In his latest, two teens get their scheduled day of death from Death Cast, and connect on an app called Last Friend. I'm about halfway through, and so far it makes for one heartbreaking and hopeful read. I'm loving it, and I'm not at all surprised. (ARC)
Jessi Lewis
White Teeth by Zadie Smith
Somehow, I missed this one, and it's right up my alley. The universe provides a subtle gift when you realize that you overlooked something like a Zadie Smith novel on backlist. The fantastic characters here clarify the postcolonial relationship and the sentences are just awesome. I mention the sentences in part here because I'm listening to this book, and it makes me very happy in audio form. I can feel the structure of each line. (Audiobook)
Mal Soto
Goodbye, Vitamin by Rachel Khong
This book showed up in all its technicolor glory right before I got called to jury and was already two weeks into a depressing funk. It's…healing, almost? Rachel Khong is so funny and inventive that it's hard not to be charmed by this book. The main character heads home after a terrible break-up to find that her father's Alzheimer's is slowly getting worse and the story becomes a journey in and out of memories being lost, found, and made.
Sarah Nicolas
A Crown of Wishes by Roshani Chokshi
After meeting the author at the RT Convention, I read The Star Touched Queen and absolutely adored it, so I'm very excited to delve into this sequel, which is about Gauri!! (audiobook, courtesy of the publisher)
Sophia Khan
Theft by Finding by David Sedaris
When I see people writing in a journal or diary, I get a strong urge to peek over their shoulder or slyly flip through the pages when they go to the restroom. I'm not proud of it the urge, but it can't be stopped! So, for me, it is a special treat when an author publishes their diary so that I am able to read it in a socially acceptable way – especially when it is one of today's most interesting minds. David Sedaris is so sharp and witty. It is a pleasure to read the workings of his brain. (Hardcover)
Annika Barranti Klein
This Monstrous Thing by Mackenzi Lee
Frankenstein stories are my jam. I just read Lee's more recent novel, The Gentleman's Guide to Vice and Virtue, which is a HOOT, so I am excited to dig into this one. (Get it? Dig? Sigh.) (Ebook)
Laura Sackton
An African in Greenland by Tete-Michel Kpomassie
I've had this book on my shelf for years, and finally picked it up to fulfill the "read a travel memoir" task in this year's Read Harder challenge. It's impossible to resist the delightful charm of this memoir, the story of Kpomassie's journey from Togo to Greenland, a country he decided he had to visit after reading about it in a book. I've only just started, and so far it is superb. (Paperback)
Steph Auteri
On Writing Well by William Zinsser
I read so many good books in July. Now I'm in a slump. So I just picked up this book one of my writing students brought in one day, because the one excerpt he read aloud sounded light and fun but also very smart. (Paperback)
Kathleen Keenan
Shrill: Notes from a Loud Woman by Lindy West
I requested this at my library for an upcoming vacation, but it came in earlier than expected, and I'm digging right in. West writes honestly and hilariously about what it's like to feel like you don't fit in, especially being a fat woman in a world that wants women to be small and silent. (ebook)
Jessica Yang
The Savage Dawn (The Girl at Midnight #3) by Melissa Grey
I've been keeping up with the series, and I'm excited to jump into the third book! (Hardcover)
Patricia Elzie
This Is Just My Face: Try Not to Stare by Gabourey Sidibe
I have had this book on my TBR list for months and I finally got a hold of it. Gabourey Sidibe is witty and charming and even though not everything in this book is rainbows and unicorns, it is still an utter delight to be reading.
Katie McLain
American Fire: Love, Arson, and Life in a Vanishing Land by Monica Hesse
I was looking for a new audiobook after I finished my last one, and I've been intrigued by this book ever since I picked up a galley at BEA this year. So far, the audio version is FASCINATING – it's part character study, part forensic investigation, and part rural Virginia ethnography, and the author's writing is incredibly compelling. I'm LOVING it so far! (Digital audio)
Cecilia Lyra
Motherest by Kristen Iskandrian
I love books that focus on difficult, complicated relationships – and, within that universe, the mother-daughter relationship is the crown jewel. In a nutshell, that is what this book is about. I'm about halfway through and, so far, this book is full of sharp observations and dark humor. I'm loving it!
Sonja Palmer
Jane, Unlimited by Kristin Cashore
I have been a huge fan of Cashore since Graceling, Fire, and Bitterblue and I have been waiting for more from her eagerly. This is not entirely what I expected, but it's held my attention and I find myself thinking about it after I put I down. It's about a girl who goes to a mysterious house full of people with different motivations and secrets, and how she sets out to discover what it is going on with a trusty dog companion. I'm not finished, but I am already planning on buying it when it comes out. (ARC)
Ashley Holstrom
Shiny Broken Pieces by Sona Charaipotra and Dhonielle Clayton
I didn't think I needed a story about bully ballerinas in New York City, but I was wrong. (Audio)
Christine Ro
An Excess Male by Maggie Shen King
Because the demographic fallout of China's one-child policy is excellent fodder for dystopian fiction. (ARC)
Aram Mrjoian
The Golden House by Salman Rushdie
I am reading Rushdie's new novel for review. Currently one-hundred pages in, I am thoroughly enjoying the maximalist style and carnivalesque prose. Despite having a stack of academic reading on my plate, it's been tough to put this book down. (ARC)
Ilana Masad
Mrs. Dalloway by Virginia Woolf
What a pleasure to delve into a queer classic, a life classic really, and to know that there is so much wrong with it, so much invisible to the eye of this writer whose mind was expansive but experience was limited, but what a pleasure to know that, still, with all that, despite all that, there is so much to learn and get out of this book, and so much to love about its exploration of mental illness and its queer themes. I was reading it for a Lambda Literary retreat, and I'm so pleased to have read it again at this time in my life. (paperback)
Tasha Brandstatter
Starflight by Melissa Landers
Saw this on Hoopla and it sounded Firefly-esque, so. (audiobook)
Margaret Kingsbury
The Strange Case of the Alchemist's Daughter by Theodora Goss
I've been reading and loving Theodora's poems and short stories for years, so when I heard about her first novel coming out, I put a hold on it at the library, and not so patiently awaited its arrival. And I'm loving every minute of it! It's atmospheric and fun, featuring the daughters of classic SFF and horror monsters teaming together to solve mysteries. It's hard to put it down at night. (hardback)
Rachel Wagner
Eat Only When You're Hungry by Lindsay Hunter
I requested this book from the library before it came out because I saw a poster online for a reading with Roxane Gay with Hunter to discuss Hunger and Eat Only When You're Hungry. I knew the book would be good because Gay wrote a blurb for it. I'm about 50 pages in right now, and it's great. (library hardcover)
Kristen McQuinn
History of Wolves by Emily Fridlund
The Man Booker long list came out and I realized, with horror, that I'd only read one of the books listed. So I'm working my way through a few more of them. Hopefully I'll get more read before the winner is announced. I'm only about 20 pages in but so far it's great. (Library hardcover)
Priya Sridhar
Paper Hearts by Ali Novak
After reading a really horrendous book, I am happy to find a dramedy YA novel that talks about missing siblings. Felicity has missed her sister since the latter ran away, and has feelings of resentment and abandonment about it. She is also trying to save up for college and not repeat her mother's mistakes about divorcing a wealthy man and signing a prenup. She soon goes on a road trip to find her sister, and perhaps gain more character. (Library paperback)
Ashlie Swicker
Too Fat, Too Slutty, Too Loud: The Rise and Reign of the Unruly Woman by Anne Helen Petersen
I'm loving this nonfiction work about the expectations of female identify. Each chapter is an "unladylike" virtue and a celebrity woman who embodies that trait. I was expecting an explosion of fierceness (and the chapter on Serena Williams- Too Strong- delivers), but I'm actually finding a lot of nuance. I'm thinking more than agreeing, which makes for a great read. (Library Hardcover)
Dana Staves
Calling My Name by Liara Tamani
This debut novel is about a young black girl in Texas, growing into herself, her family, and her spiritual identity. The writing pulled me in – it shimmers, it moves, and it's really lovely prose. And I needed some lovely prose to read.
Liberty Hardy
Chronicle of the Murdered House by Lúcio Cardoso, Margaret Jull Costa and Robin Patterson (Translators)
Discovered this little indie gem in an indie bookstore. It's called one of the most important works of twentieth-century Brazilian literature. (Although it was the title that first caught my eye.) It was apparently very scandalous when it came out, which means it's probably very tame by today's standards. Finding out in 3…2…1…
Jess Plummer
New York Exposed: The Gilded Age Police Scandal that Launched the Progressive Era by Daniel Czitrom
This nonfiction account of a federal investigation into NYPD corruption and voter suppression in the 1890s is very detailed and granular, which makes it slow going, but the (unfortunate) relevance to today's political landscape is keeping me interested. (eBook)
Adiba Jaigirdar
Adua by Igiaba Scego, Jamie Richards (Translator)
This book intrigued me because of the unusual story it promised to tell – that of a Somali immigrant in Italy. There is a lot about it to love so far – including some beautiful prose, and intricate family relationships. (eBook)
Chelsea Hensley
Forest of a Thousand Lanterns by Julie C. Dao
This book has been name dropped everywhere and I'm really excited to read it. I thought I was burnt-out on retellings, but an East Asian-inspired Evil Queen retelling is right up my alley. (ARC)
Kate Krug
Unraveling Oliver by Liz Nugent
After seeing several reviewers remark that this book was dark and "hard to get through," I had to see what the buzz what about. Because that's just how I roll.
Natalya Muncuff
Tumbling: A Novel by Diane McKinney-Whetstone
This book was mentioned on Twitter during National Book Lover's Day and the synopsis immediately had me intrigued. It's set in South Philadelphia in the 1940s and follows a married couple who've yet to consummate their marriage. I've been reading pages every chance I get, I simply can't put it down. Tumbling is about the secret pains we endure; it's secretive, intoxicating and reads like the notes of my favorite Jazz piece.
Jaime Herndon
Earth Hates Me: True Confessions from a Teenage Girl by Ruby Karp
This caught my eye when I read that Karp has been part of the Upright Citizens Brigade for years (um, hello, she's not even out of high school yet) and counts Amy Poehler as a fan. Though I'm (cough, cough) not the intended demographic of this book, I really am enjoying its honesty, humor, and tone. It's sort of like having coffee with your best friend. I would eat this up if I were a teenage girl today. (ARC)
Deepali Agarwal
The Hate U Give by Angie Thomas
I was browsing at a bookstore, telling myself that I do not need any new books in calm tones, when I saw this. A switch flipped immediately. Reader, I bought the damn book. I've been in a bit of a reading slump lately, so this book has been perfect timing in many ways: it gives me some extremely necessary, well-placed anger at structured and institutional racism across the world, but is also a very readable, fast-paced book with some amazingly sketched out characters. (paperback)
Teresa Preston
Swing Time by Zadie Smith
I'm attempting to read all the book's on the Man Booker longlist (and so far, they've all been excellent). I'm not very far into this book about two girls who become friends in dance class and later experience some sort of falling out that's hinted at in the first chapter. It's absorbing so far and gets into meaty issues of race, class, and culture. I'm interested to see where the story goes.
Elizabeth Allen
Who Thought This Was a Good Idea?: And Other Questions You Should Know the Answers to When You Work in the White House by Alyssa Mastromonaco
What can I say, guys? I needed a few moments to pretend like we were back in the Obama White House and that we weren't being run by racist apologizers and intellectual dolts. Mastromonaco was involved in Obama's senatorial bid and worked for him as his Deputy Chief of Staff for Operations during his presidency. Her relatable stories about dealing with anxiety, stress, and even bouts of IBS in one of the most important jobs in the country was a very interesting and somehow comforting read. (audiobook)
Amanda Kay Oaks
The One That Got Away by Melissa Pimentel
This book, which is a modern retelling of Jane Austen's Persuasion, is so deep in my wheelhouse I might as well have commissioned it. I'm not that far in yet, but so far I like what I see. The story switches back and forth between past and present, which seems like a smart way to tell a story of past lovers meeting again after a long time apart. I can't wait to curl up and dig into this one the moment I get some of that mythological "free time" everyone's been telling me about. (hardcover)
Rebecca Hussey
Home Fire by Kamila Shamsie
I'm attempting to read through this year's Man Booker longlist (this is my fourth book of thirteen– at this rate I probably won't finish before the shortlist is announced!). I'm about halfway through this novel, and I'm enjoying the story about two sisters who are separated as one travels to the U.S. for grad school and the other remains in London. Both sisters struggle with complex family relationships, with love, and with their understanding of what it means to be Muslim women in today's world. (ebook ARC)
Jamie Canaves
An American Marriage by Tayari Jones (Algonquin Books, Feb 2018)
Silver Sparrow is one of my all time favorite books so when I heard Tayari Jones was editing an installment in the Akashic's Noir Series I dropped everything to get my hands on an ARC for Atlanta Noir AND I did the same thing when I heard she had a novel releasing in 2018. I can honestly say I don't even know what An American Marriage is about but I am tucking myself into bed tonight with it and I can't be more excited. (egalley)
Jessica Pryde
The Portable Nineteenth-Century African American Women Writers by Hollis Robbins and Henry Louis Gates, Jr. eds
This is a part of the literary canon that, with the exception of Harriet Jacobs and Sojourner Truth, has mostly been foreign to me. I might jump around and skip some of the poetry, but I'm mostly looking forward to it. (library paperback)
Save
Save