Lists
Peek Over Our Shoulders: What Rioters Are Reading On September 1, 2016
This content contains affiliate links. When you buy through these links, we may earn an affiliate commission.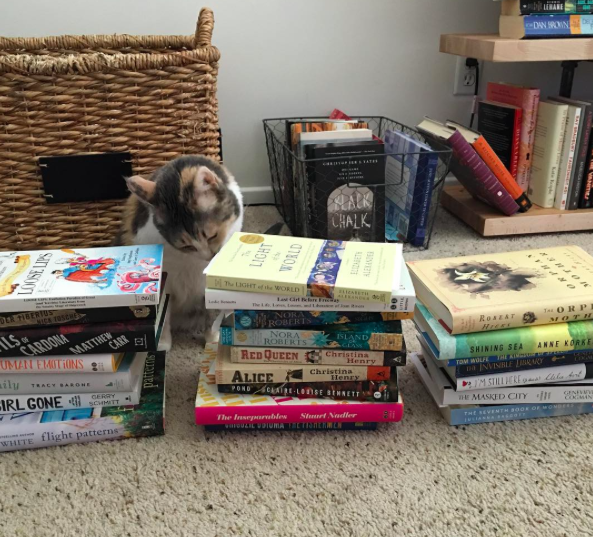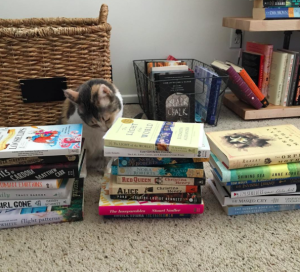 In this feature at Book Riot, we give you a glimpse of what we are reading this very moment.
Here is what the Rioters are reading today (as in literally today). This is what's on their bedside table (or the floor, work bag, desk, whatevskis). See a Rioter who is reading your favorite book? I've included the link that will take you to their author archives (meaning, that magical place that organizes what they've written for the site). Gird your loins – this list combined with all of those archived posts will make your TBR list EXPLODE.
We've shown you ours, now show us yours; let us know what you're reading (right this very moment) in the comment section below!
A Separation by Katie Kitamura (Riverhead, Feb. 7, 2017): Kitamura ROCKS and I have heard this one is fantastic! (e-galley)
The Stranger in the Woods : The Extraordinary Story of the Last True Hermit by Michael Finkel (Knopf, March 7, 2017): Based on Finkel's 2014 GQ essay, which I thought was fascinating. As someone who lives in Maine, going off into the woods to be alone totally appeals to me. (e-galley)
Transit by Rachel Cusk (Farrar, Straus and Giroux, Jan. 17, 2017): The second in her trilogy, the first being the amaaaaaazing Outline. *muppet arms* (galley)
Show Me a Mountain by Kerry Young (Bloomsbury Circus, Dec. 6): Reading this for review. So far, so good. (hardcover)
Goodbye Days by Jeff Zentner (Crown, March 2017): I've been in a real reading slump for YA fiction this year, so I thought skipping ahead to the sophomore novel of the author who wrote my favorite debut of 2016 might snap me out of it. (ARC)
Homegoing by Yaa Gyasi: So excited to be swept away by this multigenerational story. (library book)
The Underground Railroad by Colson Whitehead : I had been excitedly awaiting this book and as I was unable to get my hands on an advanced copy, I was on the edge of my seat for publication date. So it was a pleasant surprise when Oprah worked her magic… and I ordered it that very day. This was my first Whitehead and mere sentences in, I knew I'd be going back and reading the rest of his back catalog. (Hardcover)
Hidden Figures: The American Dream and the Untold Story of the Black Women Mathematicians Who Helped Win the Space Race by Margot Lee Shetterly: The first I became aware of this book was when the trailer was released for the movie adaptation starring Taraji P. Henson and Octavia Spencer. And not since I became aware of the existence of The Immortal Life of Henrietta Lacks have I become so enraptured with the concept of a book and felt I would do anything to get it into my hot little hands. And it has been everything I thought it would be. And now just to wait until January for the movie! (eARC)
Shadowshaper by Daniel José Older: I just finished this one and it is incredible. I highly recommend the audiobook, which is fabulously narrated by Anika Noni Rose. (audiobook)
And After Many Days by Jowhor Ile: Spotted this while browsing Overdrive and picked it up primarily because I've never read a book set in Nigeria. (audiobook)
Breaking Sky by Cori McCarthy: I was sent a copy of this as a thank you driving a Sourcebooks editor to the airport when she was in town for a conference. After our brief conversation, she seems to have a great grasp on the kinds of books I enjoy. (paperback)
Unprocessed: My City-Dwelling Year of Reclaiming Real Food by Megan Kimble – I'm trying to wean myself off Pop-Tarts and diet sodas and I'm hoping this will help inspire me to reach for radishes instead of Reeses. (ebook)
Girl in Pieces by Kathleen Glasgow – I saw this compared to Girl, Interrupted and that was me sold. (ebook)
Children of Lovecraft edited by Ellen Datlow – Datlow could edit a book about the history of cardboard and I'd read it. She is the high priestess of horror and always alerts me to new and exciting horror writers. (ARC)
False Hearts by Laura Lam: Former conjoined sisters, sinister cults and organized crime in a futuristic city? Yes, please. (hardcover)
An Accident of Stars by Foz Meadows: It's a queer girl portal fantasy. Clearly I need this in my life. You probably do, too. (mass market paperback)
Parable of the Talents by Octavia Butler: My book club selected this novel as soon as we heard that Butler anticipated "make America great again" as a conservative campaign slogan. I'm about ¾ of the way through and can already tell we're going to have a ton of interesting conversation about this one. (paperback)
White Trash by Nancy Isenberg: This has been on my list ever since I heard Isenberg talk about the origins of the concept of "white trash" on NPR's "On the Media." I suspect this will be an especially interesting book given the ways race and class are playing out in this election cycle. (paperback ARC)
The Alienist: A Novel by Caleb Carr: Murder, early psychology, fictionalized versions of real people, a newspaper reporter, and Gilded Age New York? If a team of market-research professionals came up with a book for me, this would probably be it. (e-book)
Aristotle and Dante Discover the Secrets of the Universe by Benjamin Alire Sáenz: Listening because my Hamilton-obsessed brain wanted to hear more Lin Manuel Miranda, who reads the audiobook. (audiobook)
Burn, Baby, Burn by Meg Medina: Book Riot Live prep- can't wait to hear Medina speak in November! Loving this historical fiction set in the 70s with just enough tension to keep me from reading it right before bed. (library hardcover)
Ignite Me by Tahereh Mafi: I'm a sucker for YA trilogies, dystopian Chosen Ones, and heavy petting during war time. I flew through the first in this series, ignoring some nagging metaphors and narrative choices, but I've heard the second has less of that so I'm here to check it out. (paperback)
The Trespasser by Tana French: I worship Tana French, and I finally got my grubby little hands on an advance copy of her book that's coming out in October! (digital ARC)
From a Buick 8 by Stephen King: I always thought this was one of his most underrated stories, so I'm rereading (or re-listening) to it for the first time in years (digital audio)
The Short and Tragic Life of Robert Peace by Jeff Hobbs: Someone in my memoir group mentioned it so, when I spotted it at my local indie, I snatched it up. (Paperback)
Crave by Laurie Jean Cannady: I saw the author read an excerpt of this at HippoCamp and it was so powerful, I felt like I was holding my breath the entire time. I immediately picked up a copy after the reading. (Paperback)
The Grace of Kings by Ken Liu: I picked this one up as Book Riot Live prep, and have delightfully enjoyed falling into this world. I can't wait to pick up more of Liu's work now before November comes around. (ebook)
Middlemarch by George Eliot: I like to pick one big, scary-to-me classic to read every year that I read in August and this year is Middlemarch. I am close to finishing this one up and was surprised by how much I liked it. (paperback)
Jessica Woodbury
No Other World by Rahul Mehta: Books about family secrets that bounce around in time? Yes, please. Add on to that the story of an Indian family in a heavily white small town in the 80's, and an LGBTQ angle, and I am here for it. (e-galley)
The Price of Salt by Patricia Highsmith: This is the book the movie Carol was based on, and as a fan of both the film and Highsmith I've been planning to read it for months. Finally doing so thanks to an Audible sale. (audiobook)
Serious Sweet by A.L. Kennedy: I'm reading all the books longlisted for the Booker as part of a Shadow Panel with some blogging friends. I'm just starting this one, so I don't have an opinion yet. (hardcover)
Heights of Green by Lise MacTague: This is the second book in a lesbian romance / military science fiction trilogy called On Deception's Edge. The author is Canadian so she sent it to me to review for my queer Canadian book blog. I have to say, I don't usually read either of those genres (especially the romance and the military parts). But these books so far are great escapist beach reads. They're not pretending to be grand literature, but they're very good at what they do.
The Sympathizer by Viet Thanh Nguyen: The book tells the story of a Vietnamese-French Communist sleeper agent and their time in America after the war (so far anyway). I'm reading this for a few reasons. It's a Pulitzer winner, which is always a recommendation of sorts. I'm also trying to get a better feel for American publishing and trends, and this is a book that hasn't been promoted that heavily in the UK. I'm mainly reading it though because, as half-Vietnamese myself, it's always fascinating to get something written from this perspective. So far, it has been insightful, tense and melancholic, as the protagonist struggles with ideological, emotional, cultural and racial identity. (Paperback)
Goodbye Days by Jeff Zentner (Crown, March 2017): As many of you Book Riot readers know, Jeff Zentner has become something of a favorite around the blog. His debut, The Serpent King, has snuck its way into a number of posts and roundups, earning much-deserved praise for it's Southern flavor and heartbreaking beautiful prose. His sophomore effort brings with it another portrait of life in Tennessee, focusing on a teenager in the midst of beating himself up over sorta-kinda causing the deaths of his three best friends. He texts them while they are out driving, and the result ends in a fatal car crash. I'm reading it because I'll basically read whatever Jeff Zentner writes, be it a book or doodle on a paper napkin. And with every flashback that shows us a glimpse of the friendships before the fatal crash, my heart breaks a little page by lovely page. Yours will too. (ARC)
Crooked Kingdom by Leigh Bardugo (Henry Holt, September 2016): The ARC Gods decided to bestow upon me an early copy of Leigh Bardugo much anticipated sequel, and I'm still wondering what I did to please them, or what I will be forced to do in the coming days in exchange for this precious gift. The sequel to her fantastic Six of Crows, Crooked Kingdom picks up after the heist in the first book, and is told in shifting POV. Full of magic and snappy dialogue, it's just as gripping as the first book so far, which comes as no surprise. One to look out for and promptly devour. (ARC)
Rich and Pretty by Rumaan Alam: Reading for this in preparation for Book Riot Live! (Library Hardcover)
The Adventurer's Guide to Successful Escapes by Wade Albert White (Little, Brown, 9/16): This book is set at Saint Lupin's Institute for Perpetually Wicked and Unattractive Children – how could I not pick this one up? (ARC)
Blessing the Boats by Lucille Clifton: A gorgeous collection of poetry that won the National Book Award. I'm enjoying every word. (Paperback)
In the Unlikely Event by Judy Blume: I was a huge Judy Blume fan growing up, and a friend lent this to me months ago. (Hardcover)
Tiny Little Thing by Beatriz Williams: This was a gift from my mother and is a very fun end-of-summer read. (Paperback)
The Faraway Nearby by Rebecca Solnit: I've been working my way through this book for months, reading slowly to savor each essay. (Hardcover)
The Fire This Time edited by Jesmyn Ward: I can't claim to be someone who appreciates the voices of leading black thinkers and not be reading this book right now. The time is right. The work is, to use a popular phrase, fire. The scope of the essays and collection of talent on display here is breathtaking. I'll be taking my time with this one.
Full Fathom Five by Max Gladstone: This is one of my favorite contemporary fantasy series. I'd stepped away from the series to catch up on some other titles, but I'm back with it now.
Graceland by Chris Abani: I read The Secret History of Las Vegas a while back and loved it, borrowed this from a friend because Abani is gold. (paperback)
United by Melissa Landers: THE THIRD ONE IS FINALLY HERE! Ahem. Sorry. I was surprised by how much I loved Alienated when I finally sat down to read it last year, and the second one was no less engrossing. I'm excited to make my way through the final book, in which the goals of both planets might finally be realized. (library hardcover)
Dunbar: The Neighborhood, The School, and the People, 1940-1965 by Aloma J. Barnes: I wrote a column in the local newspaper about reading and books ('cause what else would I write about) and a week later this book showed up at my library, sent courtesy of the author. I'm super interested in local histories and am already fascinated by this one, about one of the few neighborhoods in Tucson black people were allowed to live in for a long time and the school that gave it its name. (paperback)
The Secret Sky by Atia Abawi: I was totally judging a beautiful book by its cover; I look forward to getting further in and discovering a world completely unfamiliar to me. (Hardcover)
Getting Things Done by David Allen: Recently moved to the west coast and am finally taking the time to reorganize my life.
Get a Financial Life by Beth Kobliner: With the cross-country move came the realization that I'm an adult and, as such, I really need to know what a 401k is, how (and why) to check my credit score, and how loans and interest work. This book is SO HELPFUL.
Nutshell by Ian McEwan: I just started this one. It's a murder mystery narrated by an in-utero baby, which should be interesting. (ARC)
The Brain's Way of Healing by Norman Doidge, M.D.: The sequel to The Brain That Changes Itself, which I read recently. It's about neuroplasticity and its applications for treating brain injuries, strokes, birth defects, chronic pain, etc. (Paperback)
Dracula by Bram Stoker: This has been on my TBR list for YEARS. I'm listening to the Audible Studios audiobook production starring Alan Cumming, Tim Curry, and an ensemble cast. (Audiobook)
Flying by Carrie Jones: I saw it on the new arrivals YA shelf at the library, read the blurb, and was hooked. Aliens! Cheerleaders! Yes, please. (hardcover)
The Goblin Emperor by Katherine Addison: This is one of those books that I've been reading forever because it sounds epic, but never got around to — until now. (hardcover)
A Change of Heart by Sonali Dev: It's Sonali Dev so obviously a must-read! (egalley)
Moral Defense by Marcia Clark (Thomas & Mercer, Nov. 8): The first book in this series had an EEP ending so I couldn't have grabbed for the next book in the series any faster. (egalley)
The Trespasser by Tana French (Viking, Oct. 4): Still trying to read as many 2016 mysteries as I can and I'm loving the MC's everyone's-an-arsehole attitude. (egalley)
Saga Vol. 4 by Brian K. Vaughan and Fiona Staples (artist): Because this is one of my favorite graphic novels ever I have been trying to read through the volumes as slowly as possible because I don't want to catch up and then have to wait between releases. But my need for some Saga in my life has finally screamed loud enough that I had to treat-myself and grab another volume. (Trade paperback)
The Kontrabida by Mia Alvar and The Restoration of the Villa Where Tibor Kalman Once Lived by Tamas Dobozy (One Story, Inc.) – I bought a set of three chapbooks/literary magazines at a book festival last year where the publisher had a table and only recently "rediscovered" them on my bookshelves. The entire concept of small, handmade chapbooks appeals to me in general – and so far the storytelling in these first two books has been great. I'm thinking about getting a subscription. (Chapbooks)
Love Letter In Cuneiform by Tomas Zmeskal (Yale University Press) – This book was a gift. The author describes himself as the first "Afro-Czeck" writer (his mother is Czech and his father is Congolese). I am only a few pages in, but so far I'm liking it. (Paperback)
We Were Here by Matt de la Peña: I've been meaning to read more of de la Peña's work since Last Stop on Market Street won the Newbery earlier this year. This one hooked me on page one. (Paperback)
Her Darkest Nightmare by Brenda Novak: I'm pretty sure this book will keep me up at night for at least a week, but I just can't help myself. (egalley)
The Fifth Season by N.K. Jemisin: I've been meaning to read this forever, and its winning a Hugo was apparently the push I needed. Thank goodness, because I'm enraptured. (ebook)
There Are More Beautiful Things Than Beyoncé by Morgan Parker: Parker is one of my favorite poets, so of course I dove into this forthcoming book of gorgeous, challenging poems the moment it hit my mailbox. (galley)
Full Fathom Five by Max Gladstone: I'm working my way through the Craft Sequence and loving every minute. This is the one I was most excited to get to just based on the cover alone, and I'm finally here! (eBook)