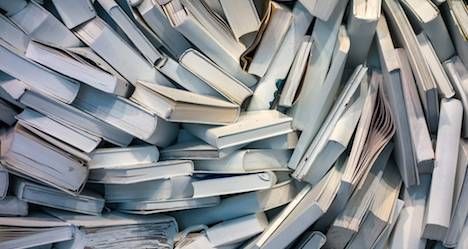 Lists
Peek Over Our Shoulders: What Rioters Are Reading On October 27, 2016
This content contains affiliate links. When you buy through these links, we may earn an affiliate commission.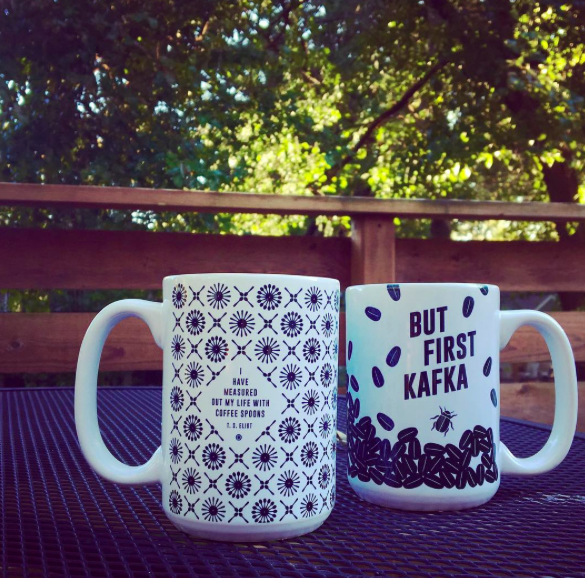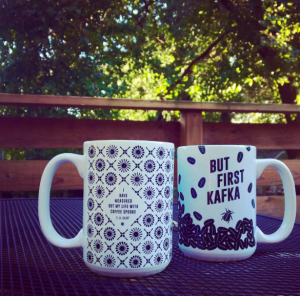 In this feature at Book Riot, we give you a glimpse of what we are reading this very moment.
Here is what the Rioters are reading today (as in literally today). This is what's on their bedside table (or the floor, work bag, desk, whatevskis). See a Rioter who is reading your favorite book? I've included the link that will take you to their author archives (meaning, that magical place that organizes what they've written for the site). Gird your loins – this list combined with all of those archived posts will make your TBR list EXPLODE.
We've shown you ours, now show us yours; let us know what you're reading (right this very moment) in the comment section below!
Shrill by Lindy West: Lindy West reads the audio version of this book, and it's great. She's so smart and funny, and I'm learning a lot from her. (Audiobook)
A Body, Undone by Christina Crosby: This is a memoir about living with the aftermath of a terrible bicycle accident. Crosby writes about her experiences with disability and how it has changed her thinking on identity. (Hardcover)
Sorcerer to the Crown by Zen Cho: #riotread!! I'm halfway through and enjoying this story of magic in Victorian England very much. (Library Hardcover)
Woman No. 17 by Edan Lepucki (Hogarth, May 9, 2017): SO EXCITED. Lepucki is magical and I want to lick her brain. Er, in a really polite, non-invasive way. (galley)
The Inquisitor's Tale: Or, The Three Magical Children and Their Holy Dog by Adam Gidwitz and Hatem Aly: Deciding to buy this book went like this:
Bookseller: "I have one I think you'll love. This book takes place in the 13th century -"
Me: "Already too smart for me."
Bookseller: "- and there's a magic dog."
Me: "Sold." (hardcover)
The Assimilated Cuban's Guide to Quantum Santeria by Carlos Hernandez: I was so charmed by the title, I had to find out what it was about, and upon reading a Kelly Link comparison in the first blurb, immediately went about obtaining it. (paperback)
All Grown Up by Jami Attenberg (Houghton Mifflin Harcourt, March 17, 2017): WOOHOOOOOOOO! Love everything she does. Cannot wait to devour this in 3…2…1… (e-galley)
The Handmaid's Tale by Margaret Atwood: Seemed like a good time to finally read it. (Paperback)
Gemina by Amie Kaufman and Jay Kristoff: Illuminae blew my mind when I read the advanced copy, so I've been waiting over a year for this! (Hardcover)
Real Artists Have Day Jobs by Sara Benincasa: I read a post by the author on body image, and immediately fell in love. I had to pick this one up ASAP. (Paperback)
Yes Man by Danny Wallace: I almost always have a re-read in rotation. I enjoyed this one very much (silly and inspiring) several years ago. (Paperback)
The Road Back to You by Ian Morgan Cron & Suzanne Stabile: The latest book on the Enneagram as it relates to personal and spiritual development. (Hardcover)
Very Married by Katherine Willis Pershey: I recently read an article by the author and decided to request a copy of her new book. (Paperback)
Ghostland: An American History in Haunted Places by Colin Dickey: Work has been keeping me bonkers busy this month, so I'm getting back into audio books while I do repetitive work at the office. Dickey's book is fantastic, enlightening, and a fun thing to listen to in the middle of the office. My coworkers think I have the best/weirdest water cooler facts this week. (audio book)
The Mothers by Brit Bennett: This was my Book of the Month pick for October and, like everyone else, I am in love with this book. The only thing making me grumpy is that my work schedule is keeping me swamped and I haven't had time (or the intellectual energy) to really dive in. Still, if a book can hook me reading just 5-10 pages at a time, I know it's good. (hardback)
Surrender, New York by Caleb Carr: I loved his first book, The Alienist but this one isn't landing for me. I think that the tone, which worked great in a book of historical fiction set in the Gilded Age, comes across as a little snobby in the modern era. (hardback)
So Far From God by Ana Castillo: It's a classic in the magical realism genre that's been on my shelf for a few years, and it's finally getting the attention it deserves. (paperback)
Upstream: Selected Essays by Mary Oliver: Because sometimes you need prose that beats like poetry, an author who writes of words just as effortlessly as she does about trees. (hardcover)
Reign of Shadows by Sophie Jordan: I picked this book out based entirely on author alone – I adore Sophie Jordan, both as a writer and a person – and had absolutely no idea what it was about. Honestly, I was a bit disappointed when I started, tired of the banished-princess-in-a-tower concept, but this book quickly reveals it's not just another one of those books. I should've given Ms. Jordan the benefit of the doubt.
Vivian Apple at the End of the World and Vivian Apple Needs a Miracle by Katie Coyle: I picked this first book up after seeing it on Book Riot, finished it pretty quickly, and immediately picked up the second. These books are so very different from what I expected and just, in general, different. Once I stopped trying to classify it (Satire? Serious? Parody? Social criticism?) and let go, I enjoyed the ride very much. It reminds me of Theater of the Absurd, which I love.
You Can't Touch My Hair by Phoebe Robinson: Adding to my essays-by-awesome-women shelf. The foreword alone had me laughing so hard I woke my family. (Paperback)
Anna Dressed In Blood by Kendare Blake: This YA ghost/love story is one of my favorite October rereads. (Paperback)
Crooked Kingdom by Leigh Bardugo: BECAUSE IF I FINISH IT THEN IT'S OVER! (Hardcover)
The Girls by Emma Cline: I kept hearing about this book, so it seemed like it was about time to give it a shot. (Audiobook)
One Native Life by Richard Wagamese: Assigned reading for grad school, but from the opening I think I'm going to really enjoy it. (Paperback)
Truevine: Two Brothers, a Kidnapping, and a Mother's Quest: A Story of the Jim Crow South by Beth Macy. I grew up not far from where, in 1899, George and Willie Muse, two young African American men with albinism, were taken from their tobacco field and turned into circus performers. The author, Beth Macy, was my writing teacher years ago, and she spent years getting to know people who knew the Muses and eventually received the family's blessing to write this book. (Hardcover)
Slouching Towards Bethlehem by Joan Didion. I've liked what little I've read of Didion, and my book group decided that now would be a good time to read this essay collection. (paperback)
The Best Man by Richard Peck: I've been waiting for Mr. Peck to come out with another middle grade book, and this one is so amazing and I cannot put it down.
The Porcupine Year by Louise Erdrich: I'm reading through all of the books in The Birchbark House series, an amazing collection of books chronicling the Ojibwa family living in the nineteenth century.
A Poem for Peter by Andrea Davis Pinkney, pictures by Lou Fancher and Steve Johnson (Viking Book for Young Readers, November 1, 2016): In celebration of the 100th anniversary of Ezra Jack Keats's book, Andrea Davis Pinkney has written the first picture book biography of Keats's life. It is a stunning, stunning book.
Wool by Hugh Howey: Yes, I have a pile of books by my bedside. No, I couldn't resist picking up post-apocalyptic sci-fi (due back in a week! no renewals!) at the library anyhow. (Library paperback)

The Hidden People by Alison Littlewood: Is it a story about fairies? Domestic abuse? Mental illness? Halfway in and I don't know. (Paperback ARC)

Everfair by Nisi Shawl: A steampunk alternate history of the Congo. Just getting started. (e-book ARC)
Nineveh by Henrietta Rose-Innes (Unnamed Press, November 15, 2016): I am currently reading this novel to review for the Chicago Review of Books. I'm about halfway through and loving it.
All the Truth is Out: The Week Politics Went Tabloid by Matt Bai (hardback): I am stuck with a bad habit. I love politics, even when it's cringeworthy and upsetting (like lately), I still can't get enough. Bai's account of political prodigy Gary Hart's tabloid demise is eerily relevant today. I appreciate Bai's sense of distance and keen analysis.
Booked by Kwame Alexander (hardback): I absolutely adored Alexander's 2015 Newbery Medal winning Crossover, so I eagerly picked up Booked at the library. This National Book Award long list middle grade novel told in verse follows twelve-year-old Nick, a star soccer player caught in the crossroads of adolescence while his parents are separated.
Dreamland: The True Tale of America's Opiate Epidemic by Sam Quinones (hardback): I am attempting the Herculean task of writing the Great American Novel, and so I am doing research into what plagues America today. Chief among that is our pain pill epidemic. My mom loved this book, and she's a sucker for good narrative nonfiction, so I know something good is in store.
San Juan Noir by Mayra Santos-Febres (Editor): Noir stories set in Puerto Rico by Puerto Rican writers, yes please! (egalley)
Fractured by Catherine McKenzie: After reading, and really liking, The Murder Game I fell down a rabbit hole of trying to figure out why a pseudonym AND the author's real name were on the cover? Turns out The Murder Game was first a fictional book in Fractured so of course now I have to read it. (egalley)
Nailbiter, Volume 2: Bloody Hands by Joshua Williamson (Writer), Mike Henderson (Artist): I really enjoyed Vol 1 where a mystery of why sixteen of the world's worst serial killers came from the same place was presented. I need to know the answer! (ebook)
The End of Everything by Megan Abbott: I love, LOVE, Abbott's writing and have slowly been making my way through her work—and by slowly I mean I don't want to run out of things to read by her. (ebook)
It Looks Like This by Rafi Mittlefehldt: Was sent a copy for review (hardcover)
Iron Cast by Destiny Soria: Super pretty cover. I started this and put it down but people keep telling me how fun it is so I'm trying it again (eBook)