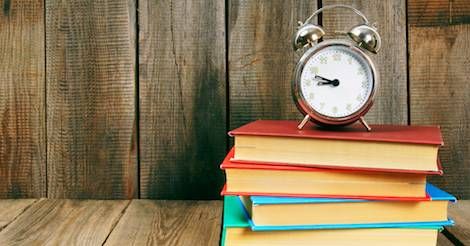 Pop Culture
Peek Over Our Shoulders: What Rioters Are Reading on March 6, 2017
This content contains affiliate links. When you buy through these links, we may earn an affiliate commission.
In this feature at Book Riot, we give you a glimpse of what we are reading this very moment.
Here is what the Rioters are reading today (as in literally today). This is what's on their bedside table (or the floor, work bag, desk, whatevskis). See a Rioter who is reading your favorite book? I've included the link that will take you to their author archives (meaning, that magical place that organizes what they've written for the site). Gird your loins – this list combined with all of those archived posts will make your TBR list EXPLODE.
We've shown you ours, now show us yours; let us know what you're reading (right this very moment) in the comment section below!
Wallace Yovetich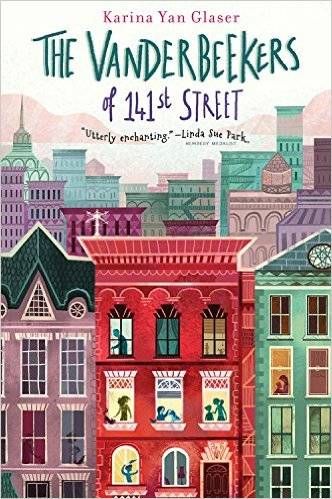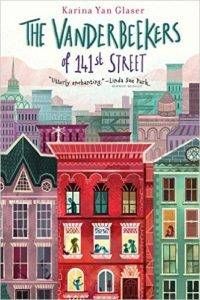 The Vanderbeekers of 141st Street by Karina Glaser: Have been so excited to read Karina's debut novel (sequel will come out 2018)! Just got my hands on it and have loved every minute. The five Vanderbeeker children are on a secret mission (secret from their parents) to come up with a way to get their landlord to renew their lease so they don't have to move out of their brownstone and away from their friends. Delightful so far! (galley, printer version October 2017)
The Most of Nora Ephron: Because, you can never have too much Nora Ephron.
Liberty Hardy
The Free-Lance Pallbearers by Ishmael Reed: I was reminded of this slim, bizarre book while researching a post, and thought it was time for a re-read. (paperback)
Hekla's Children by James Brogden (March 7, Titan Books): I am on a horror kick lately, and this sounds like a scarier present-day Picnic at Hanging Rock sorta scenario. BRING IT. (e-galley)
The Twelve-Mile Straight by Eleanor Henderson (Sept. 12, Ecco): I loved Ten Thousand Saints, and someone told me this is the best novel they've read in years, so I can't pass up a recommendation like that! (galley)
The Art of Death: Writing the Final Story by Edwidge Danticat: (July 11, Graywolf Press): Danticat examines the ways writers have dealt with writing about death in their work while discussing the death of her mother. I'm sure it will be brilliant, like everything she does. (galley)
Jamie Canaves
Wife of the Gods (Darko Dawson #1) by Kwei Quartey: I've been wanting to get into this series for a while and lately–even more than usual–I've been craving more mysteries set in countries I've never visited so I finally picked it up. (audiobook)
Ragdoll (Detective William Fawkes #1) by Daniel Cole: Liberty says read a book, you read a book. (egalley)
The Blue Girl by Laurie Foos: Ever since I saw that delicious cover I've been saving the book as a treat-read, which is turning out so far to have been an excellent decision as it's wonderfully strange. I am however craving the fck out of whoopie pies and I won't rest until I've eaten them. (paperback)
Ugly Girls by Lindsay Hunter: Reading for a post and because I'll read anything with "unlikable" women. (hardcover)
Claire Handscombe
The Animators by Kayla Rae Whitaker: my Book of the Month pick. I loved The Nest, and its author Cynthia d'Aprix Sweeney chose this one, so I figured I'd enjoy it. Plus, female friendship and creative dreams: I love reading about those. And, as Jamie Canaves says, when Liberty tells you to read a book, you read a book. (hardback)
Casey Stepaniuk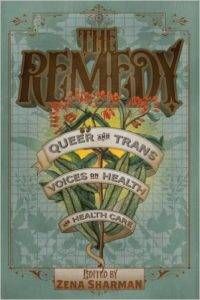 The Remedy: Queer and Trans Voices on Health and Health Care edited by Zena Sharman: This isn't the kind of book I'd ordinarily read since I don't really have a special interest in health issues, but The Remedy was sent to me for review on my queer Canadian book blog. I'm finding it surprisingly interesting! (Paperback)
Gaudy Night by Dorothy L Sayers: I find this classic cozy mystery series so fun and comforting. A lot of them are available as audiobooks read by Ian Carmichael who does all the British accents and everything extremely well. I've read all of them up until number 6, but I couldn't resist jumping ahead to this one (number 12) when I saw it was available on Overdrive last night. (Audiobook)
Molly Wetta
This Is Where You Belong: The Art and Science of Loving the Place You Live by Melody Warnick: Not only did I move from my beloved hometown of Lawrence, KS less than a year ago to make my way in sunny California, but I'm also deep in the middle of a community engagement project at work which entails having really long conversations with people about what their aspirations are for their community, so this seemed like a timely read for me both personally and professionally. My new town doesn't have the same close knit vibe with lots of Midwestern pride that I'm so accustomed to, but I want to love it. The weather! The beach! My job! My apartment! I love them all and I want this to start to feel like home. (library hardcover)
Tears We Cannot Stop: A Sermon to White America by Michael Eric Dyson: Every white person should read this book. It's a call for white people to move through the stages of white grief and confront the plague of white innocence. (ARC, releasing April 4th, 2017 from St. Martin's Press)
What It Means When a Man Falls From the Sky: Stories by Lesley Nneka Arimah: I'm having trouble losing myself in fiction these days, but I'm trying to work my way back to it by reading short stories. These promise to be "evocative, playful, and subversive", which just might be what I need to escape to a fictional world. (ARC, releasing April 4th, 2017 from Riverhead Books)
Ashlie Swicker
Hidden Figures: The American Dream and the Untold Story of the Black Women Mathematicians Who Helped Win the Space Race by Margot Lee Shetterly: This is my book club's nonfiction pick for the month of February, and want to finish it before I see the movie! (ebook)
My Lady Jane by Cynthia Hand, Brodi Ashton, and Jodi Meadows: I've been voraciously reading about the wives of Henry the VII since I was a teenager, and I've always found the details equally intriguing and infuriating, I'm looking forward to a lighter, sillier version of Lady Jane Grey's story. (library hardcover)
An Ember in the Ashes by Sabaa Tahir: I have to be careful where and when I start listening to this, because the story is so engaging and the narration so captivating that I'm ignoring my family and doing some serious driveway sitting when returning home from errands. I've already lined up the second in the series in my Audible queue. (audiobook)
Here We Are: Feminism for the Real World by Kelly Jensen: This book is perfect for browsing through at your own perfect pace, and I've been enjoying essays here and there since I picked this up earlier this month. I'm so excited to see feminism through the eyes of some of my favorite authors, and the inclusiveness means I'm being educated and empowered almost every time I read. I'm already brainstorming teens who need this book. (paperback)
Rebecca Hussey
Human Acts by Han Kang: I'm reading this for LibraryThing's Early Reviewer program, but also because I've heard a lot of interesting things about this author and I'm trying to read more in translation. (paperback ARC)
Rebecca by Daphne du Maurier: This is the latest pick for my mystery book group. I've just begun it, and it's sooo atmospheric and fun so far. (hardcover)
Sarah Nicolas
Tell Me Three Things by Julie Buxbaum: Downloaded this in a fit of frustration because my other audiobook was having technical difficulties and I was about to drive an hour across town and back. I really like it though. It features a girl dealing with the death of her mother without being about that grief. (library audiobook)
Shrill by Lindy West: This book came very recommended by the gals around the Book Riot (virtual) water cooler and is another brick on my road to reading more nonfiction in 2017. (library audiobook)
A Tragic Kind of Wonderful by Eric Lindstrom: With a dayjob and a writing career, most of my "reading" consists of audiobooks, but after hearing about this book, I just had to read it. So this is a rare "actual book" read for me. (hardcover)
Death by Black Hole and Other Cosmic Quandaries by Neil deGrasse Tyson: Around my office, he's known as "Uncle Neil" because I talk about him so much. So this is an obvious choice for my more-nonfiction-in-2017 goal. (library audiobook)
Elizabeth Allen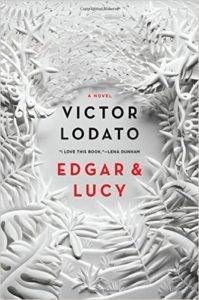 Edgar and Lucy by Victor Lodato: The cover of this book originally intrigued me and then the writing completely drew me in. Eight-year old Edgar is delicate both emotionally and physically and is being raised by a negligent mother and an overbearing grandmother. The death of his beloved grandmother sets his life on a course that may forever change his reality. (paperback ARC)
E.H. Kern
The Ghosts of Cannae: Hannibal and the Darkest Hour of the Roman Republic by Robert L. O'Connell: I'm reading this book for work. So far it's really interesting, but sometimes the conclusions take very long leaps which makes it difficult to take them seriously. Also, Connell writes history backwards so to speak in that he judges Carthage's decisions based on what we know of the outcome of the Second Punic War, information that the Carthaginians obviously didn't have. Still, it's a good book if you're interested in Rome vs. Carthage. (Hardcover)
Kate Scott
We Were the Lucky Ones by Georgia Hunter: A fellow book blogger who is a friend of the author hooked me up with a review copy. It follows the members of a Jewish family in World War II and is based on the real experiences of the author's family. (ARC)
The Lost City of the Monkey God by Douglas Preston: I love stories of archaeological derring-do (Indiana Jones and Lara Croft were huge for me as a kid), so this true story of an intrepid group of archaeologists, scientists, and filmmakers who discovered a lost civilization is right up my alley. So far I'm loving it. (Hardcover)
Are We Smart Enough to Know How Smart Animals Are? By Frans de Waal: This was on my list of books I really wanted to read, but missed out on in 2016. I'm not thrilled with it so far. It's drier than I expected. (Audiobook)
Steph Auteri
Shutterbabe by Deborah Copaken Kogan: I read an article Kogan wrote for the Nation on sexism within the publishing world and the battle she fought with publishers over her book's title and cover design. I knew I needed to read more from her, both because her writing was fantastic and because her life as a photojournalist sounded fascinating. I'm really enjoying her memoir! (Paperback)
Karina Glaser
The Curious World of Calpurnia Tate by Jacqueline Kelly: Loved the first book (The Evolution of Calpurnia Tate), and the second one is just as charming! (Library Hardcover)
The Sand Warrior (5 Worlds series) by Mark Siegel, Alexis Siegel, Xanthe Bouma, Matt Rockefeller, and Boya Sun (Random House, May 2, 2017): Received this ARC and was immediately interested in the cover and synopsis. (ARC)
The Inexplicable Logic of My Life by Benjamin Alire Sáenz (HMH Clarion Books, March 7, 2017): So excited about this one!!!!!!!!! (ARC)
A.J. O'Connell
Dhalgren by Samuel R. Delany: This book has been on my must-read list forever. When I happened to be standing near it in a bookstore last month, I knew it was time to finally pick it up. (Paperback)
Jan Rosenberg
The Merman by Carl-Johan Vallgren: I'm only a few pages in, but I'm already getting a creepy fantastical Lord Of the Flies vibe. I heard about this from one of the ladies on the Book Riot podcasts (can't remember who), so I picked it up from the library. (Hardcover)
In A Dark, Dark Wood by Ruth Ware: I'm listening to this on audio and the narrator Imogen Church is great at inhabiting all the characters. I love falling asleep to creepy thrillers. (Audiobook)
Derek Attig
The Vanderbeekers of 141st Street by Karina Yan Glaser: I've been waiting for this book for literally years, so of course I started reading it the moment I got my grubby little hands on it. So far, it's utterly charming and just as adorable as I'd hoped. (Egalley)
Plenty by Yotam Ottolenghi: Just go look at the cover of this book and tell me you don't want to read (and then cook!) every single page. (Hardcover)
The Long Way to a Small, Angry Planet by Becky Chambers: I'm gearing up for the follow-up title, A Closed and Common Orbit (out this year in the U.S.) by rereading this, one of my absolute favorite reads of last year. (Ebook)
Charles Paul Hoffman
Jonathan Strange & Mr. Norrell by Susanna Clarke: I previously read this when it first came out, but after recently watching the BBC series based on it on Netflix, I decided I needed to revisit Clarke's world of frenemy magicians in Regency England. It is every bit as good as I remembered it, expertly borrowing just enough from 19th century novels to give it a period feel, while still feeling fresh and relevant in the 21st century. Oh, and those footnotes! (ebook)
Cloak and Dagger: Shadows and Light by Bill Mantlo, Chris Claremont, Al Milgrom, Ed Hannigan, Rick Leonardi, Bill Sienkiewicz, et al: This new trade collection brings together for the first time all of the early adventures of teen runaways-turned-superheroes Cloak and Dagger. With a TV series coming next year on Freeform, I thought now was the perfect time to dive into the deep end. I better hurry, though; the next volume, Lost and Found, is out later this month.(trade paperback)
Tracy Shapley
One Sunday: A Novel by Carrie Gerlach Cecil: I'm reading this book because for some reason I've decided to spend my year only reading books I get in book subscriptions to track the diversity of said book subscriptions. This particular book, which I got in Blue Spider's Attic, would be excellent if I was not only pro-life but like, really obnoxious and gross about being pro-life. I am not though, so it's an awful book. Awful. (paperback)
Piecing Me Together by Renee Watson: This I received in the Call Number February box. I'm only just getting into it but so far it has this lovely poetry-like rhythm and the words are beautiful. Based on what I know about the book, I expect this to be a rewarding and emotionally draining experience. (hardcover)
Amanda Kay Oaks
The Hour of the Land: A Personal Topography of America's National Parks by Terry Tempest Williams: Reading this book for my Wildness in Literature course, but also very excited because it's been on my TBR list since it came out! The title pretty much says it all–this book is a personal look at the National Park System. Personal essays + parks? Count me in. (hardcover)
The Beautiful Struggle by Ta-Nehisi Coates: This one was assigned in my creative nonfiction workshop course, but it's also another one that I've been wanting to read! The Beautiful Struggle explores Coates' relationship with his father and the struggle of coming into manhood as a black boy in America. I've heard many good things about this one, so I'm eager to dive in. (paperback)
Ardo Omer
Rich People Problems by Kevin Kwan: This is probably my most anticipated read of the year and I'm extremely excited to devour it. (Egalley)
Waking Lions by Ayelet Gundar-Goshen: I'm trying to read more translated works and this one was originally published in Hebrew. (ARC)
How To Be Happy by Eleanor Davis: I've been meaning to read this comic for years and will finally get the chance. It was recommended by Zainab from Comics and Cola and she's always had great taste in comics. (Hardcover)
Katie McLain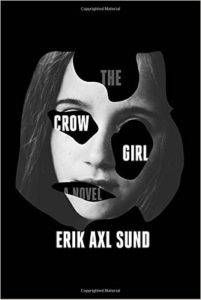 The Crow Girl by Erik Axl Sund: I picked up an ARC of this massive book last year, and it's been sitting on my shelf ever since. I asked my boyfriend last week to pick a book for me to read, and he picked this one because he was intrigued by the blurb on the back, but wanted me to read it first and tell him how it is. This book is being compared to some of the darkest Scandinavian crime writers out there, and so far it's living up to its reputation. It makes for compelling reading, but it's not a book that's easy to recommend to a lot of different readers…you'll have to be pretty tough to stomach some of the topics described here. (Paperback ARC)
Stiff: The Curious Lives of Human Cadavers by Mary Roach: I've read this book before, but after striking out on a couple of recent audiobook picks, I decided to go with something I knew I'd enjoy. Funny, fascinating, informative, and kinda gross – if I ever meet Mary Roach in person, I'm taking her out for a beer so she can tell me stories! (Digital audiobook)
Priya Sridhar
The Singles Game by Lauren Weisberger: This novel isn't The Devil Wears Prada or Chasing Harry Winston, and that is a good thing. Our main character, Charlotte Silver, is a tennis athlete my age who is seeking the position of number one, after an injury that could end her career. She hires Todd as her new coach, a jerk that demands nothing but her best, as well as an overhaul of her public image. It's definitely a novel about the upper class in America, and about how to play a game on and off the court.
Drop the Ball by Tiffany Dufu – Glamour recommended this book for 2017 and quoted a passage about letting the laundry go. I knew I had to read it, since knowing how to balance work and home remains a priority. Tiffany talks about the mishaps that came with deciding to drop the ball and talk with her husband about what responsibilities to share. This book is insightful, humorous and up to date with our current atmosphere.
Christina Vortia
Friendly Fascism: The New Face of Power by Bertram Gross – This book, originally published in 1980, is said to have predicted the current political climate we are in. I'm only at the beginning, but the book is startlingly prophetic in forecasting the totalitarian regime that comes with a smile and the stripping away of your freedoms and rights, and how it's been a long time in the making. (ebook)
American Street by Ibi Zoboi – I received a copy of this book after shamelessly begging for it when I saw it on display at the ALA Midwinter Conference in January. It has been receiving starred reviews all over the internet, and so far it is not disappointing. (Hardcover)
Salvage the Bones by Jesmyn Ward – I have had this book on my TBR list for a long time, so when I saw the audiobook on my library Hoopla account I jumped on it! The writing is exquisite and crushing. All. At. The. Same. D*mn. Time. This is truly a stunning book. (Audiobook)
The Heartbeats of Wing Jones by Katherine Webber – I received this ARC on Netgalley. I was really excited to read this book, but I'm trying hard to hang in there until the end. (eGalley)
Nicole Brinkley
The Tiger's Daughter by K. Arsenault Rivera: EdiTor Miriam Weinberg shoved a very very rough manuscript of this adult fantasy into my hands at a conference last year and I'm only now just beginning to read it – in part because the cover was revealed and it's absolutely stunning. Luckily, the book is beautiful enough to match so far – completely voice-y and lush. This is the story of an infamous Qorin warrior named Barsalayaa Shefali, a spoiled divine warrior empress named O-Shizuka, and a power that can reach through time and space to save a land from a truly insidious evil. (ARC)
Tasha Brandstatter
Pretty Face by Lucy Parker: As I mentioned in January's Riot Round-Up, I loved Parker's previous novel, Act It Like It, so I immediately requested this follow-up. (eARC)
Jackaby by William Ritter: Sherlock Holmes meets Doctor Who? Um yes please. (audiobook)
Jessica Woodbury
Ill Will by Dan Chaon: the first crime novel to get me all giddy. Ritual satanic abuse and fake repressed memories, obsession and delusion, multiple narrators and jumps through time. I'm full on heart eyes emoji. (audio galley)
Amatka by Karin Tidbeck: a dystopian speculative novel that also his that bleak Scandinavian sweet spot. (egalley)
Danika Ellis
Difficult Women by Roxane Gay: I enjoyed Bad Feminist, but I haven't read any of Roxane Gay's fiction yet. I'm only a few pages in, but I'm excited and a little nervous to dive in. (Library Hardcover)
A Pirate's Heart by Catherine Friend: When I saw that a pirate lesbian romance novel was available as an audiobook through Hoopla, I couldn't resist trying it. And there's a librarian character to boot! So far there's been some biphobia, but other than that, it's been fun. (Hoopla Audiobook)
Jessica Yang
Jingo by Terry Pratchett: I had a sudden craving for Discworld books, so I went looking and found Jingo to reread. It has never been my favorite Pratchett book, but given the current political climate (hello, rampant bigotry!), Jingo in particular feels like a fitting read, given that it's a satire on war and xenophobia. (paperback)
Ashley Bowen-Murphy
The Association of Small Bombs by Karan Mahajan: I'm only about a third of the way into this book and am already loving it. In fact, I like it so much I'm annoyed I didn't finish it in time to list it as my favorite book of February. (hardback)
Jaime Herndon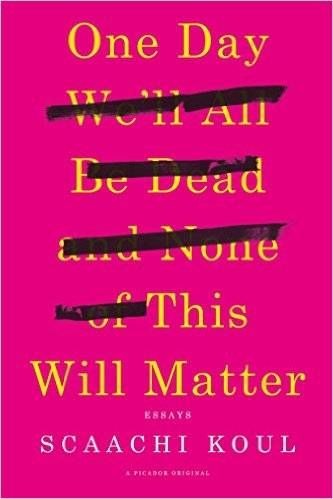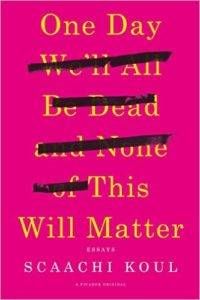 One Day We'll All Be Dead and None of This Will Matter by Scaachi Koul. I love essay collections, and this is smart and funny, and as a woman of color, she has important things to say. (ARC)
A Little More Human by Fiona Maazel. I'm reading this for an author interview, and it's so well-written and imaginative. I'm really liking it so far. (ARC)
Narrow River, Wide Sky by Jenny Forrester. I love everything Graywolf Press puts out, but this memoir is gritty and brave, and I'm savoring it. (ARC)
Love is Love (various). This is a comic book anthology that benefits survivors of the Orlando Pulse shooting. I'm only now getting into comics and graphic novels, and this one is so well-done and poignant. (Paperback).
Katie Schenkel
The Unbeatable Squirrel Girl: Squirrel Meets World by Shannon Hale and Dean Hale: This YA novel of one of my favorite superheroines is all about teen Doreen Green's hero origin, and it makes for a perfect go-to read on my train commute. (Hardback)
Yes, Roya by C. Spike Troutman and Emilee Denich: My Kickstarter copy finally came in the mail, and I'm excited to dive into this very not-safe-for-reading-on-the-train graphic novel about BDSM and polyamory. (Paperback)
Eric Smith
Fireworks by Katie Cotungo: I'm a sucker for a good YA contemporary novel that touches on music. I've definitely talked about authors like Ashley Poston, Charlotte Huang, and Nina LaCour on here, who have written some of my favorites YA-music-type-books. Well, let's add Katie Cotungo to that list with Fireworks. I'm about halfway through this unbeleivable charming book about two teen girls caught up in the boy/girl band craze of the 90's, and how they might just be the next big pop stars when they are plucked out of obscurity to be in a group. But it might just cost them their friendship, as surprise challenges surface. More YA books set in the 90's, please. (ARC, Out in April w/ Balzer + Bray)
Gina Nicoll
Things We Lost in the Fire by Mariana Enriquez: This has been on my TBR since I heard about it on the All the Books podcast, and so far I'm loving these dark short stories. (Hardcover)
Women Who Read Are Dangerous by Stefan Bollmann: I can't remember where I first saw this, but you can't keep me away from a book about books, especially with such a perfect title! (Hardcover)
Robert Lowell, Setting the River on Fire: A Study of Genius, Mania, and Character by Kay Redfield Jamison: I loved Jamison's memoir An Unquiet Mind, and she's such a brilliant researcher and writer on bipolar disorder that I'll read anything she writes. (Hardback)
Anne of Green Gables by L.M. Montgomery: I wanted something happy, and the new audio version of this narrated by Rachel McAdams is a perfect fit. (Audiobook)
Sophia Khan
Shelter by Jung Yun: This novel showed up on a bunch of Best Of 2016 lists so I knew I had to bump it to the top of my TBR for 2017. Believe me, the people knew what they were talking about – I cannot put this book down. (Hardback)
Hour of Land: A Personal Topography of America's National Parks by Terry Tempest Williams: This summer, I will be doing a tour of some of America's National Parks for my honeymoon. After hearing Book Riot Executive Director Rebecca Shinsky's endless praise of this book, I knew it was finally time. Williams' description of the parks is both beautiful and real. It's clear how much the National Park System means to her, and that passion is contagious. (Hardback)
Tara Cheesman
The Revolution of the Moon by Andrea Camilleri, translated by Stephen Sartarelli is a historical novel by the author of the Inspector Montalbano series. A bit of a departure from the procedural mysteries Camilleri is known for, this book is set in 17th century Sicily and about a real-life figure. Donna Eleanora, the late Spanish Viceroy's wife, takes her husband's place as the representative of King Charles the III. The plot is an old-fashioned battle of the sexes, pitting Eleanora against the corrupt officials who once served her husband. The writing is very mannered and reminds me of Dario Fo's farcical The Pope's Daughter (about Lucrezia Borgia) and the translator makes some choices that seem a bit odd (leaving parts of dialogue in untranslated Spanish) – but overall I'm enjoying it. (ARC – To be Released April, 2017)
Christine Hoxmeier
A Conjuring of Light by V. E. Schwab: I'm currently halfway through the last installment of Schwab's Shades of Magic series and I'm not ready. I'm not ready for what is going to happen to my beloved magic babies, I'm not ready for what is happening with all the Londons, and I am not ready for this story to end. But I gotta hurry up and get there quick, so I can cry on Schwab's shoulder at her Austin book signing. Stay safe, magic babes! (Audiobook)
Super You by Emily V. Gordon: This was a gift from my brother who knows I am a nerd in need of some help. I honestly have no idea what to expect from this, but a funny and nerdy self-help book is exactly the kind of thing I need to read at the moment. (Paperback)
Megan Cavitt
Amberlough by Lara Elena Donnelly: I walked past this book on the library's New Releases shelf three times and told myself I needed to resist because I have a different novel on hold and a stack of unread comics by my bed. Then I made the mistake of opening the front cover, and the epigraph is a pair of quotes from Tinker, Tailor, Soldier, Spy and Cabaret. It's like Donnelly knew I was out here, waiting for an alt-universe Weimar Germany full of lovers and spies. (Library Hardcover)
The Cain Saga vol. 2 by Kaori Yuki: I started reading this series waaaaay back when it was first published in English, but I put off buying the next volumes because my budget is short and my TBR list is long. But I finally got the whole series on sale, so I can feast on the glorious early '90s melodrama of Kaori Yuki's gothic mystery. (Paperback)
Kay Taylor Rea
Royal Bastards by Andrew Shvarts (June 6, Hyperion): I've been looking to read more YA this year, and this tale of bastards banding together for a fantasy adventure fits the bill. Looking forward to digging into this one. (e-galley)
Rise: A Newsflesh Collection by Mira Grant: An excellent collection of short works from Grant's Newsflesh universe. Won't make much sense if you haven't read any of the full length novels, but a treat if you're looking to dig deeper into some wonderful zombie worldbuilding. (audiobook)
Beth O'Brien
Long Way Home by Katie McGarry: This is the third book in the Thunder Road series. I devoured the first two books and just had to get my hands on this one. It's such an engrossing read! I'm loving the thrill and the romance! (Hardcover)
Not Just Jane: Rediscovering Seven Amazing Women Writers Who Transformed British Literature by Shelley DeWees: I bought this one a few weeks ago and decided to dive into it the other day. It's been a while since a read a book about books (or authors and their works). I must say, I've missed that and I didn't even realize it! It's really interesting being introduced to female authors that were influential but are rarely spoken of today. (Paperback)
The Immortal Life of Henrietta Lacks by Rebecca Skloot: This came in on hold for me at the library the a few days ago. I'd forgotten I'd placed it on hold, so it was a pleasant surprise. I'd been meaning to read this one for a while, and now that it's been released as a film by HBO I'm extra eager to finish it! (Audiobook)
Nikki DeMarco
Big Magic by Elizabeth Gilbert: I'm reading this at school right now (I'm a teacher) during in between snippets of time. It's great for this because the chapters are short, and since it's non-fiction, I don't lose track of what's happening in the story. I've underlined something inspirational on almost every page. It's a great pick me up in the middle of a busy work day. (Paperback)
The Curious Charms of Arthur Pepper by Phaedra Patrick: I'm listening to this for my book club this month and it's such a delightful story. Right now work is stressful and Arthur Pepper's adventures and old fashioned, positive outlook on life is a great distraction. It's well narrated and the plot is moving along at a nice clip. I'm looking forward to finishing, but don't feel the need to have to stop other obligations to know what happens next. (Audiobook