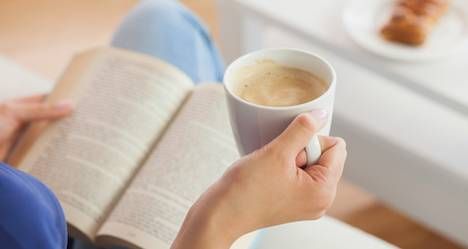 Lists
Peek Over Our Shoulders: What Rioters Are Reading on July 11th, 2016
This content contains affiliate links. When you buy through these links, we may earn an affiliate commission.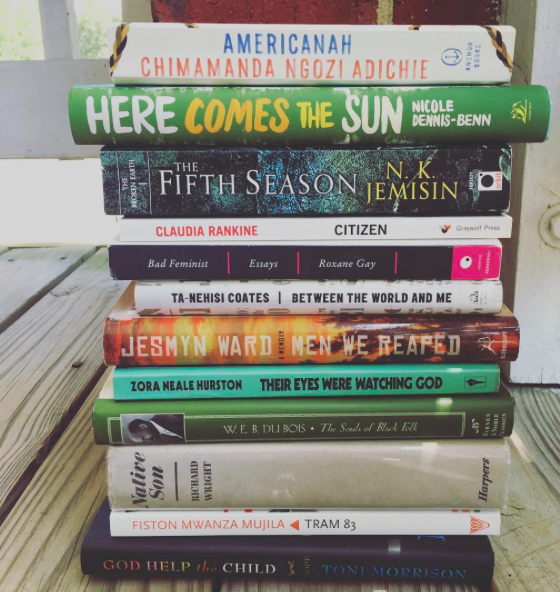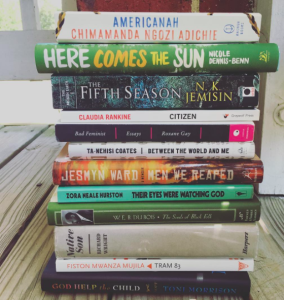 In this feature at Book Riot, we give you a glimpse of what we are reading this very moment.
Here is what the Rioters are reading today (as in literally today). This is what's on their bedside table (or the floor, work bag, desk, whatevskis). See a Rioter who is reading your favorite book? I've included the link that will take you to their author archives (meaning, that magical place that organizes what they've written for the site). Gird your loins – this list combined with all of those archived posts will make your TBR list EXPLODE.
We've shown you ours, now show us yours; let us know what you're reading (right this very moment) in the comment section below!
---
Georgia Peaches and Other Forbidden Fruit by Jaye Robin Brown: At ALA, I marched right up to the HarperCollins booth and asked for this by name. I've seen some buzz from people with similar tastes. I'm 30% through and am worried for our girl Jo…anna. (ARC paperback)
Of Fire and Stars by Audrey Coulthurst: While in that HarperCollins booth, I spotted this cover (Girls holding hands? Fantasy setting?), read the back, and raised a hopeful eyebrow at the rep, saying "Lesbian Princesses? I'll take this one, too." (ARC paperback)
This Shattered World (Starbound #2) by Amie Kaufman and Meagan Spooner: I loved These Broken Stars and was browsing Overdrive when I saw this title and thought, oh yeah! Let's see what happens next. (library digital audiobook)
Rule of the Bone by Russell Banks. I'm reading a bunch of books about drunks / sober people and Rule of the Bone came highly recommended. It's certainly a unique book and so far I'm really digging it. (Paperback, library book)
Between Shades of Gray by Ruta Sepetys. No, this has nothing to do with Fifty Shades of Gray. LitKit sent it to me in my monthly box and it's about Soviet secret police, Lithuania, Siberia, and a bunch of other things I don't know much about. It's fantastic. (Paperback)
Chronicle of a Last Summer: A Novel of Egypt by Yasmine El Rashidi. I'm only 20 or so pages into this book, which came highly recommended by a friend who's got his finger on the pulse of Egyptian novels. Those 20 pages have been pretty fucking harrowing so I think I'm in for a ride on this one. (egalley)
The Lively Library by Niranjan Navalgund: In keeping with my fascination for books about books, this one's a debut novel by Navalgund, and features a library with (you guessed it) books that come alive, and a romance to boot. What's not to like? (ARC paperback)
The Association of Small Bombs by Karan Mahajan: Mahajan's book pulls you in so quick and so hard, it's hard to put down despite the words hitting quite close to home. (paperback)
Bad Feminist by Roxane Gay: It seems like every book blogger I know loves this book, so I think it's high time I read it for myself. (Audiobook)
Frackopoly by Wenonah Hauter: I've always been against fracking on environmental and health grounds, but I really want to deepen my understanding of the whole issue. (Hardcover)
The Fireman by Joe Hill: I'm a longtime Stephen King fan and felt it was time for my first Joe Hill. It's the type of book where I'm bummed out each time I have to stop listening. Damn real life! (Audiobook)
Lord of Scoundrels by Loretta Chase: I'm diving into the world of romance for the first time with some personal recommendations Sarah MacLean gave me last year at Book Riot Live. (ebook)
The Light of the World by Elizabeth Alexander: I've read a lot of grief memoirs, and it was high time I got to this one. It came highly recommended. (ebook)
The Cauliflower by Nicola Barker: I received this through the LibraryThing Early Reviewers program. I've been meaning to read Barker for a while, so I jumped at the chance. (paperback ARC)
The Queen of the Night by Alexander Chee: I'm slowly but surely getting through the books on my shelves and I've been wanting to read this for a while. I've been burning through it, it's so good. (Paperback)
Broken Monsters by Lauren Beukes: This was a Get Booked recommendation. I've been in the mood for creepy books. What's creepier than finding a human torso sewn to a deer's body? (Audiobook)
Appetites by Anthony Bourdain: I've read every Bourdain book out there, so I was excited when this came in the mail. Can't stop won't stop. (Hardcover)
Finding the Flavors We Lost by Patric Kuh: Kuh is an L.A.-native food writer. My favorite kind of food writer. I'm interested in reading what he has to say about the artisanal food movement. (ARC Paperback)
A Study In Charlotte by Brittany Cavallaro: Because it was on sale, and someone mentioned Sherlock Holmes- his female descendant actually, buddying up with the descendant of John Watson to solve a murder for which they are the prime suspects. It's a really interesting concept so far, and it's helping me break my dreaded reading slump. (ebook)
TV (The Book): Two Experts Pick the Greatest American Shows of All Time by Alan Sepinwall and Matt Zoller Seitz (Grand Central, September 6): Two of my favorite critics taking a stab at a pantheon for American television? I'm totally in. If you're on the fence, read the g-chat transcript of the two of them debating rankings for the top 5 shows. That should win you over. (egalley)
Zoo City by Lauren Beukes: This title is getting a new paperback edition this August from Mulholland, and thank goodness. It's just the kind of weird I love. (egalley)
Aram Mrjoian
The Mortifications by Derek Palacio (Tim Duggan Books, October 2016): Picked this one up BEA. I'm 80 pages in and already considering it one of the best books I've read this year. The prose is fantastic. (ARC)
The Scorpion Rules by Erin Bow: After I saw the gorgeous paperback cover, I know I couldn't put off reading this YA sci-fi any longer. In a futuristic world, after the near-collapse of humanity, the children of presidents and princesses are taken hostage and become the Children of the Peace, ready to die at a moment's notice if their nations go to war – and, maybe, preparing to fight the robot overlords that long ago set the rules of their world. It's fascinating so far and has way, way more goats than I anticipated. (paperback)
You Can't Touch My Hair: And Other Things I Still Have to Explain by Phoebe Robinson: Why yes, the 2 Dope Queens podcast host really is as funny as you think she is. Actually funnier. (egalley)
Kindred by Octavia E. Butler: Thank you, Audible sale, for giving me a really strong supply of classic backlist I've always meant to get to, including this one. (Audiobook)
Moonglow by Michael Chabon: I download my electronic galleys and immediately forget about them so I accidentally started Michael Chabon's upcoming novel without adequate mental preparation and we'll see what happens. (egalley)
Missing, Presumed by Susie Steiner: Yes, the advertisement for this book has been all over Book Riot's homepage and yes, it worked on me. I'm desperately trying to find something to fill the Jane Casey-shaped hole in my heart. This one is close to that. (ebook)
Bone Rooms: From Scientific Racism to Human Prehistory in Museums by Samuel J. Redman: I picked this up while visiting the Morbid Anatomy Museum in NYC in late June. I always pick up books in museum gift shops and it was easy to justify this one since it's kind of dissertation adjacent. (hardback)
Too Hot To Handel (John Pickett Mysteries #5) by Sheri Cobb South: I mean, I would have picked up this book anyway because I'm a sucker for punny titles, but I adore this series and bought this book as soon as it came out. (ebook)
The Attention Merchants: The Epic Scramble to Get Inside Our Heads by Tim Wu: Combines time management with technology and history, so obviously I'm going to be all over that. (egalley)
Ghosts by Raina Telgemeier: I was so excited to snag this ARC at ALA last weekend. My young library patrons will lose their minds when they find out I have this! (ARCpaperback )
Modern Lovers by Emma Straub: Now that my kids are finished with school, it finally feels like summer and this is my inaugural summer read. (library ebook)
The View from the Cheap Seats by Neil Gaiman : Going on a day trip with my husband (and without my kids) and this is an entertaining choice we can agree to listen to on the drive. (audiobook)
I Am No One by Patrick Flanery. I decided to read this because I'm a sucker for books about unreliable memory, but I'm not sure how I'll end up liking it. So far, the narrator is not at all likable, and his tendency to pontificate is getting on my nerves, never mind some of his racist ideas. But I think we're meant to dislike him, and I'm curious as to how it'll all play out. (egalley)
The Givenness of Things by Marilynne Robinson. Whether in novels or essays, Marilynne Robinson is always the best. I loved her essay on fear, so I'm eager to read the rest. (library hardcover)
Shrill: Notes from a Loud Woman by Lindy West: I'm always here to hear what "loud" women have to say so this was my Book Of The Month pick. (hardcover)
The Murder of Roger Ackroyd by Agatha Christie: Agatha Christie is comfort read for me. (library ebook)
The Hike by Drew Magary: 100% chosen for the cover and so far it's weird and intense and if it takes a turn into banana-pants land I'm gonna be in heaven. (Viking, August 2nd, egalley)