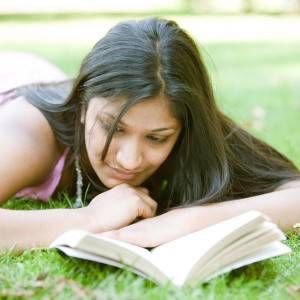 Lists
Peek Over Our Shoulders: What Rioters Are Reading On December 4, 2015
This content contains affiliate links. When you buy through these links, we may earn an affiliate commission.
In this feature at Book Riot, we give you a glimpse of what we are reading this very moment.
Here is what the Rioters are reading today (as in literally today). This is what's on their bedside table (or the floor, work bag, desk, whatevskis). See a Rioter who is reading your favorite book? I've included the link that will take you to their author archives (meaning, that magical place that organizes what they've written for the site). Gird your loins – this list combined with all of those archived posts will make your TBR list EXPLODE.
We've shown you ours, now show us yours; let us know what you're reading (right this very moment) in the comment section below!
Promise of Shadows by Justina Ireland: I'm already at the end but trying to read it real slow since I'm not ready for it to finish–apparently I need more Harpies in my life. (Paperback)
Half-Resurrection Blues by Daniel José Older: Just started and already super excited for this urban fantasy because it's my kind of smart-ass humor and it's one of those times that the author reading his novel works. (Audiobook)
The Cowboy Bible and Other Stories by Carlos Velázquez, Achy Obejas (translator): Trying to read more short story collections and intrigued with this one which starts with a Mexican wrestler. (egalley)
These Vicious Masks by Tarun Shanker, Kelly Zekas: Adventure. Paranormal Romance. Victorian England. How can that not be awesome?! Bonus, I immediately love Evelyn from the beginning–she's sassy and funny! (egalley)
The Girl in the Spider's Web by David Lagercrantz: Because I'm curious about this continuation in the Lisbeth Salander series. (Library Hardcover)
The Butterfly Mosque by G. Willow Wilson:I love Ms. Marvel and I'm excited to know more about G. Willow Wilson.
Burn Baby Burn by Meg Medina (Candlewick, March 8, 2016): Was lucky to get an advance copy! (Galley)
Harry Potter and the Chamber of Secrets by J.K. Rowling: I'm taking the time to re-read all of the HP books in quick succession over the holidays. I love seeing all the little connections I missed the first time around and in re-reading them piecemeal over the years.
The Vegetarian by Han Kang (Hogarth, Feb. 2, 2016): A woman decides to give up meat after experiencing twisted, bloody dreams. And then things get really weird. Laura van den Berg said it's amazing, so I'm in. (galley)
The Architects Are Here by Michael Winter: Just read his novel The Death of Donna Whalen and was so blown away, I am consuming everything else he has written.
The Fireman by Joe Hill (William Morrow, May 17, 2016): An epidemic has swept the planet, an uncontrollable disease that causes its victims to burst into flame. But The Fireman is coming to save the world. People are gonna have so much fun with this one!
Everything, Everything by Nicola Yoon: I'm not sure it's taken me so long to start this book, but my goodness, I got halfway through it in one sitting. With a mixture of illustrations, emails, prose, and instant messenger conversations, it's a wonderfully unique read that you KNOW has an emotional punch coming. I'm just waiting for it, and I don't think I'm ready.
Just Visiting by Dahlia Adler: One of my favorite book people on the Internet, Dahlia also pens some of my favorite contemporary YA reads. I love YA novels that are about friendship, and that's what this one absolutely is.
Fiendish by Brenna Yovanoff: I've been wanting to read this for a while, and one of my best friends gifted it to me for my birthday! Brenna Yovanoff's books have always been quick, intense reads for me, and I don't expect that this one will be any different. (hardcover)
The Love That Split the World by Emily Henry: This is one of those ARCs on my shelf that I've been trying to ignore for a few weeks now in favour of more recent releases, but I finally caved in. I'm only a few pages in, but am sufficiently intrigued. (ARC)
The Visitors by Simon Sylvester: Anything with selkies guarantees at least a cursory look from me, and this book is no different. While I'm not a huge fan of murder mysteries, the possible supernatural tie drew me in, and I'm looking forward to really immersing myself in this world over the weekend. (ARC)
Shadowshaper by Daniel José Older: Road trip read! I might finish this in one sitting on my drive from California to Arizona. I've been meaning to get into this book ever since it came out and I can't wait to find out for myself what everyone's been raving about all year.
Three by Annie Dillard: The Writing Life, An American Childhood, Pilgrim at Tinker Creekby Annie Dillard: I thought I lost this book right after buying it months ago… I just found it under the curtain next to my bed (AKA secondary bookshelf). I bought this collection mainly for "The Writing Life," but why read one literary work when you can read three?
Young Miles by Lois McMaster Bujold: I think we all need some smart and fast-paced sci-fi to read at the end of the year. Take us off to other worlds and conflicts, and away from the conflicts at the dinner table and all. Thoroughly loving this one so far. (paperback)
The Watchmaker of Filigree Street by Natasha Pulley: Steampunk-ish (but not too steampunk-ish) urban fantasy set in London. So obviously, I'm in. (ebook)
Men Explain Things to Me by Rebecca Solnit: Solnit was a genius again recently (https://lithub.com/80-books-no-woman-should-read/), which inspired me to reread this. (ebook)
Doomsday Book by Connie Willis: I loved Blackout and All Clear, and I'm in the mood for some time travel. (ebook)
Rebecca Joines Schinsky
The People in the Trees by Hanya Yanagihara: A Little Life rocked my world, so I had to pick up Yanagihara's acclaimed debut about a doctor who discovers a tribe of people who seem to be immortal. (paperback)
The Checklist Manifesto by Atul Gawande: Productivity plus research plus how-to advice from a renowned surgeon and writer. Hello, wheelhouse! (paperback)
Who Fears Death by Nnedi Okorafor: I picked this up because I think that Okorafor is a very interesting author. This book is getting under my skin and I just can't stop thinking about it while I am away from it. (Paperback)
The Lives of Tao by Wesley Chu: In a weird chain of association, I saw this book on the shelf and it made me think of Winnie the Pooh. Spoiler: It has nothing to do with Winnie the Pooh. (Paperback)
The Dead Duke, His Secret Wife and the Missing Corpse by Piu Marie Eatwell: That title is just too good to pass up. (Hardcover)
Get In Trouble by Kelly Link: Fellow Rioters recommended this one when I asked for short stories that were weird and a little dark. (Audio book)
Redemption by Wayne Williams: Author asked me to read and give feedback. (Manuscript)
A Desperate Fortune by Susanna Kearsley: A friend gave me this book for my birthday, annnd it's also a finalist in the Goodreads Choice Awards. (ebook)
Pop Sonnets: Shakespearean Spins on Your Favorite Songs by Erik Didriksen: I mean, Shakespeare and pop songs. How can you go wrong? (Hardcover)
Pop Sonnets: Shakespearean Spins on Your Favorite Songs by Abby Denson: I may be going to Japan in 2016 and this seemed like a fun starter travel guide. (Paperback)
The Poisoner's Handbook by Deborah Blum: Seems like a fascinating subject to help get a predominately-fiction-reader into non-fiction and, I've found, leaving it around makes for a fun way to creep houseguests/co-workers you do potlucks with. (trade paperback)
Stone Mattress by Margaret Atwood: Margaret Atwood! I honestly don't know how it's possible that I haven't read this yet. Rectifying immediately. (trade paperback)
The Unprofessionals: New American Writing from The Paris Review: I wish I knew the Paris Review better, and I really appreciate a collected works like this every once in a while. It's a nice break from my novel-heavy TBR list. (paperback)
As for Me…
Cinder by Marissa Meyer: REALLY needed something that will just hook me in from the get-go. With a four month old, I no longer have time to invest in the beginning of a book to see if I'll like it. Am desperate to read something that will be engaging the entire time and this is a series that was recommended by a lot of Rioters. So far so good! (paperback, library borrow)