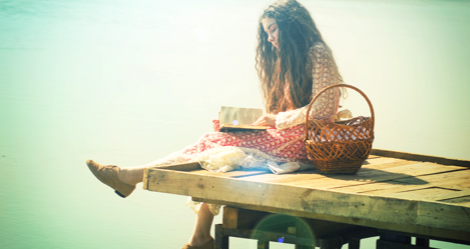 Lists
Peek Over Our Shoulders: What Rioters Are Reading May 24, 2018
This content contains affiliate links. When you buy through these links, we may earn an affiliate commission.
In this regular feature, we give you a glimpse of what we are reading this very moment.
Here is what the Rioters are reading today (as in literally today). This is what's on their bedside table (or the floor, work bag, desk, whatevskis). Your TBR list is about to get some new additions.
We've shown you ours, now show us yours; let us know what you're reading (right this very moment) in the comment section below!
Liberty Hardy
Mouthful of Birds: Stories by Samanta Schweblin (Riverhead, January 8, 2019): I am absolutely gaga for Schweblin's novel Fever Dream—I've read it four times and proudly still have no idea what happens—so yeah, I may have squealed and jumped around when this book arrived at my house. And the cover is WOW WOW WOW. (paperback)
Claire Handscombe
How to Market a Book by Joanna Penn: I'm finally going to be a published author, and since I'm with a small press, most of the marketing will be down to me. I will not fail you, dear novel! (paperback)
Casey Stepaniuk
The Paper Menagerie and Other Stories by Ken Liu (Saga Press): Wow this book is making me feel the same way that Nalo Hopkinson's work does, which, if you know me, is like the highest praise. So imaginative and innovative. The last story I read, "The Literomancer," just made me weep. I first heard of this collection while listening to the Levar Burton Reads podcast, where he chooses amazing short stories and reads them out loud (Reading Rainbow for grown-ups!). Burton read the title story and I was like, I NEED this book in my life. I was right. (hardcover)
Daisy Johnson
Black Beauty by Anna Sewell: I know, I know, I've read it a thousand times before, but it's one of those books that I keep coming back to. Plus. I just happened to walk into a bookshop and a lovely old 1935 copy of it just happened to come home with me, so it'd be rude to not read it under the circumstances. (hardcover)
Anthony Karcz
Hellboy: Wake the Devil by Mike Mignola: Inspired to give the series a reread by a current Hellboy board game Kickstarter (and a timely Comixology sale), I'm starting from the beginning of Mignola's masterpiece occult comic series. With 27 graphic novels (not counting the in-universe B.P.R.D. books), it's going to take me a while to wend through it all. But with Mignola's expressive art and masterful weaving of occult and folklore into an apocalyptic narrative, I'm going to enjoy every second.
S.W. Sondheimer
My So-Called Bollywood Life by Nisha Sharma: This book is an absolute delight and I'm very much enjoying the twist of the main character, Winnie, walk the line between wanting a future of her own making and wanting to believe in romance and adoration of cultural tradition, that last something we don't always see in YA or in romance. The characters are realistic in their strengths and weaknesses, their missteps and course corrections and I very much appreciate parental figures who, while strict are also reasonable and loving. Enjoying every second of this one, and since I'm listening on audio, I have the added bonus of partaking in Priya Ayyar's fantastic performance while I work on cosplay. And drive to work. And ride the parking shuttle… (audiobook)
Margaret Kingsbury
Circe by Madeline Miller: I'm jumping on the Circe bandwagon, though I didn't buy it during the epic pricing mistake of 2018, but checked it out from the library. I always enjoy a good ancient myth retelling, particularly when it's from a woman's perspective. (library ebook)
Jaime Herndon
When Life Gives You Lululemons by Lauren Weisberger (S&S, June 5): I admit: I loved The Devil Wears Prada, and when I heard about a book about Emily Charlton (from the original book) was coming out, I had to read it. So far it's a fun, light read that would be perfect for laying out by the pool or on the beach. It's interesting for to come back to this story 10+ years later, and note my reactions to reading it. (ARC)
Steph Auteri
Not That Bad edited by Roxane Gay: As a writer, work that tackles issues of sexual assault and rape culture is very much in my wheelhouse. As a reader, I knew that anything Roxane Gay deemed worthy of choosing for an anthology would be amazing. So far, this theory hasn't been proved wrong. (paperback)
Sarah Nicolas
Evangeline of the Bayou by Jan Eldredge: Kirkus says, "Take bits from the worlds of Harry Potter, Percy Jackson, and Nancy Drew, and set the story in New Orleans, and you've got this compelling tale." That's a tall order! My last read was very heavy and depressing, so this fun, atmospheric middle grade paranormal is just what I needed.
Jamie Canaves
My Sister, The Serial Killer by Oyinkan Braithwaite (Doubleday Books, November 13th): The title is amazing. The cover is amazing. I have been dying to read this since I heard about its sale to a publisher. I'm halfway through and it is living up to everything I want it to be and more as Korede is starting to question whether the boyfriends (yup, plural!) her sister has killed were in fact acts of self-defense. (egalley)
Elizabeth Allen
The Power by Naomi Alderman: Women have spent centuries being oppressed by men. The power has always resided with those who possess the most physical strength. But what if the playing field was not only evened out, but women suddenly had the higher ground? The Power is speculative fiction about what would happen to society if women had a power that could stop abusive, dominant, aggressive men in their tracks and force them to reckon with their past misdeeds. We've always known that women are freakin' superheroes…what would it look like if they had actual super powers?
Susie Dumond
From Twinkle With Love by Sandhya Menon: I was thoroughly delighted by When Dimple Met Rishi, so I definitely had to pick up Sandhya Menon's newest YA book. So far, I'm really enjoying it! I'm already charmed by aspiring filmmaker Twinkle; she's got heart and passion and intelligence, much like Dimple. (egalley)
Laura Sackton
Eloquent Rage by Brittney Cooper: I just started this on audio and it's fantastic—a great mix of personal stories, black feminist thought and analysis, cultural critique. I haven't gotten into the meat of the book yet, but so far, Cooper has a lot of super smart things to say about rage and anger and the place and usefulness of those emotions in feminism (and especially in black feminism), and about the power of female relationships of all kinds. Her narration is engaging and familiar and full of heart, but I already know this is one I'm going to want to buy in print and underline the hell out of. (audiobook)
Leah Rachel von Essen
The Night Circus by Erin Morgenstern: This is a reread for me. I read this back in 2011, when it first came out, on my mother's recommendation, and fell in love—in 2013, I was lucky enough to see Morgenstern in conversation with Neil Gaiman, and I talked loudly and nervously about her novel as she signed my copy. I like to reread my favorites to remind myself why they're my favorites, so that when people ask me for recommendations I can be certain of what I'm recommending, and I'm hoping that this reread shows me again why I loved this one so much. (hardcover)
Erin McCoy
Hitting It by Kathy Lyons: When I went to a bookish conference in April, I was finally able to pull together all the random bits of romance knowledge loose in my mind and realize that Kathy Lyons and Jade Lee are the same person. How did I not know this!?! I've loved Lee's historical romances for years, so I nabbed this first-in-a-series contemporary romance by Lyons as soon as it became available earlier this month. In Hitting It, the sensible heroine, Heidi, meets an up-and-coming baseball player, Rob, during a spring break trip to Florida. The two college students take to each other immediately but then go their separate ways after a very short liaison. I'm just far enough into the book that Rob and Heidi are reuniting three years later and, let me tell you, tensions are high! If you like uber-sexy, new adult, or sports romances this one should not be missed. (galley)
Elisa Shoenberger
Archival Quality by Ivy Noelle Weir and illustrated by Steenz (Oni Press, March 2018): I found this YA graphic novel at my local comic book shop's recommendations and fell in love. A book combining a spooky museum with a woman as a protagonist? Sign me up! Bonus: It's a story about woman struggling with mental illness in a real thoughtful way. (paperback)
E.H. Kern
How to Write an Autobiographical Novel by Alexander Chee: Alexander Chee is one of our time's most accomplished essay writers. Hands down. How to Write… takes you on a journey beyond the mere topic of the individual essay. While Chee holds up a mirror to himself as a man and as a writer, he simultaneously manages to catch the reader's reflection as well, showing us to ourselves. (paperback)
Emily Polson
Sweet and Low: Stories by Nick White (Blue Rider Press, June 5): Nick White's debut novel How to Survive a Summer was my pick for our Best Queer Books of 2017 roundup. The author reached out on Twitter to ask if I wanted a galley of his forthcoming short story collection. Yes, please! As someone who studied English lit in the heart of Mississippi, I adore Southern Gothic writing and am always looking to read more contemporary Southern writers. So far the stories are proving quirky and queer in all the right ways. (egalley)
Rachel Brittain
Fresh Ink: An Anthology, edited by Lamar Giles (Crown Books for Young Readers, August 14): This collection of short stories created in collaboration with We Need Diverse Books is everything I wanted it to be. Sweet and touching and relatable and important. I'm only a few stories in, but I am already loving it. And how could I not with awesome contributors like Nicola Yoon, Daniel José Older, and Sara Farizan? So far my favorite story is "Meet Cute" by Malinda Lo, but I know there are going to be many more great ones to come. (egalley)
Eileen Gonzalez
The Big, Bad Book of Botany by Michael Largo (William Morrow): This is essentially an encyclopedia of cool plants and their various uses. It's been sitting on my sister's bookshelf for ages, and I finally snagged it out of boredom. It's working out well, though. I'm always on the lookout for plant-based murder weapons…for my writing, of course. (paperback)
Alison Doherty
Hurts to Love You by Alisha Rai (Avon): Alisha Rai writes some of the best contemporary romance around, with intelligent characters, authentic love, and blush-inducing love scenes. The fact that her love stories are both diverse and feminist AF is big cherry on top. This continuation of her Forbidden Hearts series does not disappoint. Heiress Evie Chandler and tattoo parlor owner Gabriel Hunter both get their worlds turned upside down, spending a week together at a family wedding where just about everything goes wrong…except the feelings that grow between them. (paperback)
Tasha Brandstatter
The Wedding Date by Jasmine Guillory: Read an awesome review of this book from a book blogger I trust, and the library had it, so yay! (paperback)
Rebecca Hussey
We Begin Our Ascent by Joe Mungo Reed (Simon & Schuster, June 18): This is a must-read for avid cyclists and cycling fans. It's the story of a man riding in the Tour de France and it gets cycling right (I say as someone who never rode in the Tour but who did do some amateur racing). If you like cycling, you will love this. (paperback ARC)
Alice Nuttall
Black Dahlia, Red Rose by Piu Eatwell: It's been, ooh, at least three weeks since I read some true crime, so I picked up Black Dahlia, Red Rose after it came up on my recommendations. I'm only a little way into the book, but it's a very vivid and evocative depiction of Los Angeles and the people who played a part in attempting to solve this particularly grisly and baffling murder. I'm especially loving learning about Aggie Underwood, one of the very few female journalists who worked the crime beat.
Priya Sridhar
I Am Jazz by Jazz Jennings: We rarely, rarely, get a happy real-life story in the mainstream about a transgender child with a supportive family who have fought the world to let her play on the girls soccer team and use the girls bathroom. Jazz didn't just beat the odds; she and her family made their odds. Her writing is very eloquent, heartbreaking at times, and I can't wait to finish. (library hardcover)
Jessica Pryde
His Cocky Valet by Cole McCade: There was no way I wasn't going to read this book ASAP. Spite is quite the cure for writer's block, apparently, and the speed at which this was written didn't take away from the marvelous story. It's my first Cole McCade/Xen Sanders book, but will definitely not be my last. (ebook)
Kathleen Keenan
Educated by Tara Westover: I've seen this book recommended everywhere, read an essay the author wrote for The Guardian, and had a trusted friend tell me it's great. Time to read it! So far, Westover's description of her survivalist Mormon childhood in rural Idaho has pulled me right in. (ebook)