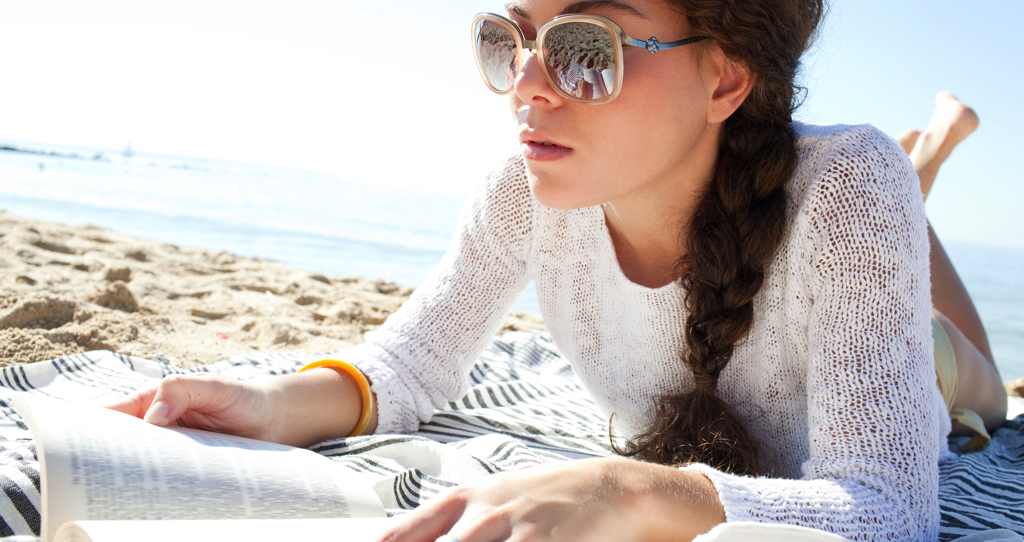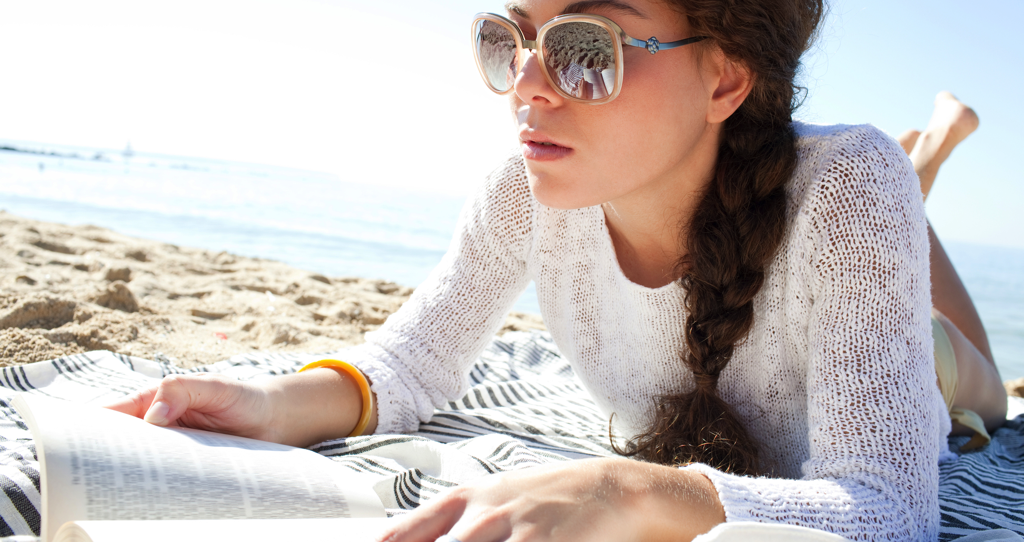 Lists
Peek Over Our Shoulders: What Rioters Are Reading June 21, 2018
This content contains affiliate links. When you buy through these links, we may earn an affiliate commission.
In this regular feature, we give you a glimpse of what we are reading this very moment.
Here is what the Rioters are reading today (as in literally today). This is what's on their bedside table (or the floor, work bag, desk, whatevskis). Your TBR list is about to get some new additions.
We've shown you ours, now show us yours; let us know what you're reading (right this very moment) in the comment section below!
Jamie Canaves
The Hollow of Fear (Lady Sherlock, #3) by Sherry Thomas (Berkley, October 2): Charlotte Holmes and Mrs. Watson are back and I may have screamed and startled everyone when this landed on my doorstep. This series is utterly delightful, smart, awesome and everything—EVERYTHING—I want in a gender swapped Sherlock. I am savoring every single word and page. (ARC)
Liberty Hardy
The Devotion of Suspect X by Keigo Higashino, translated by Alexander O. Smith: I will never not be excited to get book recommendations and discover books I haven't heard about before! This one I think I picked up after seeing it on someone's Instagram. (Rincey's, possibly?) Anyway, it's a kind-of murder mystery set in Japan. Kind of, in the sense that we know who did it and now it's up to an expert brought in by the police, Dr. Manabu Yukawa, to figure it out. I am already looking forward to the second book! (paperback)
Rebecca Hussey
The Recovering: Intoxication and Its Aftermath by Leslie Jamison: I'm about a quarter of the way into this book and am thoroughly absorbed. It's a personal history of the author's addiction and also a cultural and literary history of addiction. I love the way Jamison mixes discussions of public policy, social trends, and literary analysis with her own story. (library hardcover)
Jaime Herndon
Evolution by Eileen Myles (Grove Press, September 11): I've always loved Myles's writing, and when I got to take a class with them during my writing program, I was thrilled. As soon as I heard about this book, I knew I had to read it. They manage to transcend genre: they write poetry, fiction, and nonfiction—and sometimes blur the lines. To do this well requires talent, persistence, and ingenuity, and I appreciate that. I just started this book and it's blowing me away. Their writing is muscular and incisive, landing like a much-needed punch to the gut sometimes; other times, it's a rope to grab in times of need. This is poetry for the resistance, the r(evolution). (ARC)
SW Sondheimer
Heroine's Journey by Sarah Kuhn (DAW, July 3): The third installment of Kuhn's trilogy (which also includes Heroine Complex and Heroine Worship) is an absolutely blast. Aveda, Evie, & co continue grow and develop while remaining San Francisco's premiere superlady team, and it's a ton of fun to see all of the characters we've come to know and adore from Bea's perspective. Finally accompanying Bea on her own journey is an honor and a privilege; a hilarious, awkward, rocky, determined honor and privilege. And the best news of all is that, while Heroine's Journey marks the end of an arc and an era, there will be more stories set in the Heroine universe for us to enjoy. Long live the killer cupcakes and ceramic unicorns! (ARC)
Tracy Shapley
Less by Andrew Sean Greer: I hadn't gotten around to reading Less because I only had half a dozen reasons to do so. Like, every person at Book Riot I talked to LOVED this book, and it won the Pulitzer and I have read all the Pulitzers, and authors I love and whose taste I respect said it was amazing, etc., etc., but it wasn't until I found out that Greer is coming to read at Prairie Lights, my local indie bookstore, that I finally got off my ass and bought it. I'm glad I did because it is truly dazzling. I'm not one to laugh out loud at books but my cats have got to think I've lost my marbles what with all the snortling and giggling I've been doing at this gem. (hardcover)
Margaret Kingsbury
The Poet X by Elizabeth Acevedo: After seeing it listed in contributor Laura Sackton's list of 50 must-read audiobooks under 10 hours, I decided to give it a listen. Plus, I love poetry and YA. I've been reading a lot of books about race and feminism lately, and this ties in nicely to those themes. (library audiobook)
Sarah Nicolas
Monday's Not Coming by Tiffany D. Jackson: I don't think I really understood what I was getting into with this book, but I'd heard buzz and wanted to check it out. It's intense, but well worth it. TW for child abuse. (audiobook courtesy of publisher)
Erin McCoy
Torched by Donna Grant: I can always count on Donna Grant's dragon shifter romances to be exhilarating and entertaining. At only a few chapters in, Torched has already pulled me out of my annual June reading slump and back into the complex world of dragon shifters, fae, and warriors. If Grant can pull off Ulrik's redemption, which she's certainly capable of, he may just be the ultimate paranormal redeemed hero. (paperback)
Emily Wenstrom
Annihilation by Jeff VanderMeer: I frankly did not know much about VanderMeer until the teasers for this book's movie adaptation started pushing out. Shortly after, I found out he was the keynote speaker for Writers Digest Conference this August, and decided to take a closer look. With a blend of science fiction, surrealism, and classic horror (I keep thinking of Dracula), it's proving a dense but engrossing read.
Alison Doherty
The Way You Make Me Feel by Maurene Goo: I loved last summer's I Believe in a Thing Called Love and one of my best friends accidentally got two copies of this one, so I lucked out and didn't have to wait for it at the library. So far the romance and comedic elements of the story live up to what I loved about Maurene Goo's last book!
Aimee Miles
Drawn Together by Minh Le, illustrated by Dan Santat: I have technically already read this picture book in one sitting, but I know that I will be reading it again soon. The book tells the story of a boy and his grandfather who do not have a language in common, yet find a way to connect. Le's use of silence is striking and the story of family love despite barriers of age, culture, and language is touching and encouraging. Santat's incredible art mirrors the grandfather and grandson struggling to communicate, their images held in separate frames. But when they draw together, the art is limitless and intertwining. (hardcover)
Rachel Brittain
Tell Me Again How a Crush Should Feel by Sara Farizan: This one has been on my shelf for a while, but when I read Farizan's short story "Why I Learned To Cook" in Fresh Ink, I knew I was going to have to move it to the top of my TBR. It's such a heartfelt story about a teen girl figuring out her identity and falling in love—and especially appropriate for Pride Month. (paperback)
Alice Nuttall
Chasing the Stars by Malorie Blackman: Malorie Blackman is a hugely versatile author, but in this story she goes back to her sci-fi roots with a rewrite of Othello set in space. I loved Blackman's dual narrative approach in her groundbreaking series Noughts and Crosses, and she uses it again here to brilliant effect, putting us right inside the heads of both of her spacefaring protagonists.
Steph Auteri
The Real Lolita by Sarah Weinman (Ecco, September 11): True crime has been hot lately, and the fact that this one is woven in with bookish history made it doubly attractive to me. The hype has been high, so I finally had to see this one for myself. (egalley)
Elizabeth Allen
All Happy Families by Jeanne McCulloch (Harper Collins, August 14): Taking place in the span of a single wedding, McCulloch tells the story of her family dynamic in a way that is at once wistful and painful. As she prepares to walk down the aisle knowing her father is in a coma miles away, she addresses the interfamilial crimes and joys. (galley)
Christina M. Rau
Chemistry by Weike Wang: I randomly saw this book in a magazine last week and remembered I'd wanted to read it when it was first published last year. The plot of young chemists trying to figure out family and cultural tradition along with romance sounded like exactly what I needed to get myself into. Picked it up yesterday and would have finished it in one sitting had I started it earlier in the day. I can't wait to see where the unnamed narrator winds up. (not-heavy-at-all borrowed library hardcover)
Leah Rachel von Essen
Pachinko by Min Jin Lee (Grand Central Publishing): At BookExpo 2018, lucky me stumbled into the second spot of a signing for the paperback of what Roxane Gay called her favorite book of 2017. I've been wanting to dig into this intergenerational saga of a Korean family for a while, and it's finally time. (paperback)
Susie Dumond
A Place for Us by Fatima Farheen Mirza: I'm a sucker for sad, character-driven, family dramas, and this one is right up my alley. It explores the complicated dynamics within an Indian American Muslim family living in California, from each perspective, over decades of their lives. The non-linear storytelling builds an intricate web of relationships and emotional history. Just like real families, their story is messy and difficult and tugs at the heartstrings. (egalley)
Jess Plummer
Venice by Jan Morris: I spent a week in Venice in April and fell madly in love. Luckily, Libreria Studium near Saint Mark's Basilica had an ample selection of English-language books on Venice for me to fill my suitcase with! Morris is quite dated (this was originally published in 1963, and even this latest edition is 25 years old), but there are some lovely passages. (paperback)
Bob Batson
The Idiot by Elif Batuman (March 2017; Penguin Press): I put off reading this until the public frenzy over it died down, then I put it off until Book Twitter chilled out, then I put off until the paperback came out. All of those were mistakes, I should've bought it immediately. (paperback)
Kristen McDeavitt
The Shipping News by E. Annie Proulx: I picked it up as soon as I finished her collection of Wyoming short stories, Close Range, mostly because "Brokeback Mountain" had me crying on a flight to Disneyland. Although I've only just started, I can tell the story of a broken-hearted man returning home to an unforgiving Newfoundland will be just as wrenching and beautiful. (paperback)
Daisy Johnson
The Second Sex by Simone De Beauvoir: I've been meaning to brush up on my feminist theory, and when I saw a copy of this in the charity bookstore, I had to pick it up. It's early days so far, because there's so much in it, and I suspect it might take me a while to fully get to grips with it. (paperback)
Tasha Brandstatter
Hate to Want You by Alisha Rai: Recommended by my fellow Rioters and it was on sale this week! (ebook)
Eileen Gonzalez
DC Comics: Bombshells, Vol. 2: Allies by Marguerite Bennett and Laura Braga (DC Comics): I read the first volume a while ago and finally got around to buying the second one. Every time I see a character I recognize from the main DC Universe I squee a little. (paperback)
Beth O'Brien
Her Body and Other Parties by Carmen Maria Machado: I've been in a reading slump for the last few weeks, unable to dive into the books I've been wanting to. I've been reading poetry, and I thought perhaps another short form of writing would help me. So, I decided to pick up this short story collection. I've been meaning to read it for a while and now seemed like the perfect time. So far, so weird.
Elisa Shoenberger
The Feather Thief by Kirk W. Johnson: I heard about the book through Outside Magazine's Facebook book club page. It's an fascinating book about an unlikely thief: a young flutist who steals 200+ dead birds from a British Natural history museum. It's a window into a unknown world and a scientifically devastating crime. (hardcover)
Danielle Bourgon
No Time to Spare by Ursula K. Le Guin: I picked this book up off my nightstand while I wait for my next book club pick and other much-anticipated library holds to come in. I've been pleasantly surprised by the beautiful and efficient writing from this giant of an author who I confess I haven't enjoyed in the past. The essays are relatable, pleasant, and witty. (hardcover)
Tirzah Price
Amelia Westlake by Erin Gough (Poppy, 2019): This current read comes with a little story. I read Gough's first novel, published in the U.S. as Get It Together, Delilah, last year and I adored it. When I learned about Amelia Westlake, I was devastated to hear that it was only available in Australia. So I did what any reasonable book lover would—I tracked down a website that looked vaguely legitimate and was willing to ship it to the U.S.…for a fee. Five weeks later, I had the book in hand! Two days after that, I learned that North American rights had sold in the U.S.! No matter. After reading the first chapter, I knew Amelia Westlake was worth it. However, if you do not get your kicks from sending lots of money across the world on a gamble for a single book, look for Amelia Westlake Was Never Here, coming from Poppy in spring 2019! It's funny and smart and feminist and it's QUEER! (paperback)
Erika Harlitz-Kern
The Dreamblood Duology by N.K. Jemisin: This duology has been on my TBR since I first discovered N.K. Jemisin a couple of years back. Now I'm finally reading it. All the hallmarks of a Jemisin novel are here, but I am finding these two to be more difficult to get into than the previous books I've read by her. (paperback)
Anthony Karcz
Kitchen Confidential by Anthony Bourdain: I've been familiar with the chef-lebrity for years and have loved watching him chew the scenery (literally and figuratively) on his own show as well as on cooking reality shows like Top Chef. With his recent death, I realized that I'd denied myself some of his most potent, most entertaining, stories by not reading any of his novels. I started amending that immediately.
Tara Cheesman
Tell Them of Battles, Kings & Elephants by Mathias Enard (New Directions, November 2018): I requested an advance copy from the publisher after reading last year's Compass. Compass is a brick, and there were times when all the minutiae Enard includes about classical music was too much even for me (who, for the record, loved that book). Tell Them of Battles, Kings & Elephants is shorter by several hundred pages, and the story—about a trip to Constantinople that Michelangelo may or may not have taken in 1506 to design a bridge over the Golden Horn—is as captivating. I'll be recommending it to EVERYONE as a gateway into Enard's writing. (ARC)
Jessica Pryde
Counterpoint by Anna Zabo (Carina Press, September 2018): I devoured the first book in this series, Syncopation, over the weekend. I'd picked it up at the RT Convention and had been meaning to read it, but Sarah MacLean's rec on When In Romance sealed it. I had gotten a copy of Counterpoint just a few days before, and immediately started reading it when I was done with Syncopation. I don't usually go straight to the next one in a series, but I'm definitely not sorry. (eARC)
Annika Barranti Klein
Sadie by Courtney Summers (MacMillan, September 4): Courtney is a friend of mine, which is convenient because I can yell at her when each of her novels DESTROYS ME MORE THAN THE LAST. I am maybe a quarter of the way into Sadie and it is for sure going to destroy me in ways her previous books could only have dreamed of. CURSE YOU COURTNEY I LOVE YOU. (eARC)
Emily Polson
The Elegance of the Hedgehog by Muriel Barbery, translated by Alison Anderson: I recently got to meet the editor in chief of Europa Editions after a talk he gave about small independent presses. I had never before read a book from that publisher, but I found his presentation so compelling that I went to borrow one from my library immediately afterward. The Elegance of the Hedgehog is one of their bestselling books, so I figured it was a good place to start. They specialize in literature in translation, which I am trying to read more of, so this was perfect. (ebook)
Christine Hoxmeier
Calling My Name by Liara Tamani: I wish I could remember how I first learned about this book—maybe I was browsing my local bookstore and it was an employee pick? Regardless, I've been looking for more YA books that tackle faith, religion, and spirituality in teens (that aren't necessarily religious books themselves), and this book sounded like it fit the bill. I'm loving the lyrical prose and quiet nature of the book thus far, as it explores a girl, Taja, growing up in Houston, being raised in a church-going family. (hardcover)
Jessica AVERY
One for the Rogue by Manda Collins (St. Martin's Press, June 26): I loved the previous book in Collins's Studies in Scandal series, Wallflower Most Wanted, so when St. Martin's Press sent me the ARC for One for the Rogue I was over the moon. The heroine, Gemma, is a geologist (yay historical STEM heroines!) as is the hero, Cameron, and I just love watching two people with shared passions (for rocks and each other) not be able to resist falling in love! Plus it's not a proper fossil appreciation party if someone doesn't end up dead, so there's a little murder mystery thrown in there as well. (eARC)