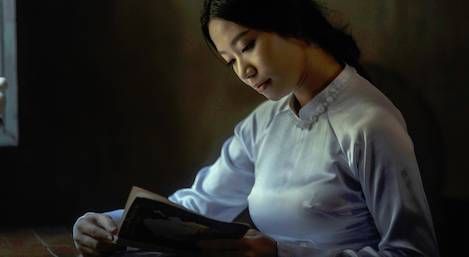 Lists
Peek Over Our Shoulders: What Rioters are Reading on January 4, 2018
This content contains affiliate links. When you buy through these links, we may earn an affiliate commission.
Happy 2018, Book Riot! It's your first peek into what we're reading for the year.
In this regular feature, we give you a glimpse of what we are reading this very moment.
Here is what the Rioters are reading today (as in literally today). This is what's on their bedside table (or the floor, work bag, desk, whatevskis). Gird your loins—this list will make your TBR list EXPLODE.
We've shown you ours, now show us yours; let us know what you're reading (right this very moment) in the comment section below!
Jamie Canaves
White Tears by Hari Kunzru: A ghost story, horror, and a murder mystery—I couldn't grab this book fast enough! And then I refused to know any more because I like to be surprised by books. So far it's excellently written, musical, and I'm fully invested. (ebook)
Liberty Hardy
Space Opera by Catherynne M. Valente (Saga Press, April 3): I would have picked this just for the cover alone, but also Valente is AMAZING, and the premise of this book is awesome-slash-funny, about an intergalactic talent contest. It's like a Eurovision competition for the whole universe! J'adore. (egalley)
Danielle Bourgon
The Royal We by Heather Cocks and Jessica Morgan: My husband and I have been on a bit of a royals kick after the royal engagement announcement. I picked up this book and expected it to be a fluffy rom-com style novel, which it is absolutely delivering on. However, I've also been floored by how great these authors are at drawing fully realized characters and handily describing things across timelines.
Patricia Thang
What Is Not Yours Is Not Yours by Helen Oyeyemi: I've never been a big reader of short stories, so in the past year or two I've deliberately tried picking up more short story collections to step outside my comfort zone, and this book is another part of that mission. Oyeyemi's collection is built around the theme of keys and plays with reality in imaginative and engaging ways. I've only read a couple stories so far, but am really enjoying Oyeyemi's world. (ebook)
Cecilia Lyra
A Little Life by Hanya Yanagihara: It happened during the December gift exchange held by The Girly Book Club: my friend, Katarina, was lucky enough to pick out this book from a table filled with other (some good, some not-so-good) titles. It was brought by a mutual friend of ours, Sarah, who has great taste in books (the GBC is a huge book club so this really was a coincidence). Sarah gushed about this book. Gushed. Four rounds later, my number was called and I had a choice to make. I could be a good friend and let Katrina have the book, trying my luck at the table OR I could be persuaded by Sarah's gushing and take it for myself. I went with the latter. (Sorry, Katrina!) AND I may or may threatened to take the first-born child of whoever stole it from me. Harsh, I know. But it was (mostly) a joke. And it worked! The book is mine and I am now reading—and loving—it!
Jessica Yang
Sabriel by Garth Nix: I've been trying to get more classic fantasy books under my belt. I've managed to start tackling Sabriel—finally! It's beautiful so far, but I think I'm going to retire from this endeavor after this. Classic doesn't mean required, right? (paperback)
Elisa Shoenberger
Shadowblack by Sebastien de Castell: "Sorcery is a scam." It's the second book in a series about young Kellen who is from famous city of mages but has lost his magic and has to figure out how to live. It's a fun YA story and quick read. (hardback)
S.W. Sondheimer
The City Stained Red (Bring Down Heaven Book #1) by Sam Sykes: I love fantasy but there are times the focus on convention rather than story gets to me. The lack therof is only one of many reasons I'm thoroughly enjoying The City Stained Red. Fast paced, lots of action, filled with intriguingly idiosyncratic and inconsistent (deliberately in a very good way) characters, this book is everything my 2017 abused brain needed and crazy fun besides. Also swearing and dragon people. (ebook)
Steph Auteri
Total Cat Mojo by Jackson Galaxy: It's amazing that I've kept this under wraps for so long, but I am totally Team Cat. A former writing student recommended this book to me, I put it on my wish list, and my in-laws bought it for me for Christmas. It's fascinating stuff for someone trying to keep three cats happy. (paperback)
Tasha Brandstatter
Truth or Beard by Penny Reid: Needed a little quirky romance in my life. (ebook)
Ashley Holstrom
Bored and Brilliant: How Spacing Out Can Unlock Your Most Productive & Creative Self by Manoush Zomorodi: New year, new me? Less time on my phone? We'll see. So far, this book is a fascinating look at how tethered we've all become to our technology. (hardcover)
Beth O'Brien
An American Marriage by Tayari Jones: I've heard some good buzz about this one, and so far, it's definitely delivering. A timely tale of family, loyalty, race, gender, and much more, I'm having lots of thoughts and feels.
Claire Handscombe
Anatomy of a Scandal by Sarah Vaughan: because there's nothing I like more than a good Westminster gossip and dirt on the British Establishment.
Laura Sackton
To the Lighthouse by Virginia Woolf: One of my reading goals for 2018 is to work through a few of the books I've been meaning to read for years, but haven't gotten around to—those challenge reads, ones that are not quick or easy, but take time and work to read. I just started To the Lighthouse, but the first page was gorgeous. (hardcover)
Patricia Elzie-Tuttle
How to Stop Feeling Like Sh*t: 14 Habits that Are Holding You Back from Happiness by Andrea Owen: I'm reading a lot of self-help right now for a project I'm working on (no, the project is not me). I often get asked for recommendations and I don't like to rec self-help that I haven't read myself. I found the title of this book captivating. I'm about halfway through and though I find it unnecessarily gendered, I think there's a lot of good advice in here for anyone. (ebook)
Aimee Miles
The Girl from Everywhere by Heidi Heilig: I have high hopes for this first book in the duology, which features the biracial daughter of a time traveling pirate. Heilig is delightful on Twitter and I hope to find her fiction equally delightful. (paperback)
Erin McCoy
Final Siege by Scarlett Cole: I thoroughly enjoyed the first book in Cole's Love Over Duty series, Under Fire, so it was a no-brainer for me to read this book as soon as humanly possible. In this second-chance romance, Mac and Delaney are reunited, in a less than optimal way, after over a decade apart. They have unresolved business to deal with before they can move onto an HEA, though, both in terms of their personal relationship and the death of Delaney's brother. I'm exceptionally close to finishing this book and, surprisingly, I have yet to skim past any action scenes (which is a regular occurrence with 99% of military romantic suspense books I read). Instead, I've been enjoying each aspect of Cole's carefully crafted plot and the sizzling chemistry between Mac and Delaney. (galley)
Margaret Kingsbury
Robots vs. Fairies edited by Dominik Parisien and Navah Wolfe (Saga Press, January 9th): I mean, the title kind of explains why I must read this. Who wouldn't want to read a collection of short stories about robots and fairies? We're definitely not on the same page if that doesn't interest you. Plus, I really like the previous collection these editors put together, The Starlit Wood. I've only just cracked it open (well, "selected" it since it's on my kindle), but I already know it's going to be a magical blast to read. (egalley)
Priya Sridhar
North of Happy by Adi Alsaid: When Carlos Portillo's brother Felix dies tasting the best tacos in Mexico City, Carlos decides to spend his summer learning to cook with his favorite celebrity chef. He takes off with nothing but a bag, credit cards that his father will cancel, and Felix's ghost following him. Lots of pain is in store, as well as questions about privilege and how much our dreams cost. (hardcover)
Tiffani Willis
The Trespasser by Tana French: During the winter, especially during the Christmas season I like to read mysteries, the darker the better. I didn't quite manage to fit this in before Christmas but it's still winter, making it the perfect time to read this sixth book in Tana French's Dublin Murder Squad series. (paperback)
Teresa Preston
Isadora by Amelia Gray: This book about dancer Isadora Duncan's grief at the death of her two children caught my eye when it turned up on the Tournament of Books longlist. (library hardcover)
Kate Krug
Little Heaven by Nick Cutter: I've been unsuccessfully trying to finish this book since October. I read a few pages every few days or so, waiting for the other to drop and it DROPPED. One of my first goals for 2k18 is to finally finish this damn thing—now that the all hell has broken loose in the remote, religious settlement of Little Heaven, I'm hooked again. (paperback)
Anthony Karcz
The Hate U Give by Angie Thomas: Because 2018 is going to be the year where I read something beyond the five thousand genre titles cluttering up my backlog. Because I'm in a literary rut. Because the engaging prose and gripping story absolutely dares me to put down the book.
Alice Burton
Revolutionary Backlash: Women and Politics in the Early American Republic by Rosemarie Zagarri: Oh boy, if you like women and also early American politics, buckle UP, my friend! Ok, so this is an academic book about the conservative backlash following the American Revolution, which basically means there was a sort of lull around women's rights from approximately 1800-1830 because everyone always wants things to feel normal, and a revolution is gonna upset that, so after everything went crazy, the feeling was "let's have ladies anchored in the home, please and thank you." It's a little dry, but hearing about women nominated for office in 1822 is pretty amazing. (paperback)
Nikki DeMarco
The Book of Separation by Tova Mirvis: This memoir about a woman divorcing her husband and her Orthodox Jewish faith was recommended to me by a friend and even though I'm only a few chapters in has struck so many truth chords with my own strict religious upbringing. Her writing is provoking. I can see myself getting further wrecked by this book.
Abby Hargreaves
99 Days by Katie Cotugno: After the dumpster fire that was 2017 (and a major push to finish my final book for the 2017 Read Harder Challenge—why did I leave Love in the Time of Cholera to the end, again?), I wanted to start 2018 off with something a bit lighthearted. If book covers were music genres, 99 Days would no doubt be pop, setting the scene for something with plenty of bubbly heartbreak. I'm excited to get into a little teen romance drama and leave my worries behind for a few days. (hardcover)
Jaime Herndon
A Girl's Guide to Joining the Resistance: a Feminist Handbook on Fighting for Good by Emma Gray: 2017 bought a lot of things, and one was the #Resistance. That gave me hope, and something tangible to do when 45 took office and started enacting his delusions of grandeur. This book is fun to read, chock-full of practical advice and grassroots ideas, and has lots of interviews with well-known activists. (ARC).
Rachel Brittain
Cobalt Squadron by Elizabeth Wein: I was in need of some more Star Wars after watching The Last Jedi, and when I found out this book about Rose and Paige Tico was written by Elizabeth Wein (who also wrote Code Name Verity, a book I adored) I was sold. (library ebook)
Ashlie Swicker
Esperanza Rising by Pam Muñoz Ryan: I'm an elementary librarian, and once a day we have a block of time where everyone in the library participates in independent reading for pleasure. I have no problem taking out whatever YA or adult title I'm currently working through, but today I found myself at reading time with nothing going. Esperanza Rising was on the shelf, I'd been meaning to read it for a long time, and just like that, I'd found my first book of 2018! (library paperback)
Emily Polson
The Grapes of Wrath by John Steinbeck: I wanted my first book of 2018 to be something significant, and this one has been on my TBR ever since I finished East of Eden six years ago. EoE gave me a huge book hangover, and I still think about it often, so I've got high hopes for TGoW (though I can't believe I waited this long!).
jessica pryde
Tailor-Made by Yolanda Wallace: Why not ring in the year with a beautiful wlw romance by and featuring a woman of color? The cover alone drew me in, and the story of a tailor and the gender fluid menswear model who comes to her for a bespoke suit is definitely keeping me hooked. I'm almost done, but I don't want to be! (ebook)
***
What are you reading today?