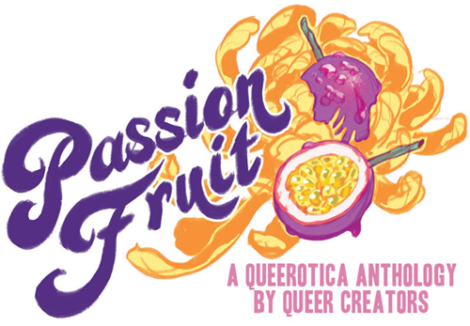 Awesome project alert!
Passion Fruit is a "queerotica anthology by queer creators." It's also a comics anthology. Their last update in mid-May announced their full list of contributors, along with links to their Twitter or Tumblr accounts, so you can get a peek at some of their art styles.
Here is a mission statement from their About section:
Passion Fruit is a culmination of my frustration with the comics industry and media in general. The representation of how we exist is baffling to them, but to us it's quite simple. More than ever we can truly say that our love is love, but it is so much more. From the touch of a partner's lips, to the way we dominate or submit. For some the added company of a third, or a fourth (if you've been good) can really complete our relationships and more. Come enjoy a taste of what our love has to offer.
– Taneka Stotts (Editor)
Some great things I've noticed so far: the artists and contributors retain the rights to their work after a calendar year, the creators are queer and add a layer of #ownvoices to the anthology, contributors are paid for their work, and the work is brand spankin' new and original! That means, we'll be getting never-before-seen queer comics.
During their call for contributors, they received over 200 submissions, which gives me hope there will be a second anthology in the future.
There is also a theme for this anthology:
Our first theme will set the tone for the book, but will not limit your imagination, as we chose to look at what's BENEATH the surface. Be it what's under our clothes, down in a dugout, or looking up from the embrace of your lovers. What sexy stories are hidden BENEATH your mattress?
This queertessential addition to the Beyond Press comics lineup is hoping to Kickstart in the Fall/Winter of 2017!
During the submission process, the editors also made it clear they won't be publishing any comics with dubious consent or harmful language (bigotry, racism, homophobia, etc.) even if it's just used to establish a villain.
So far, we're a few months out from any Kickstarter campaign. In the meantime, I highly suggest signing up for their mailing list to keep up to date.
Lately, I'm been turning to self-published or Kickstarted comics and video games to find things that align with my reading/playing tastes. I'm very excited to support Passion Fruit once they launch a Kickstarter.