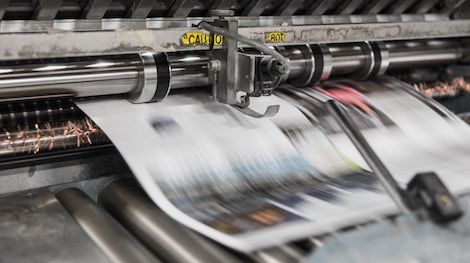 Interviews
Paper For Books Is Getting Harder To Come By: Why The Backbone of Publishing May Make Book Prices Rise
With gift-giving season approaching, booksellers are gearing up for seeing more traffic through their doors and at the registers. But this year, more than any year in recent memory, booksellers are increasingly worried about whether there will be enough copies of the biggest titles. Some of the hottest picture books of the season, including We Don't Eat Our Classmates by Ryan T. Higgins, were missing from shelves in the otherwise rigorously stocked indie Mclean & Eakin Booksellers in Petoskey, Michigan. Inquiries were made about special ordering the title and the expected fulfillment date was a ways off—January. But the delay isn't solely due to immense popularity, bookseller Sara Grochowski explained.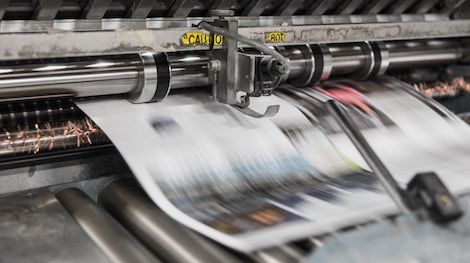 One of the aspects of the book world we don't think enough about is the very thing that serves as the backbone to publishing: paper. Ebooks have certainly caused a shift in reading habits, but they haven't eliminated the need for print books to be printed on paper. Increasingly, though, sourcing paper for the production of books has proven challenging.
"There's basically four different types of paper that are out in the world right now, and it's freesheet, coated groundwood, uncoated freesheet, and uncoated groundwood. Most trade fiction and nonfiction, books you'd find on the New York Times list or in a store, straightforward text are printed on, those are all on an uncoated groundwood. Almost all of that paper, right now, is coming from the U.S. and Canada, mainly Canada. Most printers are always stocking up on that," says Doug Wolff, Director of Production at Workman.
The uncoated groundwood sourced in Canada raised fears in the publishing world earlier this year. New tariffs on imports made many nervous costs would rise, both on the production end and on the consumer end. This was resolved, however, later in the summer in a policy turnaround from the U.S. International Trade Commission in which paper was disincluded from the sweeping tariffs.
Not all books are published in the U.S. Whether a book is published domestically or abroad is determined by things like the type of paper or printing process the book might demand, lead time in its publication, and costs. Traditional fiction and nonfiction—the kind you'd find in bookstores or on bestseller lists—which are primary text-based are frequently published domestically. Books which require more of a special type of paper or printing process, or require more than two color production are most frequently sent abroad, where the printing presses operate a bit differently and the quality of the product is better. While costs for overseas printing might be lower, the time it takes for the book to make it to U.S. warehouses is another consideration for publishers: ship time can be an added 4–5 weeks on top of printing time. Paper costs comprise the largest expense in the making of the physical book, and that, combined with shipping time and specificities of design, add up to some tricky math for publishers.
Further complicating the matter is the shrinking of the domestic printing landscape.
"Right now, paper is a major problem domestically, for no other reason other than paper mills have been shutting down, paper mills have been consolidating, there's not as much book paper being made, so for me today to say I want to do a book and I want to print it in two weeks, that could be impossible, just because I might not be able to get paper that quickly. We're getting things where they're saying it's five to six to seven weeks to get paper, which has never been the case in all the years I've done production. We might have to choose a different type of paper," says Wolff. "We're seeing this a lot with our reprints, where a book was printed on one stock and the reprint, the only way we can get it somewhat quickly, we have to move it to a different stock and then the next printing, we might have to go to a totally different stock again because of paper availability. That's happening more domestically."
Stacy Whitman, founder and publisher of Tu Books, notes that printers have also deprioritized paper for book printing. "[T]here's been a perfect storm of global events/trends to change how the paper manufacturers prioritize what papers they make/what orders they'll fill. We and pretty much every publisher printing domestically ran into it this year."
Via Twitter, Whitman highlighted the fact that the paper side of the book world is one we don't talk about enough, and she linked to three articles that break the information down (you can read those pieces here, here, and here).
"I hadn't realized it, but the backlash against plastic noted in the article is an interesting domino to have fallen in this situation: the backlash against plastic in packaging materials, fast food packaging, other shipping/packaging—means that paper manufacturers found they could suddenly make more money on cheaper paper products than fine book paper. They deprioritized the publishing industry. Add to that other global factors affecting the production of paper, and the dominoes fall to eventually mean that publishers trying to print books and magazines are running into supply delays and printing delays as a result, and higher paper prices on top of everything," she said.
That anxiety over paper availability is trickling down to indie booksellers. Grochowksi reports that sales reps from smaller publishing houses advised her to stock up early on titles she was excited about, as they'd be unable to reprint anything before the end of the holiday season. This news isn't entirely surprising—booksellers have been noticing delays as far back as March, when the reprint of Pat Zietlow Miller's Be Kind was delayed without an in-stock date for weeks. "It's all been very word of mouth and said kind of hushed during sales calls," Grochowksi reports, but shared that Simon & Schuster struggled to print enough copies of Fear by Bob Woodward.
It's not likely that books will become more challenging to find at the bookstore this season, but it's also not entirely out of the question that books going for reprint or that become popular unexpectedly could be on backorder for a period of time. This may cause consumers to turn to other sources, such as Amazon (if the book is still in stock), instead of shopping locally. Tariffs aren't the reason though; it's paper.
Wolff notes, "The problem right now is lead times to get the paper and the allocation of the paper because of the mills. So right now, if anything is going to hold up a book [a traditional nonfiction or fiction title] going back to print, it's that the paper is a little harder to get. On top of that, over the last five years, the printers in America have been slowly consolidating. So not only is paper hard to get, but because there are so few printers now more than there have been before, the capacity is completely full and has been full since August. We're being told if you place an order today, the earliest we can get you books is a month and a half from now. And part of it is because of capacity, because it's a big season, because of crashed political books going back to reprinting, everything is basically full. There is some truth to a book not being able to get enough books out there but it's not really tariffs."
Title reprints complicate matters as well. Publishers often go beyond the standard cost analysis to look too at things like speed, printer availability, and whether or not shipping time will impact potential sales. Wolff calls it the tricky math of what the back end of the book production process does. Questions considered include how quick the reprint can be done domestically, if it can be done domestically in a time frame that would put it on shelves quicker than printing overseas, and, ultimately, what's the cost to do it one way or the other in relation to the profit on the title.
"Something like Atlas Obscura, the majority of those are printed overseas. By the time I order a reprint, it can take three months to get to warehouse. So for holiday sales, in most cases, we're ordering for the holidays in July knowing it's going to get us books in October to get full distribution by the holidays, so if we get that number wrong and don't discover that till October, we're in trouble. It's almost impossible to get books. Which is why we did a printing of Atlas Obscura domestically one year, because we couldn't get books fast enough," he says. He also notes that on the domestic side of printing, the challenge of paper stock and printer availability has been growing over the last few years, with 2018 being the most challenging to date.
Reprint decisions often happen early enough in a book's life that publishers aren't caught by surprise. But sometimes, they are.
Demand for the 2009 picture book The Wonky Donkey by Craig Smith surged when a video of Scottish grandmother reading aloud to her grandson went viral in September. Grochowski noted that the book's publisher, Scholastic, seemed to be able to keep up with demands fairly well…but also noticed that some graphic novels from Scholastic's Graphix imprint experienced delays. Making Friends by Kristen Gudsnuk, a July 2018 release, was delayed until early December as of this writing, and Jarrett Krosoczka's Hey Kiddo, a National Book Award finalist, experienced intermittent delays this fall, although Grochowski was quick to point out that Hey Kiddo's delay probably wasn't wholly due to the popularity of The Wonky Donkey. "The NBA longlisting and then the shortlisting made the sell-through happen more quickly than expected," she acknowledged. "And now it's harder to get printer access to get ahead of the demand."
Wolff notes that if something goes viral or there's a surprise uptick in sales, books may end up backordered while publishers seek out a printer and navigate the decisions of whether it can be printed domestically (taking into consideration cost, paper sourcing, and printer availability) or whether it is better served overseas (considering cost and shipping time).
Tariffs aren't out of the question in the new year, though. With the threats of a potential trade war with China from the Trump administration, it's possible that books could fall under the category of products from China seeing higher prices. "Books aren't currently on the list of tariffed items, but if the tariffs include books, every book being produced in China—which are a lot and generally the more expensive ones—could all have a tariff imposed, and those tariffs are pretty high. There's a threat they could go up to 25%. While books aren't currently included in China tariffs, things like planners, diaries, engagement diaries are. They are on the list that should be getting tariffs at 10%. Calendars are not on there…yet! But there have been threats. This, more than anything, could cause a giant scramble come the new year if that changes at all. Publishers would struggle about where to print, whether domestically or into other Asian markets outside China," says Wolff.
Preordering books can make an impact, though. Preorders do indicate to publishers there may be a strong interest in a title that they didn't anticipate, encouraging a reprint of the title from the get-go or vice versa—a title they anticipated being a big title might need more publicity behind it in order to meet their projections. If you're eager for a book, preordering encourages a publisher to act on that interest.
So what about your bottom line?
"You might notice that the prices of your books might be going up in the next year, and it all comes down to one thing: paper for books is getting harder to come by," says Whitman.
"Might" is the key word here, as so many variables are unknown. Chances are you may not notice a significant difference in the cost of your books this season or next year, even if the cost of paper and production of a title nudges the list price up a dollar or two. But that might not remain the case if paper supply continues to be a challenge.
Wolff says, "We are looking at retail prices much harder than we ever have before because as paper costs rise, suddenly something that's always been $14.95—we're looking and realizing we're not making the profit we should be and considering whether we should make it $15.95. As we're going back and reprinting, we're looking at retail costs because paper and material increases are really impacting the cost we're paying out and at some point, you need to increase retail prices."
As it stands now, finding the big, buzzy books at your local bookstore shouldn't be challenging and the titles you wish to gift should be readily available. In the instances this isn't the case, it's likely due to paper and not tariffs. The average reader, in other words, shouldn't expect to notice anything different.
This piece was reported by Kelly Jensen and Tirzah Price.
Editor's note: an earlier version of this report mistakenly named Aaron Reynolds as the author of We Don't Eat Our Classmates. The report has been updated to credit Ryan T. Higgins as the author.