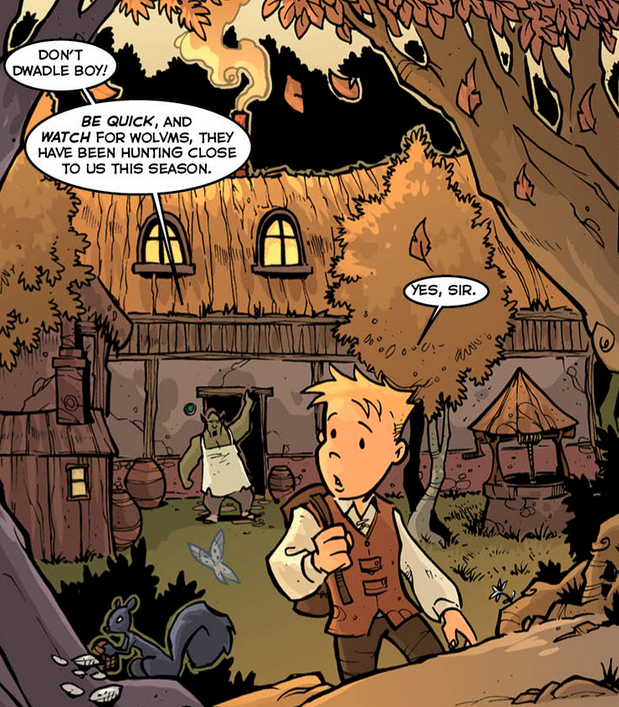 Welcome to another weekly dose of Panels Indie Scene, our look at independent comics. Each week is a look at one or two comics that are outside the mainstream comics press, so no DC, Marvel, Image and so on. These are the small press, or creator owned or web comics. Independent comics are often the most vibrant and cutting edge comics available and Panels Indie Scene is here to point you at the best of them.
This week we're looking at two comics that are considered all ages comics, both of them are free web comics and are excellent. First up:
The Bean is intended to be a slowly unfurling story in a high fantasy style, much like The Hobbit. It's by Travis Hanson who is Eisner nominated. The Bean is indeed slow but the world itself is lush, even the little animals in the underbrush are worth studying. Reading this reminded me of the epic Bone, it has that same feel to it – and that is no bad thing.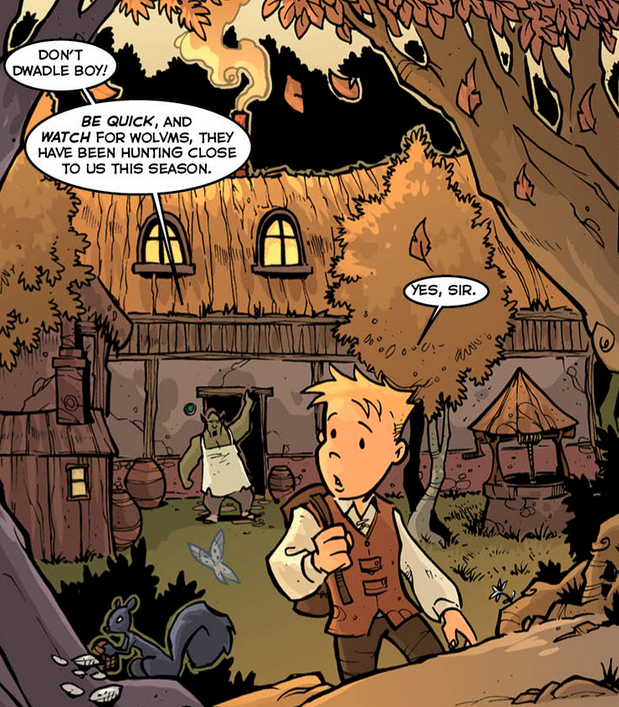 The Bean is a story is about a boy who has been sold to Gort, a troll who is making him work as menial labor in a bar. Bean, however, wants to know about the father that sold him and the wider world keeps tempting him out. One day he's sent out to pick mushrooms but he's knocked unconscious and kidnapped by a mysterious rhyming troll in order for Bean to recover a magic sword for his captor.
It's traditionally epic in its plot and in its proposed scope, Travis has said that The Bean is intended to be a huge nine volumes long. Right now the webcomic is on on 651 with two volumes of The Bean for sale in paper form. It could well be worth thinking about buying those volumes as the art is bold and cartoon-like, it's cluttered but guides you along well. The comic started as black and white and is slowly getting converted to colour and the colouring is great, adding background details and making the art more impactful.
If you like fantasy and you want to get into a long form comic then The Bean may just be perfect for you.
Vol Read: 180
Age Rating: 8+
Updates: Monday
Where: https://www.beanleafpress.com/?tag=comic
By: Travis Hanson
Next up:
Next up is something for people that enjoy Pocket Monster style stories, the whole linked monster and fighter genre – Monster Pulse, written and drawn by Magnolia Porter. Creatures called ghosts have been created by a creepy organisation called Shell. These ghosts grant humans special powers, only it doesn't always work quite right and they're experimenting to control and perfect the process. The twist here is that ghosts take physical form by linking with humans using one of their body parts.
For Julie it's her hair, for Abel it's one of his eyes, for West it's his stomach and for the main protagonist Bina it's her heart. Of course the main drawback with having a vital body organ like your heart manifest into a creature that fights is if you lose the fight and your heart dies – you die too. In Monster Pulse the stakes are high.
The webcomic starts off in black and white and progresses to full colour; the artwork itself grows cleaner and cuter over time. It's like someone crossed Lumberjanes with Laird's TMNT. Monster Pulse starts off simple and grows in complexity as time goes by, the kids experimented on go from being alone to forming a group to fighting back and protecting people. It's a fun story that's easily suitable for 10 plus year olds.
Like Lumberjanes Monster Pulse is diverse and has characters of colour, the monsters have great designs and their powers are interesting. It's easy to read too, the panel transitions work and unlike The Bean where I was fighting the website, this comic is easy to navigate and responsive. I really like Monster Pulse, I'm still reading through it right now!
Vol Read: Pg 29 Ch 4
Age Rating: 10+
Updates: Monday
Where: https://www.monster-pulse.com/
By: Magnolia Porter