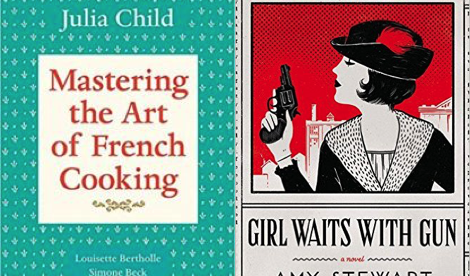 This content contains affiliate links. When you buy through these links, we may earn an affiliate commission.
There is no shortage of cookbooks to go with your favorite fictional stories. From sweet classics like The Boxcar Children Cookbook and The Pooh Cookbook to Jane Austen cookbooks to Roald Dahl's Revolting Recipes, you can cook along with your favorite characters and be transported into the tastes of their stories.
But what if you're looking for straight up fiction to pair with your straight up cookbook? Whether you're reserving the heads of your carrots for chimichurri, frosting a cake, heaving a whole chicken into the cast-iron, or painstakingly getting to work on boeuf bourguignon, I've got some fiction pairings to go with your cookbook of choice. While the food cooks, tuck into a good book and a glass of wine.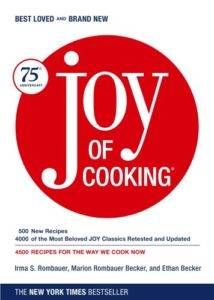 The Cookbook: The Joy of Cooking by Irma Rombauer: Irma Rombauer's definitive guide to cooking all the things was first published in 1931. Her cookbook has gone on to have a storied life of its own, often occupying space on our cookbook shelves as one of the cornerstones of cookbookery. The book has gone through many editions, edited and carried on by Rombauer's family, truly a family legacy.
Fiction Pairing: Harriet Wolf's Seventh Book of Wonders by Julianna Baggott.
Flavor: Family legacies, a book with a life of its own, a larger than life matriarch.
Pairing Notes: This is the story of the four Wolf women: Harriet, renowned author, the matriarch, dead for years; her daughter, overprotective and controlling Eleanor; and her granddaughters. Harriet died without telling anyone the truth about where she came from, who she loved, and how it all turned out, but now, as Eleanor stays in the hospital and the granddaughters are left to fend for themselves, all the secrets are coming to light, and the three remaining Wolf women must decide how to pick up the pieces.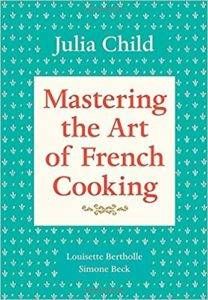 The Cookbook: Mastering the Art of French Cooking by Julia Child, Louisette Bertholle, and Simone Beck: This iconic cookbook hardly needs introduction, but when Julia Child went to France, she determined to find something she could do and be passionate about. And together with Bertholle and Beck, she did just that. The book is a testament to her grit, her gumption, and her kinship with her co-authors.
The Fiction Pairing: Girl Waits with Gun by Amy Stewart.
Flavor: Grit, a badass (tall) heroine at the helm, determination.
Pairing Notes: Constance Kopp doesn't quite fit the mold of her time. She's big, towering over most men, and she and her two sisters have been in hiding due to a big family secret. But an altercation with a powerful silk factory owner begins a war against his goons, and Constance must come out of hiding, and confront her past, to protect her family.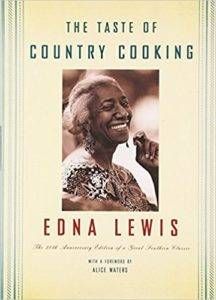 The Cookbook: The Taste of Country Cooking by Edna Lewis: Lewis's cookbook is a tribute to her family and her community, the residents of Freetown, Virginia, a town settled by freed slaves. The recipes she shares come with stories of holidays, seasonal treats, farming practices, and family traditions. The book is transporting, taking us back to Lewis's childhood.
Fiction Pairing: The Mothers by Brit Bennett.
Flavor Notes: Sense of community, a young woman's story, memory.
Pairing Notes: Nadia is mourning her mother's recent suicide and takes up with the pastor's son, Luke. It's not serious, but Nadia gets pregnant. They cover it up, hiding it even from Nadia's best friend, but as the years go by, everything comes back to that one summer and the choices they made. We can grow up, but we are deeply connected to the paths we chose and the communities we grew up in.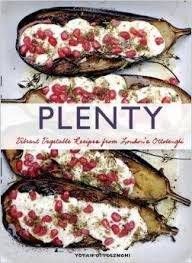 The Cookbook: Plenty by Yotam Ottolenghi: Ottolenghi's cookbooks celebrate and highlight vegetables in all their natural glory. His recipes aren't necessarily quick or easy; instead, they give vegetables the same loving attention that other chefs might show a cut of beef or a deep stew. If you want to get excited about vegetables, Ottolenghi is your guy.
Fiction Pairing: Gold Fame Citrus by Claire Vaye Watkins.
Flavor: Water, life, struggle, cultivation.
Pairing Notes: Unrelenting drought has transformed California: the Central Valley is barren, the Sierra snowpack is gone, and most "Mojavs" have been relocated to internment camps, prevented from fleeing the state to find relief elsewhere. Two Mojavs, Luz and Ray, squat in a starlet's former mansion, growing their love and foraging for whatever food they can find. But when they find a mysterious child, things change, and they attempt to head east, facing great danger and the hot, hot sun.
The Cookbook: Momofuku by David Chang. Did you know that momofuku means "lucky peach"? Discussions of luck may feel apt when talking about opening a restaurant, but what's behind the success of David Chang's restaurant group isn't luck – it's hard work, obsession, opportunity, and passion. The Momofuku cookbook has recipes, yes, but it's also the really cool story of how an idea became a restaurant.
Fiction Pairing: Startup by Doree Shafrir.
Flavor: Luck, determination, taking chances.
Pairing Notes: Startup is the story of Mack, the developer of a popular mindfulness app that is releasing its new and improved version, and promises to take him to billionaire status (lucky peach indeed!). But scandal breaks, gossip goes viral, and the whole story must be revealed, whether Mack likes it or not.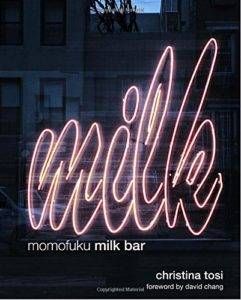 The Cookbook: Momofuku Milk Bar by Christina Tosi: Christina Tosi didn't start out as a pastry chef at Momofuku, but when she brought desserts in for the staff day after day, she eventually got recruited, and her desserts are inventive and fun and a little bit bonkers (see: cereal milk).
Fiction Pairing: The Regional Office Is Under Attack! by Manuel Gonzales
Flavor: Badass ladies, epic quest, grit, loyalty.
Pairing Notes: If badass lady chefs who make bonkers desserts and train for marathons and establish records systems required by Department of Health and do all manner of jobs is your bag, then the female assassins of The Regional Office Is Under Attack! will be right up your alley. When assassins attack "the regional office," Sarah, who seems normal but has a robot arm, is left to defend the "business." The present action is one crazy day, but this story spans years – past, present, future – and is a tour de force that feels like a comic book, a marathon, and earns that exclamation point in the title.