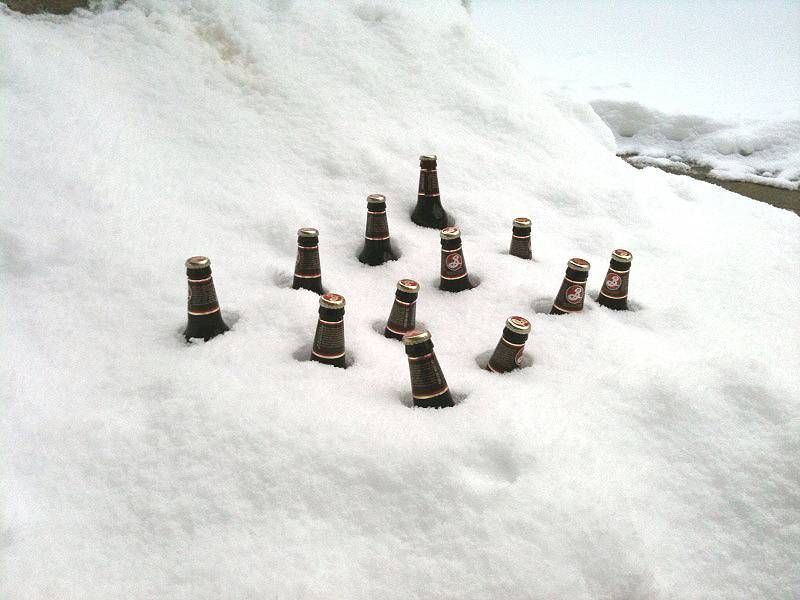 Featured
Pairing Books and Beer for Snow Day Success
This is a guest post by Rachel Smalter Hall. Rachel grew up in Cedar Rapids, Iowa, in a family of seven that donned bathrobes and towels for their yearly theatrical Christmas Pageant. Since then she's lived in Minnesota, Vermont, Rome, and now Lawrence, Kansas, where she writes web content at a nearby library and wrangles a beer-drinking co-ed book club. After the first beer she's usually ready to spill her guts about third-wave feminism, dirty old men, and the semiotic domain of rapper shout-outs and disses. Follow her on Twitter @bananasuit.
Half of the country is trapped under a foot of snow right now (including me), and we all made the same two emergency stops on our way home from work yesterday: 1) the library, and 2) the liquor store. It was easy to pick Boulevard Pale Ale as my brew of choice for the impending snow day. The more difficult choice was what stack of books to be snowed in with.
I work in a library, so at least I was off to a head start. Time to poll my colleagues! Courtney in the cube next to me picked some awesomely trashy romance à la Lisa Marie Rice and Tessa Dare. My Twitter buddy Geoffrey swore by his stack of Agatha Christie mysteries. Someone else suggested sticking to strictly local authors — because local writers make better snow day bedfellows?
I think my perfect snow day read has two key ingredients:
It should be leisurely:
For me, snow days are not the time to continue plowing through that copy of Absalom! Absalom! I promised my book club I would read for "Choose Your Own Faulkner February" (yes, this is a real thing). My perfect snow day is for lounging in my jammies with a pale ale, listening to some Debbie Harry, purling a couple rows on my cabled knee-highs, and drifting in and out of a light-hearted read here and there. Maybe two. No Faulkner or Melville for me on snow days, no sir.
It should be able to transport me to another world:
Speculative, historical, mysterious, erotic, you pick your poison. Westerns? Great. Amish Fiction? Even better! Whatever tickles your particular fancy, I think the best snow day reads take advantage of the dreamy feeling you get from having the world around you covered in a cozy blanket of snow, providing a blank canvas for your imagination to fill in however you please. Wrap me up in a snuggie of humor and satire with a dash of romance, please.
At the end of the day, my snow day haul from the library included Jenny Lawson's Let's Pretend This Never Happened (taxidermy! hilarity!), George Saunders' Tenth of December (uncomfortable satire! young misfits!) and Jane Austen's Pride and Prejudice (romance! sparring old-timey lovers!). If all those fail, my fallback plan is always The Joy of Cooking, which both Sylvia Plath and I agree makes for great bedtime reading. Especially if you have the 1962 edition that explains why gray squirrels are superior to the smaller gamey red ones.
What are your perfect snow day books and brews?