This content contains affiliate links. When you buy through these links, we may earn an affiliate commission.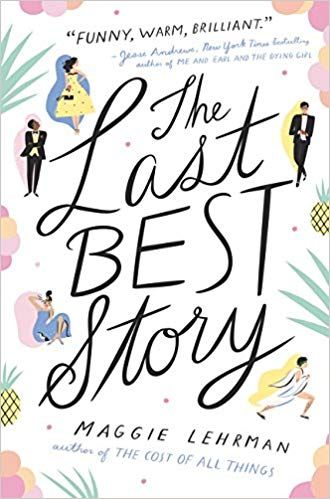 Maggie Lehrman is a writer and editor living in Brooklyn, New York. She grew up outside of Chicago and went on to get a degree in English at Harvard. During her decade-plus of working as an editor of books for children, she also earned an MFA in Writing for Children and Young Adults from Vermont College of Fine Arts. She is the author of The Cost of All Things and The Last Best Story. Follow her on Twitter @maggielehrman.
---
Whipsmart romantic dialogue. Zany situations. Headstrong characters making questionable decisions. All hallmarks of the classic screwball comedies of the 1930s and '40s—and very apt descriptions of some of my favorite YA books.
My new book, The Last Best Story, is loosely based on one of the best screwball comedies (and, in my opinion, movies) of all time, His Girl Friday (1940). I took the reporter and her editor and moved them into a modern high school, with a modern high school's danger and drama. In the process of writing this book I watched dozens of screwball comedies to get a sense of the pacing and romantic tension. And I started thinking about what YA's answer to some of these films would be.
I love the screwball genre, but these are movies that are extremely white, that were all made by men, and they abided by the strict Hays Code of self-censorship—so nothing too sexy, and an overabundance of couples who used to be married and were reconciling. So I challenged myself to pair some of my favorite screwball comedies with recent YA novels and see what connections were out there.
Sometimes these books and movies fit together because of plot, sometimes character, and sometimes the books might expand a little the world that the movies only dip a toe into. The books (other than my own) are not directly inspired by screwball comedies—as far as I know! But if you like one, odds are you will find something to like in the other.
It Happened One Night (1934) and Kissing in America by Margo Rabb
In It Happened One Night (the only pre–Hays Code movie on this list), reporter Clark Gable follows runaway socialite Claudette Colbert in the hopes of scoring a big story, and ends up traveling across the country with her and falling in love. Kissing in America by Margo Rabb also features a life-changing road trip—though Eva is traveling toward the person she thinks she's in love with, not traveling with him. At the end of each of these journeys, the characters have changed what they thought they wanted—and exchanged it for something better.
The Lady Eve (1941) and White Cat by Holly Black
Barbara Stanwyck plays an irrepressible con woman in The Lady Eve, which makes this one a perfect pairing with Holly Black's Curse Worker series. Cassel's family are professional con artists and criminals—only with the added benefit of magic ability. One of the big questions that the The Lady Eve asks (when it's not being delightfully silly) is if a thief and liar can truly find happiness. That's something Cassel wrestles with throughout Black's series.
The actual plot of My Man Godfrey—a "lost man" (William Powell) becomes a butler to an eccentric family, and then is revealed to be a millionaire in disguise—doesn't have much to do with the wonderful The Education of Margot Sanchez. But it's a great pairing because of the loving and larger-than-life family dynamics in both the movie and book, and the idea of taking work that feels "beneath" the characters (even when that's a problematic idea—and it's presented as problematic in both).
The plot of Libeled Lady is amazing. An heiress (Myrna Loy) is going to sue for libel over a newspaper calling her a homewrecker, and so the newspaper sends a reporter (William Powell again!) to seduce her and make the accusation true—which also requires him getting married at the courthouse to his editor's long-suffering girlfriend. Confessions of the Sullivan Sisters has an ingenious plot, too. There are no scheming newspapermen, but there are potential heiresses, and each of the sisters—in separate sections that go through the same time period over again—must confess to their "crimes" that caused their grandma to disinherit them.
The Philadelphia Story (1940) and Odd One Out by Nic Stone
The Philadelphia Story features one of the most famous love triangles of all time, as Katherine Hepburn must choose between Cary Grant and Jimmy Stewart over the course of one long night. For this pairing I've picked a book that isn't out yet and that I haven't read—but I am dying to get my hands on Nic Stone's latest. It's a queer love triangle with a diverse cast, which is the perfect 2018 answer to 1940 Hollywood.
The Miracle of Morgan's Creek (1943) and The Truth About Alice by Jennifer Mattheiu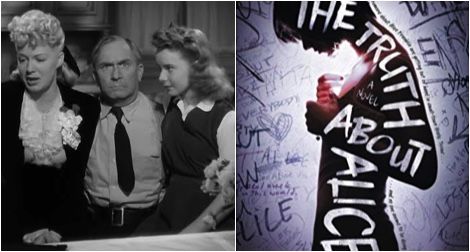 The Miracle of Morgan's Creek manages to spin a charming romp out of a risqué set-up: Betty Hutton has a wild night that leads to her waking up pregnant with no idea who the father is. What's amazing about watching Morgan Creek now is that it manages to avoid the slut-shaming that seems like it should be inherent in its premise. The Truth About Alice starts from a similar place and shows how toxic and dark that idea can be. The gossip swirling around Alice's party night is revealed in several perspectives, none quite getting at the truth. The contrast is what makes this movie/book pairing sing.