This content contains affiliate links. When you buy through these links, we may earn an affiliate commission.
I always love stumbling upon recipes in books. It's so rare that you can pull such a specific detail out of a story and make it real, but when you find a recipe, you can. And then you can eat it. I thought it would be fun to make recipes as I find them in books and share them with you here. First off, here's Bee and Puppycat and Bee's Perfect Sandwich.
The Book: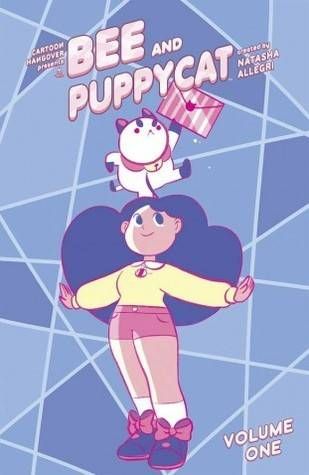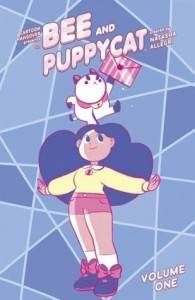 Bee and Puppycat is a comic based on a web-series created by Natasha Allegri, but you certainly don't have to watch the web-series to read the comic. (But do anyway.) It is the ideal 20-something fantasy comic: a woman jumps aimlessly from job to job, she can't express her true feelings to her best friend, and most of her spare time is spent trying to figure out how to feed herself. She's happy but frustrated. And hungry. She's saved, sort of, by a sassy little half-dog, half-cat who sets her up with a magical temp agency in the sky. She still can't wake up on time. I get you, Bee. I get you on a deep level.
The art is happy and bright, and Bee dresses in pastels and floofy dresses, but her attitude (and Puppycat's) keep the book from being too saccharine. The storylines usually start out pretty mundane (Bee and Puppycat don't want to clean up) and head towards fantastic and absurd (Bee and Puppycat get a temp job cleaning up after some alien bakers). It's the perfect comic to read when you're heavy-hearted or when you need to take a break from your own reality.
The Recipe:
Bee spends, oh, maybe a quarter of the trade thinking about or talking about food, so it makes sense that one of the last comics is Bee's Perfect Sandwich Recipe. It has just about everything you'd want in a sandwich: fried eggs, goat cheese, smoked salmon, avocado, and baby spinach. Like Bee, it is just a little over the top. Now, if you are actually an out-of-work girl who wears a lot of sweaters and is supported mostly by job opportunities found by your magic puppycat, or if your cat does not yet contribute to the household bank accounts, this sandwich might be prohibitively pricey. Bee solves that by raiding her chef-friend's refrigerator. I suggest you do something similar.
The only exact amounts Bee listed in her recipe were the two eggs for the sandwich. For the rest of the ingredients, I eyeballed them according to the comic panels. Here's what I came up with:
2 slices whole wheat bread (Bee lists "boule" which is round, rustic bread. I grabbed something from my grocery store's bakery.)
2 eggs
goat cheese (probably 2-3 tablespoons)
smoked salmon (I used 3oz)
baby spinach (just enough to cover the surface of the sandwich, a small handful)
avocado
Slice the bread thick, about ¾ of an inch. Fry two eggs over easy. Bee doesn't say that you should fry them in butter, but I know that's what she would want. While the eggs are frying, spread goat cheese thickly on the slice of bread that will be the base. Slice ¼-½ of an avocado and lay the pieces over the goat cheese. Check your eggs! It is important that the yolks stay runny. Layer the smoked salmon (I used about half a 5 oz package) over the avocado. Make a bed of spinach on the salmon, and then top everything with the fried eggs. Close up your sandwich with the second piece of bread.
Behold your masterpiece. Eat it before Puppycat does.
Now. I am not one to criticize Bee's perfect sandwich, but I will say it is not my perfect sandwich. There's so much going on, but there's no bite to ground it. Bee's world is all curves and cuteness, but it has enough weirdness to keep it grounded. Everything on her sandwich is soft and mild; it needs some vinegar. Throw some capers on it. Little green guys to to weird things up. The next time I made the sandwich, I used one egg instead of two, used more goat cheese and less avocado. The spinach became a side salad. My perfect sandwich, the one I make when there's nothing left to feed myself, is similar, but simpler. It's just an egg or two on whole wheat toast, pesto, and spinach. I change it up depending on what I have on-hand, which, I suppose, it what a perfect sandwich is.