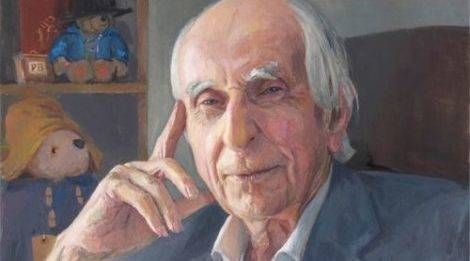 News
Paddington Creator Michael Bond Dies at 91
Children of all ages have something to sniffle about today. Michael Bond, the creator of the much-beloved Paddington Bear, has died at age 91. HarperCollins reports that he died at home after a short illness.
Bond leaves behind an illustrious career, including children's book characters such as Olga de Polga and A Mouse Called Thursday, as well as an adult series featuring the detective Monsieur Pamplemousse. Despite these accomplishments, his most famous contribution to literature will forever remain the marmalade-toting, Wellington-wearing teddy bear named Paddington, who has spawned over 20 books, TV shows, toys, and two feature films, the second of which is due out this year. Bond's most recent Paddington novel, Paddington's Finest Hour, was published in April of 2017, keeping Paddington in our modern thoughts as much as he exists in our nostalgic memories.
Bond will be missed by many. He leaves behind a wife, Sue, and his children, Karen and Anthony. Ann-Janine Murtagh, Executive Publisher HarperCollins Children's Books remembers him as "a true gentleman, a bon viveur, the most entertaining company and the most enchanting of writers." And it's impossible to leave out the millions of readers who have been touched by his work, spreading out across the globe and through generations. Lift a piece of marmalade toast to Michael Bond, forever on our bookshelves and in our hearts.