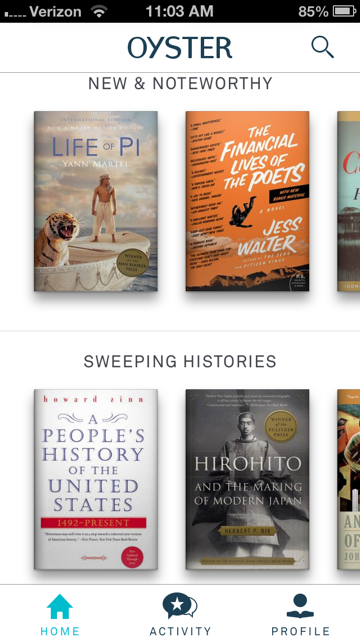 News
Oyster: The Netflix for Books You've Been Waiting For
The elusive combination of "Netflix" and "ebooks" has been the dream of many readers for several years now. It's an idea so simple and attractive that its absence has been frustrating. It doesn't seem that hard, after all; libraries already distribute non-owned ebooks (more on this in a minute), so it's really been a question of who can wrangle enough launch content into a package at a price that readers will like.
And Oyster has done it.
Now, a couple of caveats before I go any further: this is a invite-only launch with limited content on one platform. That's right, you have to request an invite to pay 10 bucks month for books from only one of the Big Five publishers (HarperCollins, good on you for trying this) and some smaller publishers. And you have to have an iPhone to do it.
But even just this little nibble of what Oyster can be is tremendously exciting.
What's exciting is that it is so damn simple. You browse ebooks, find something you like, and start reading it. No holds, limits, or tiers. You don't have to launch an outside app to open a book and you don't have finish one book before you start another. The interface is gorgeous and feels right at home on my iPhone; easy-to-read text with a user-interface that is as lightweight as is possible.
When you first sign-up, Oyster asks you (in a web interface) to browse popular titles in several categories to pick five books you are interested in. Presumably, this is to give you a taste of what is available and to hook you into trying more before you go so far as to enter your credit card info (there is no trial period here).
After that, you get a link to download the app from the App Store, and you are ready to browse and read. Even with pretty limited publisher participation, Oyster feels like a steal. After about 30 minutes of browsing, it was easy to find dozens of titles I am interested in.
And that's really it: a clean, pleasant experience with enough titles at an attractive price. That there isn't more to review here is probably the best thing I can say about it; it's the obvious and intuitive implementation of a Netflix for ebooks that I and so many other readers want.
That's really it as far as my review, but I do have some uncollected thoughts about Oyster and its future.
1. Unlike most ereading apps, in Oyster you swipe up to turn the page, rather than across. I find this a more intuitive gesture with your thumb, especially on a phone-size device, though it took me a few minutes to get used to.
2. There seems to be some infrastructure to having friends and followers in the app, but since the invitations are still so limited, it's difficult to see what it possible or annoying there.
3. I would expect that even if Oyster gets significant buy-in from publishers, we are likely to have access to content in a Netflix-streaming way. That is, not frontlist and not perpetual. Don't expect the next George RR Martin to be available on Oyster for a good long time after it is released. I think a good, and possibly more sustainable, path for Oyster is to be a Netflix for backlist ebooks. At this price, this is still a fantastic deal for readers.
4. I realized that once the cost and friction of trying a book I am only sorta interested in goes away, I am more likely to at least give it a shot. For example, I have been hearing about Claire DeWitt and the City of the Dead by Sara Gran for awhile, but probably would never have actually bought it or went to the trouble of going to the library for it. But with Oyster, it's right there and ready from my whim. The "I might as well give that a try" phenomenon is something I've noticed on Netflix streaming as well, and I think it is a real beneficial side-effect of removing obstaclesfor consumers.
5. There are all sorts of business ways that Oyster can fail. Publishers either don't want to play, or at too high a price. Oyster tries to play hardball with content costs. And a variety of roadblocks along this spectrum. I, frankly, don't know enough to comment about any of that, but in my experience of the internet, software, and content, if you make something that people love, there is a way. And I think readers are going to love this.
6. Why iPhone only to start? Well, I bet Oyster isn't ready for a huge flood of users, so some platform-restriction is a good way to go. Also, iPhone users have historically been more willing to pay for apps and content than Android users. Also, the iPhone's smaller screen means there is less UI to design, so while it seems a natural for the iPad, there's considerably more work you have to do for it. I wouldn't read too much into this iPhone-only situation; if Oyster takes off, I would be shocked if you couldn't eventually get it on your Android phone or tablet.
7. I wouldn't, however, expect to see it on your Kindle or Nook or Kobo, though. These device-makers that use the tablet or ereader as a platform to sell content are going to hate Oyster. By the same token, it is the perfect fit for Apple, which is interested in selling hardware at a premium and giving developers and companies an attractive platform for their own software. Decoupling the hardware and content has many salutary effects for consumers I think, in which a new content model doesn't need the explicit consent of the device maker.
8. I've seen some wonder what the effect on libraries and even bookstores would be if a service like Oyster achieved something even close to Netflix's popularity. After all, we all remember where our local video store used to be. I suspect that Oyster scratches an itch that neither of those two do. For libraries, you've got free, print, and frontlist. For bookstores, you've got ownership, frontlist, and print. Notice how Oyster's current strengths (paid, backlist, ebook) don't directly overlap. Just because your business is books, it doesn't mean that everyone else whose business is books is a competitor.
9. It might, however, be a competitor to used bookstores (inexpensive, backlist, owned).
10.How much would I pay for an Oyster for frontlist? This is the question that I am thinking about now. Unlimited access to all new titles. 50 bucks? 75? More? I doubt such a thing is on the horizon, but I do think that that's where the future of reading might be, just as the future of movies might be in-home release day premium pricing. Wherever this road leads though, it's a terribly exciting time to be a reader
____________________________
Sign up for our newsletter to have the best of Book Riot delivered straight to your inbox every two weeks. No spam. We promise.

To keep up with Book Riot on a daily basis, follow us on Twitter, like us on Facebook, , and subscribe to the Book Riot podcast in iTunes or via RSS. So much bookish goodness–all day, every day.