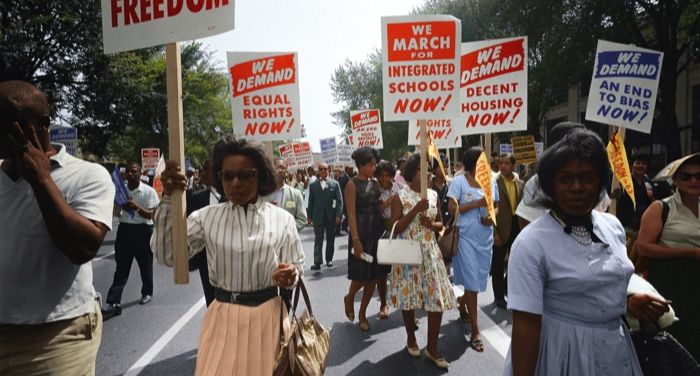 Children's
8 Own Voices Children's Books About Black History
How many of us are aware of the story of a 9-year-old being arrested in the protests of 1963? How many high school textbooks have a chapter on Gwynn Oak Amusement Park becoming desegregated in 1963? The history that is approved by academia and the government often falls short in edifying children about the history of the Black community, thus withholding a big source of knowledge and inspiration from them. So, if you're looking for ways of educating your children on Black history, here is a list of children's books about Black history for kids to learn from and feel encouraged by.
A Voice Named Aretha by Katheryn Russell-Brown and Laura Freeman
Who was Aretha Franklin before she became the Queen Of Soul? Katheryn Russell-Brown paired up with artist Laura Freeman to write Aretha Franklin's biography and teach children about the inspiration that she was. As a shy young girl, Franklin's voice was so full of vigor and vitality that it left her audience enthralled. After she moved to New York she had to shed a lot of blood, sweat, and tears before becoming what she is remembered as today. Even though she was the first woman who was admitted into the Rock & Roll Hall Of Fame, Franklin was always true to her roots. In this book, the author has done a stellar job at introducing the musical icon to young children for them to get swayed by her genius and aspire to similar heights of brilliance.
The Oldest Student: How Mary Walker Learned To Read by Rita Lorraine Hubbard and Oge Mora
Written by Rita Lorraine Hubbard and illustrated by Oge Mora comes an awe-inspiring biography like no other. Born into slavery, Mary Walker had her first child when she was just 20. By the age of 68, she had worked numerous jobs to make ends meet but her education had always taken a back seat. However, she is an exemplar of how it's never too late to pick up a new skill as we see her finally learning to read at the age of 116! Very few of us are aware of this absolute powerhouse of a woman whose life spanned from the Civil War to the Civil Rights Movement. Rita Lorraine Hubbard enriches the world of children's literature by making Mary Walker's story more accessible to everyone.
Black Is A Rainbow Color by Angela Joy and Ekua Holmes
In this unique book illustrated by Ekua Holmes, Angela Joy celebrates all things Black. Inspired by her preschooler's innocent belief that they were brown and not Black, she wrote this book to make the history of Blackness handier for children. To top it off, this book comes with an expanded playlist to help parents instruct their kids on Black History. Blackness is not skin-deep. It has its roots spread across cultures, communities, psyches, and borders. Through her captivating rhymes and skillful selection of words, Joy attempts to unearth it to make Black kids better aware of the legacy that their ancestors have left for them.
A Song For Gwendolyn Brooks by Alice Faye Duncan and Xia Gordon
In this splendid picture book ideal for children who are just getting into the habit of reading, Duncan has fleshed out the legacy of Gwendolyn Brooks, the first Black author to win the Pulitzer Prize. With the magnificence of her wit and charm, Brooks incorporated in her work the urban Black experience and the role women have in the society she was a part of. As a young child, she was very enthusiastic about reading and writing. Her talent was encouraged and nurtured by her ever-loving parents. Duncan brings to life her story for young readers, to lend them the confidence to aim for nothing less than the stars.
Little Leaders: Bold Women In Black History by Vashti Harrison
This book is an excellent tribute to 40 Black women in American history who transcended boundaries and made notable contributions in diverse fields. These bold women stood up against the status quo to fight for their rights, fulfill their one true purpose, and eventually paved the way for future Black women leaders. From the chemist Alice Ball to the filmmaker Julie Dash, this book popularizes their stories among children and leaves a feminist message, especially for young girls about how they too can take the world by storm if they choose to.
Malcolm Little: The Boy Who Grew Up To Become Malcolm X by Ilyasah Shabazz and AG Ford
Coming from Malcolm X's third daughter, Ilyasah Shabazz, this book is a celebration of true liberation. Before growing up to become who he was, Malcolm Little was a born leader. His virtues were carefully nurtured by his big, loving family. Trying to forge an identity for oneself where white majoritarian politics stifled Black children from a young age, Malcolm's optimism and freedom were always threatened. But impediments didn't stand a chance in the face of his greatness and fight for self-actualization not just for himself but also for his entire community.
Schomburg: The Man Who Built A Library by Carole Boston Weatherford and Eric Velasquez
Arturo Schomburg, an Afro–Puerto Rican immigrant, dedicated his life collecting and preserving art, literature, music, and letters that had an African legacy attached to them. Carole Boston Weatherford has gone to great lengths to depict often overlooked details of his life for children to learn from. Arturo Schomburg was a revolutionary whose quest to record Black history for posterity's sake and promote it on a global level was commendable. This book is an excellent tribute to the trailblazer whose efforts would be remembered for years to come.
Rosa by Nikki Giovanni and Bryan Collier
Award-winning poet, writer, and activist Giovanni pairs up with illustrator Collier to commemorate Rosa Parks, who courageously refused to cave in the face of strong discrimination. One of the most significant figures in the American civil rights movement, Parks's pivotal role in the Montgomery bus boycott bolstered the resilience of the Black community against white supremacy. Giovanni's evocative text, combined with her unique perspective, would help young readers become more aware of their heritage and cultural richness.