Read Harder
Read Harder 2019: An #OwnVoices Book Set in Mexico or Central America
This content contains affiliate links. When you buy through these links, we may earn an affiliate commission.
The 2019 Read Harder Challenge is sponsored by the Read Harder Journal. Get the full list of tasks here.
Created by Book Riot, this smartly designed reading log consists of entry pages to record stats, impressions, and reviews of each book you read. Evenly interspersed among these entry pages are 12 challenges inspired by Book Riot's annual Read Harder initiative, which began in 2015 to encourage readers to pick up passed-over books, try out new genres, and choose titles from a wider range of voices and perspectives. Indulge your inner book nerd and read a book about books, get a new perspective on current events by reading a book written by an immigrant, find a hidden gem by reading a book published by an independent press, and so much more. Each challenge includes an inspiring quotation, an explanation of why the challenge will prove to be rewarding, and five book recommendations that fulfill the challenge.
---
If you've ever read anything else I've ever written for Book Riot, you probably know that I practically have "representation matters" tattooed on my forehead. As someone who rarely saw herself reflected in the books she read as a kid, I've spent my adulthood trying to make up for lost time in actively seeking out works by Latinx authors. I was therefore pretty jazzed to take this Read Harder post recommending #OwnVoices books set in Mexico or Central America*.
Then I quickly discovered a few holes in my reading habits. First, while I do a pretty good job reading work by Latinx authors (and other AOCs), I don't read enough books actually set in Latin America. And when I do, the authors and settings are Mexican by a vast majority, and I do mean vast. Second to Mexico comes South America and then the Caribbean (mainly Cuba). Central America though? Slim pickings. That is a problem I need to fix. Actually, it's a problem that publishing needs to fix.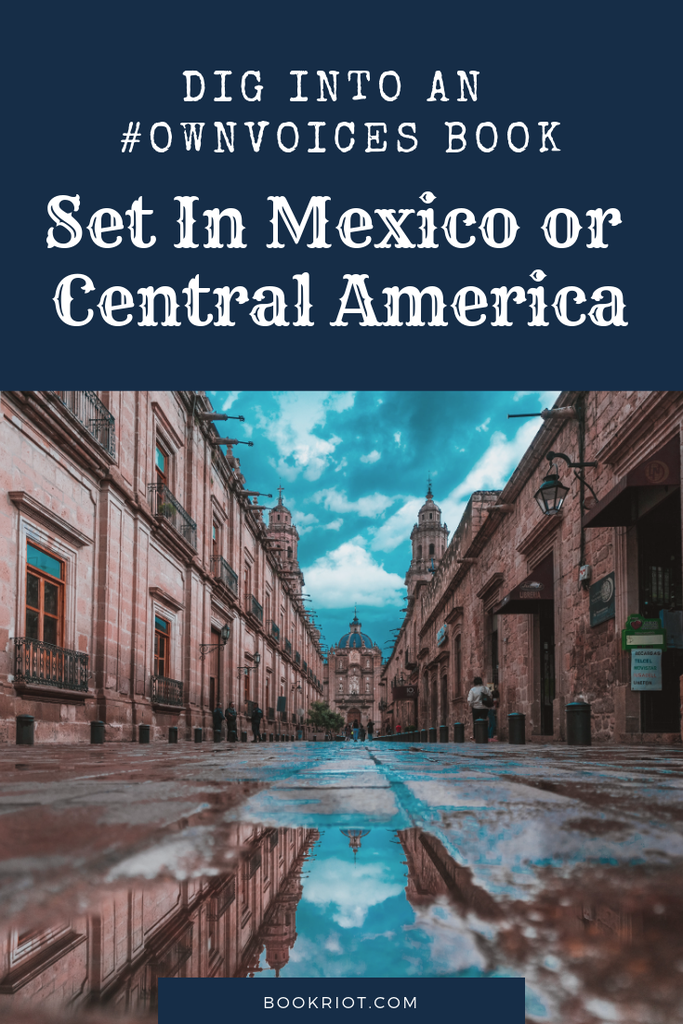 Latin America is so much more than Mexico and South America, and finding #ownvoices works set in Central America is still way too tough a challenge in 2019. This proud Mexicana is happy to read about her people, and about Argentines and Chileans and Cubans too. She is, however, very ready to read more work from authors from the rest of the beautiful countries that make up Latin America as a whole. I hope to see that shift take place very soon.
Onto the recs!
In his final days, septuagenarian Miguel Angel de la Cruz has plans to throw himself one last birthday extravaganza. When his mother dies days before the big party, Big Angel turns the weekend into a double-header in celebration of both their lives. Set both in Mexico and south San Diego, this wonderful book is a reflection on mortality, on family, and on the set of complicated and extraordinary circumstances that make up the immigrant experience. It's touching, hilarious, and very purposefully political, a middle finger to the villainization of immigrants that is Agent Orange's malignant agenda.
P.S. If I didn't know any better, I'd think Señor Urrea put a few of my tios in his book.
Originally published in Spanish as Como Agua Para Chocolate, this novel is somewhat of a Mexican classic. As the youngest daughter of the family, Tita De La Garza is bound by Mexican tradition to remain unwed and to care for her tyrannical mother Mama Elena until she dies. But the heart wants what it wants and Tita falls helplessly in love with Pedro, who asks for her hand in marriage. Mama Elena of course ain't having that and shuts him down with the quickness. Seeing no other way to be close to Tita, Pedro agrees to marry Tita's sister Rosaura instead. What could possibly go wrong there, right!? What ensues is a heartbreaking love story and exploration of tradition set against the backdrop of the Mexican Revolutionary war.
I really love the format of this book—each of the twelve chapters starts with a recipe that is essential to the plot of said chapter. Tita is a formidable cook and unwittingly injects her emotions into every dish she makes. Be it love, lust, melancholy or anything in between, it's all poured into her cooking and in turn affects those who consume it. So, uh…prepare for some very, very interesting scenes.
I love me a mystery/thriller but often lament that more of them aren't set in Latin America, or more accurately that the ones that exist don't get enough love. Enter this fast-paced detective story set in an upper-class Salvadoran society where Laura Rivera's best friend has been shot in her very living room. No one knows who pulled the trigger, but Laura is determined to figure it all out. What follows is a twisty, chaotic, satirical, and sometimes hilarious ride set in post–civil war San Salvador. I sort of love/hated Laura's brand of unreliable narrator: filthy rich, paranoid, smart and all kinds of kooky.
At the start of this story, Odilia and her four sisters find a dead body in their local swimming hole. Yikes. They decide they'll travel to Mexico to return the man's body to his family and visit their grandmother on the way back. They embark on the journey which quickly takes a turn for the fantastical. The girls must outsmart a conniving witch, dodge some some chupacabras, get past a coven of creepy owls and pass all manner of other courage-testing trials. With the help of La Llorona (this may have been the part that sold me), the girls must fight and finagle their way to their grandmother's house where more life lessons await.
This may count as cheating; it does take place in part in Mexico but most of the action takes place on the other side of the border. I had to include it, though, because it's that good.
Our protagonist is Makina, a young woman in an unnamed village in Mexico whose mother has tasked her with crossing the border. She wants Makina to deliver a message to her son, Makina's brother, who himself crossed over in pursuit of a nebulous land claim some three years prior. Makina sets out on her quest and is smuggled into the states. The journey is fraught with perils from both the land and the characters she encounters.
This may all sound like your typical border narrative, but it's unlike anything I've ever read before. His writing is tight and precise but reads almost like myth. In spite of its brevity (just over 120 pages), it feels like an epic journey; this is one that I need to reread to further understand the allegory and symbolism.
Note: Do yourself a favor and read the translator's note.
*[Editor's Note: Latin America corrected to Central America here.]